Top 10 Ravencoin Mining Pools Which You Can Use in 2022 | Cryptogeek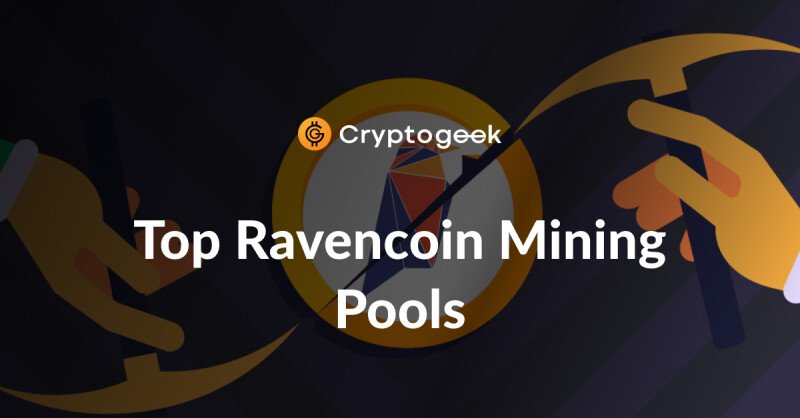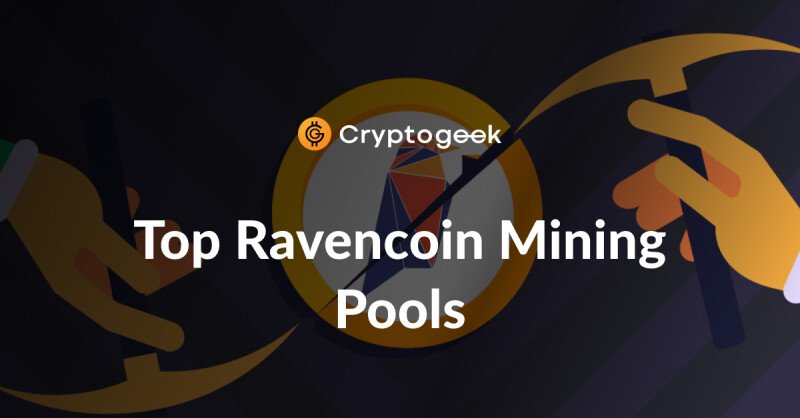 Ravencoin is an ambitious project set up to allow consumers to create tokens on its native blockchain ecosystem. The technology allows issuers to assume full control over the network in establishing guiding principles, such as limiting supply or allowing an infinite supply of coins to circulate. 
The project dispenses the need for ICO or Masternodes and serves as a truly decentralized and open source project driven by its community members' needs. The idea behind Ravencoin is to clearly and unambiguously prove ownership of certain digital assets. 
Ravencoin is a code fork of Bitcoin, fair launch, proof of work mined chain with an asset aware protocol that allows users to easily create and manage unique digital assets.

That's it.

— Project Raven 🦅/ RVN / Ravencoin (@Ravencoin) February 14, 2021
Today, we will talk about how the Ravencoin supply works and specifically how you can join and find the best RVN mining pools. 
What Is a Ravencoin Mining Pool?
Before you join the best Ravencoin mining pool, you need to understand what a pool is. Put simply, pool is a group of miners cooperating to find blocks and share block rewards. 
Because of ASIC mining's reintroduction to RVN, it has become important to join an RVN pool instead, where you can reap the same rewards as your fellow miners. However, there are some things you need to consider before you join a pool.
How to Pick a Great Mining Pool for Ravencoin? 
We used the same criteria to establish our own Ravencoin mining pools list and hold them to be a good general guide as to what you should pay attention to while looking for a pool. 
Fees - Fees will essentially help you determine how profitable your participation would be. RVN pool fees run from 0% to 3%. It's understood that fees are not the sole factor to determine how good a pool is.
Minimum Payout – A low minimum payout means that you can withdraw your earnings (say, on your Binance acc) much sooner.
Reputation – You want to stick with pools that have proven and established reputations. If you have to choose between a lower fee and a reputable supplier we recommend sticking with the latter. 
Server Locations – Server location will tie directly into the hash rate and how much the network controls. You probably don't want to choose a network that controls over 25% of the hash rate, although reputation and experience will also play a part in your decision.
Pool Uptime – You generally want to pick RVN mining pools that are as close to 100% uptime as possible.
Overall, many factors come into play when trying to pick a worthwhile and reliable RVN mining pool. The pool has power, and the payout scheme may be just as important. We have considered all of these in compiling our list of the best Ravencoin mining pools for 2021. 
Get a Loan Secured by Your Crypto Assets
Get a Loan Secured by Your Crypto Assets
#1 2Miners
2Miners is one of the best RVN mining pools available to stakeholders interested in securing a further personal supply of Ravencoin. We have found the pool to meet all criteria we hold important to guarantee any RVN mining enterprise's successful operation.
Fees range from 1% to 1.5%, which is well below average, with regular payouts every 2 hours. The minimum payout for Ravencoin is 10 RVN factoring in a 30% luck factor. When we checked, there were 14,035 miners and 34,227 workers, making for a healthy overall engagement.
The pool hashrate sits at 2.29 TH/s, and the network hashrate is estimated at 9.64 TH/s, definitely within our recommended limits. Another thing to notice is that the pool displays how much money has been paid out to miners in the previous 24 hours. Also you can see how many blocks there have been found.
#2 Flypool
Flypool is a fantastic RVN mining pool with an intuitive user interface and excellent characteristics. Miners will be happy to know that they are joining a reliable community with a 2.0 TH/s hashrate. There were some 9,490 miners when we checked, along with 30,474 workers. 
The pool makes a point of running an intuitive user interface that allows you to quickly find your bearings, track the most recent blocks and inform you on important aspects of the Ravencoin mining process as a whole. 
Flypool offers instant payouts, a 1% fee, and accurate hashrate reporting to place miners in complete control over the collective effort. The pool's servers are based in the USA, Asia, and Europe, giving it a global reach.
#3 Nanopool
Ravencoin is available on the Nanopool mining pool as one of a handful of preferred cryptocurrencies here. This is a smaller RVN pool but a worthwhile choice nevertheless. The pool's hashrate is 618.9 GH/s, with some 86 blocks mined over the past 24 hours when we checked.
Nevertheless, Nanopool has proven itself as a reliable go-to spot on the Internet for pooling your efforts when pursuing a bigger bite out of your Ravencoin mining. Payouts are regular, and there is an adjustable payout limit for further comfort. 
The servers are based in Europe, and our research indicates that Nanopool has a slightly more focused area of activity geographically. 
Buy & Sell Crypto In Minutes Lowest Fees on Crypto Market: Binance Exchange
Buy & Sell Crypto In Minutes Lowest Fees on Crypto Market: Binance Exchange
#4 F2Pool
F2Pool is a trusted and reliable name when it comes to Ravencoin mining pools. It's intuitive, quick, and enjoys a huge user base. The pool is also geared towards miners who are not looking to cash out too quickly with the payout threshold set at 100 RVN. 
F2Pool's difficulty is set at 142.00 K, and the pool hashrate is 278.75 GH/s. A built-in calculator allows you to estimate your PPS mining revenue considering the subtracted fees, which is a great added benefit. 
Overall, this RVN pool is very successful owing to its simple yet intuitive user interface. Admittedly, the fees are slightly higher here, at 2.50%, but the pool's good overall reputation and proven track record are reasons that are good enough for most miners to stick with it. 
#5 Miningpoolhub
Miningpoolhub is a popular Ravecoin pool that has servers based in Europe, Asia, and the United States, allowing miners worldwide to join in and rally their efforts towards successfully growing the RVN supply. You will need to quickly read through the miner guide to get yourself setup.
Once you do, you will enjoy a fairly straightforward mining experience. The pool hash rate is set at 267.549 GH/s with the difficulty, estimated shares, and other vital information updated real-time so that miners can decide whether participating is worthwhile. 
#6 Suprnova
Suprnova is a smaller RVN pool that is nevertheless a preferred option for many miners. The pool currently attracts around 800-1000 miners on average, with the net hash listed at 10,650,098.36 GH/s. The pool hash sits at 32,722.01 GH/s, and Suprnova makes a point of providing exhaustive statistics to help miners stay informed.
You can get a comprehensive read about target variance, estimated shares, target rounds, seconds in each round, round variance, and more. Effectively, Supernova is making it possible for anyone to join, mine RVN, and exit as they see fit. 
#7 Antpool 
Antpool has an ambitious name that hints at a collective effort, which is precisely what RVN farmers look for. The platform has a simplified user interface that allows you to get down to business right away.  
Mining services are stable with uptime of close to 100% of operations, allowing you to make the most out of your mining sessions. Registration is easy, and Ravencoin is a popular cryptocurrency choice at Antpool. The pool runs at 12.1 GH/s and allows miners and workers to benefit the most out of their efforts. 
Trade More Than Cryptocurrencies
100
Trade More Than 100 Cryptocurrencies
#8 MinerMore
MinerMore is a fast-paced Ravencoin pool that provides consumers with a reliable, safe, and high-performance offer. All blocks are updated real-time, providing miners with a reliable roadmap to discover a new one.
The frequency of discovery may range from just a few minutes to ten at the most, from what we have seen observing the pool. MinerMore charges a 1% commission fee, which is actually pretty decent, too. 
However, the pool may be a better fit for more advanced miners. Registration may take a while if you are new to RVN mining, but if you know your way around a pool, MinerMore is definitely a just choice. 
#9 2miners SOLO
2miners SOLO is based on the same algorithm as its alter ego. The pool is once again based in Europe, the USA, and Asia, allowing maximum accessibility from multiple locations around the world. 
The pool supports a minimum payout size of 10 RVN and 5,000 RVN block reward. 2miners difficulty is presently 167.25 K with 197 miners online at the time of review. The pool hashrate is 154.64 GH/s with 12.73 TH/s and 1,668,183 clocked blocks. 
The SSL connection is available to guarantee that you can access the pool safely. 
Trade With Up To 125X Leverage on Binance
Trade With Up To 125X Leverage on Binance
#10 Beepool 
Beepool is a comprehensive mining service that allows consumers to benefit from various cryptocurrencies and specifically Ravencoin. Located in Asia, this solution is geared towards miners in the east, although it welcomes a global audience.
The pool runs on the KawPow algorithm, which is standard with network hashrate set at 12 TH/s and the pool's hashrate at 3.32 TH/s. Beepool comes with a very low threshold for the payout at 1 RVN.
The current difficulty is set at 166.000, and the pool continues to keep miners upgraded real-time, providing a transparent way of tracking all changes. You can further see your potential revenue and have a historical view of the theoretical return during previous sessions.
---
---