John McAfee Net Worth 2021 - How Rich Was Crypto Jesus?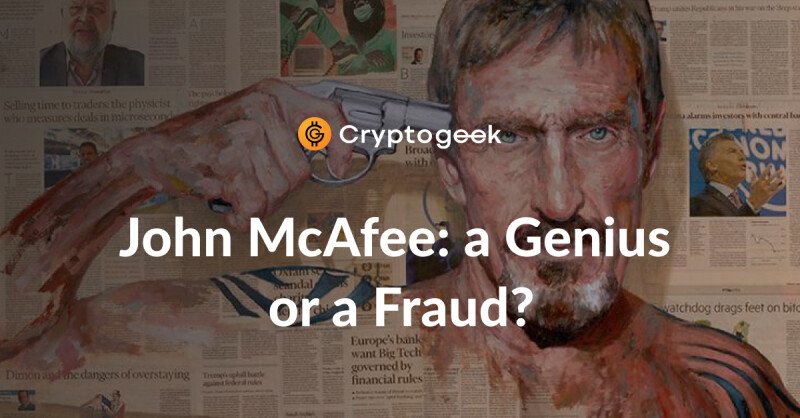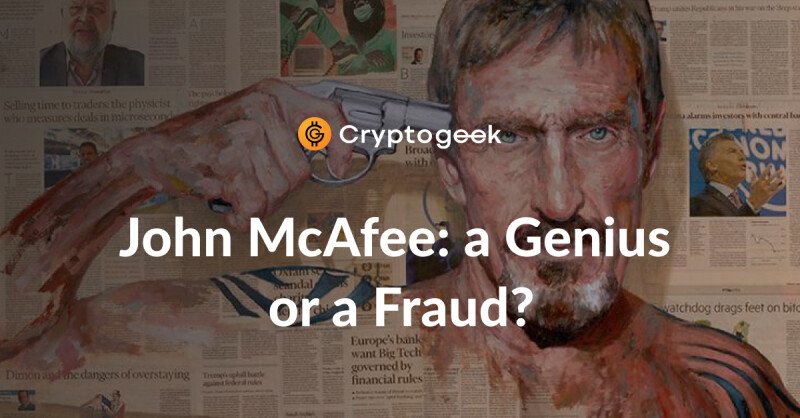 Some call him a genius, others find him bizarre. He was a programming and cybersecurity visionary, one of the most (and least) lucky businessmen, a fugitive, a suspect, a government critic, and the man who ran for the US president twice. At the peak of his career, he had riches estimated at $100 million. McAfee died in June 2021. The following part of the article is an unedited piece we have wrote about John McAfee in December 2020. 
The current wealth of this person is an object of assumptions. We state that John McAfee's net worth is $14 million at a minimum and can't be higher than $28.7 million. In this article, we will explain how we have figured this and go through his professional biography. Updated inJune 2021.
Note: You can exchange cryptocurrencies at the best rate in a few minutes here.
Who Is John McAfee?
John David McAfee is a British-American programmer and businessman. He was born in 1945. Between 1968 and 1970 McAfee worked for NASA as a programmer. Later, he worked in such companies as Xerox, Univac, and Lockhead. In 1987 he founded the McAfee Associates IT company. McAfee was the head of the company until 1994.
The company achieved serious commercial success with its McAfee antivirus software. Later, McAfee Associates was bought by Intel. Not long before the 2008 financial crisis, John McAfee has gained $100 million but allegedly lost this money in the next few years.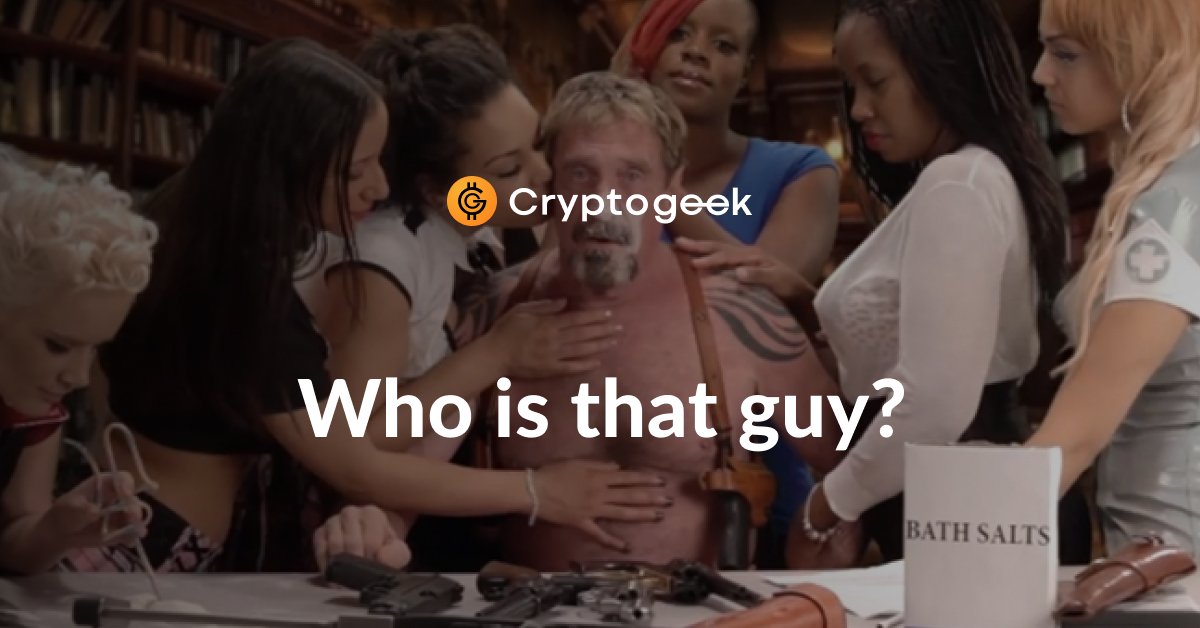 Besides founding McAfee Associates, McAfee has created such companies as Tribal Voice, QuorumEx, and Future Tense Central. Moreover, he was occupying serious positions in a number of other companies. In 2016 and 2020 McAfee participated in the presidential elections as a candidate but both campaigns have fallen short. Currently, McAfee is the CEO of Luxcore Company.
In the world of cryptocurrency, the name of John McAfee is famous for a different reason. He was actively defending cryptocurrencies in public since 2017. The statements he made of different crypto assets and projects are believed to have had some influence on the market.
When I predicted Bitcoin at $500,000 by the end of 2020, it used a model that predicted $5,000 at the end of 2017. BTC has accelerated much faster than my model assumptions. I now predict Bircoin at $1 million by the end of 2020. I will still eat my dick if wrong. pic.twitter.com/WVx3E71nyD

— John McAfee (@officialmcafee) November 29, 2017
For example, his tweet about Verge has led to an asset's price doubling in the following hours, and the consequent 2,500% growth. Later, he stated that his Twitter account was hacked and the real value of Verge is insignificant. This message coincided with the Verge price's plummeting although it's hard to say if it happened "thanks" to McAfee. However, Verge is still actively traded on some of the exchanges. More than that, in 2017 he launched a Bitcoin mining operation. In 2018 he decided to focus his business efforts on cryptocurrencies exclusively.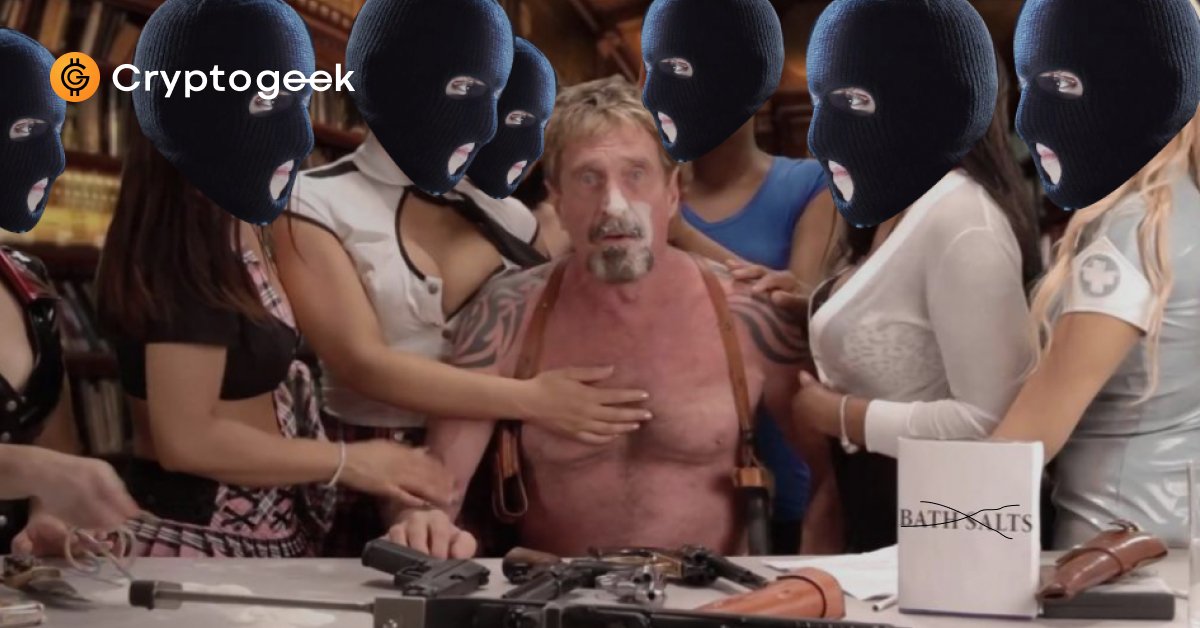 Lately, John McAfee's persona was quite controversial. He was subjected to a series of lawsuits and allegations associated with violent crimes, unlicensed manufacturing of drugs, financial crimes, and so on.
John McAfee Net Worth 2021
There are different estimations of the current McAfee's net worth. It varies from $4 to $15 million although it is possible to still see the articles claiming that McAfee has around $100 million but these articles are not specifying the source of this information. The articles estimating McAfee's wealth at $4 million are also don't provide any calculations hence we can't trust them to the fullest.
It is widely considered that McAfee has lost almost all his riches in the 2008 financial crisis but there's an alternative version according to which McAfee hid this money to avoid the multi-million wrongful death lawsuit. Such uncertainty creates the space for volatility in McAfee's net worth estimation. The exact amount is not given anywhere. We will calculate this amount based on the publically known figures.
Allegedly at some point, Forbes has stated that of dozens of millions made from selling his shares in McAfee Associates, McAfee managed to preserve only $4 million. Most probably this sole statement became the basis of claims that the entire McAfee's net worth is $4 million although Forbes didn't state that this money is all that McAfee had at the time. Currently, there is no such Forbes article on the web and we cannot confirm or disprove this estimation. The New York Times referenced the Forbes article in 2009 as the source when claiming that McAfee at the time had only $4 million. However, the original Forbes article doesn't mention McAfee at all. 
McAfee lived in Belize for several years until December of 2012. As he fled the country due to the charges of being involved in the violent death of his neighbor, his assets remaining in his Belize house were seized by the local authorities. It's impossible to figure the amount of wealth lost back then as the property included not only money but the art collection, laboratories, estate, etc.
Among McAfee's projects made after he left Belize, there are cybersecurity company Future Tense Central and DCentral 1 app that was released in 2014. Unfortunately, we don't know how much money was made from those projects.
In 2016 he began his association with the MGT company that lasted until 2018. The company gained significant profits on the stock market when McAfee joined the team. He got a bonus of $600,000 while his salary and consulting fee was set at half a million dollars. After retirement, McAfee's 5 million company shares combined were worth $100,000 ($0.02 for share). Two years in MGT gave him around $1 million in salary and fees, $600,000 bonus, and $100,000 in shares. Combined it is $1.7 million.
Beginning with the spring of 2017 McAfee became a cryptocurrency holder and active participant of the ICO promotion campaigns. Allegedly the companies were paying him at least $100,000 per tweet. By the end of 2018, McAfee took part in 50 ICOs. It means that he has gained at least $5 million. Considering the fact that the rewards could have been paid in cryptocurrencies the value has probably shrunk as we know that January 2018 was the beginning of the so-called "crypto winter".
By some accounts, the companies were paying in cryptocurrencies. The average payment was equal to 8 BTC per tweet meaning that the entire sum was around 500 BTC. By December 2020, this sum was approximately equal to around $9.3 million. Combined with the previous calculations, we have a figure of $11 million.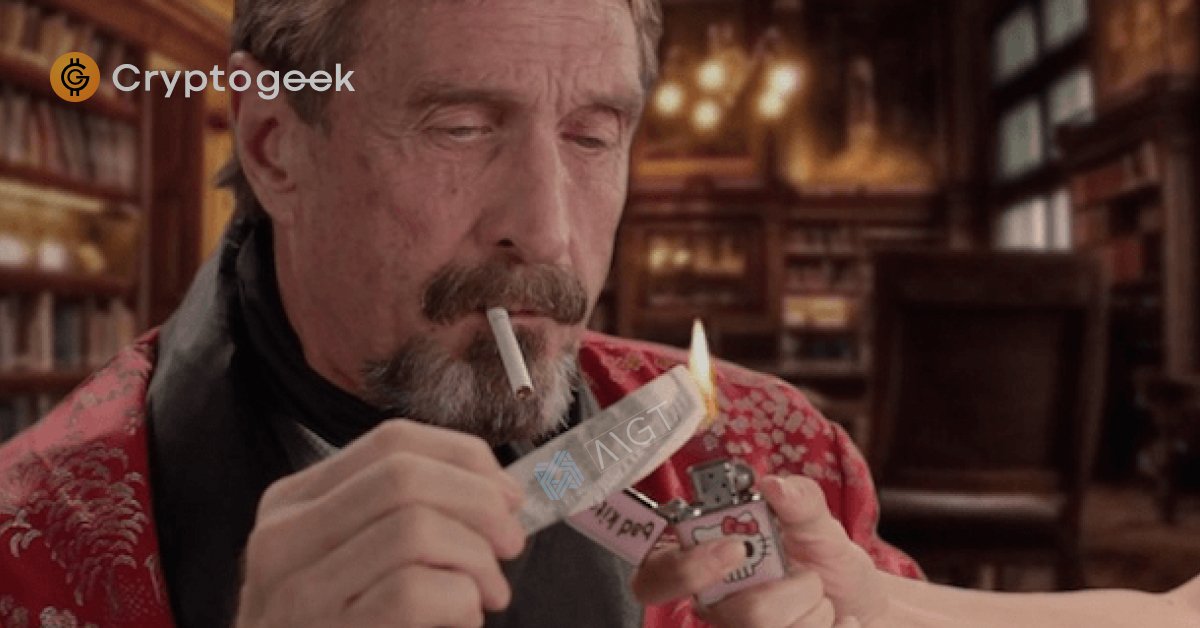 In 2018 McAfee became the CEO of Luxcore company. Luxcore is an enterprise firm focused on the cryptocurrency sphere. There is no data covering the profit McAfee makes as the CEO of this company.
In total, in the post-Belize period, McAfee has opened at least two companies (New River Coffee and Future Tense Central) and was occupying positions in Everykey and MGT Capital Investments, and he still works for Luxcore as the CEO. During his exile in Canada, he was an advisor for lots of companies.
We have all reasons to believe that lately, McAfee was giving paid consultations, as well. The amounts of money earned for these consultations and job are not known (with the exception of his MTG salary and alleged rewards for ICOs promotion). The money spent on presidential campaigns and invested in business are not disclosed, too. By different accounts, the money he earned from consulting and working for the mentioned companies combined with some of McAfee's property is adding from $3 to $6 million to his net worth.
December 2020 Update
In January 2019 McAfee with his wife and bodyguards fled the US but in October 2020 he has been arrested in Spain by local police. The alleged offense is failing to file tax returns for 2014 — 2018. According to prosecutors, in this time period, McAfee made $23 million via cryptocurrencies and through giving consultations and speeches. More than that, McAfee has sold the rights to a story of his life. The entrepreneur is facing up to 30 years in prison (it would be life imprisonment considering the fact that McAfee is 75-year-old). The prosecution also claims that John McAfee secretly owns a yacht and real estate property registered in the names of other individuals.
McAfee claims he wasn't paying taxes for 8 or 10 years and refused to file the returns because "taxation is illegal", as he openly claimed earlier. What triggered the IRS to pursue McAfee was his intention to run for president. The businessman says that Spain is not likely to extradite him to the US and that he will never return to the country.
Minimum to Maximum Net Worth Figures
Now let's set the final estimation of the minimum (!) McAfee's net worth by 2021. Above we have got a figure of $11 million. It means that now McAfee has at least $14 million. Therefore the maximum estimation without the money mentioned by the US prosecutors is calculated the following way: $11 million + $6 million + $4 million (if we take the figures from the obscure Forbes article into account). The result is $21 million. If we take the figures mentioned by the US prosecution into account, we should combine $23 million earned in 2014 - 2018 with the official salary and bonus sum ($1.7) and the money mentioned in Forbes ($4). That's how we get the amount of $28.7 which is the maximum estimation of John McAfee's net worth. Now we can claim that by 2021 McAfee's net worth varies from $14 to $28.7 million.
Professional Biography of John McAfee
John David McAfee was born on September 18 in 1945 in the Forest of Dean, Gloucestershire, United Kingdom. At that time John's father was a part of the US Army stationed at that place. John's mother was a British civilian. When their son was born they moved to Salem, Virginia. In America, John's father had a job as a road surveyor. He was drinking heavily and committed suicide when John was 15. According to McAfee, his early years were quite tough.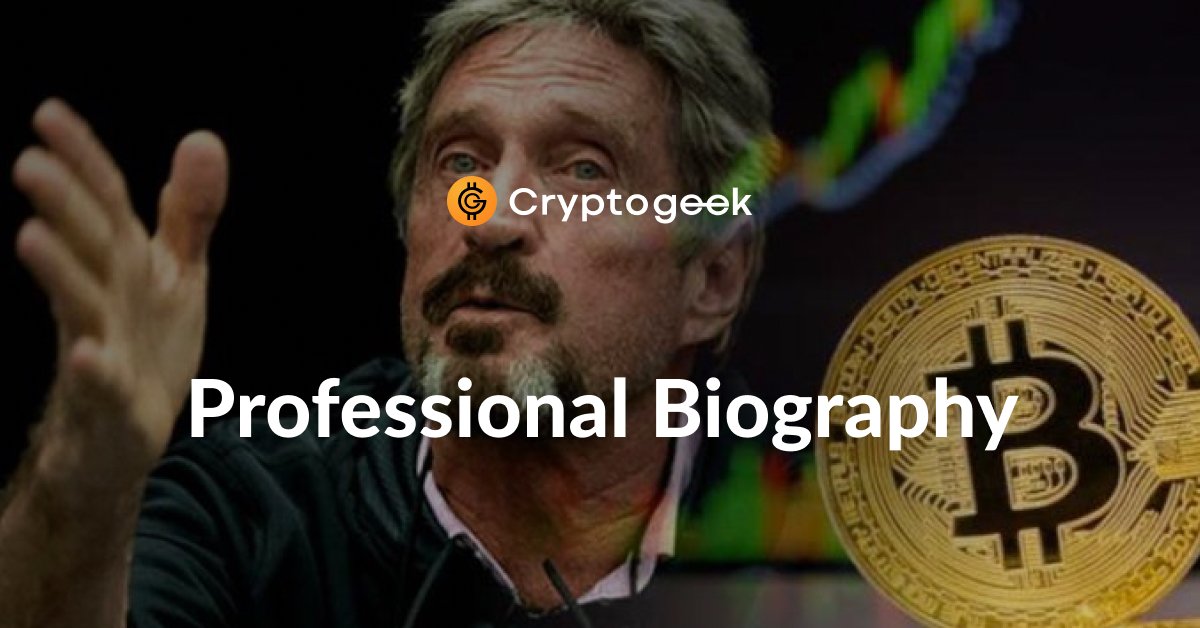 In 1967 he received a bachelor's degree in mathematics at Roanoke College. 40 years later the college gave McAfee an honorary Sc. D. degree. His first business effort was dealing with selling magazines door to door but it didn't earn McAfee much money. After getting a degree he found a better job. As he was interested in computers (not a mainstream devotion in the 60s) he began to code punch-card systems in a computer company. Those days McAfee taught himself programming and made great progress.
Later, he was operating IBM computer systems in Missouri Pacific Railroad. His skills and knowledge were letting him calibrate the train schedule using computer solutions. It is considered that it was a decent occupation but it ended abruptly. McAfee was experimenting with psychedelics at that time. One day he came to the job high on DMT and the drug effect made him scared so much that he ran off from the office in panic and never came back.
In 1968 McAfee moved to New York City where he got a position as a programmer at NASA's Institute for Space Studies. He spent 2 years working there and gained an impressive professional experience. McAfee's NASA experience directed him to a more scientific side. NASA engineers have no chance for a mistake and it reflected in McAfee's own way of thinking. In that period his programming skills have improved critically and he became a real expert.
It's not totally clear how McAfee left NASA but in 1970 he got a new job. He joined two outstanding computer engineers (inventors of the first digital computer ENIAC) J. Presper Eckert and John Mauchly as a part of their company UNIVAC. The eponymous computer system was a pioneering commercial computer system. That's why McAfee's skills were good enough for this company and at the same time the company was quite interesting for McAfee's further professional development. Eckert and Mauchly could give McAfee a lot of knowledge and experience. The next job was a software designer at Xerox.
In the late 70s, McAfee moved to Silicon Valley. That was the right time and place as tech companies became a popular investment and California was home to many of these companies. In 1978 McAfee started to work as a software consultant for Computer Sciences Corporation. In 1980 he has occupied the same position in Booz Allen Hamilton. Two years later he joined Lockheed. He was working there in 1982 when the first computer virus has shaken the IT world. That's when McAfee started to work on his anti-virus software. At about the same time, he stepped off his long-lasting drug and alcohol addiction.
In 1987 John created McAfee Associates. In the beginning, he ran this company from his Santa Clara house. The company created and developed McAfee Anti-Virus software that is still used today. At that time, the market lacked any anti-virus software despite the fact that many companies have already started to heavily rely on computers. No wonder, McAfee's brainchild earned him a huge success. In 1989 the company has made $5 million. In 1992 the company released its shares on the stock market and the price was constantly growing as McAfee Associates was working with huge corporations. Nevertheless, in 1994 McAfee sold his stakes and left the company. He made $100 million from selling his shares.
There were not many notable events in McAfee's professional life in the next years after departure from McAfee Associates. He was giving rare lectures and providing consultations on occasion. He founded a Tribal Voice company that was working on one of the first Internet messengers PowWow but this project wasn't a big success. In 2000 he has become one of the directors of Zone Labs — a company dealing with firewall technologies. McAfee invested a lot of his money to this company and real estate. The financial crisis of 2008 has left him with only $4 million according to the New York Times.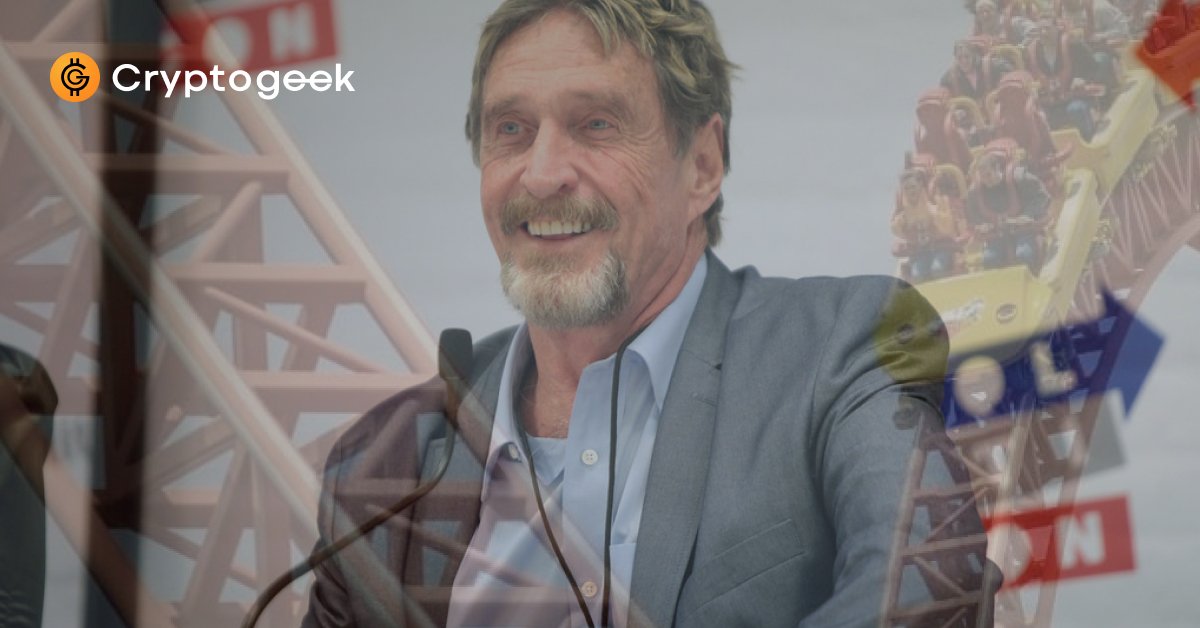 Another unsuccessful McAfee's project was QuorumEx. The company was founded in 2010 in Belize. It was supposed to produce antibiotics based on quorum sensing. The times spent by McAfee in Belize has a scandalous flavor as the entrepreneur was allegedly involved in numerous criminal activities. McAfee fled the country and came back to the US in December 2012. His next business project was Future Tense Central. First, this company was aimed at creating a computer network security device but then switched to serving as a business incubator.
A Cognizant app was McAfee's next notable project. It was a cybersecurity app that checked the permissions of all the apps installed on a certain mobile device. A similar functionality became the default for Android devices since the release of Android Lollipop 5.0 in 2015. That's the reason why Cognizant (rebranded to DCentral 1 at some point) became unnecessary. From September to late December of 2015 McAfee was running for President but lost the competition.
Let me reiterate: I have no interest in being President. In 2016 I was on the National Presidential Stage and, I believe, I changed the face of Cybersecurity. In 2020, I hope to change the face of the Blockchain and Crypto, hopefully for the better. This is all.

— John McAfee (@officialmcafee) October 4, 2018
2016 was more successful for John McAfee as he became the CEO of MGT Capital Investments. Initially, the company was focused on social gaming but McAfee launched a new direction. In 2016 MGT became a cybersecurity company. Soon after the company has built its Bitcoin mining operation while the shares prices of the company were growing quickly on the stock market. In 2018 McAfee has left the company. During that period it didn't produce any notable product. In 2017 - 2018 he was known for his cryptocurrency price predictions made on Twitter. Allegedly, the cryptocurrency project owners were paying him for the promotion of their ICOs. According to the most bullish estimations, he has made up to $5 million through Twitter. 
Since 2018 McAfee occupies the CEO position in Luxcore, a cryptocurrencies enterprise company. He has quit another Presidential campaign after Super Tuesday in March 2020.
John McAfee's war on HitBTC exchange
At a certain point in his biography, McAfee got in conflict with HitBTC exchange. He literally declared a war on the exchange:
"I fired the first shot in the war that must be fought. Our exchanges are connected to our banks and our governments. To take down the entire system, we must first take down our exchanges. Distributed exchanges are coming. I have singled out @hitbtc becase they are the worst."
His main problems with the exchange were its high fees and the fact that the exchange is a centralized entity. As a libertarian, McAfee stood in strict opposition to such things. Though the war between McAfee and HitBTC didn't have any real consequences, it gave readers a lot of funny and interesting tweets, as well as huge media coverage for the exchange itself.
---
---