Where and how to buy Tron (TRX) - Ultimate Guide by Cryptogeek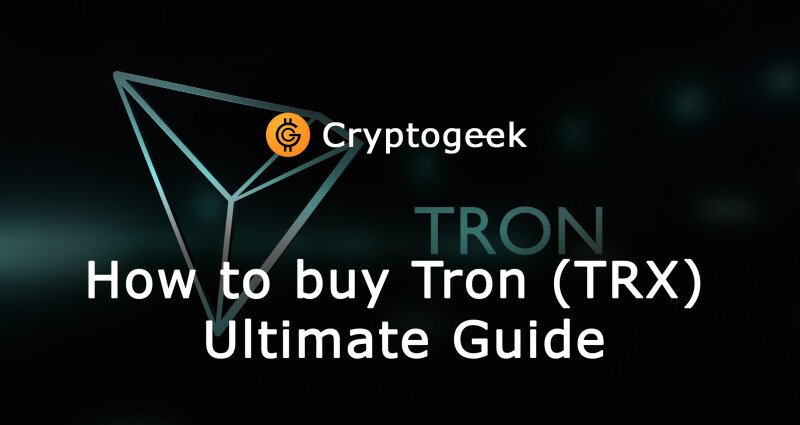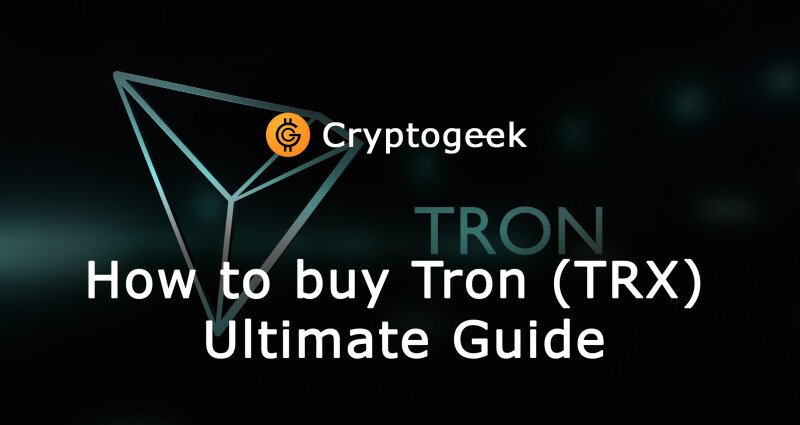 TRON is a massive blockchain-based operating system that has over 100 million active users signed up. The cryptocurrency's goal is to build a decentralized Internet that can enable consumers and developers to create a new generation of applications called dApps, similar to what Ethereum is doing.
TRON is capable of handling 2000 transactions per seconds owing to its ERC-20 token model and underlying blockchain flexibility, which makes it a desirable currency to own. This naturally begs the question where and how to buy TRON (TRX)?
For your convenience, we have put a detailed list of crypto exchanges that will happily allow you to purchase TRX and put it to any good use you deem necessary or worthwhile.
Binance
Binance allows you to quickly and easily purchase TRX. The exchange has a how-to-buy TRON (TRX) guide directly on its page allowing you to quickly follow the listed steps and make your first purchase.
The exchange operates globally through many subsidiaries and sister sites which bring the exact quality of the main domain, allowing the company to bring a tailored product in each jurisdiction it sets foot in.
Not least, you get to buy TRON among 150 other cryptocurrencies. To make a purchase you can either make a wire transfer or simply use your credit card. Both methods are quick, and you can even download a dedicated Android or iOS app to speed things along.
Freewallet
When looking where to buy TRON (TRX), Freewallet will often be one of your top choices. The wallet and exchange are equipped with many features that makes the quick purchase of TRX a piece of cake but, more importantly, allows you to buy the currency quickly and without unnecessary interruptions.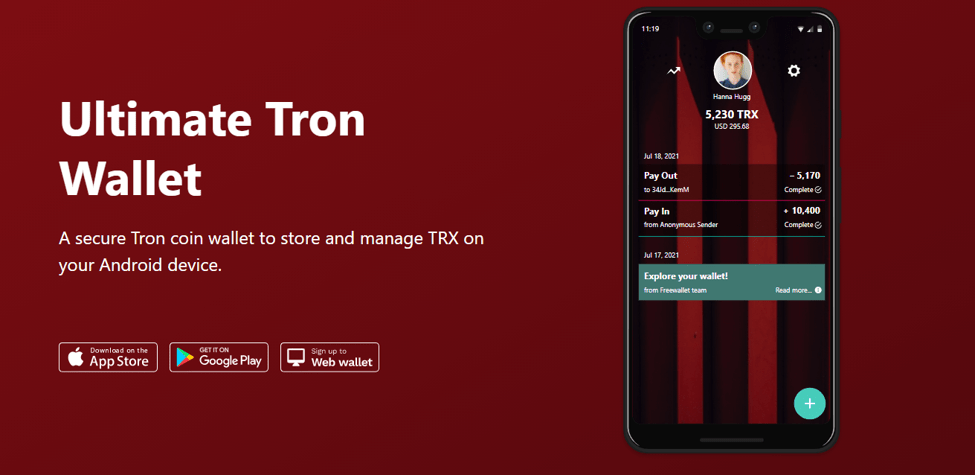 Freewallet allows you to manage your TRON easily using a dedicated iOS and Android app. You can buy TRX using EUR or USD directly through the app and you can further exchange TRX into almost any other cryptocurrency as Freewallet supports no fewer than 100 options.
The wallet is compatible with multiple operating systems, including Windows, Ubuntu, OSX, Linux and more, giving you a good variety to choose from.
How to Buy TRON (TRX) from Freewallet
Making a TRX purchase from Freewallet is a simple and straightforward process. To complete a TRX buyout what you need to do is register an account. This should only take a few minutes as you follow through the steps which will prompt you through the registration process. Once, this is settled all you need to do is follow these steps:
Navigate to the "Buy Crypto" page
Select TRON as the currency you are buying
Choose your preferred FIAT currency to buy with
Enter the amount you want to buy
Press the "Buy" button
You have just completed your first TRX purchase
The process is simple and once you have registered you will be prompted through each step making for an easy and rewarding process. Ever wondered where to buy TRON (TRX) without any hassle? Freewallet may be your top choice!
Kraken
The next place to buy TRON (TRX) from is Kraken. The exchange is one of the most trusted exchanges out there. Making a TRX purchase is simple enough and you will have to just register your account, fill out all the necessary fields and jump straight to the exchange.
The purchase can be carried in GBP, EUR, USD, or another FIAT currency supported by the crypto exchange. You will have to provide the exchange with some additional documents so as to verify your identity which is a part of how the exchange is regulated, and for your own security, too.
Once you have cleared this out of the way, you will be able to come back and make as many small or big TRX purchases as you wish to.
HitBTC
HitBTC makes the process of how to buy TRON (TRX) simple and straightforward. However, instead of using FIAT currencies here, you will be prompted to use several crypto tokens instead. Currently, HitBTC enables you to purchase crypto if you are willing to exchange BTC, USDT, EOS, ETH and others for TRX.
That means that you no longer have to turn to FIAT currencies or exchanges that require regular money when looking where to buy TRON (TRX). Instead, you can use your existing crypto portfolio and shift it directly into TRX or another desired crypto token of your choosing.
Bitnovo
Bitnovo is another trusted cryptocurrency exchange where to buy TRON (TRX) from. While the exchange operates on a much smaller scale than, say, Freewallet or HitBTC, it's still a popular choice. All your purchases are completely secure and you will be able to sort through the buying process without registration.
If you don't want to be bothered with filling out KYC and AML documents, Bitnovo may prove a worthwhile choice that will guarantee you a quick and easy TRX purchase. It's a trusted option in the community.
Etoro
Etoro started as a trading platform and it has now progressed to obtain a cryptocurrency license and launch a crypto portfolio. As a result, it's one of the places where to buy TRON (TRX) from. The process is actually very simple and all you need to do is set up your eToro account.
There are numerous ways to fund the account itself from bank cards to PayPal, to wire transfers, Skrill, Neteller, and more. Once this is out of the way what you need to do next is go to Trade Markets and click on "Crypto."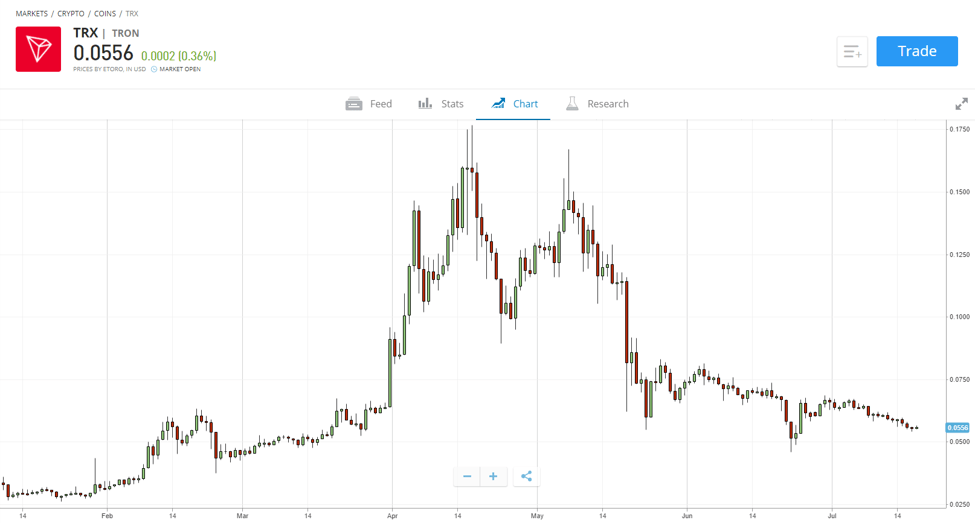 From there on in, it's going to feel very familiar. You will have numerous cryptocurrencies to pick from and TRX is one of those trusted options. Just enter the amount you want to buy.
Keep in mind that eToro is an exchange and you will get an immediate overview of TRX price movements helping you stay informed about your purchase. Well, this is how to buy TRON (TRX) on eToro. Simple, isn't it?
Bitpanda
Bitpanda is another excellent example of an exchange when looking at how to buy TRON (TRX). The process is simple enough and Bitpanda has a dedicated menu which will break down the TRX purchasing process for you.
To make things even better, Bitpanda will quickly display the current market volatility, cap, 52-week high and low and daily high and low. It's a great way to get involved with TRX, as Bitpanda will give you access to a quick overview of all the more important metrics.
Bitpanda does require registration and you still need to comply with KYC and AML practices, but these are there for your sake as much as the platform's. 
Changelly
Of all the places where you can buy TRON (TRX) from, Changelly is definitely one of our favorites. The exchange is known for its impeccable reputation, 24/7 live support, quick platform and general ease of use powering up the experience.
Once again, Changelly allows you to use a mix of cryptocurrencies and FIAT to make a purchase, giving you complete control and flexibility over your purchases.
How to Buy TRX Coin at Changelly
To purchase TRX from Changelly is actually a very straightforward process. The platform advises you to have a TRX wallet all set up beforehand. If you do, it's time to jump straight into the purchase:
Go to "Buy" from the central window in the exchange
Select the cryptocurrency you are buying, in this case TRX
Pick the FIAT currency you are willing to pay with
Click on "Buy Now" to finalize the transaction
It's really this simple. Changelly also allows you to exchange current crypto tokens for TRX if you choose the exchange function which is very straightforward.
SimpleSwap
SimpleSwap cuts a professional and accessible look with the platform considered one of the best places where to buy TRON (TRX) from. SimpleSwap makes things easy and simple, allowing you to use cryptocurrencies in order to purchase TRX, which makes it an ideal platform for anyone who is already established in crypto space to make further purchases. The platform supports many trade pairs and makes the exchange process very quick!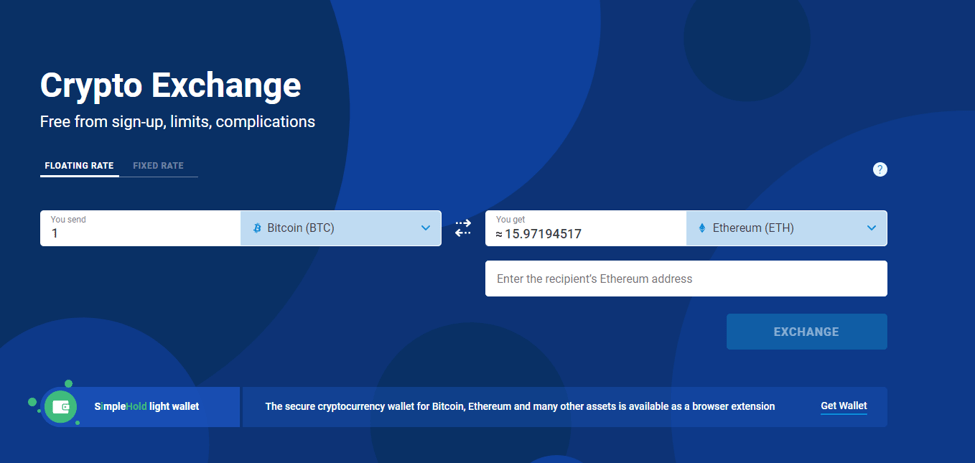 BCBitcoin
BCBitcoin is a crypto exchange that is focused exclusively on the United Kingdom and serves the market, making for a comprehensive and trusted exchange that will provide you with instant payments carried out with Visa or MasterCard. BCBitcoin may not strike as the most crypto intuitive TRX exchange out there, but it will surely help you make quick TRON purchases.
Switchere
Switchere will not require lengthy verifications which mean that you can complete a TRON transaction much quicker. The exchange is a highly-trusted option that will make it very simple for you to buy crypto on the spot without any delays. The set-up process is easy to follow as you register and immediately submit some documents to get the KYC and AML out of the way. Once this is sorted, you can buy TRX on the spot using a credit or debit card. Your purchases are DMCA protected for additional security.
CEXIO
If you are looking where to buy TRON (TRX) instantly, CEXIO is your go-to choice. The platform enables simple and straightforward purchases that are completed instantly. You can pick from three main FIAT currencies here, including EUR, USD and GBP and you can purchase a debit or credit card to carry out a purchase. CEXIO advises using cold storage for your currencies.
Mercuryo
Mercuryo is a less known wallet solution that works for both Android and iOS and allows you to store your TRX tokens right after buying them. The wallet will allow you to buy and sell TRON right on the spot, making it a convenient tool to have. The platform comes with a technology-first KYC, dedicated customer support, and multiple options to make a crypto purchase.
Changenow
When looking for a place where to buy TRON (TRX) from, you will definitely come across Changenow, an intuitive exchange platform that offers to exchange your crypto tokens into TRX ERC-20 tokens in no time at all.
Similar to what HitBTC has to offer, Changenow allows consumers to quickly convert their crypto portfolios from one token into another, with support for dozens of popular cryptocurrencies, including TRX, THETA, LUNA, DASH, BTC, ETC and more.
The exchange similarly supports FIAT currencies, giving you direct and easy access to every possible exchange mechanism you would ever need.
Paybis
Paybis has a very simple and straightforward user interface that allows you to make snap purchases without much hassle whatsoever. The platform supports over 30 popular FIAT currencies that can be immediately traded into TRON.
If you want to find a place where to buy TRON (TRX) in mere minutes, or even seconds once registered, Paybis seems to foot the bill.
The platform prides itself on many features, including but not limited to instant verification, lighting-fast crypto settlements and a service that is friendly to both new and experienced crypto investors.
Conclusion
Purchasing TRON (TRX) today is a simple and straightforward process. There are numerous fantastic websites that offer slightly different products. Some will ask you to pay with FIAT but others will allow you to exchange a part of your crypto portfolio directly into TRX. Overall, picking a good platform will mean that you pay smaller fees, have a more reliable place of storage and generally enjoy your TRON investment longer.
---
---