How to Buy Nxt (NXT) - Ultimate Guide by Cryptogeek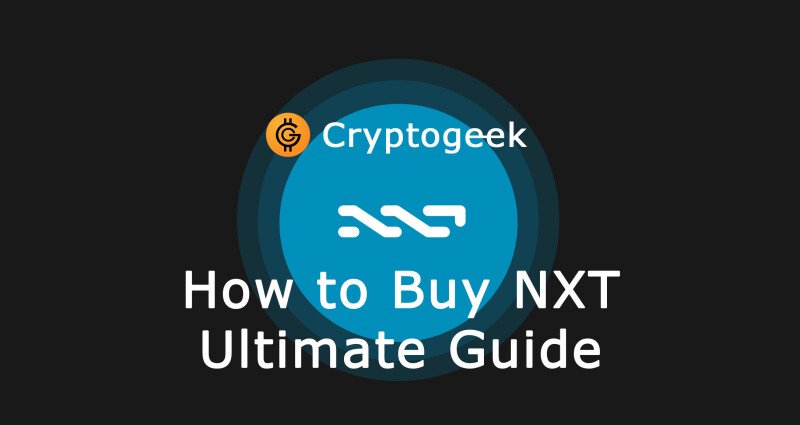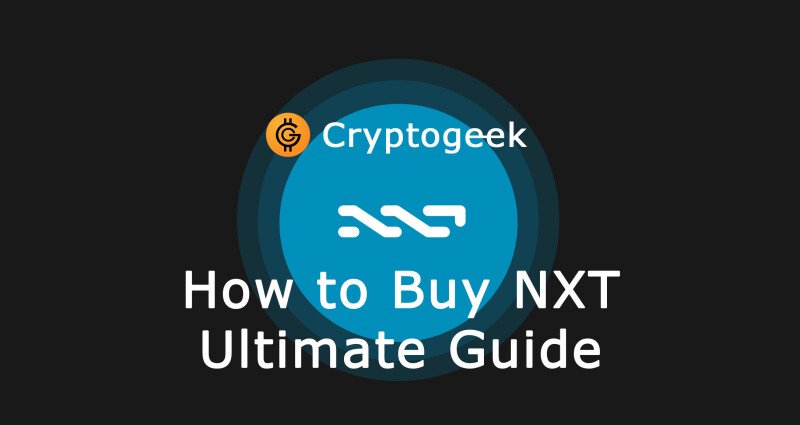 Cryptocurrencies have been on a constant increase in interest in the past decade or so. The earlier days when Bitcoin was released in 2009, there was almost no demand, meaning that the purchasing process was much more complicated. The main reason for that was the lack of a platform where ordinary people could purchase crypto.
Even though cryptos still aren't as widely used as fiat currencies, people still purchase them. One of the main reasons is the constant price increase, meaning that the value may increase in the future if you invest a certain amount today.
In recent years, one coin seems to draw a lot of attention – Nxt. Considering how much people are looking to buy it, it's natural to think that the price would increase. With that in mind, today I'll explain where to buy NXT.
Before I begin, first, I'll explain what it is and why it may seem like a good investment option.
What is Nxt?
Nxt is an open-source blockchain platform and was launched basically as an upgrade to the existing platforms like Bitcoin. The idea behind it was to improve two aspects -scalability and efficiency. It manages to achieve that by implementing the proof-of-stake consensus instead of the proof-of-work one that Bitcoin is based on.

The network was launched in November of 2013 and is developed by an anonymous developer known as BCNext. The proof-of-stake is a consensus that speeds up the transaction and requires less power to do so, making it more efficient. A faster transaction means that scalability is also fixed, meaning that Nxt really has some advantages over Bitcoin.
Diving deeper into the blockchain, you'll see another unique aspect of it. Unlike almost all blockchain platforms, Nxt is developed in JAVA and is designed to be a bit more restrictive. The result of this is a blockchain that is highly secure and prone to attacks.
Nxt isn't just an ordinary payment system; instead, there are multiple applications. On top of the standard monetary system that enables you to trade or purchase coins, there is also a decentralized cloud solution. As such, all data is stored on the network is decentralized, meaning that it cannot be modified, and on top of that, it can also store user-defined data. It implies that Nxt can store other types of records like contracts or certificates.
How to buy Nxt?
The process of purchasing Ardor begins with choosing the exchange. There are plenty of options, and in the next section, I'll explain where to buy Ardor. For now, let's stick to the how.
There are only a handful of platforms that will allow you to buy the coin without going through the registration process, so be prepared for it. Most platforms' signup process consists of entering an email address and choosing a password. To prevent spam accounts, you may need to verify your email address, and the account will be good to go.
Depending on the exchange's rules, some may give you full functionality just by signing up, while others may ask you to verify your identity. In these cases, you will have limited functionality of the service until your identity is verified.
There are various ways that you can verify your identity and are entirely dependent on the platform's rules. All of them will require you to send a copy of your ID, but the rest of the steps will differ. Some may ask you to take a selfie while holding the ID, while others may ask you to write a specific message on a piece of paper and take a selfie. The steps are clearly laid out, so as long as you follow them correctly, you shouldn't have any problems.
The duration of the process can vary in length and may take a few hours for some and could take a day or two for others.
Where can you buy Nxt?
Bittrex
I'll be kicking off this list with Bittrex, a US-based exchange that was launched in 2014. The main area that the developers of this platform were security, something that most of the others from that era lacked a bit. As a US-based platform, Bittrex quickly became available for the rest of the world, which helped it gain a lot of popularity.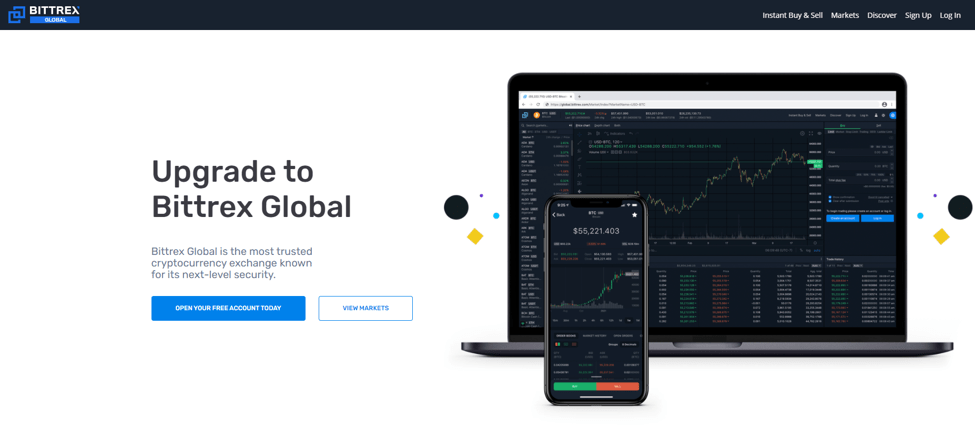 With support for over 400 coins, including Nxt, Bittrex offers quite a good variety in terms of buying and trading crypto. Keep in mind that to buy Nxt, you'll need to rely on finding a trading pair that suits you because Bittrex doesn't support fiat currencies.
Poloniex
Poloniex is one of those exchanges with a rough start but managed to pull through and sort things out. It was launched in 2014, and in the first few months it had a breach, which led to people avoiding it. In 2019, the platform got new management and had begun to regain people's trust.

Nxt is only one of the 100 supported coins, which isn't a lot compared to some of the other contenders on this list. When you combine that with the lack of support for fiat currencies, you get a slightly limiting experience.
Bilaxy
You probably haven't heard the name before, and with good reason. The roots of this exchange aren't really known, which doesn't sit well with too many people. The platform appeared on the market in 2018, and the reason it's getting traction is that some lesser-known coins can be traded over there.

The platform gives you access to around 450 coins, which, of course, include Nxt. The biggest downside is that fiat deposits aren't supported, meaning you'll have to trade Nxt with another crypto coin.
HitBTC
HitBTC's earlies years were filled with some controversies, so people were trying to avoid it. Luckily, things have improved a lot, meaning that it's a very safe exchange.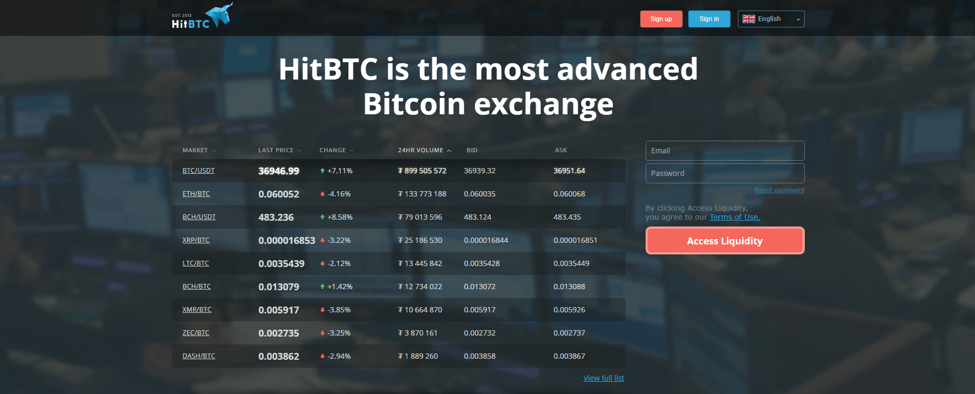 The platform was launched in 2013, and since then, it has "accumulated" a list of over 800 supported coins. This is among the highest number in this market. Like most platforms on this list, it doesn't support fiat currencies, meaning that you will have to buy Nxt by utilizing the thousands of available crypto pairs.
Freewallet
You may be confused to see a crypto wallet in the list, but there's a good reason for that. Freewallet works in conjunction with Changelly to offer crypto storing and trading options. The exchange is baked into the wallet, meaning you have a two-in-one service.

In terms of variety, don't expect too much. Freewallet supports around 100 coins, which isn't a lot when comparing with some of the other options. The good news is that fiat currencies are supported, so you won't need to purchase additional coins and trading them for Nxt.
Graviex
Graviex is a relatively new exchange, which was launched in 2018. Initially, it was based in Russia, but the company was moved to Malta after a while. The reason for it is that the crypto laws are much clearer. It's not a very popular exchange, mainly because it's not as big as some of the others on this list.

Surprisingly, the platform gives you access to Nxt and 170 other coins, which means that there is a decent amount of variety. Fiat currencies aren't supported, meaning that the only option is the trading pairs. There is another option, which is to utilize a third-party service to make an exchange.
Stex
The last platform where you can buy Nxt is also not on top of any popularity list, but it's a good option. It was launched in 2017 and made trading easier by creating an easy-to-use user interface, which novice traders will like.

Despite being aimed at beginner traders, the platform only offers less than 90 coins, which isn't too much compared to some of the other exchanges on this list. On top of that, you also won't be able to deposit funds through fiat currencies.
---
---