How to Buy Bytecoin (BCN) - Ultimate Guide by Cryptogeek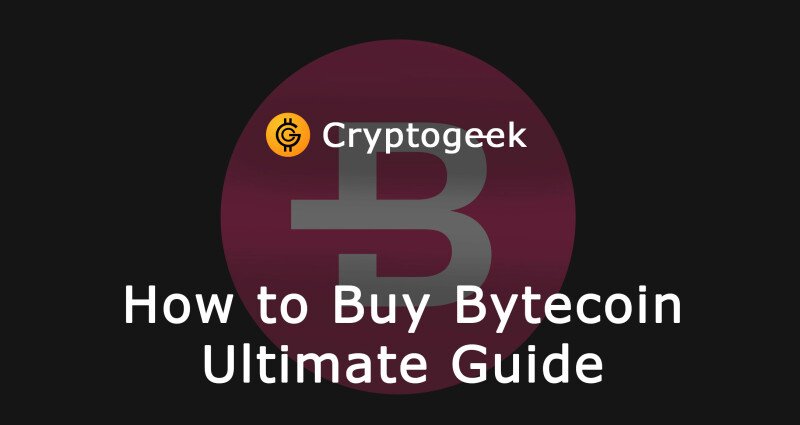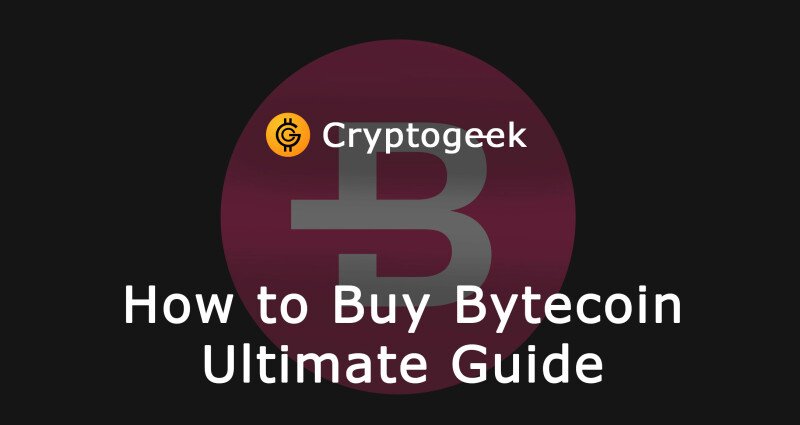 Cryptocurrencies have blown quite a lot in the past decade, leading to the point where they are becoming more and more accepted as payment services. Another popular reason why you'd want to own some cryptocurrency comes from the investment sector. Purchasing them at a lower price with the hopes that the value will rise is something that people have been doing a lot with stocks in the past. Today, that movement has moved to cryptocurrencies.
To be able to use a particular cryptocurrency, you first need to purchase it. The process was a bit more difficult in the past, as there weren't too many options. Today, things are a lot different and are a lot easier.
Bytecoin is a cryptocurrency that seems to get more popularity in recent years, which leads me to the topic of this article. I'll outline what it is and where and how you can buy it.
What is Bytecoin?
Released in 2012, Bytecoin is a cryptocurrency aimed at being open-source and anonymous.

In terms of the open-source part, the developers developed the blockchain so that anyone that's part of the network can help make improvements. While changes will still need to be approved by the network, any node can propose the changes, and if they get approved, they will be implemented. Considering the nature, the advantage of Bytecoin is that it is constantly evolving through minor updates.
On the anonymous side of things, the platform is designed to avoid linking a certain address and a transaction to a user. The way this is achieved is by using one-time addresses for a transaction. Once it's completed, the address is no longer usable. That way, the chances of linking the transaction and the address are almost impossible.
In terms of mining and rewards, the adjustable parameters ensure that the emission curve is smooth by constantly changing the parameters according to the conditions.
How to buy Bytecoin?
There isn't a single guide for how to buy Bytecoin because each platform is different. Despite that, here's a quick rundown of how the process goes.
As always, the platform is the crucial aspect, because you won't be able to buy it on everyone, so choose one accordingly.
In most cases, to buy any cryptocurrency, you'll need to create an account. Many platforms make this easy, and you only need to enter a handful of information to get started. You may end up just entering an email address and type in the password. This is where things start to differ. Some platforms may enable you to make a purchase just by signing up on the platform. On the other hand, you may need to verify your identity before you have full functionality.
Verification is a process that takes a while, mostly because platforms aren't fans of anyone using them. You will need to upload an ID, take a selfie with a handwritten message, etc. Each platform has a unique procedure, so you'll need to check the details on the exchange that you plan to use. Keep in mind that this process could take a day or two, depending on how long someone checks your application.
Once you're done with the verification, you can purchase your first Bytecoin. You have two options, either purchase with fiat currency or with another crypto. Most platforms have both options, so you shouldn't have any issues. In both cases, you will need to enter the information and choose the number of coins you want to purchase.
After that, you will be the proud owner of Bytecoin.
Where can you buy Bytecoin?
HitBTC
HitBTC is a crypto exchange that started its life back in 2013. Even though there were some controversies and bad news surrounding this exchange, it remains a good option for crypto purchasing.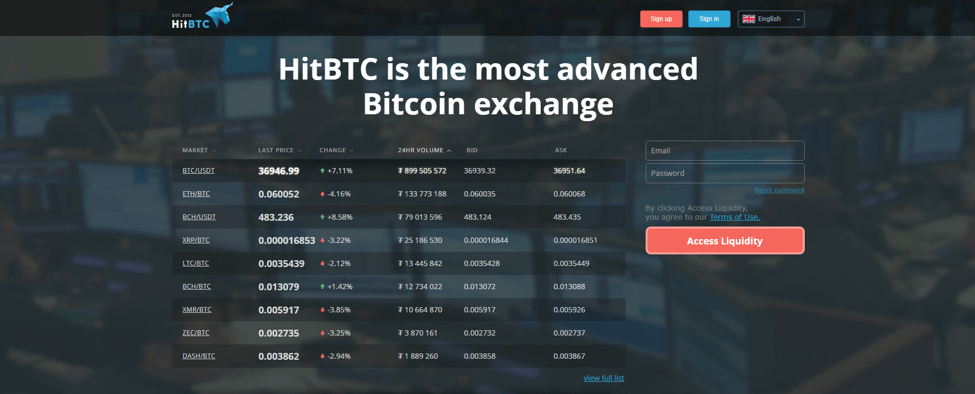 The platform offers over 800 cryptocurrencies which is quite a lot when comparing it with some of the others on this list. The downside is that you will only be able to purchase Bytecoin with other cryptocurrencies because the platform doesn't support fiat payments.
Poloniex
Poloniex had a rough start in 2014. Several months after the launch date, there was a breach that left it with a bad mark. The good news is that in 2019 a new person sat behind the wheel and improved the platform. Today, it may not be extremely popular, but it's a good option for purchasing Bytecoin.

You have access to less than 100 cryptocurrencies, but on a positive note, you won't need to verify your identity to make a purchase. Keep in mind that this platform also doesn't support fiat currencies.
Coindeal
Coindeal is a relatively young exchange but seems to have a lot of potential. The platform was launched in 2018 and is based in Malta. While it is more inclined towards being transparent, the platform lacks some features, like margin trading.

In terms of supported coins, there are around 50, which is not a lot, but the good news is that Bytecoin is supported. Another advantage is that you can purchase Bytecoin with fiat currencies.
Tradeogre
If I had to picks the least popular exchange on this list, then it would be Tradeogre. Based in California, the platform was launched in 2018 and is positioned itself as an anonymous exchange without any fuss.

Like most smaller exchanges, you are sacrificing some features, but you have a place to purchase Bytecoin. The crypto options are limited to 83, meaning that the variety of options is a bit limited. On top of that, you also don't have the opportunity to purchase with fiat currencies.
Coinspot
Here's another example of an exchange that doesn't get the attention it deserves. Initially, it was launched in 2013 for citizens of Australia to purchase crypto, so if you're from another country, you won't be able to use it.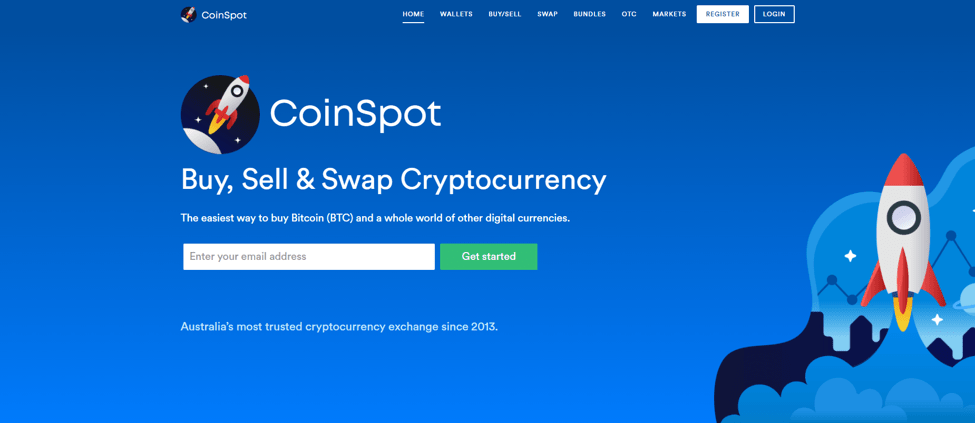 For crypto support, the platform offers over 280 coins, among which is Bytecoin. To purchase them, you have the option to go with another crypto, a few digital services, or a band transfer.
Freewallet
You may be surprised that a wallet is on this list, but hear me out. Freewallet is technically an exchange as well, meaning that you can do some crypto swaps and store your coins in the same app. Freewallet works with Changelly to offer both services.

Support-wise, you have over 100 coins, including Bytecoin, meaning that you don't get too much variety, but it's not too bad. As a bonus, the fiat to crypto option is available, making it perfect for people that don't own any crypto.
Crex24
I'll be ending the list with Crex24. Many of you may not be aware of its existence, mainly because it's aimed at the Russian market. It is based in Estonia and, since 2017, has been a good place for crypto purchasing. Keep in mind that there is a limitation for the US, UK, Canada, and Israel residents.

Bytecoin is on the list of supported cryptos, along with over 90 other coins and the best part is that you can purchase it with a fiat deposit as well.
---
---