CryptoGeeks: An Interview with Fuse.io Ideaology COO Zied Chaabane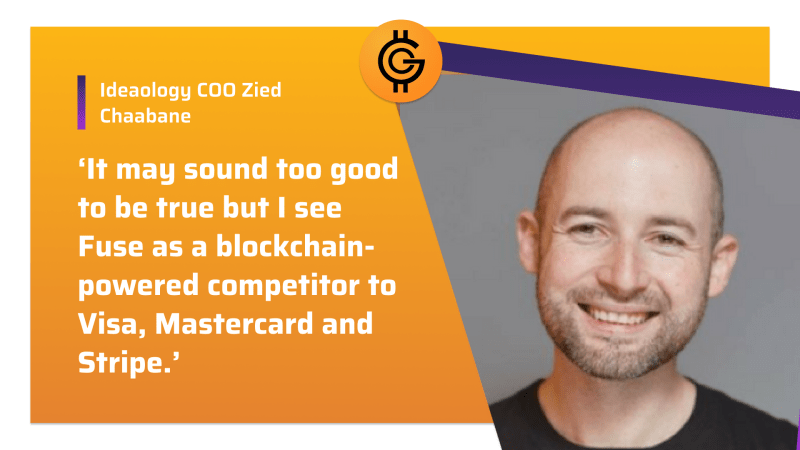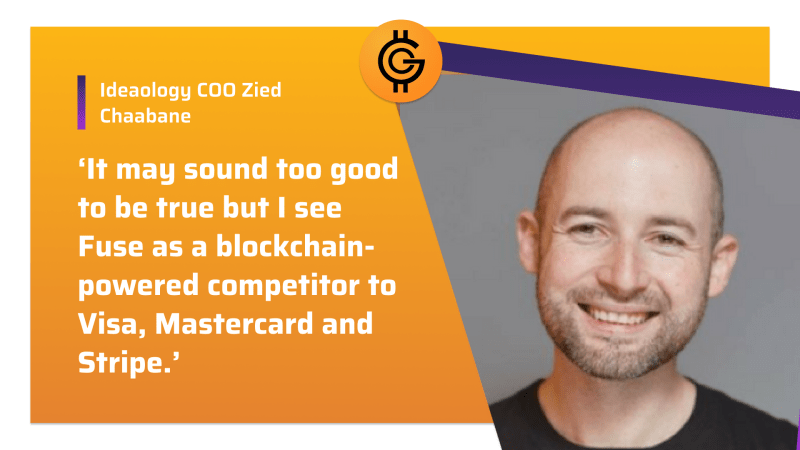 For those of our readers who hear about your project for the first time, tell us what Fuse is today.
Fuse is a blockchain-powered platform aiming at bringing crypto payments and decentralized finance (DeFi) to the masses. Today, Fuse has three main components. First, it is a decentralized EVM-compatible blockchain with a large number of independent validators and fast and low-cost transactions. Any project and decentralized application that can run on Ethereum or, say, Binance Smart Chain, can also be deployed on Fuse.
It is also an open-source mobile-centric infrastructure for creating and managing token communities. If a project has a real-world use case for a token and a community of users around it, it is very easy for it to launch the token and community using the Fuse Studio platform, and open access to it for users via a customized version of Fuse Wallet.
Finally, Fuse features a set of reference DeFi tools, including FuseFi and the consumer-facing wallet Fuse Cash. 
If we talk about FUSE as a cryptocurrency, how are you different from other coins? How do you position it?
FUSE is in a way pretty much like ETH or ADA. It is the native currency of Fuse's EVM-compatible blockchain Fuse Network that is necessary for paying transaction fees on the network. FUSE can also be used for payments as it is cheaper to send FUSE than other tokens on Fuse Network. 
Are you satisfied with the success of the project so far?
Given the resources the project has had at its disposal, I would say it has definitely achieved a lot. However, real-world adoption is the ultimate arbiter of success, and we are doing everything in our power to get as much of it as possible.
How difficult is it to compete in the cryptocurrency and blockchain industry in 2021? What is required for a project to be successful in this industry?
There are thousands of projects in the crypto space, all clamouring for attention, so it is indeed not always easy to compete. The best thing to have is of course a stroke of fortune, like Elon Musk's support for Doge. But for those of us who are not as lucky, there are three components that need to be present: strong tech, energized community and compelling use cases.
What are your plans for the near future?
Those interested in Fuse should stay tuned for a host of exciting updates in the near future. Network improvements are coming, as well as major news on the FUSE trading front. We are soon expecting the launch of an NFT marketplace. We are also planning conduct a pilot of an integration with a zero-knowledge rollup solution via the Flutter Layer 2 Payments SDK. When implemented, this scalability solution will allow developers to integrate ZK rollup transactions straight into their forks of Fuse wallet technology. 
How do you see the future of the project in the long term, for example, by 2030?
It may sound too good to be true but I see Fuse as a blockchain-powered competitor to the likes of Visa, Mastercard and Stripe. It is much faster to send payments on the Fuse blockchain than on the legacy payment networks, and also much cheaper, especially as far as cross-border transactions are concerned.
In many developing countries, significant numbers of people lack access to banking and other financial services, while they usually have mobile phones. The populations of some countries also have to deal with currencies under constant risk of rapid devaluation. Fuse could give hundreds of millions of people access to the financial system by largely leapfrogging the legacy infrastructure.  
What do you think is the reason for the current fluctuations in the price of bitcoin?
The Chinese government crackdown certainly played a significant role in the recent fluctuations. However, when people noticed that life goes on after it, the prices roared back, as the enormous potential of the crypto industry is still there.  
Do you have any predictions about the future of the cryptocurrency industry? What could change over time?
For years, critics have been claiming that crypto was a fad that shall soon pass. But even aside from the consistent gross in market capitalization of the industry, which everyone notices, what matters even more is the sheer bonanza of tools that have been and are being built. DeFi tools, user-friendly wallets, scalability solutions, NFTs, decentralized storage, custody, governance, you name it.
For these tools to have a chance to transform the world, though, we need other countries' governments to avoid the temptation to crack down on crypto Chinese-government-style.
---
---