Cyberpunk 2077, Pizza, and Bitcoin: Hot Collabs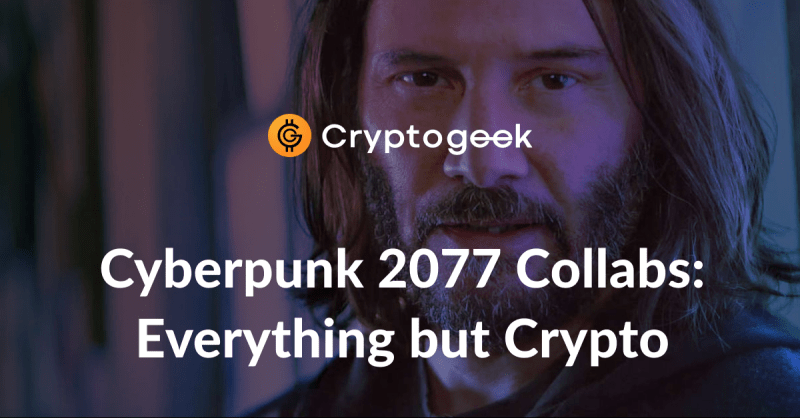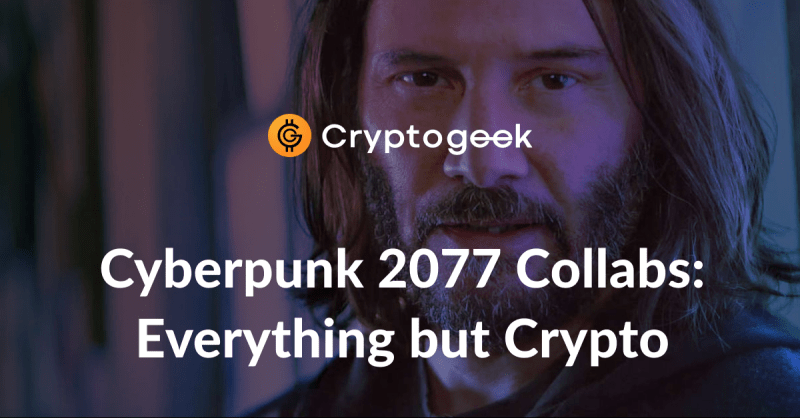 Cyberpunk 2077, a long-anticipated game from the famous Witcher trilogy creators — CD Projekt RED, was finally released on December 10, 2020, after years of postponements. The production cost around $330 million and took over 5 years (the game was announced in 2012). The Witcher fans and other gamers were quickly hooked by the upcoming game release. 
One of the ways to make sure the game won't go off the radar before the release was collaborating with other industries. Cyberpunk 2077 collaborated with many brands to get its logo onto all kinds of goods. Some even compared the game with Travis Scott as the latter is also involved in a mad number of collaborations within diverse industries. CD Projekt RED made unprecedented efforts to constantly whet the public appetite throughout the time.
By the way, whetting an appetite can be perceived in a literal sense — one of the collaborations was "Dodo 2077" — a pizza in a Cyberpunk 2077-themed package by the Dodo Pizza company. The product is available in Russia and Belarus only. More than that, fans can use an AR Instagram mask that triggers a holographic pizza image when the smartphone camera is pointed at the Dodo 2077 pizza package. Is it what a human being really needs? Definitely, not. Is it fun? Probably, yes.
Pizza is not only the historically first purchase paid in BTC but also a popular snack among gamers and even game developers (remember the Id company history saturated with pizza and diet cola) so the collaboration between the popular pizza chain and the game totally makes sense.
Do you remember the "Dumb & Dumber" film? Probably that was the best possible 100-minute commercial for luggage company Samsonite. The company decided not to distance from the Cyberpunk hype and released backpacks with the game logo on them.
Thanks @CyberpunkGame and @CDPROJEKTRED for the limited edition Cyberpunk backpack! I'm too hyped for this game! pic.twitter.com/hf14LKYcFJ

— theRadBrad (@thaRadBrad) November 27, 2020
The black-yellow backpacks were named "Connect Eye Cyberpunk 2077 Special Edition". These items weren't available for sale. They were distributed at events in 12 countries. In Korea, these backpacks were given away via the Instagram lottery. 
One of the biggest names in the collabs list is Adidas. The Adidas X Cyberpunk 2077 shoe line was revealed in November 2020.  The first unofficial info of the Cyberpunk 2077-themed shoes leaked back in September but to the disappointment of the Western public in November it turned out that new shoes can be purchased exclusively in certain countries in Asia.
As I'm getting a lot of questions about this - the Adidas X Cyberpunk 2077 Collab is available in selected Asian markets only. As a partner we don't make the distribution decisions as that is Adidas core competence. pic.twitter.com/hklVRwey5S

— Rafal Jaki (@GwentBro) November 5, 2020
The several models of the rare shoes decorated with the neon Cyberpunk 2077 logo were put up for sale at around $250 per pair. 
Another popular brand that released a product with a Cyberpunk 2077 logo on it is Nvidia. On February 17, the company introduced a limited edition (77 items only!) of GeForce RTX 2080 Ti Cyberpunk 2077 a yellow-black Cyberpunk 2077 design. The tweet announcing the new product got over 100k likes. Wow!
Introducing the GeForce RTX 2080 Ti Cyberpunk 2077 Edition.

We made 77 for our community.

Want one? Here's how:
1. RT this video.
2. Tag a gamer who is as excited as you about Cyberpunk 2077 in the replies with #RTXOn
3. If selected, you BOTH win these limited edition GPUs! pic.twitter.com/IG2BZZCZ6H

— NVIDIA GeForce (@NVIDIAGeForce) February 17, 2020
Wanna have some? Good luck buying it on eBay. It costs $2,700 at best. Back in April, the prices were much higher — around $4,000, so if you are a fan, you can have one of these 77 artifacts.
What about automobiles? Cyberpunk didn't miss the opportunity to collaborate with the vehicle manufacturer. There is just one car that has a real-world prototype in the Cyberpunk 2077 universe and it is a 1977 Porsche 930 Turbo. In October, Porsche released a video on the official YouTube channel showcasing the car in the Cyberpunk 2077 setting. "Porsche has officially replaced Tesla as The Reddit Car" one of the top comments reads.
Yes, people were impressed as the game reality became more... real. Riding a Porsche car isn't too real for most gamers, though. Of course, a 100-year-old model went through a series of upgrades making it work on biofuel and replacing its side mirrors with cameras to fit in the Night City realm well. That's why an accurate model re-created for the Cyberpunk world was accepted enthusiastically.
Razer, a company manufacturing and selling gaming laptops, keyboards, mice, monitors, etc is also on the list of CD Projekt RED collaborators. Their Cyberpunk 2077-inspired product is a yellow computer mouse with the game logo. Many other companies have also presented their products. HBX exclusively sells the Cyberpunk 2077-themed clothing line on its website. Another example is a PC-only collaboration between Kojima Productions and CDPR. That's a pack of 6 additional missions for Death Stranding which include the characters from Cyberpunk 2077, new hacking features associated with the latter, and some additional items. Drinks? Coca-Cola is in! In Poland, there's a limited installment of Cyberpunk 2077 Sprite cans. The drink buyers get vouchers that can provide a win of the game copy.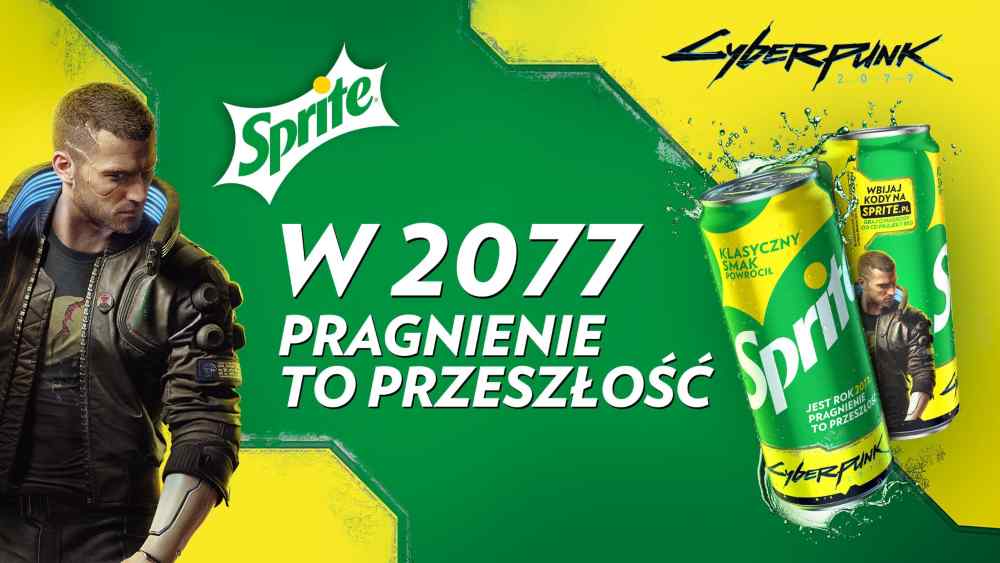 The collabs mentioned above are not the full list. BTW, what about cryptocurrencies? Is there any crypto project featured in the most popular depiction of future days? Welp... Despite the fact that already in 2015 some gamers were requesting to make Bitcoin a currency of the future world built in the game reality, CD Projekt RED was only joking about cryptocurrencies on Twitter. Instead, developers used a lousy concept of "eddies" (or eurodollars) as money of the future. Yes, the paper money stacks were used in 2077 ignoring the fact that even these days some countries are already preparing for the full abandonment of physical money. Wow. Such futuristic.
---
---