Coinmatics Reviews 2021
Aug 26, 2021
Crypto trading continues to develop, becoming more and more profitable for those who know the market well and know how to use the latest technologies. One of the methods to multiply the profits is using bots and copying the strategies of the best professionals. The new tools and platforms allowing copy trading to arrive. Today we will review one of the new yet decent platforms focused on providing users with copy trading functionality. The platform is called Coinmatics. We will see what are the features available on the platform, is Coinmatics a scam, and is it safe to use this platform in general, and answer the rest of the important questions that are usually raised while approaching an unfamiliar crypto platform. 
What Is Coinmatics?
Coinmatics is a platform providing its users with the tools for copy cryptocurrency trading. Experienced traders can make additional income via sharing the info about their trading actions with other Coinmatics users. Those "other users" can boost their profits by copying the trades of market professionals. That's a win-win situation in which trading leaders increase their earnings, educate the rest, and fully depend on the success of their trading activity while beginners can learn something from strategies and tactics of professionals and earn as much as them copying the trades they make. Another benefit is that traders who copy the trades of professionals can easily automate their trading process and enjoy a passive income.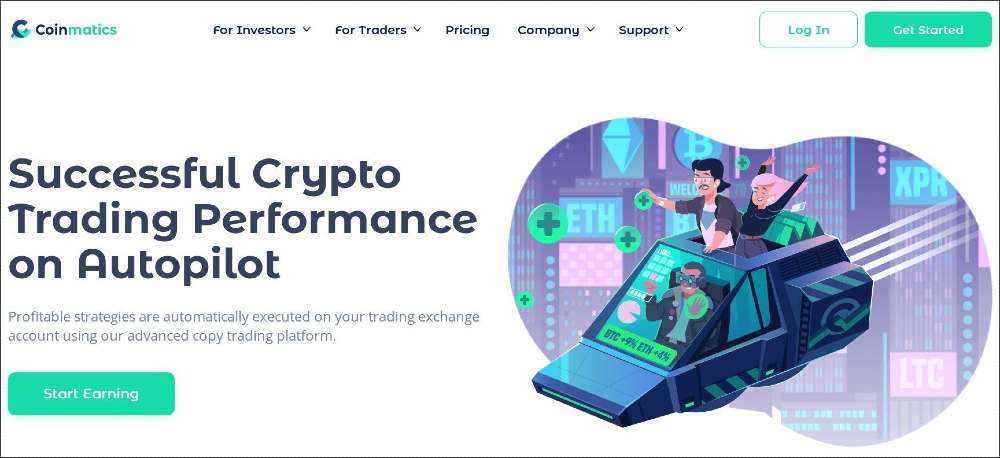 The traders whose strategies are available for copying on Coinmatics are coming through a selection process in which their skills and past achievements get verified. It means that the chance of finding a failure strategy on Coinmatics is negligible. Anyway, Coinmatics provides additional tools that will help users to regulate the risk level. It is important because the crypto market is still highly volatile and there can be moments when the market trends change drastically. Traders with automated trading should be prepared for that. It is also important to mention that Coinmatics doesn't access the users' funds directly.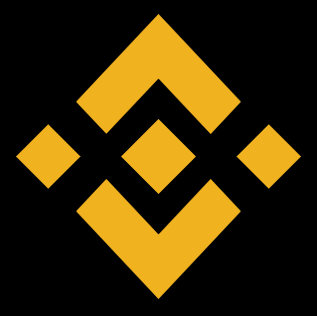 Get Profits with HODLing on Binance Earn
About the Company
The company was launched in 2018. It has offices in Minsk and Grodno (Belarus). The development centers of Coinmatics can be found in Minsk, Grodno, and Gdansk (Poland). The company working with Coinmatics, Copytrading Solutions Limited, is registered in the British Virgin Islands. The team is fully public which draws additional trust to the company as fraudsters don't like to show their faces and names.
The owner of Coinmatics is Dyanis Zabauski. Another key figure of the platform is Alexey Shulzhenko who occupies the advisor position. According to the company's website, the goal of Coinmatics team is to be a platform of people dedicated to copy trading and wishing to be a part of the community of those who share the same interest.
Main Features
In some sense, Coinmatics is a platform where active traders (whose strategies are available for copying) meet investors (who just use automated copying the strategies of the traders to get profits). Both traders and investors can benefit from Coinmatics. 
For Traders
Now let's see how exactly traders can benefit from Coinmatics. Traders with an outstanding trade history in an exchange profile might showcase their past trades on Coinmatics. That will attract potential investors who will probably wish to buy the strategies from this trader. You might submit your trading strategy easily. First, you will need to send an API key from your exchange to Coinmatics. The second step is setting the commission for copying your trades. The investors will have to subscribe to your strategy at the price you set. Then, as more and more people will be subscribing to your strategy (if it proves to be profitable) you will get more and more money. You just will have to continue trading and the only thing that will be different is that your success in trading will advertise the strategies that will bring you more money. The profile may be promoted on Coinmatics. According to the company's website, traders are provided with payment stats and rewards regularly. 
On Coinmatics, traders are also offered some free market research tools. For instance, you might set ticker alerts via Coinmatics. After setting custom preferences, you will start getting notifications via Telegram. Telegram signals can also be applied for keeping track of the deals with the best spread available on different exchanges. Apart from using Telegram, you might perform arbitrage trading via manual mode. The other analytical tools available on Coinmatics are Twitter Analytics, Fear and Greed Index, BTC Social Volume, and other dashboards.
For Investors
Now, let's make a deeper dive into the functionality available for investors. Copy trading is a kind of trading in which investors just do the same deals as trading experts who have already proved to be successful in trading. When you subscribe to a strategy your account does the same trades as the trader who submitted the strategy so you get the same profits as this trader does. The only difference is that you pay this trader a commission for using his strategy.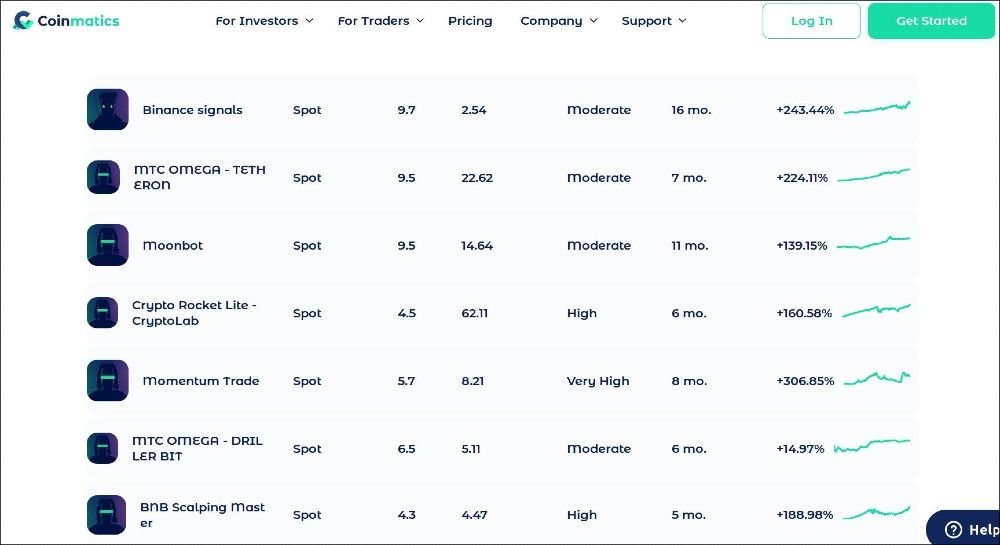 Investors can choose from around 200 strategies to subscribe to. These strategies are supposed to bring investors profit in an autopilot mode. So even if you don't have enough experience nor knowledge in crypto trading you will be able to benefit from trading. It's important to keep in mind that the strategies you are offered to follow are used by their authors who risk their own money and reputation on Coinmatics. They have skin in the game and are not likely to fail you.
Coinmatics is looking to partner with many big crypto exchanges. As of August 2021, the platform partners with Binance and OKEx meaning that you can open accounts on these exchanges, deposit money, and start copy trading via subscribing to one of the strategies through Coinmatics. Some of the strategies can be used for free, so you can easily try the platform out before subscribing to the paid strategies. You can regulate the risk level yourself. The investment can be distributed between several strategies. 
If you want to become an investor on Coinmatics you should create an account on Binance or OKEx and Coinmatics. The exchange API key should be provided to Coinmatics. The next step is choosing a strategy and subscribing to it. To choose a strategy you should first make sure that the trader offering a strategy has a great track record and knows how to trade. You can see the statistics of traders (it includes the history of signals, risk level, overall profit, etc) and learn the details of the submitted strategies. It's important to realize that the past performance of any strategy doesn't guarantee that in the current market situation it will play out as well as in the past.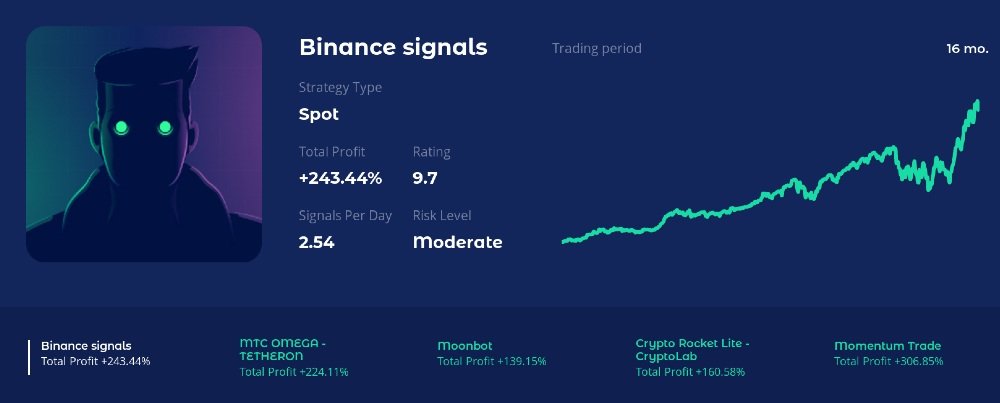 One of the free strategies is Binance Signals. It is a long-term strategy that requires at least 3 months before it brings serious revenue. The estimated profit is around 250%. The trader is buying only top coins, trade without stop loss, and average positions. The minimum recommended investment is $300. The strategy supposes that around 1300 signals will take place in at least 16 months (2.5 signals per day on average). The most used assets are Bitcoin (BTC), EOS, and Binance Coin (BNB).
Plans and Pricing
There are three available plans on Coinmatics that you can choose from: a free plan, a premium plan, and a premium ref plan. The free plan offers such features as stop copy trading, analytical tools, ticker alters, and portfolio tracker. Those who got a premium plan enjoy two additional features, they are futures copy trading and prioritized copying. You can try out a premium plan for free for 30 days. The price of the plan is $20 a month or $240 a year. The premium ref plan has all the features of the premium plan plus the Binance fees discount. The premium ref plan is free, you just need to create a new Binance account using a referral code from Coinmatics and send the platform your Binance User ID. The strategy subscription money is paid from your Coinmatics balance. 
Referral Program
Just like many other crypto platforms, Coinmatics has a referral program. So if you have some friends or followers who can become interested in Coinmatics you can bring them to the platform and get rewarded for that. 
The #Coinmatics team is excited to announce the launch of the Referral Program🎉

Invite your friends to the platform via the referral link and receive Coinmatics coins (CMTS) as bonuses🎁

🔍 Read the details on our blog: https://t.co/WAgA2XOR5s

Happy Sharing!#referralprogram pic.twitter.com/nKM5aMC67P

— Coinmatics (@coinmatics) July 23, 2021
That's where we should mention an inner currency of the Coinmatics platform, Coinmatics coins (CMTS). The referral rewards are paid in this currency and you can use them to pay for subscriptions or buy a premium plan with CMTS. 1 CMTS is equal to one American dollar. 
People who started to use Coinmatics actively after using your referral code become your referrals and after 30 days they actively copy trade on Coinmatics, you get a reward of 10 CMTS. Referrals are rewarded after 30 days, too. They get a Welcome bonus (10 CMTS). 
As soon as you get 10 active referrals, you are allowed to withdraw CMTS as USD. If at least 50 people are being registered on Coinmatics via your referral code and at least 10 of them have become active traders in the last 30 days, then you start to receive 25% of the Coinmatics revenue from these users.
Is Coinmatics Safe?
Signs are telling us that Coinmatics is a legit company that is not likely to turn out to be a scam. First off, the team of the platform is public. The second thing is that Coinmatics doesn't have straightforward access to your money as they interact with your exchange account via API keys. The way to further the security of your account is by turning 2-factor authentication up. This will protect your account on Coinmatics from intruders. All in all, we believe that Coinmatics is a safe and trustworthy platform.