Hoge Finance Price Prediction 2022-2030. Should You Buy It Now?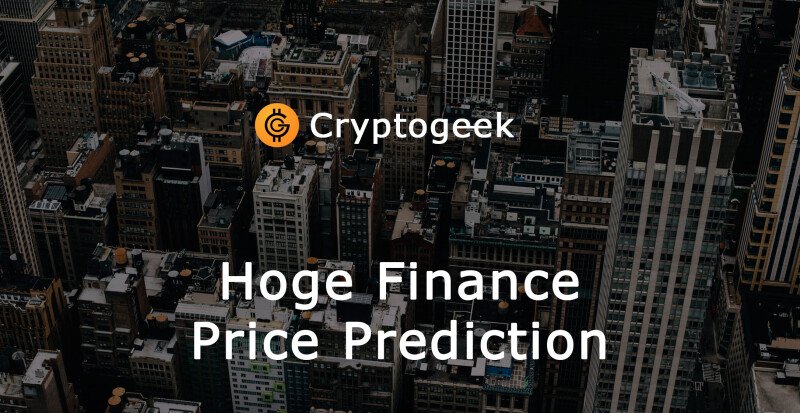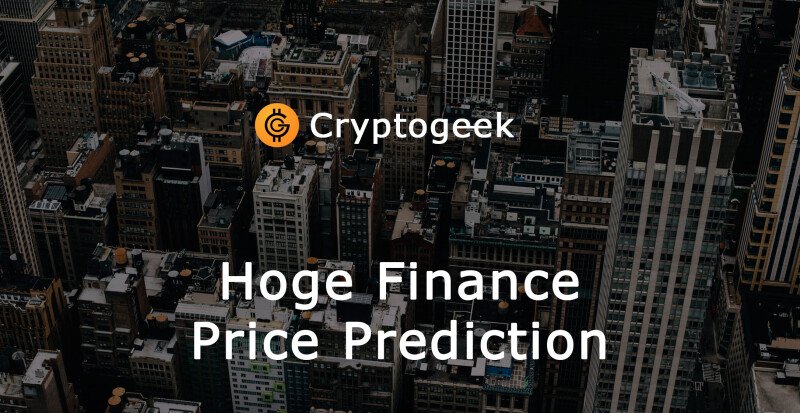 'Hello everyone, and welcome to the wonderful,  wild world of Hoge' - Hoge Finance introductory video
 
I was curious as to what the word 'hoge' meant. It sounded familiar, both when you hear it and when you read it. So I looked it up online, using a dictionary, and the result was null. Literally, take a look:

Hoge sounds like and it's spelled very closely to Hogue, but no actual relationship between the two of them was found. So I watched this pretty cool 3 min. video available on Hoge's finance official website and was immediately enlightened and compelled to write an article about it. Curious? Click here to watch it.
This will not only be a Hoge coin prediction, but also an educational piece on an interesting project that may catch both your investor's eye and your heart.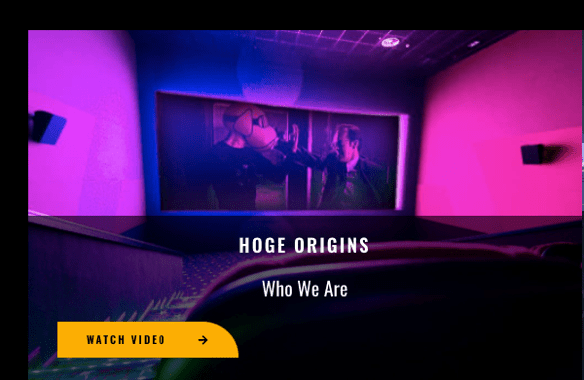 Source: Hoge Finance
Let's get to the point -
What Is Hoge Finance?
Attention: this is not a story for the faint-hearted crypto investor. 
Hoge's roadmap is pretty filled with both tumultuous developments as well as heroic ones. Let me explain: the token was first created and minted by a group of anon developers back on February 15th, 2021. 
They conceived the coin/project, injected liquidity, promoted it, and encouraged investors to join in on all the fun and buy HOGE to add it to their portfolios. Three days after the original mint and token promotion…the creators vanished. 
Not only that, it is reported that they continued doing the same MO with several other cryptocurrencies: create, promote and rug pull. 
However, in Hoge's particular case, a hero arises to face these faceless villains (pun intended). Well, several heroes. The community that stood by the project decided to step in, wear the big investor's pants (is that a thing? let's make it a thing) -  which is when you take on responsibility even if it's not your fault and get to the action - and decide to do everything in their power to save the project. 
The proposal was 'simple' enough but provided back the needed liquidity and transaction volume needed to stop the project from sinking into the deep waters of crypto failure: pay the developers for the smart contract. When the contract was finished and completely paid for, it was then placed in a multisig wallet (or safe). 
Multisig stands for multi-signature. In the case of a multisig safe, it means that several people can submit a document or contract as one group entity and then a unique signature is created by merging all of the groups' ones. Like when the power rangers joined forces to create the giant one but made it crypto. 
Imagine a vault with several locks and several safety keys, and the only way to open it and see what's inside and use it is to insert all of the keys and turn them at once. That's how the multisig wallet works. 
Ok, so the whole multisig safe and the acquisition of the smart contracts was put in place but…who were the ones holding the keys? The one and only Hoge association - was born from the need to create a non-profit org that took care of this aspect. The association then created a DAO (Autonomous Decentralized Organization) and gave the power back to the people. Well, the HOGE holders. Whoever holds HOGE, has the right to know about the project's current and future development plans and submit a vote.  For the people, by the people (who got tired of getting the rug pulled). 
And now…the part you eagerly wait for (yes, we know): the HOGE price prediction.
HOGE Crypto Price Prediction for 2022, 2023, 2024, 2025, 2027, and 2030
At the ICO time, the Hoge crypto price was $0.0000015. A pretty modest value, but with a significant rise to $0.000742 after just one month (March 15th, 2021)!
During the bull run of 2021, its price even achieved a 140% impulse in just a bit over 24h. Hoge has a current market capitalization of $18,483,165. And ranks #759 on CoinmarketCap.
As of today's writing (April 29th, 2022), Hoge token price was $0.00004075. This is the value of reference for calculating the predicted ROI in the next table. 
For this price prediction, we followed Tech News Leader's lead. They make a great case about the digital economy behind the token's project and its competitive offer of programmable payment, logistic, and storage options and place it as one of the blockchain projects with the most potential, both in the crypto world and real-world apps. These are the main reasons a slow and steady increase in value for Hoge is expected - but always remember, this is not financial advice and you should always conduct proper investigation before investing.  
Year
Price Prediction
ROI of your investment (if you buy the coin now)
2022
$0.00008940
119.39%
2023
$0.00012863
215.66%
2024
$0.00017977
341.15%
2025
$0.00026380
86.37% (annual) -
547.36%​​ (total)
2027
$0.00056231
69.03% (annual) -
1,279.90% (total)
2030
$0.002
62.69% (annual) -
4,807.98% (total)
HOGE Crypto past performance and token value analysis 
At its inception, Hoge tokens made up a massive sum of 1,000,000,000,000. That's a lot of zeroes, twelve to be exact. Half of this amount, 500 billion, was burned right at the very beginning of the ICO.
Given that Hoge was created a bit more than a year ago (February 2021), there's still no data for previous years. Since its creation, however, we can say HOGE's community and the initial saviors have been doing a great job in keeping up with the deliverance of roadmap milestones and the release of continuous useful features in the whole Hoge ecosystem. After a rug pull like that, it's hard to lift back up a stained project, and they did so. 
These announcements and new project developments are the reason for the spikes in the price chart throughout this past year, as well as the great number of followers it managed to amass in a short time frame. That and announcements on different exchanges' behalf about the coin's listing and availability to trade.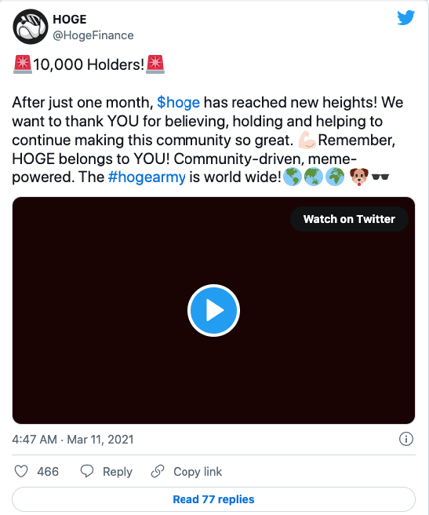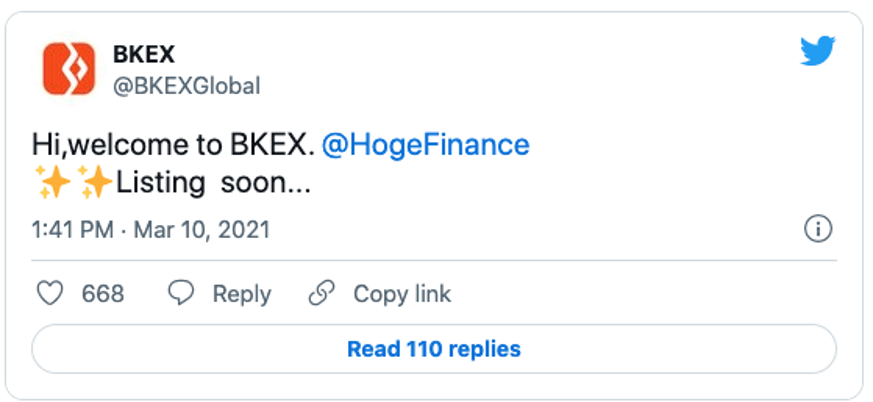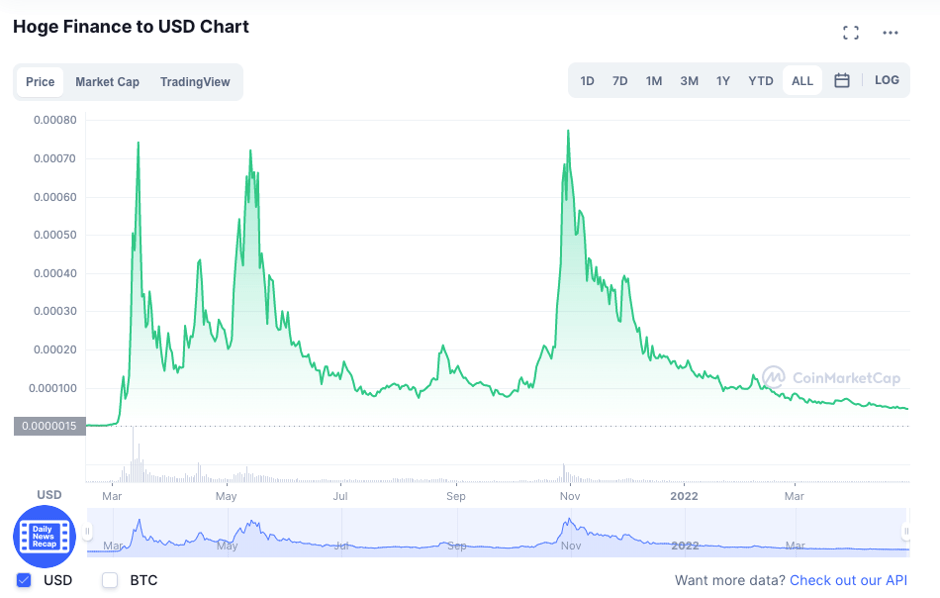 Source: Coinmarketcap
Somewhat of a sideways tendency can be observed when the price's not going through up the charts, which indicates a stable and steady project. As always, dyor and make sure both the current project and future milestones in the roadmap align with your profile.
The deflationary tokenomics model rewards holders with HOGE and keeps on contributing to the token's scarcity: 1% is allocated to be disposed of in a burning wallet and the other 1% is airdropped to the holders. Where does this 2% come from? For every trade that involves HOGE token, a 2% tax is applied. It may sound a bit steep for you and maybe unfair, but think of it as both an insurance that price manipulation doesn't happen so easily and the holders will feel like their patience and trust in the project are getting rewarded.
More than half of the initial tokens are gone forever already (59%), which means a little over 40% is still in circulation but will soon and quickly cease to be thanks to this deflationary MO.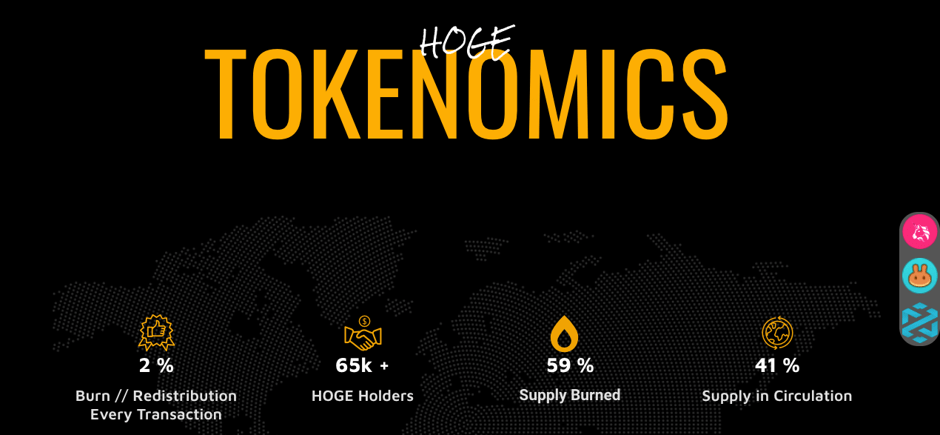 Q&A
Is Hoge a good investment?
There's nothing certain in this world, only the knowledge that even when the wind blows favorably, the tides may not follow through. What does this mean? In this article, you'll get to learn about a community-driven project and the token that represents it in the crypto market and may consider its origin story to be somewhat poetic and novel-like. This does not guarantee that the project will be successful to a level that brings you a lot of $$$ into your wallet.
In the short year, the token has existed, there have been three instances to make a good buck. And as fast as they came, they vanished. Past performances don't ensure future ones. So time will tell whether Hoge is a good investment. For now, we advise you to conduct your research and observe.   
Where can I purchase HOGE tokens?
You can get a hold of HOGE crypto both in regular exchanges and DEX. 
The most notable are: UniSwap, Gate.io, PancakeSwap, and BKex.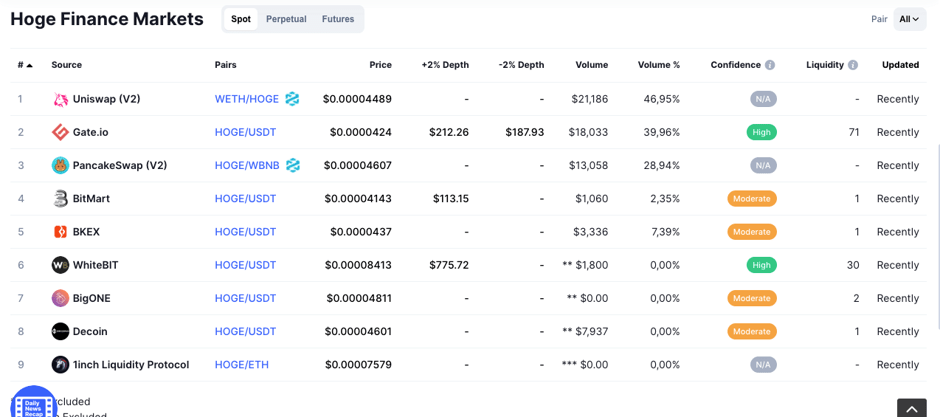 Hoge Finance was rug pulled just days after its release. Is this the same HOGE token?
Yes. The initial 'developers' (aka scammers) are long gone and a thing of the past. The token's initial community grabbed the bull by the horns and didn't let the project die and fall into oblivion. They evolved to the point of a DAO and several interesting features in the project have since been created and released. You can find out more about them in the next section. 
Conclusion
This is not just another 'minor' crypto project that a rug pulled community rushed, to save their wallets.
The DAO created around this project gave literal wings to the community, so it would decide what next steps on the roadmap were to be taken, and the results are not only a testament to what happens when you give like-minded members of the same community the power to make joint decisions and cooperate but also how far can investors' and developers' creativity go when given the chance to express it:
● Hoge University was one of the cool results of the community votes. This isn't like any other university you've attended or seen on TV or heard about. Here, crypto is the main subject and everyone has the chance to go home with straight A's. You get to learn about everything crypto, defi, and web3 at your own pace and according to your goals. The platform is very complete and intuitive, even offering a crypto calculator so, you know, you don't have to burn your brain cells out for knowing that ROI. Ah! Let us not forget their motto: 'We meme education' - poetic.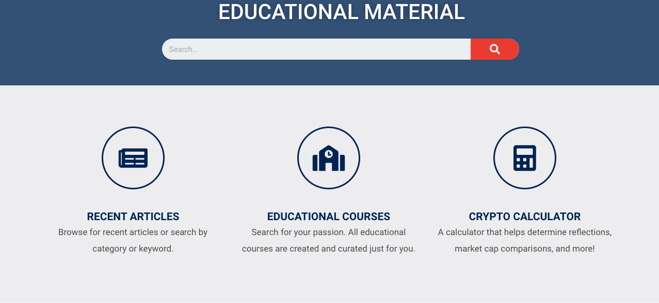 ● An NFT marketplace was also envisioned and brought to life and a merch launch is coming soon;
● The Hoge Swap is a decentralized platform where HOGE is the utility token;
● Girls Investors just wanna have fun? Seems like it. The community has launched several fun games, and there's even a dedicated website to it, that varies from a drinking dice game (another way to bridge the conversation to crypto at a party?) to 'Hogetale - Hoge vs Doge' a game based in crypto - did we mention there's also a Minecraft server for HOGE?. You can check them out here.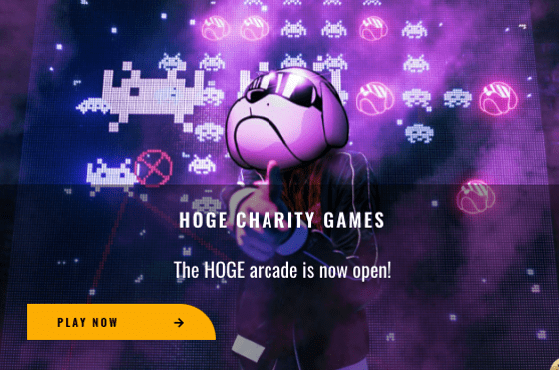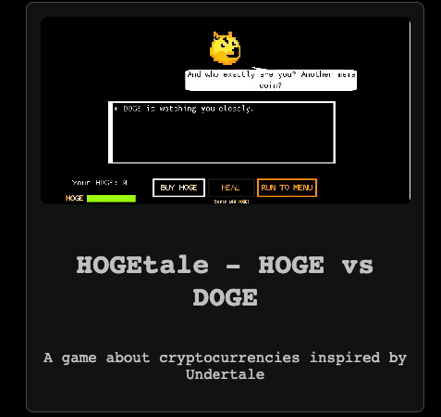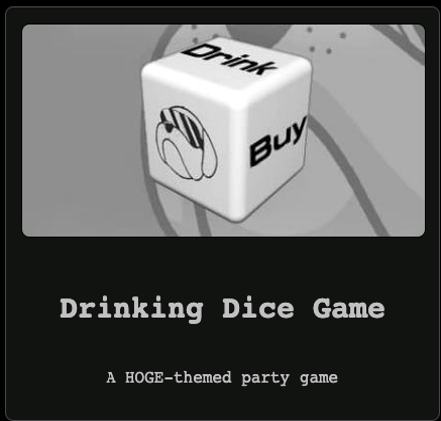 ● The HAI Space program - it's a growing community, with 1123 followers on Twitter, that will place your pic or your logo in space. Marketing and worldwide broadcasting to an extraterrestrial level.  
'We are all devs' kind of became the DAO's motto and the results have been coming up and showing no signs of stopping anytime soon. So despite not being a super lucrative token as of yet, when you conduct proper research into this token and the projects behind it, it is worth remembering the milestones and goals already achieved by a passionate community that works as a real team and makes the dream, really.
---
---