Crypton (CRP) Utopia Price Prediction | Should You Buy It Now?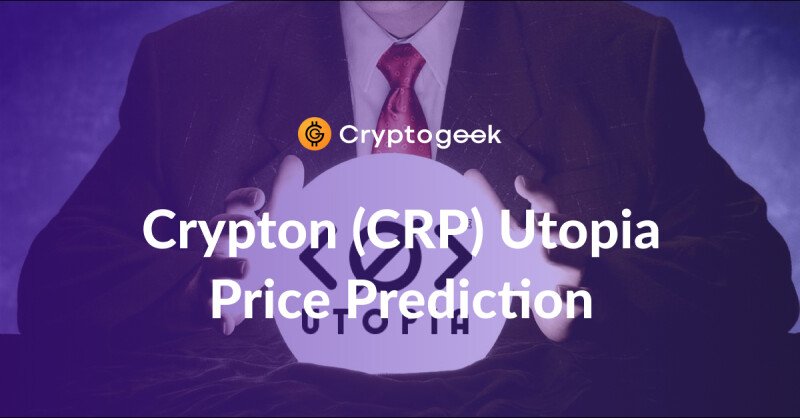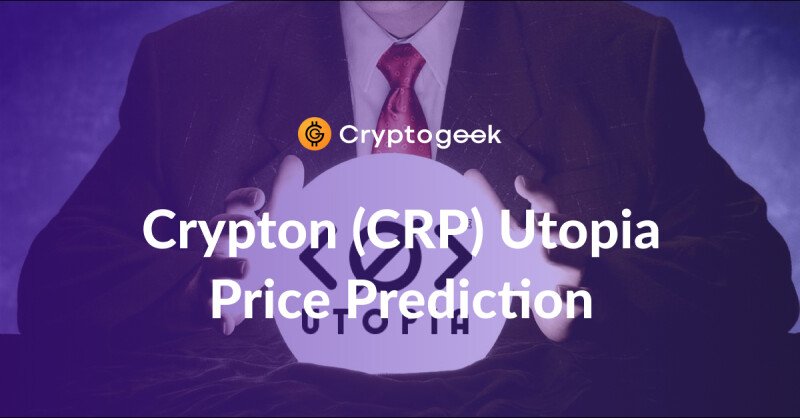 Bitcoin is a specific means of payment. It doesn't represent a network that runs smart contracts or decentralized applications, nor is it a native token of a multi-functional ecosystem. There are a few cryptos in the top 100 that don't have much to offer on top of being a tool for payments. Usually, these coins are aimed at being faster than Bitcoin and more anonymous. Crypton is quite a new cryptocurrency using this approach. It provides users with untraceable and prompt payments and has some extra features, too. Crypton is used in the Utopia ecosystem, but the main utility of both Crypton and Utopia is safeguarding fully anonymous transactions. Crypton appeared on the market in the fall of 2020, but the price took off only one year later. Now, Crypton is a mature project with a stable price and strong potential.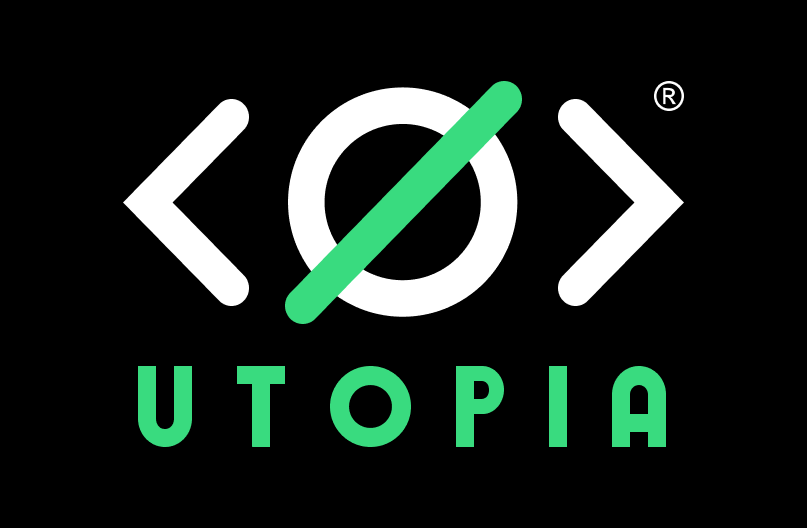 In this article, we will figure out what is unique about Crypton and what it can offer to those who already know such privacy coins as Monero, Zcash, and other established rivals. We will introduce the Utopia network (the fundamental of the Crypton coin) to you. Finally, we will review the past prices and coin the future price trajectory of Crypton currency.
What Are Crypton and Utopia??
Crypton (CRP) is a cryptocurrency launched in 2020. It is used as a cryptocurrency of the Utopia ecosystem, a P2P platform for secure and private messaging, untraceable transactions, etc. All the communications are anonymous and encrypted. The platform is decentralized. All the data circulating between users is stored on their devices. The data may include texting, sending images, video, audio, and other media formats.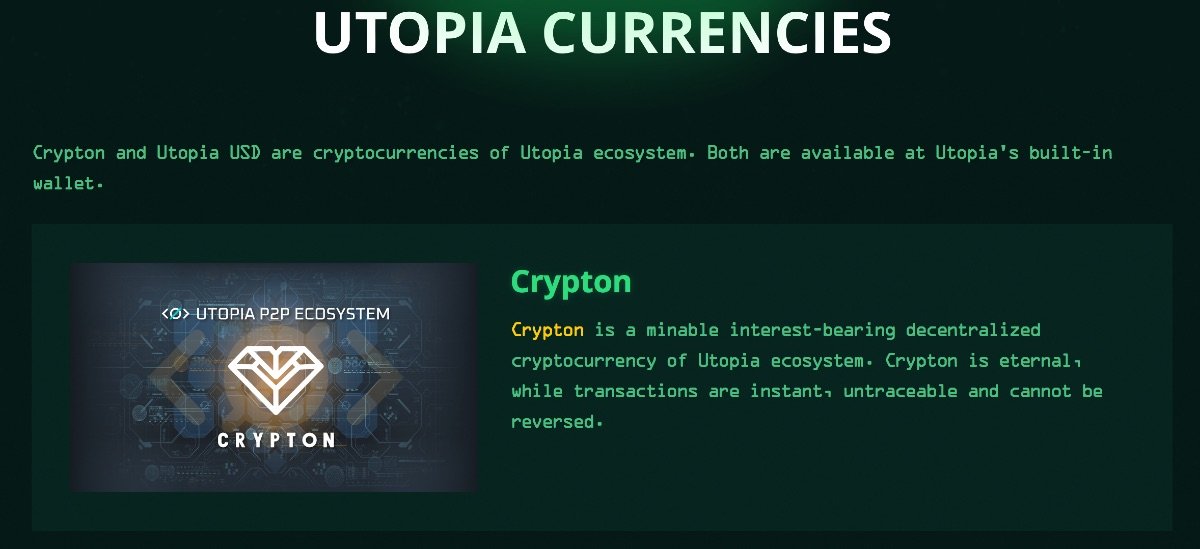 The transactions made in Cryptons are safe, irreversible, censorship-free, and anonymous. The parties not involved in transactions cannot identify those who do the transactions, nor can they seize the coins. Merchants can accept payments in CRP using the Utopia API. For easier shopping, the platform issues crypto cards. 
| | |
| --- | --- |
| The price as of June 2022  | $0.52 |
| Market cap as of June 2022  | $3.4 million |
| Rank as of June 2022  | #949 |
| All-time high | $1.78 (December 12, 2021) |
| Decline (compared to all-time high)  | 70.7% |
| All-time low  | $0.03797142 (July 22, 2021)  |
| Growth (compared to all-time low)  | 1,271.3% |
| Popular markets  | Lbank, CoinTiger, LATOKEN, P2PB2B, HotBit, Cryptex |
You can mine CRP via running the Utopia bots online. Utopia has a native crypto Exchange called Crypton Exchange. It allows exchanging multiple cryptocurrencies for Cryptons. Crypton Exchange is the first native service of the Utopia ecosystem. The Utopia Launchpad platform enables the creation of smart tokens using over 20 customizable parameters. These tokens can be traded on the Crypton exchange or used in the liquidity pool.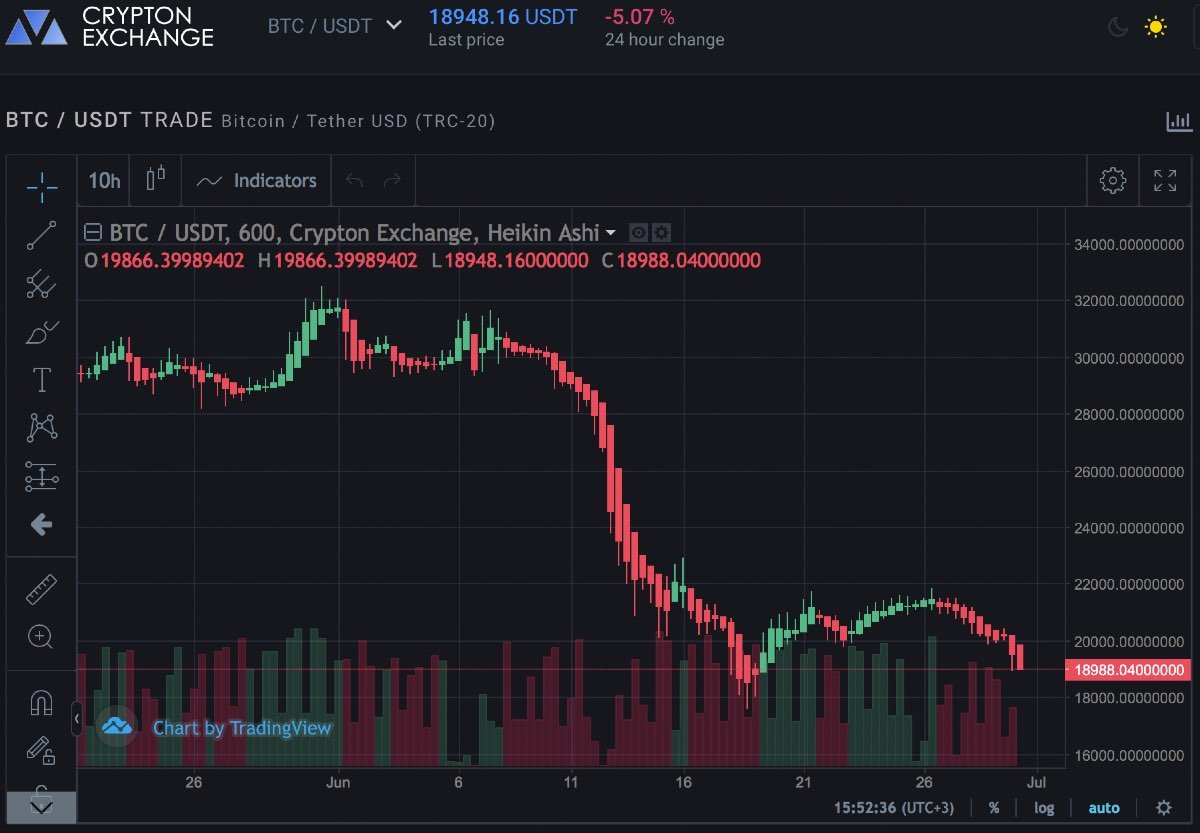 The project keeps on growing and developing. This spring, Utopia introduced a new treasury mechanism called Crypton 2.0. It prevents mining malpractice, supports the CRP value, and allows more people to participate in mining.
Price Prediction
Even now, the Crypton currency has positive prospects when the crypto market is in decline. Experts on fundamentals and tech analysis believe that CRP has a solid chance to grow bigger this year. In the following years, the asset can gain a bigger value if the dev team manages to sustain the steady project progress.
Although, as of June 2022, the CRP price is around half a dollar, by the end of the year, it may reach up to 84 cents. The minimum price named by the market observers is over 65 cents per coin which is still much more than the current price. 
Crypton is still a young project. Time will bring better adoption and new essential partnerships. These factors will secure a relevant place for CRP in the crypto market. By the end of 2023, the predicted prices will be between 93 cents and $1.25.
2024 will see the next Bitcoin reward halving. Usually, halving brings the entire crypto market up. That year, Crypton can take advantage of it and grow bigger. Some experts see that by the end of 2024, CRP can't be lower than $1.5. Our optimistic forecast is that CRP can reach up to $1.94 by the end of the year.
By the end of the following year, we will probably see CRP reaching a value between $2.1 and $2.6. By the end of 2030, Crypton will likely reach over $12 per coin. Some experts cite $14.35 as the maximum possible CRP price for 2030.
| | | | |
| --- | --- | --- | --- |
| Year | Min Price | Average Price | Max Price |
| 2022 | $0.65 | $0.7 | $0.84 |
| 2023 | $0.93 | $1 | $1.25 |
| 2024 | $1.5 | $1.71 | $1.94 |
| 2025 | $2.09 | $2.22 | $2.6 |
| 2026 | $2.84 | $2.94 | $3.3 |
| 2027 | $4.68 | $4.99 | $5.82 |
| 2028 | $5.9 | $6 | $6.73 |
| 2029 | $8.44 | $9.16 | $11.2 |
| 2030 | $12.04 | $12.89 | $14.35 |
Past Performance
CRP is a relatively new coin on the market. Its track record starts in September of 2020. For months, the coin's price stayed under 20 cents per coin while being volatile. For several weeks, the price declined, fluctuating below the $0.1 mark. 
Things changed in the first days of 2021. It was the time when the biggest to-date crypto rally began. CRP nearly reached 30 cents per coin those days. By April, the price went to the under 20 cents zone again. Except for the short spike in August (the price reached $0.4 for one day), the price stayed low until October 2021. 
The CRP was added to the P2PB2B exchange, exposing the asset to a larger audience. The price has skyrocketed. It went from 15 cents to $1.09 in a matter of one week. On December 12, 2021, the price reached its historical maximum at $1.78.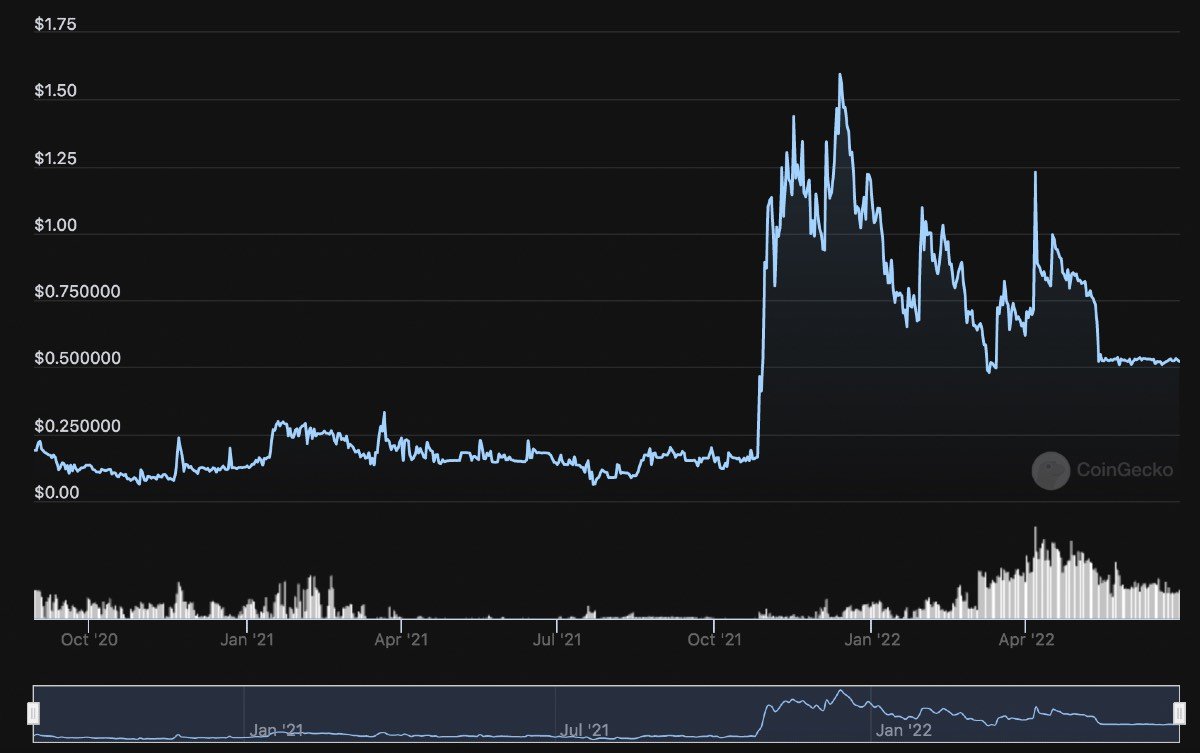 The price declined to 48 cents by March 10. For the next two months, the price had another short rally, reaching $1.23 at the top, and in May, it dropped to around $0.5 per coin, where it is now (as of June 30, 2022). As you have learned from the previous chapter, the industry experts agree that the Crypton's price will go higher in the near future.
Q&A
Is Crypton a good investment?
We cannot give investment advice. You can see that Crypton and Utopia are young yet solid projects providing convenient payment functionality. Crypto sphere experts predict the increase of the CRP price in the future.
What will Crypton price be in 10 years?
The CRP price prediction can average reach up to $32 in 10 years. The conservative forecast gives us around a $23 estimation.
Should I buy CRP now?
It's totally up to you. If you want to support and understand this project better, you might buy some CRP now. According to most experts, the asset's price is far from its potential peak.  
Is CRP a scam?
There are no reasons for such implications. No user reports point at any malicious activity from the Crypton's side.
Is it too late to invest in Crypton?
It is not too late to invest in crypto per se. Please do your own research to learn if CRP is what you want to invest in.
Conclusion
To conclude this article, we should say that CRP is a solid new rival in the privacy coins market. As a more modern project, Crypton and the Utopia network provide a broader functionality than the veteran rivals. It's understood that, as of now, CRP has room to grow, and most of those who took the time to estimate the future price of Cryptons are optimistic about this project.
---
---