XGo Exchange Review 2023 - Is It Safe?
Mar 31, 2023
The cryptocurrency platforms sector keeps on growing and developing. New names continue emerging. Some even break into the pantheon of the most prominent digital finance platforms. That's a good reason to keep an eye on fresh projects and not dismiss them just because they are new. Quite oppositely, some of them are free from the shortcomings of the industry leaders.
In this article, we will discuss one such platform. It is an aspiring multi-purpose cryptocurrency platform, or "a neo bank with a twist," as they put it. We are talking about XGo. XGo provides users with trading functionality, a multi-currency wallet, borrowing crypto opportunities, connectivity to virtual bank cards, a token swap platform, wealth growth features, connection to other crypto platforms, and an opportunity to buy/sell crypto for fiat currencies.
What Is XGo?
XGo is a company providing multiple services associated with cryptocurrencies aimed to replace the traditional financial system gradually. The XGo website stresses that the platform is web 2.5, not web 3, as many of their rivals describe themselves. By the 2.5 number, XGo means that the company's services will be more familiar and habitual for customers than the web 3 products. The point is to bring the benefits of cryptocurrencies closer to the masses.
XGo sticks with the term "neo bank," meaning that they can perform all the banking features on par with solid trading functionality, lean heavily on digital currencies, and don't use brick-and-mortar banks. XGo started with crypto trading to develop other directions in the future.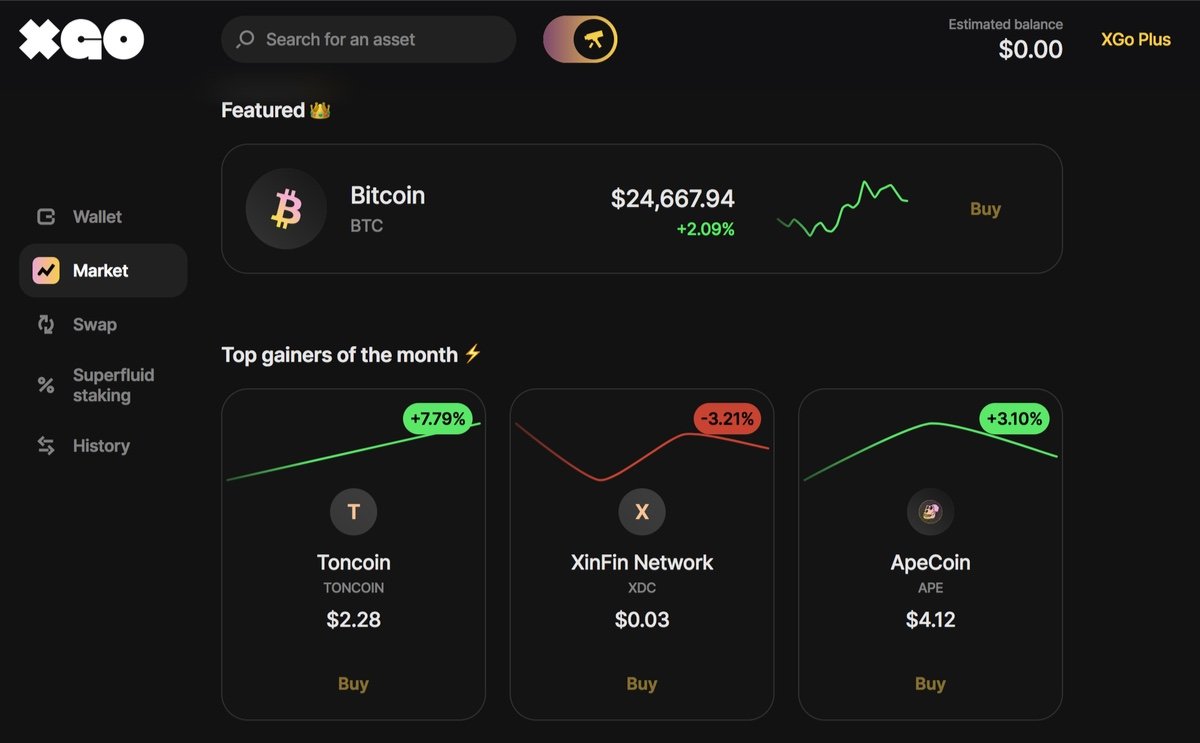 The platform creators are fintech experts and crypto enthusiasts. One of their goals is to develop a finance platform that is both intuitive and trustworthy so that people can be confident while using XGo. Crypto should bring benefits to users in a secure and easy-to-use environment. Efficient risk management, safe business practices, and sound governance are among XGo's priorities. 
On top of that, XGo doesn't forget about the initial focus of cryptocurrencies on decentralization. Although the XGo team recognizes that decentralizing the economy is a tough challenge, they refuse to give up on this. XGo aims to approach decentralization carefully and realistically with expertise and determination. And that's the journey that they invite everyone to join.
Where Is XGo Located?
XGo has headquarters in Tallinn, Estonia. Many cryptocurrency-related platforms have Estonian registration. The local government supports blockchain, and this place has a proper environment for ambitious cryptocurrency platforms.
Supported Countries
Like most other crypto platforms, XGo follows restrictions applied on crypto in local jurisdictions and bans sanctioned countries' residents from using its services.
The answer is no if you want to know if XGo is supported in the USA. As of March 2023, XGo is not supported in any state of the United States of America. Other restricted jurisdictions include Cuba, North Korea, Ontario, Sudan, Syria, and all the territories subject to the international financial sanctions of the EU.
Main Features
XGo is a growing platform with a widening set of features. Currently, it allows all kinds of spot and perpetual trading features, including margin and futures trading. Swapping crypto is another popular feature that can be found on XGo. Unlike most exchanges, XGo offers swaps between crypto and fiat currencies.
Staking is another strong feature of XGo, as it provides a unique Superfluid Staking system that doesn't require users to lock their assets while staking them. Other ways to make crypto for you are around the corner. Other upcoming features include a virtual bank card. The platform has an affiliate program that can bring you extra profits.
Before describing the XGo features in detail, we should tell you about WalletID, an identification system that makes using XGo very simple.
WalletID
If you use different cryptocurrencies, you may find it too exhausting to keep addresses for each currency. XGo supports a broad set of cryptocurrencies and allows users to replace wallet addresses for each coin/token with a single WalletID. It makes using multiple currencies as simple as using only one currency.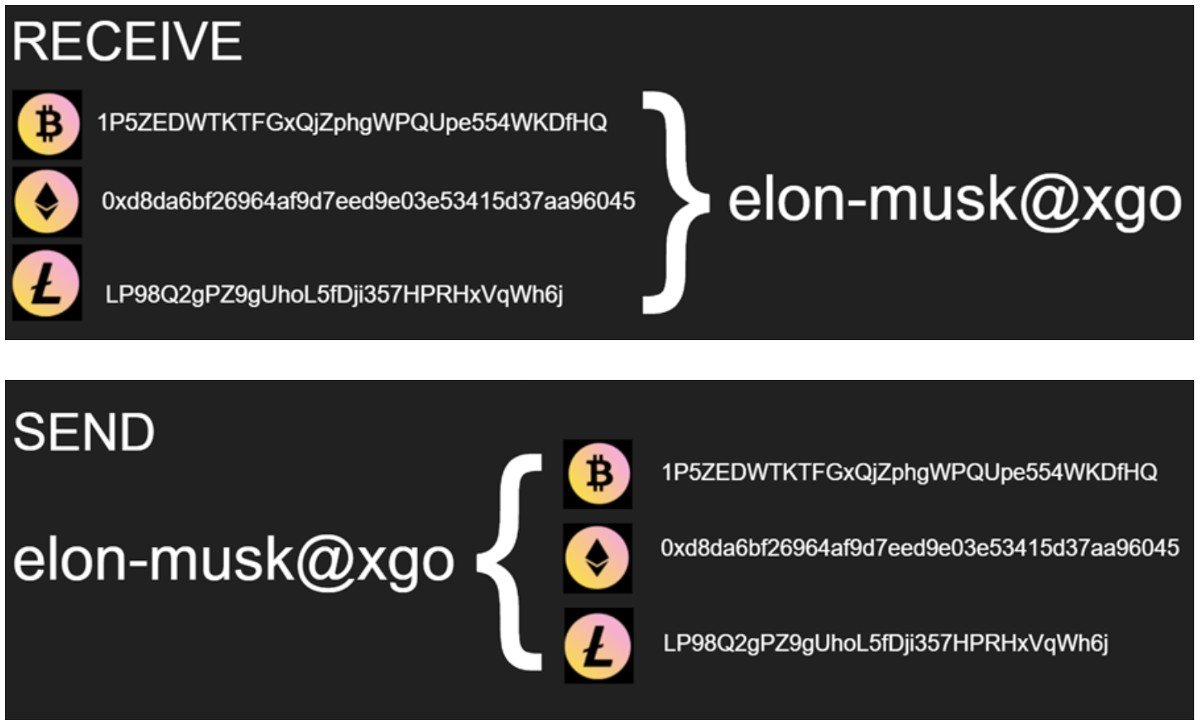 XGo gives every user their personal unique and universal address called WalletID. It significantly eases the use of multiple currencies, as sending coins using WalletID is way easier than using regular long strings of letters and numbers. More than that, WalletID is customizable, so users decide what this address looks like. 
WalletID can be used in many ways. XGo users can send cryptocurrency to each other for free using WalletID. Also, it allows you to deposit more money into your XGo balance from the crypto payment cards you use. Once XGo launches the XGo Spend cards, your WalletID will be linked to it. 
More than that, WalletID is compatible with hardware wallets, and you can link your funds on XGo to such a wallet using your WalletID. Finally, WalletID works with third-party wallets such as MetaMask and others.
XGo Crypto Swapping
XGo offers three options in the Swap section. Like on many other platforms, you can swap crypto for crypto. What's more interesting, on XGo, you can swap crypto for fiat money and vice versa. Such a type of swaps are rare and don't occur on most of the exchanges and DeFi platforms. Fiat currencies available for swapping on XGo include the USD, British pounds, and Euros). 
Unlike trading, swapping doesn't require any crypto knowledge or prior experience in trading. You just release a portion of one currency in exchange for a specific amount of a different currency. The exchange takes place instantly.
XGo Card
One of the features that bring XGo closer to traditional bank services is the announced virtual card service. The planned feature will allow you to spend crypto via the virtual bank card. It will work the same way as with the regular virtual bank card but instead of fiat currencies you will spend or deposit cryptocurrencies. 
The XGo card can be used in any retailer accepting crypto. The transaction history and other info associated with the card will be available in the XGo application. This feature makes the use of crypto much easier. Instead of exchanging it for fiat money (and losing money in fees for it), you will be able to spend crypto right away in shops that are progressive enough to accept digital money.
Margin Trading
Many experienced traders prefer leveraged trading to invest less and boost their profits (with an extended risk involved, though). Margin trading is trading using funds borrowed from the exchange you trade on. Your investment is multiplied by 3, 5, or even 12. The returns grow respectively. 
However, if your trading activity puts the borrowed funds to risk, the exchange closes your position, and you lose money. That's why margin trading is not recommended to newbies but is a preferred feature for seasoned traders.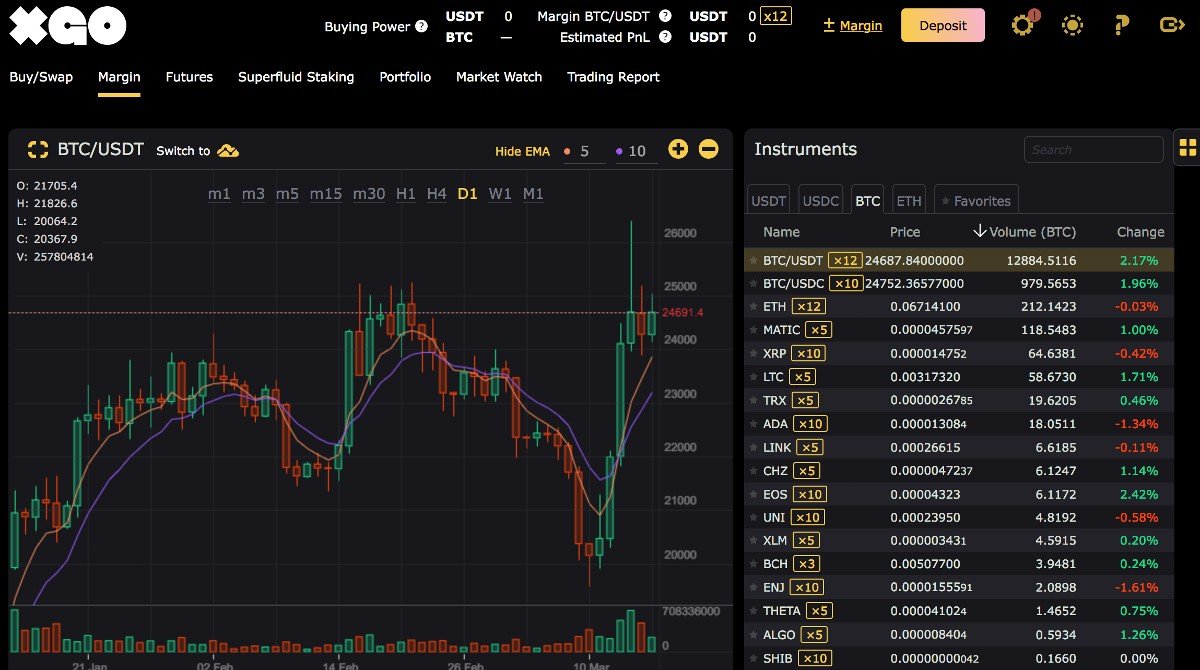 Margin trading is available on XGo Plus. You can choose from over 40 trading pairs with leverage ranging from x3 to x12. It is a strong selection and high leverage if we compare these conditions to other exchanges supporting margin trading.
The interest rates for margin trading vary depending on the crypto you choose. The interest is charged in the same currency. The rates can range from as little as 0.018% (Algorand) to 0.27% (Yield Guild Games, LUNA Terra Classic, and others).  
The margin position limits range considerably depending on the pair. Another factor determining the available limits for the position is the selected leverage size. The more money you borrow, the smaller the limit. The limit value can reach $1 million or even $2 million per position. However, for some pairs, the limit doesn't exceed 1 BTC. 
Futures Trading
Apart from margin trading, you can use borrowed funds in the Futures section. Trading futures allows you to use much higher leverage — up to x100 for the specific perpetual. As of March 2023, XGo offers over 20 trading pairs in the Futures section. The minimum leverage size is x25. 
Like in the case of margin trading, futures trading requires a strong understanding of the crypto market and rich trading experience because, on par with high returns, futures trading involves higher risk. Not many crypto exchanges support crypto futures trading, and the fact that XGo offers such an opportunity is quite notable.
The position limits for futures trading depend on the chosen leverage size. The maximum available position limit is 5,653,801 USDT (x3 leverage). Beginning with the x25 leverage level, the limit doesn't exceed 1 million USDT. The maximum leverage level (x100) corresponds with the position limit of 100,237 USDT.
Superfluid Staking Rewards
Superfluid Staking Rewards is XGo's innovative take on staking. Like many other XGo features, Superfluid Staking is made in an extremely intuitive manner so that everyone can participate without hassle. The process looks this way: you just verify your account, deposit crypto to your wallet, and hit the Enable Rewards button. That's it.
The Superfluid Staking Rewards feature doesn't require fees, locking your funds, or using derivative pegs. All these characteristics lower risks significantly and make staking way more convenient than more traditional staking of cryptocurrency. The latter is associated with locking your funds for weeks which can bring losses in periods of an unstable market. XGo addressed this problem with their concept of Superfluid Staking Rewards.
You can stake over 15 currencies within the Superfluid Staking Rewards feature. Estimated annual returns ranging from 1% (USDT) and 2% (BTC) to 10% (AVAX) and more (DOT and CRV).
XGo Fees & Limits
Nothing comes for free. Like any cryptocurrency platform, XGo charges users fees. Commissions on different trading platforms vary significantly. 
The fees collected on XGo are pretty moderate, leaning toward a low-fee pole of the spectrum. 
XGo charges spot/margin traders a 0.1% fee. XGo does not apply the maker-taker model to spot/margin traders trading under $50,001 per month. However, the maker-taker model is used for futures traders. 
The traders posting new orders (market makers) are charged a 0.02% fee, while those who take orders from the order book (takers) are charged a 0.07% fee.
XGo incentivizes high-volume trading via fee discounts. Market makers trading $50,001 or more per month pay smaller trading commissions. 
Takers get a discount if they reach a monthly volume of $500,001. Market makers with a monthly volume exceeding $100 million can trade free of charge.
The liquidation fee for margin and futures traders is 0.5% of the position value.
As of March 2023, the withdrawal limit is equivalent to 15,000 EUR. The higher limit, however, can be discussed with the XGo support team. 
XGo API
APIs are crucial for connecting platforms' functionality to third-party products. XGo supports REST and Streaming API version 3.0. So its trading engine can leverage transactions on a different platform. All the necessary info on API use can be found in the respective section of the XGo website.
Customer Service
Getting professional and swift support from the platforms dealing with money is extremely important. XGo offers several channels for contacting them for questions or assistance requests.
The XGo customer support service is available from 9 AM to 8 PM on business days (GMT+1) and on weekends from 9 AM to 5 PM (GMT+1).  You can chat with the support agents by creating a ticket or messaging XGo via support@xgo.com. The company promises to get back to you by the end of the next business day or sooner.
Identity Verification 
Like most modern crypto platforms, XGo requires identity verification to let users get maximum advantage of the platform's features. 

Users without a verification process face limitations such as the inability to buy crypto using fiat money and others. To enjoy the full spectrum of the XGo features, it's essential to go through the verification procedure. 
Is XGo Safe?
Protecting your funds is crucial when dealing with any cryptocurrency platform. The crypto sector is filled with hackers and scammers waiting to empty your pockets. So before you join any exchange or open a wallet account, it's important to make sure that the company offers enough tools to protect your data and money.
On XGo, you can use all the standard features that prove effectiveness on many other leading crypto trading platforms. First and foremost, you can secure your account with 2-factor authentication (2FA). This feature creates an additional layer of protection on top of the password. Only a person having access to your mobile device or a specific account of a particular app will be able to receive a one-time password requested for signing in to your account or withdrawing money. That's how 2FA works. 
Another security tool available on XGo is Yubikey. It is an alternative 2FA tool associated with the hardware USB key unlocking your account.
Apart from 2FA, you can whitelist the address to which you withdraw your funds. If someone accesses your account and tries to withdraw your money to an address not included in the whitelist, the transaction will be blocked, the money will be saved, and withdrawals will be blocked for your account for 48 hours. The whitelist can be adjusted, but to add a new address, you will have to wait for 12 hours. Disabling the whitelist will block withdrawals for 48 hours, too. All these features effectively stop intruders from stealing your funds.
In general, it's safe to say that XGo provides all the standard, well-established ways to secure your funds and personal information. 
Although the platform doesn't offer anything extraordinary, the available tools are the solid basis to ensure the safe use of XGo.
Conclusion
XGo is already a robust multi-purpose platform despite being a new little-known project. For sure, it is one of the new names on the market that deserves attention as it combines all the benefits of the leading crypto platforms and strives to grow into a more valuable and convenient platform than any of them.
As XGo combines ease of use with high efficiency and robust functionality, it can be an excellent start for people new to cryptocurrency and a reliable all-in-one platform for crypto veterans.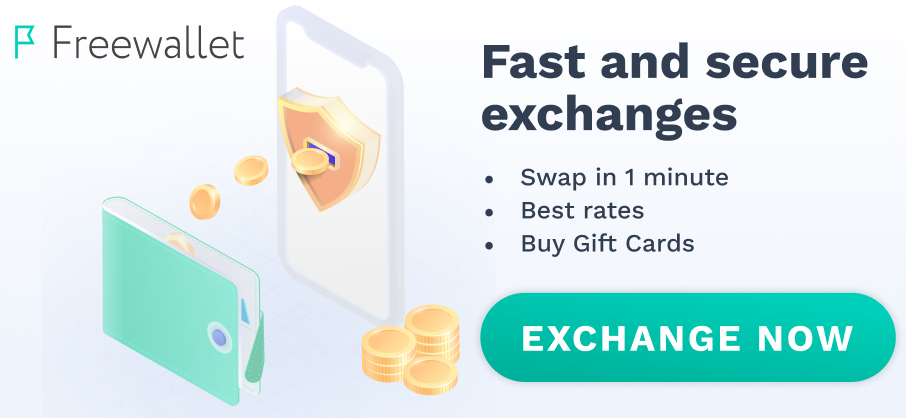 I decided to give XGo a try because I really liked their website, it impressed me with its smart design. The app itself turned out to be rather simple to use. I guess it could be a good option for beginners or for those who are looking to find simpler ways of using crypto.
On the one hand, I like XGo a lot for its modern and unique design. On the other hand though, to date, it doesn't provide me access to all the coins and tokens I am interested in. So I can recommend it to people who are interested only in the trending assets but hoping to see more soon.