SimpleFX Reviews 2021 - Is It Safe?
Country:
Saint Vincent and the Grenadines
Apr 09, 2021
Before 2017, cryptocurrencies were struggling for adoption and embracing new platforms and financial spheres. Now, numerous entities from governments and corporations to online shops look to implement blockchain solutions and start accepting cryptocurrencies. CFD brokers are not an exclusion. Today we will review SimpleFX, a platform registered as a CFD broker in Saint Vincent and the Grenadines. Apart from usual functions provided by CFD brokers SimpleFX allows trading several USD-to-crypto pairs. We will answer such questions as which features does this platform provide, is it safe to use it, is SimpleFX a scam, and others.
What Is SimpleFX?
SimpleFX is a trading platform offering over 200 assets of different types. The platform provides an opportunity to use a single account to access numerous markets including cryptocurrencies, stocks, forex, commodities, and equities. Opening a multi-currency account is a convenient feature. Traders interested in assets of different classes can manage their portfolios effortlessly on SimpleFX and trade on multiple markets simultaneously.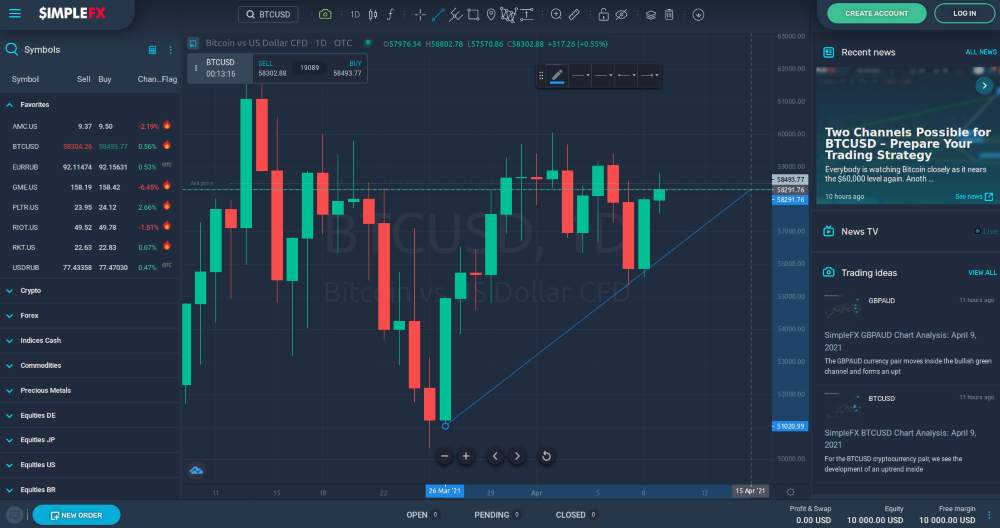 Users that don't want to share their personal data can use a crypto market which allows trading anonymously without completing a KYC procedure (Know Your Customer). The SimpleFX platform can be accessed via the user-friendly app of the same name. The app is available both for Android and iOS-based devices. More than that, the markets can be accessed online via browser. Please note that the basic version of the platform is a desktop version. While the mobile version is convenient and easy to use, it has a slightly reduced functionality.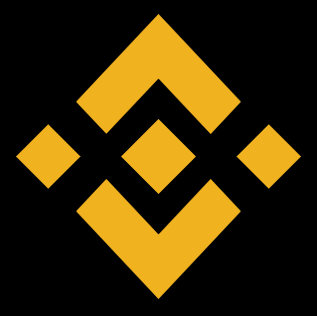 Get Profits with HODLing on Binance Earn
The website is available in a variety of languages: Chinese, Arabic, German, English, Spanish, French, Hindi, Indonesian, Italian, Japanese, Korean, Malay, Dutch, Portuguese, Romanian, Russian, Turkish, Vietmanese, and Thai.
SimpleFX was founded in 2014 with a purpose to provide users with an opportunity to trade with zero commissions. Nowadays, the company claims to have around 200,000 customers from 160 countries around the world. According to the website, the US citizens cannot use SimpleFX. As for cryptocurrencies, SimpleFX allows trading CFDs on Bitcoin, Litecoin, Chainlink, Polkadot, Ethereum, Tether, and several other coins. In total there are 15 cryptocurrencies available on SimpleFX.
Main Features
Unlike most other CFD brokers, SimpleFX allows cryptocurrency deposits. Not many cryptocurrency exchanges provide users with an opportunity to deposit fiat money, however, it's quite a standard feature for a CFD broker. On SimpleFX, fiat currencies can be deposited via Skrill, Neteller, or FasaPay. For those who deposit fiat currencies completing KYC is mandatory. All cryptocurrencies can be deposited for free in literally any amounts.
As the platform is aimed at serving a wide audience that is much broader than professional traders, one can deposit as little as $1. It makes it really easy to try trading starting with a small initial investment. What makes entrance into trading on SimpleFX even easier is a demo mode. So before investing some real money anyone can try the functionality of the platform using this mode where you trade virtual money, explore the features of SimpleFX, and improve your trading skill without any risks. 
Trading interface on SimpleFX is quite similar to most crypto exchanges. Charts are supplied with multiple tools and indicators so traders are able to draw lines and analyze the patterns. To do a trade you should click on the pair you need and choose a New Order option in the menu. The order section will appear. There you should specify if you are going to create a Sell or Buy order and choose if it is a market or pending order. Take Profit and Stop Loss options are also in place. So you can secure your trade from serious losses. As the order gets formed you should click on Submit to place this order in the order book.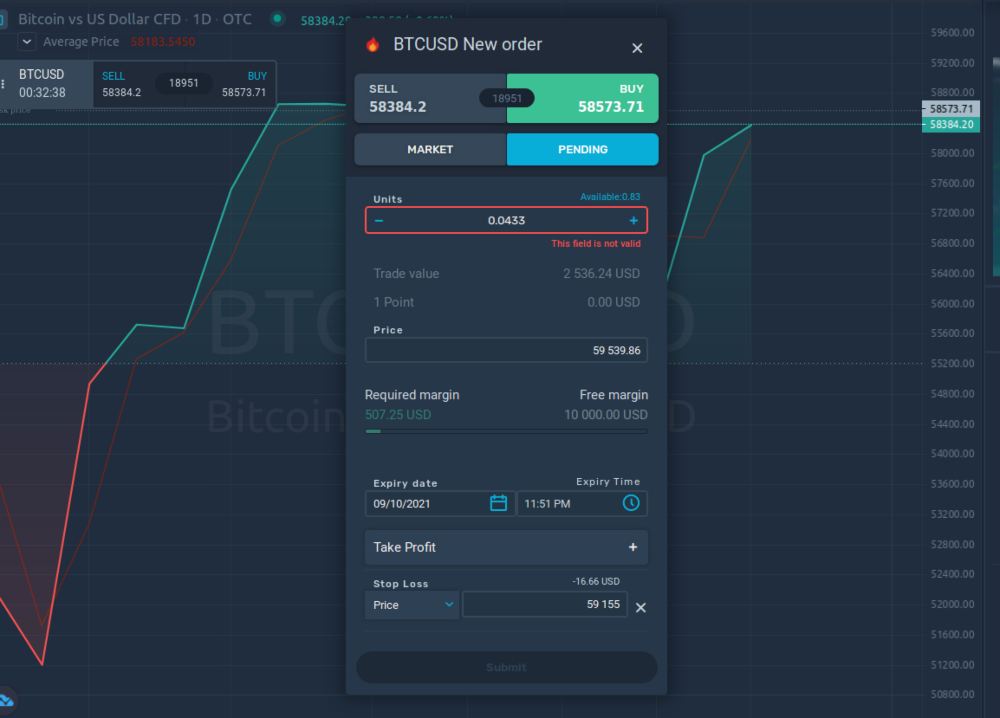 Seasoned forex traders will be pleased to know that SimpleFX is compatible with the MetaTrader4 platform. It allows customers to use such pro features as signals, copy trading (or social trading), and automated trading using Expert Advisors.
Users understanding the crypto market very well can boost their profits via leveraged trading. On SimpleFX users can have up to 500x leverage. Margin trading is always a bigger risk, however, on SimpleFX this feature allows earning up to 500 times more via borrowing funds on the platform to perform bigger trades.
Two Channels Possible for BTCUSD - Prepare Your Trading Strategy https://t.co/lz9AXkKJYB pic.twitter.com/ozVd9hEYhL

— SimpleFX (@SimpleFXcom) April 9, 2021
The platform has an affiliate program. Each registered user gets an affiliate code that can be used to invite others to open an account on SimpleFX. The reward is 5% of the revenue made for the company by every user who created an account through your link. More than that, this reward can grow up to 25% per affiliated user depending on additional factors.
Is SimpleFX Safe?
Some reviewers raise concerns over SimpleFX's security because the company is based offshore and is not regulated. However, throughout the years, there are little to no trustworthy reports that could confirm that SimpleFX is a scam while even many legit companies are often accused of fraud by dissatisfied users. 
In order to secure the accounts of its users SimpleFX applies such measures as segregation of the accounts and negative balance protection. The London-based LD4 Equinix server is responsible for the fail-safe work of the platform. That's especially important for those who use the SimpleFX API. 
As for the protection features available for users there is only one additional security layer apart from password — 2-factor authentication (or 2fa). When 2fa is enabled, users (or hackers) cannot enter the account or withdraw the funds without providing a one-time short password. Each time this password is generated on the user's mobile device so those who don't have access to the user's device cannot steal money. If you lose your mobile device, you can use a backup key to recover your access to the account. This measure is quite popular as it successfully prevents most individual account hackings.
Considering the lack of the serious negative feedback from users, it seems that the company is legit and safe. Scam accusations have no ground.
Andreas
30 July, 10:24 AM
I'm looking for a good app to
invest my crypto instead of just hodling. SimpleFX, is reliable, legit 7-years old app. I recently upvoted on their forum the idea to introduce LN payments for bTC which would be great. Spreads may be high but that's standard for email account trading.
Engracia Ruiz
1 July, 3:38 AM
La aplicación móvil es fácil de usar, me da lo que quiero. Me gusta el hecho de que sea fácil de navegar y hacer un intercambio.
Gerardo Rodríguez
1 July, 3:15 AM
Genial para principiantes. Todavia estoy aprendiendo mucho sobre Forex y cómo operar. SimpleFX med das los conceptos básicos necesarios.
Nataniel
30 June, 8:52 PM
É difícil encontrar uma boa plataforma. Para mim, o mais importante é a oferta competitiva e o suporte multilíngue. Portanto, escolhi SimpleFX. Eu precisava aprender uma boa estratégia porque a maioria das contas CFD perdem dinheiro.
I can invest Bitcoin, Ethereum, Tether, Binance Coin, and more and I very like it. Another plus is no minimum deposits and no fees.
Desidéria Queiros
29 June, 6:58 PM
Uma oferta interessante por ocasião do Campeonato Europeu de Futebol Euro 2020. Muitas contas de criptomoeda. Aplicativo móvel muito fácil de usar.
Adriano Azevedo
18 June, 6:56 PM
Usei o aplicativo e o site há cerca de um mês algumas vezes e não posso dizer nada de ruim sobre este corretor. Consegui ganhar alguma coisa lá e provavelmente voltarei para eles.
Gert Fernandes
17 June, 6:05 PM
Excelente aplicativo de smartphone. Tudo é transparente com apenas alguns cliques. Ele sempre funciona perfeitamente e nunca falha.
Oscar Gouveia
16 June, 5:49 PM
Bom bônus de primeiro depósito. Uma maneira fácil de negociar, tudo é transparente.
Horácio Couto
12 June, 5:35 AM
Estou negociando com eles desde janeiro. Ótima aplicação fácil de operar. Eles oferecem as taxas de transferência mais baixas disponíveis.
Guiomar Almeida
5 June, 9:57 AM
Estoy satisfecho. Me gusta la aplicación. No tienen depósitos mínimos ni tarifas.
Lygia do Rosário
2 June, 12:36 PM
Muitos métodos de depósito. Eles não têm depósitos mínimos e nenhuma taxa. Eu ganhei um bom dinheiro sem tanta experiência.
Danny Guy
31 May, 1:17 PM
Nice intuitive app. No delays and low latency. Plenty of deposits methods.
Sabrina Tafalla
28 May, 6:12 PM
La forma más fácil de operar, incluso para principiantes en Forex: es posible ganar bastante dinero. El apoyo es muy útil.
Netuno Agostinho
27 May, 3:13 PM
Estou satisfeito. Ótimo suporte e equipa de desenvolvimento ativa pronta para trabalhar.