InstaSwap Reviews 2021 - Is It Safe?
Jul 07, 2021
Despite the fact that there are many cryptocurrency exchanges that already exist and offer diverse functionality and attractive conditions of use, new ones continue to appear all over the world. Today we will speak about Instaswap, the young yet ambitious platform that launched in 2019 in Greece. 
What Is InstaSwap?
InstaSwap is a non-custodial cryptocurrency exchange. It allows buying, selling, and swapping cryptocurrencies. The platform is launched by Blocktech Private Company which is registered with Hellenic Capital Markets Commission. This registration is a sign telling us that the company is legit and is subjected to thorough audits. InstaSwap is available for use in the US.
- FIAT is unlimited
- GOLD is unlimited
- BITCOIN is 21 Million

Think wisely 😉#BTC #FIAT #GOLD #Crypto #InstaSwap

— InstaSwap (@InstaSwap_io) June 29, 2021
There are over 130 cryptocurrencies available for trading and swapping on InstaSwap. Such popular coins as Bitcoin (BTC), Ethereum (ETH), Cardano (ADA), Monero (XMR), Litecoin (LTC), Dogecoin (DOGE), Ethereum Classic (ETC), DASH, EOS, Tronix (TRX), and Zcash (ZEC) are among them.
What makes InstaSwap especially convenient is that it is a gateway exchange allowing users to buy cryptocurrencies for fiat money. It means that even those who have no cryptocurrencies can easily join the crypto owners community.
The platform is not a regular crypto exchange but rather an aggregator of orders from the order books of other trading platforms. You specify how many coins of chosen currency you want to spend and InstaSwap searches for the best offer on a number of side exchanges. As the best rate is found, the transaction takes place and you receive money in your wallet.
Main Features
The only way InstaSwap can be accessed by users is via a web browser. There is no info about the development of mobile apps as of now. The website is very simple in navigation and use. You can start exchanging, selling, or buying cryptocurrencies right on the homepage and don't even need to scroll the page down. The box with all the needed buttons is literally the first thing you see as you proceed to the InstaSwap website. You don't even have to log in or register on the website. Note that InstaSwap is not totally anonymous as you will need to share your email address in order to complete the transaction.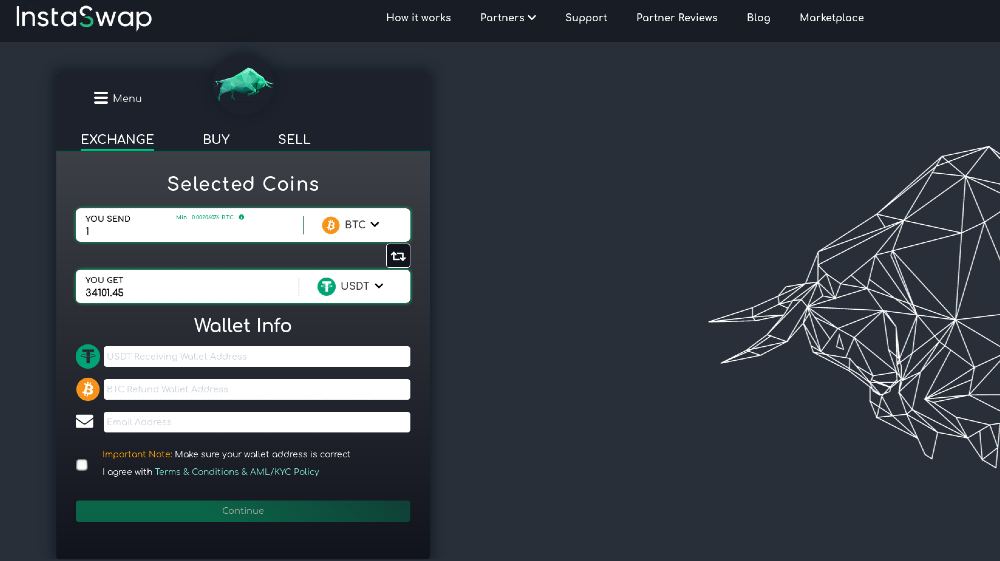 If you want to exchange one cryptocurrency for another you can do it right on the homepage. There is a box with three tabs: Exchange, Buy Crypto and Sell Crypto. The exchange tab is opened by default. There are two sections: YOU SEND and YOU GET. In both of these sections, there are menus in which you can choose the currencies. Also, you can (and should) specify the amount you want to send (but not the one you get). As you set the currency names and the amount you are willing to send you should tap on the Swap Now button. The currencies' wallet addresses will be required: the wallet of the coin you want to receive and the refund address for the coin you send. A refund is possible if the transaction fails to get complete. Additionally, you will be required to provide an email address. When all the info is provided you should click on Continue.
If you want to buy cryptocurrencies, you just should specify how much money you want to spend and provide an address to receive your crypto. You can choose from a large list of dozens of supported fiat currencies. The transactions are executed via InstaSwap's partner Moonpay. If you deal with fiat money you will have to agree to be ready to go through the AML/KYC checks. Fiat money transactions require providing a 4-digit code sent to your email address by InstaSwap. If you open a Sell tab, you will find out that this feature is not operational yet.
The data that should be provided to complete fiat-to-crypto transactions includes billing and residential addresses, and bank card information. You will face a KYC check if your first purchase is over €150. The check is quite simple as it requires only 1 document: you can choose between a national ID, international passport, and driving license. Most probably you will be asked to upload a selfie. According to the InstaSwap website, the verification takes up to 30 minutes. Then, you will receive your crypto coins.
The OTC trading desk is also in place in the Marketplace tab. There you can find or post orders to buy or sell crypto for fiat money. VISA, Mastercard, and wire transfers are supported.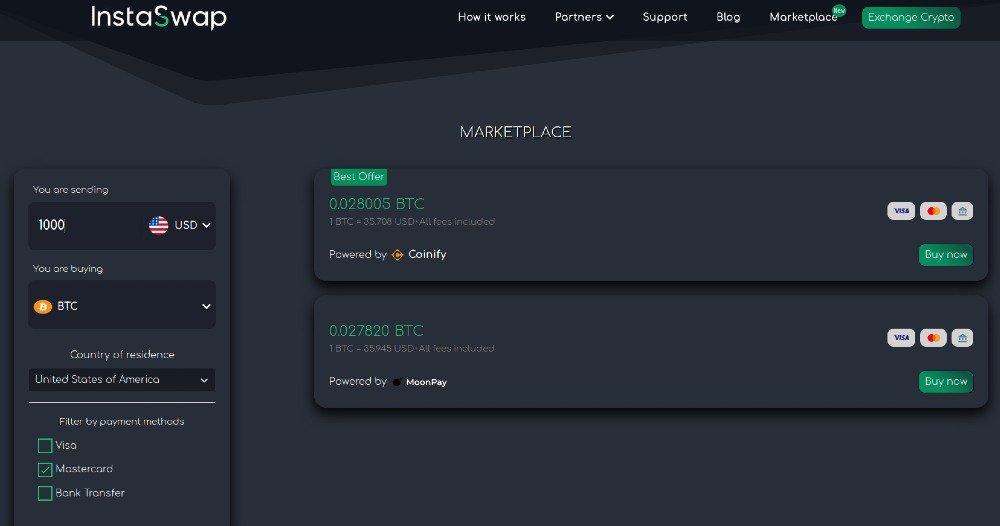 In general, buying or exchanging cryptocurrencies on InstaSwap doesn't require any complex actions, much knowledge, and experience in the crypto field. Performing these actions on InstaSwap is really easy. More than that, the fact that the platform doesn't require you to register and provide excessive personal data makes the use even simpler and safer.
The exchange rate is set by InstaSwap based on the rates on the partner exchanges. The platform is looking for the best offer and exchanges your coins approximately at this rate. On the website, the company warns that the rate can change at the time of the transaction processing so you can get a slightly different sum of coins. Transactions take from 10 to 30 minutes. Considering the volatility of the cryptocurrency prices, this time is enough for a price change. That's why the final amount you get may not be the same as you were expecting.
Optionally, you can register on InstaSwap. Users having accounts are granted some benefits. Discounted fees, access to transaction history, and ability to edit passwords, and do some other stuff. The registration is as simple as other actions on the platform. You can use your Twitter or Facebook accounts to sign up on InstaSwap or use an email address.
Note that there is a minimum deposit threshold on InstaSwap. If you fail to deposit enough money, the funds can be lost. The minimum amount is necessary to make sure that the sum will be enough to cover the cryptocurrency network fees. Happily, the minimum amount is specified right in the box where you input the number of coins you are willing to send so it is easy not to get in trouble.
Fees
The fees structure is yet another simply-designed part of InstaSwap. Fiat-to-crypto transactions are charged with a 5.5% fee while fiat-to-fiat transactions are 0.25%. The latter is higher than on most top custodial exchanges but not a big fee compared to other order aggregators. That's it. Apart from the aforementioned fees, InstaSwap doesn't charge you anything.
Is InstaSwap Safe?
It's important to learn if the platform you want to use is legit and secure. Is InstaSwap a scam? Is it safe? How can I protect my funds and data on InstaSwap? All these questions must be answered before you decide whether you will use the platform or not. 
The fact that the company responsible for InstaSwap is under the control of the Hellenic Capital Markets Commission gives us all reasons to believe that InstaSwap is a reliable legit platform. As a non-custodial platform, it doesn't hold any of your money. All the transactions appear between the crypto wallet addresses. It means that using this platform is not risky. All risks are associated with the price volatility and the chance of thieves stealing your data uploaded for KYC. However, the data is under solid protection, according to the website of the company. Unfortunately, the exact measures applied for data protection are not disclosed. We believe that as the licensed company Blocktech Private Company does enough to ensure security.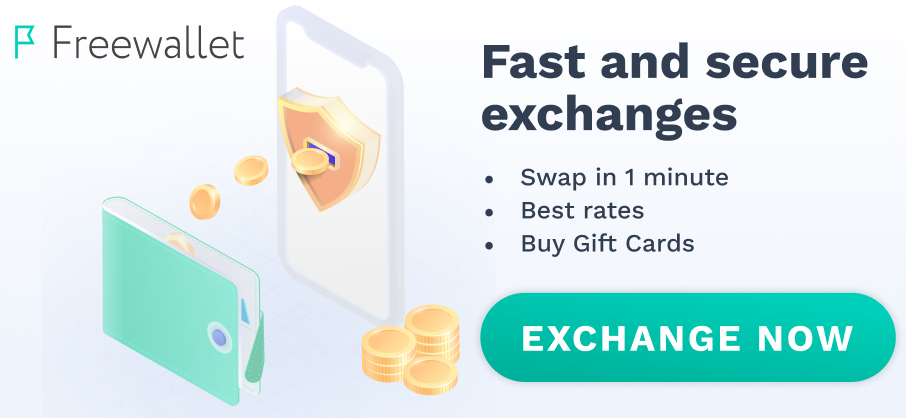 Vraiment pas sur, un big scam... A fuir
Martin Alekseevich
7 July 2021
5/5