ID Coin Crypto (MYID) Review
Apr 20, 2022
Are you keeping all of your assets safe? Think again. MYID Coin has come to ensure you're not falling victim to malicious attacks.
What is ID Coin?
When we think of the term 'Identity' nowadays, we tend to get a mixture of thoughts. On one hand, we may lean towards a personal and even intangible meaning of the word that seeks to translate what we are and what we identify with. But more often than not, especially if you're a crypto investor, your thoughts will most likely wander off to concepts like 'security', 'ownership', and even 'fraud'.
There is an ever-growing need for keeping your digital assets in haven, away from malicious software created by malicious people who only wish to get a hold of your tokens and NFTs by way of pretending to offer a service, consulting services, a clickable link, etc.
Amid this ID theft and scams crisis, a project arose and claimed to be the solution. Yes, the one we already included in the title and with such a long ticker: My Identity Coin.
My Identity Coin (MYID) was created with very singular and specific usability: to tag cryptographic blocks with a code that uniquely identifies its rightful owner. Thus reducing, and hopefully eliminating in a near future, the dreaded threat that someone can steal or unfairly confiscate something that belongs to us.
How does MYID achieve such a useful and noble end?
Although Blockchain technology has been life-changing, issues like the loss of crypto (because the owner sent it through the wrong chain, or lost the key of the cold wallet…) are still very well present and happen daily. In the first quarter of 2021 alone, more than $1.4 Billion (yes, Billion) worth of crypto was lost.  My Identity Coin tackles this by uniquely engraving a single and also unique code that eliminates this threat, by keeping a tag of ownership and security verifications in the coin's blockchain a set of master nodes are subjected to a MYID consensus PoS protocol that makes it very hard for this to 'just happen'. 
If your curiosity was sparked, whether you're a cybersecurity fan like me, or just want to keep your assets safe, keep reading. In this article, we'll cover how good of an investment MYID can be, an unbiased price prediction, and the latest and hottest news surrounding the project and the team behind it. 
As of April 9th, 2022, MYID Coin's stock price was $0.0003502.

Source: CoinMarketCap
MYID Coin stock price prediction
We all know how tricky price predictions can be. Accurate ones especially. Nevertheless, there is always some data we can work with and slightly trust for future predictions.
MYID coin stock price journey has been a bit of a bumpy ride, which is to say the ups and downs in value have been noticeable. At the time of the token's launch, an all-time high of $0.0037 was achieved, after which the price fell exponentially and even added a '0' to $0.0005152. Ever since, the graphic shows the price variations weren't too steep until December 11th, 2021, with an all-time high of $0.004078. If you got to be an early investor in MYID and held until this date, you were in for some gains! The price quickly corrected back to its previous trajectory, placing itself between $0.0004352 and $0.000263.  If the current trend for the price continues, we can assume these will be the prices of MYID Coin in the next 2-4 years.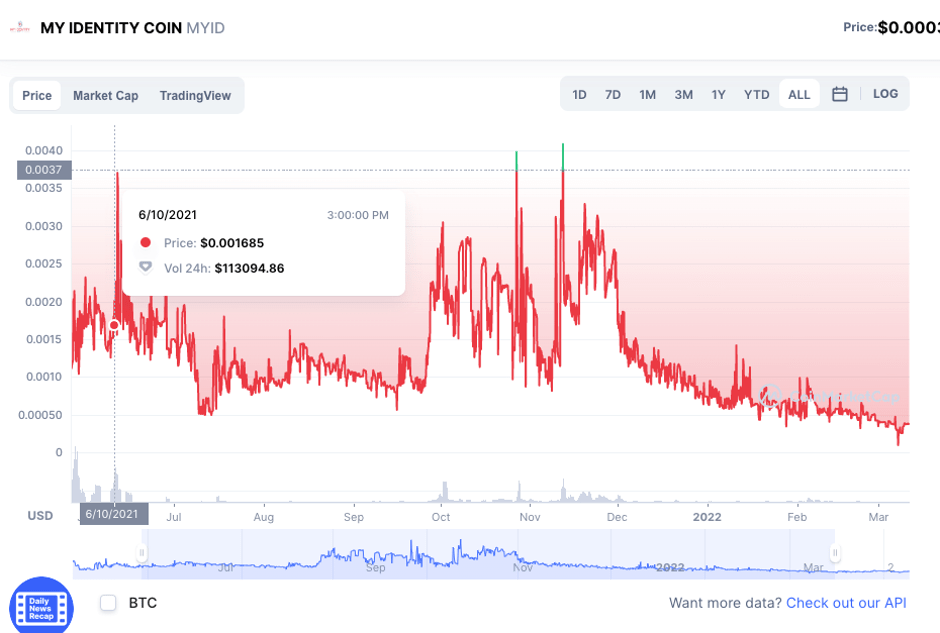 | | | | |
| --- | --- | --- | --- |
| 2023 | 2024 | 2025 | 2026 |
| $0.00022 | $0.00022 | $0.00023 | $0.00023 |
| $0.00022 | $0.00023 | $0.00025 | $0.00026 |
| $0.00024 | $0.00027 | $0.00031 | $0.00035 |
| $0.00027 | $0.00034 | $0.00043 | $0.00054 |
| $0.00032 | $0.00049 | $0.00075 | $0.00115 |
| $0.00049 | $0.00114 | $0.00263 | $0.006051 |
| $0.00077 | $0.0028 | $0.010089 | $0.03631 |
Source: coindataflow
Is MYID Coin a good investment?
We all know how this goes. One must always do personal and thorough research before investing whatever one can afford to lose into crypto. But here's what we can tell you.
Identity theft and authenticity concerns have been and are still on the rise. The more digitally dependent we become, the more our identity and assets defenses need to be up to date. MYID paves the way for a new way of tackling a crippling issue that may seem like it would never affect us. But even the most tech-savvy can fall prey to a scheme or can lose a slice of our portfolio. MYID Coin's team behind the project is visionary enough to have identified such an interesting and well-sought niche. Because this is a token/blockchain/project that can be used both by individual investors like you and me, but also by big companies and corporations with a lot at stake on the blockchain and everything to lose. In some real-life cases, we could even consider MYIDA Coin to go so far as to replace real-life ID documents, such as our Social Security Card.  
In an ever-rising concern for digital safety, we could consider MYID Coin both a useful and interesting project to keep under our radar since it may soon turn out to help create ID Coin technology companies.
ID coin news
As of late, not many headlines have been filled with MYID mentions. Is no news good news? In this project's case, only time will tell. It is worth mentioning that, at the time of the ICO and initial announcement hype, MYID Coin creator claimed:
"We will be a top 100 coin within 12 months and a top 10 coin within 3 years because we are solving problems that we all can understand and all will benefit from."
Han S. Kim Founder - May 2021
Well, we went on to check if this prediction came true. Although 12 full months haven't actually passed, we are already on the 11th month mark.
CoinMarketCap's ranking places MYID Coin token in the 8077th position.

And CoinRanking places it in the #6705 place.

So no, MYID Coin token hasn't been able to climb its way up to the coveted top #100 in the crypto world and it seems that it's time to do so is still far away.
How and where to buy MYID Coin?
You can buy My Identity Coin in Bittrex and XT.com

Source: CoinMarketCap
To be able to add this token to your wallet, you'll need to first set up an account, ensure you have enough USDT for the amount of MYID tokens you're seeking to obtain (always keep in mind transaction fees and slippage as well) and once you click on that 'Buy' button and the transaction is approved, you're all set! 
My Identity Coin was launched by OkGlobal Securities, a company with a clear mission: giving the profit back into the hands of the people, eliminating government and other institutions' intervention. This serves the purpose of stopping middlemen to fill wallets with commissions, fees, and leveraged investments made with the citizen's money. 
OkGlobal Securities guarantees the lowest rates and fees possible and the reinversion of the profits back into MYID Coin development and funds, thereby increasing the intrinsic value of all coin holders year after year.
And so the Money Project was born. An international blockchain project, the first of its kind, that wants to disrupt the current banking and finance system, by way of its DAO that operates on a global scale. Ok Global Securities has launched MY ID and has in the works two other tokens: OKGlobal Securities Coin and Switch Stable Coin.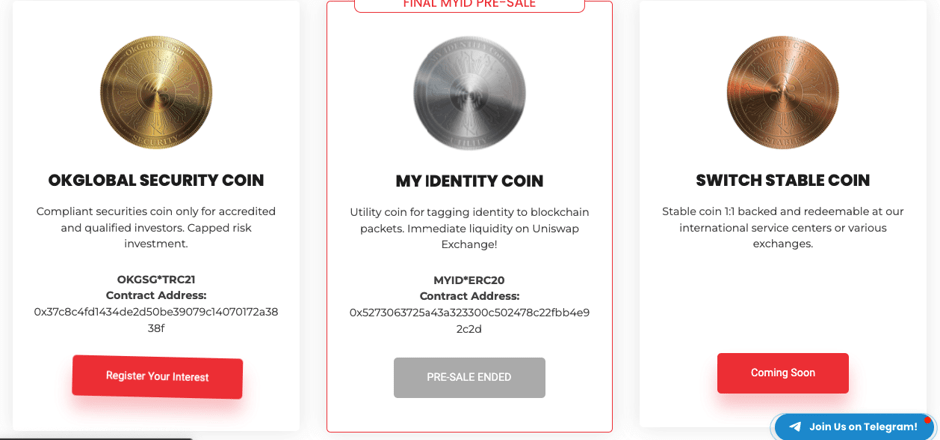 The developing team behind MYID Coin seems to have a clear goal and it's working towards it, not showing any signs of slowing down or calling it quits, so this is a project that's worth keeping under our radar and observe ID Coin's price variations as more milestones in the roadmap are fulfilled and the new coins are launched.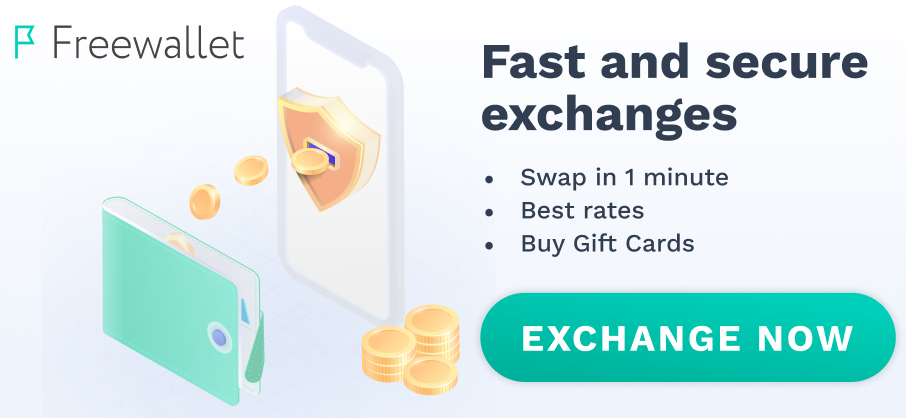 I see no reason to invest in this coin because it seems to me that this is a scam.