Baby Shiba Inu (BABYSHIBAINU) Review 2022
Apr 08, 2022
Baby Shiba Inu coin: does the dog-coins era appear to have just begun?
Cryptocurrencies have been around for the better part of 10 years. However, tons of notable coins have attained more and more coverage. For instance, crypto coins such as Ethereum and Bitcoin have quadrupled their value over this timeframe. 
Ethereum, which needs no introduction but still causes 'the chills' when mentioned, cost roughly 3,000 dollars towards the start of 2021 but grew to upwards of 4,000 dollars as 2021 ended. However, as of March 2022, the coin receded to 3,100 dollars. This shows that the growth of crypto is unpredictable if we keep in mind that these coins are incredibly volatile. 
Take other coins as examples: not many people were on board with Dogecoin. The coin surpassed everyone's expectations and is surely on its way to hitting $1. The coin might have gotten a boost from Elon Musk himself, but its potential and increasing fan base worked in its favor and the token kept its place in the charts. 
Investing in the "Right" Coin
Shiba Inu has grown a lot ever since its ICO. Investors and curious observers alike initially treated the coin as more of a "sh*t coin" - a sh*t coin refers to a coin that relies more on the hype or simply on the trends circulating it. In this way, a sh*t coin isn't expected to grow exponentially.
For instance, the Squid Game token was a coin that attained a lot of attention after the success of the series on Netflix. This led to people investing hundreds (if not thousands upon thousands) of dollars in the coin in hopes of making them rich. 
However, things went from bad to worse when the coin dropped 99% of its value and never rose back up. It was later revealed that official developers or representatives of the show had nothing to do with this token. 
Moreover, the coin was shown to have no major plans for the future, owing to which the majority of the coins were eventually sold after the coin became somewhat expensive. More and more people had started investing at that point, in particular, mainly because of FOMO.
Add all of that to selfish and greedy creators behind the coin and you got yourself a good old-fashioned rug pull.
In the end, investing in the Squid Game token proved to be a bad choice since people started losing several thousand dollars after selling most of the tokens when it was already way below their ATH value. 
And yet in the middle of this wild crypto market, some heroes arise, and Shiba Inu has proven to be quite the savior for the meme and dog coin lovers. It has only kept on growing and has now worked to stabilize its position in the market. According to numerous reports, Shiba Inu was one of the most highly searched crypto coins of 2021 and it's expanding beyond your 'regular' token project, having founded its metaverse: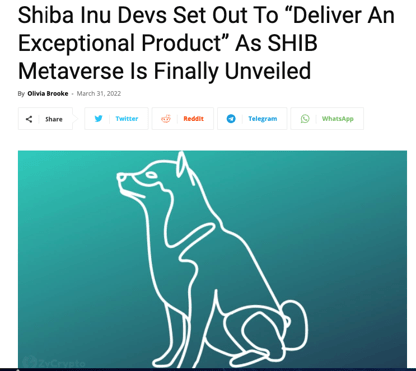 As with any other project, Shiba Inu possesses flaws that are not to be overlooked. 
But wait, there's more! Another token often looked at as the successor of Shiba Inu is now making heads turn. The relatively newer coin, Baby Shiba Inu, has already started growing and shows the potential to keep on doing so in the times to come. 
Looking to know more about this new token? Yes, we were curious as well. So make sure you keep on reading because we tell you everything you need to know in this article, where we compiled the basics so you didn't have to.
What is Baby Shiba Inu Coin?
Taking the Baby Shiba Inu Coin into account, it can be referred to as a coin that is somewhat similar to Shiba Inu. The coin revolves around yet another dog-related coin (who doesn't love them?), this time using a puppy instead of a full-grown dog. The coin does wonders to spread the love for dogs, like its predecessors. 
Launched in July 2021, the coin offers rewards in the form of  NFTs and there's the possibility of staking. Moreover, the best part about the coin is that all the coin holders also pay towards the Shiba Rescue American Organization, a fund for helping dogs- so while you're making money and declaring your love for 'doggos', you're also helping them out. 
It's important to note that the donations don't come out of your rewards, making you earn less. The donations are still essential, considering that the team behind Baby Shiba Inu hopes to establish the coin as a project that promotes sustenance and a good cause.
These founders are still unknown, although it seems to be the case with many meme coins. Now, the coin is still considerably new and its team is working towards promoting it on the market, alongside indulging in giveaways for its members. 
What makes it special?
Baby Shiba Inu is unique for several reasons compared to its predecessor Shiba Inu. Firstly, Baby Shiba Inu encourages fairness and works on implementing a social cause alongside rewarding its members in the long run - not all is about the money for them, it's also about giving back. 
What sets this coin apart is that it focuses on donating to charities alongside the generation of NFTs or other incentives as rewards. As of August 2021, the coin has worked on donating more than $5,000 to charity.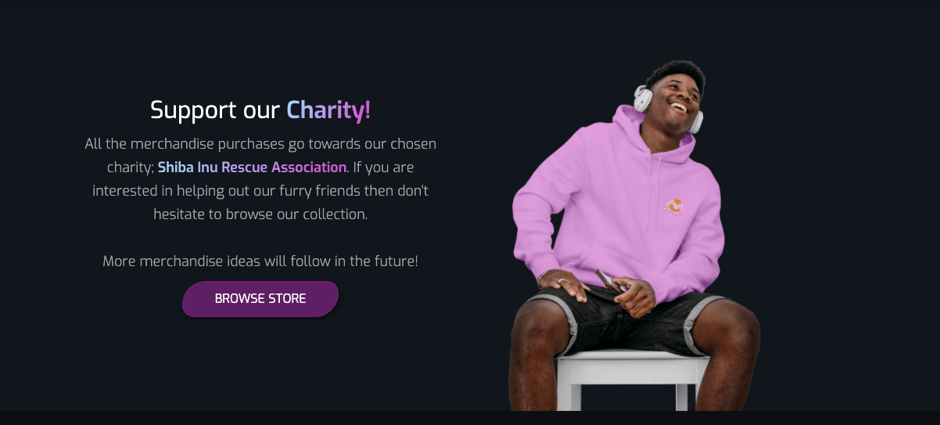 In the future, the coin also looks to create a platform for NFTs, primarily for mobile devices. When it comes to Baby Shiba Inu, the team behind it discourages pumps and dumps, indicating that the coin is to remain stable over time, provided that the community keeps on supporting the coin.
What has been up with this baby dog coin lately?
As mentioned before, Baby Shiba Inu's project plans on expanding enough to introduce an all-new NFT platform, which would allow for the trade of these digital assets. Not only that, but it also plans on incentivizing its holders through the platform with more rewards, giveaways, and staking interests.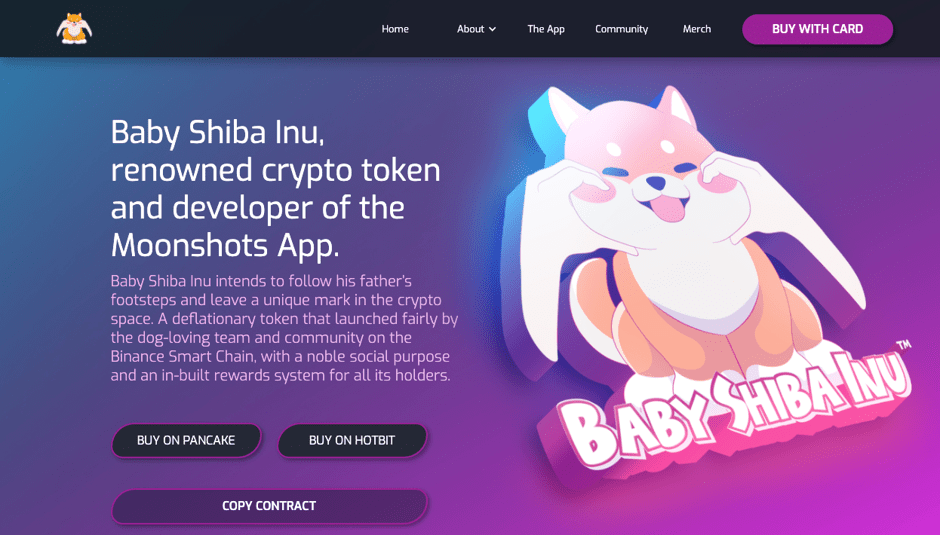 With the future in mind, the developer team also seeks to introduce other benefits and donations to numerous charities keeping in mind that Baby Shiba Inu works to cater to society.
Baby Shiba Inu: Price
According to CoinMarketCap, the coin ranks amongst the top 5,000 cryptocurrencies of all time. The token started with a supply of 1 quadrillion coins, 54% of which have been burned up until now.

Baby Shiba Inu: Price History
BABYSHIBAINU can be referred to as a deflationary token that has shown a considerable level of increase over time. With the coin promoting anti-dump tactics and philosophy, its price has been stable. This also entails that its developers think the token shouldn't be purchased in excessive sums and sold altogether, risking price manipulation. 
The token has a market cap of 28 million dollars and could keep growing as long as the team behind it keeps on introducing innovative and useful additions to the project. 
Baby Shiba Inu: Price Prediction
The coin is expected to reach a market value of around $0.0000000129 according to Digital Coin Price in one year and, by 2030, their forecast sets the price at $0.0000000407.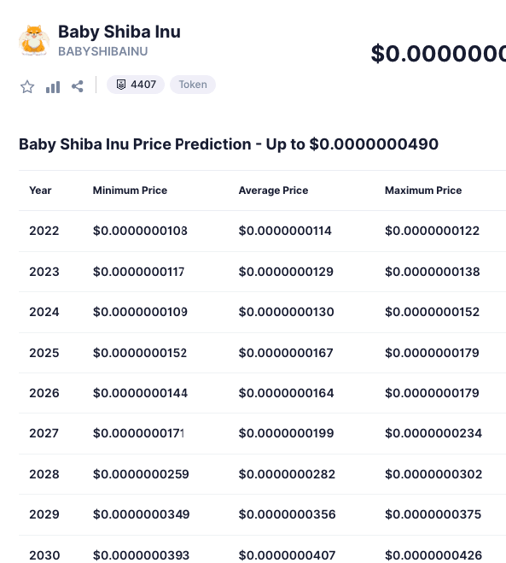 Is it a good investment?
As of right now, this token appears to be a good investment due to the potential it has shown for growth and investor adoption. However, keep in mind that you should always DYOR and when you invest, it is at your own risk, so be sure you're really behind the project and trust it enough.
Where can you get some of these Baby Shiba Inu Coins?
According to CoinMarketCap, PancakeSwap and IndoEx appear to be the way of getting these socially conscious dog coins. Perhaps with some more adoption and traction, it'll be added to more exchanges.

It appears things look bright for this project; nonetheless, time will always provide the ultimate disclosure. The coin's success can mainly be owed to how the coin looks towards social causes and not just financial gains. Perhaps the time to invest more consciously and with social causes in mind has begun?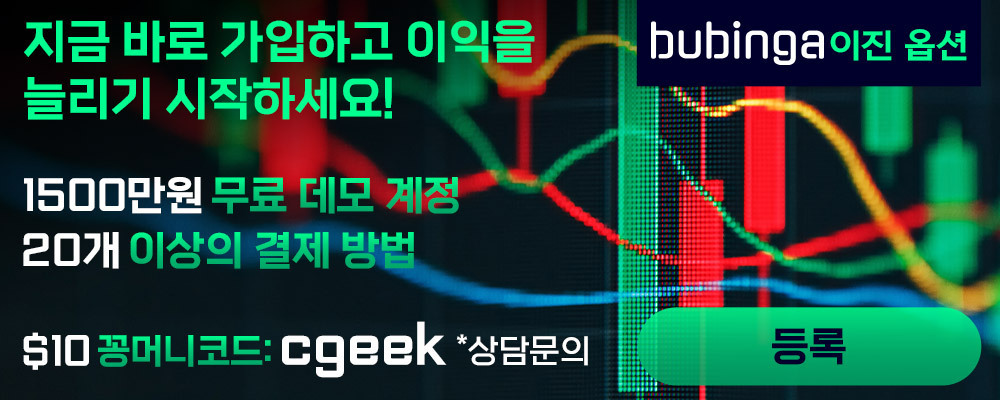 If the price of the father(SHIBA INU) of this coin grows, then we can think about the prospect of Baby Shiba Inu.