What Is SafeMoon? Things You Need to Know about SafeMoon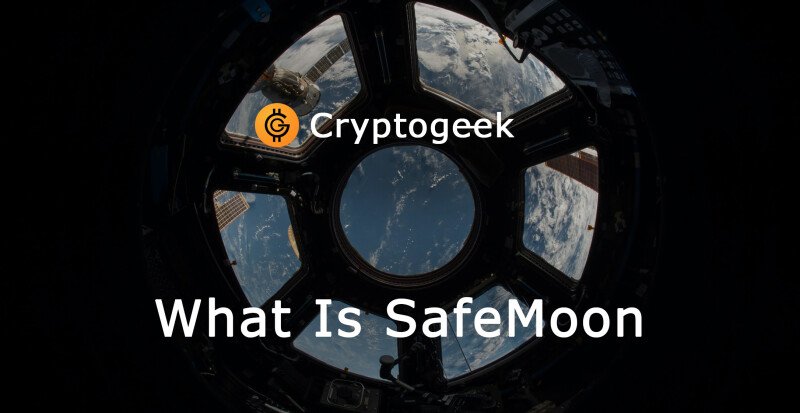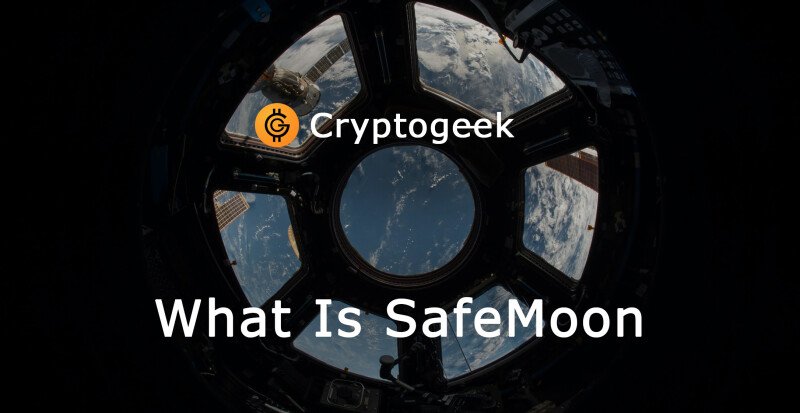 More and more cryptocurrencies enter the market every day, and each currency provides a slightly different model to try to attract investors. One of the most interesting cryptocurrencies launched this year is SafeMoon, which is expected to sweep the world of DeFi.
As one of the latest and fastest-growing cryptocurrencies in 2021, SafeMoon cryptocurrency has attracted many investors who are looking for alternatives to bitcoin. SafeMoon is a cryptocurrency that refuses to yield to the pressure of the central government or be bound by a flawed regulatory currency. SafeMoon enables everyone to store and transfer value with an anti-manipulation currency. The "safe" part of its name may be a slang term in the cryptocurrency market, indicating "approval" rather than the obvious safety of the token. 
But what do you know about SafeMoon cryptocurrency? If you are just starting out and want to be a SafeMoon Enthusiast, let us guide you to explore the potential value of safemoon in the mysterious cryptocurrency market!
Contents
What is SafeMoon Coin?
The SafeMoon Protocol is a decentralized financial (DeFi) token. According to SafeMoon's official website, SafeMoon has three functions in each transaction: Reflection, Liquidity Pool (LP) Acquisition and Burn. 
 
SafeMoon made its debut in March. Recently, it has attracted more and more attention because the company created SafeMoon announced that it avoided the sharp price volatility prevalent in Bitcoin, Ethereum and Dogecoin. The creators of SafeMoon say they want to solve some common problems in other digital coins, such as price volatility. In view of this, SafeMoon aims to encourage long-term investment, prevent day trading of its tokens, and reward long-term holders by charging a 10% fee for each trade. Half of the fee charged is dedicated to the owners of existing coins, who receive some kind of dividend in the form of additional coins. The other half of the fee is reinvested in the project.
According to the creator of the coin, two million people have bought SafeMoon so far. Its price is only a fraction of one cent, but in the past month, due to the soaring value of various cryptocurrencies, its price has increased by 202%.
SafeMoon explained its currency: "the goal here is to prevent the price of SafeMoon from falling greatly when the whales decide to sell their tokens later in the game, so as to prevent the price from fluctuating too much."
SafeMoon also said that it chose manual burning and continuous burning. According to the creator, manual burning can enable SafeMoon to better control the supply of coins. Increasing demand and decreasing supply will increase the price of tokens.
As a cryptocurrency token, SafeMoon is located on the Binance Smart Chain (BSC), which is a blockchain developed by Binance and runs in parallel with the traditional Binance Chain (BC). The difference between these two chains is that Binance Smart Chain has the function of smart contract, which opens up many ways to build decentralized applications (dApps).
SafeMoon is different from other cryptocurrencies because of its user experience or what happens after purchase. Each trade will lead to "reflection", "liquidity pool (LP) acquisition" and "burn" of the network. The following is a clear explanation of these terms:
Reflection
In cryptocurrency, "reflection" is used to refer to static rewards. In order to eliminate the liquidity bubble generated by each new DeFi token, SafeMoon rewards the holder of each trade according to the volume of the trade. Each trade is subject to a 10% tax. 5% of the 10% trading tax is for liquidity and the other 5% is allocated to all SafeMoon holders.
This process rewards holders for holding because of the high cost of selling or trading assets on the same day. In addition, as more and more users join the network, the reward will (ideally) increase, which will further promote holding, and so on.
Liquidity Pool (LP) Acquisition
The 5% tax on liquidity helps to create price stability. In order to limit significant price changes caused by panic selling and other circumstances, SafeMoon allocates liquidity on all exchanges supporting the asset. In this case, half of the 5% fee is used for SafeMoon / BNB trading pairs in order to create the lower price limit.
Burn
The remaining 5% tax is converted to BNB to remove the token from circulation. This mechanism increases the rarity of assets, thus pushing up their prices. 
These are the three steps involved in each transaction. The goal is to make tokens a store of value rather than an asset for trading like Litecoin(LTC). In this regard, tokens are more similar to gold. The team claims that because of these factors, SafeMoon aims to be a profitable long-term investment.
How has SafeMoon Price Performed Recently?
As of December 16, SafeMoon's price was approximately USD $0.00000430, and the 24-hour trading volume was approximately USD $50,353,000. The price has increased by approximately 2.88% in the past 24 hours.
Compared with more mature coins, SafeMoon is a poker player. Its market value is $4.1 billion, while Bitcoin is $792.3 billion and Ethereum is $365.1 billion.
SafeMoon was initially issued with a circulation supply of 1000 trillion tokens, although the development team immediately consumed 223 trillion tokens. So far, more than 400 trillion tokens have been burned, and this number continues to grow over time.
One thing to note about SafeMoon cryptocurrency is that developers have not really described any real-world use cases. In May this year, the SafeMoon protocol was hyped by celebrities, leading retail investors to follow suit and push up prices. Since then, prices have fallen sharply, leading many to claim that SafeMoon is a "pump and sell" program designed to make some investors rich.
The decision to buy cryptocurrency should always have a long-term prospect, because the price of cryptocurrency may be particularly volatile. SafeMoon is no exception. Its life is very short and the price has fluctuated significantly. To better understand the prospects of SafeMoon, let's look at the technical and fundamental factors that may affect the prices in the future:
Technical Analysis
First of all, it should be noted that SafeMoon is not currently listed on any major cryptocurrency exchanges, such as Binance or Coinbase. Therefore, its liquidity is relatively low, which means that the technical analysis is not as accurate as the digital currency with highly liquidlity. Safemoon's low liquidity means that a large number of purchase orders tend to significantly push up prices, which in turn will lead to more people buying in "speculation".
Presently, SafeMoon's price hovers around $0.0000014, so you can immediately see how cheap this coin is relative to other currencies. Prices are slowly turning bearish, and the last real rise occurred at the end of August. Therefore, SafeMoon prediction based on technical analysis is difficult to accurately predict the price of tokens in the future.
However, since the price of SafeMoon is almost the same as that in April, if you invest in SafeMoon token for purely speculative reasons, this level will be a good buying area. There seems to be a small support level near the current price area, which provides the best buying position. Similarly, due to low liquidity and lack of trading volume, this support level may not be maintained. Therefore, it is worth considering this risk before investing.
Fundamental Analysis
Fundamental analysis is another key component of investing in cryptocurrency because it can help determine whether a coin is overvalued or undervalued. Taking SafeMoon as an example, our research on SafeMoon price prediction found that according to the collected data, the market value of SafeMoon was only $799 million CoinMarketCap at the time of writing this article. This amount is very small for cryptocurrencies, which means that SafeMoon is not even among the 200 largest cryptocurrencies in the world.
Now that you know what SafeMoon is and its background, we can focus on its long-term prospects. Most encryption investors are novice buyers and they tend to choose to buy Bitcoin (BTC) or Ethereum (ETH), but if you want to get a quick return, less well-known currencies such as SafeMoon may be a better choice. However, having said that, these options are more risky, so it depends on your risk tolerance.
One of the most attractive factors is that SafeMoon rewards people who hold tokens through the funds received by the distribution platform from people who sell tokens. In addition, SafeMoon recently released its native wallet on Google Play. Many investors believe that this is a sign that the company is in a growth period, and there will be more announcements about the company and SafeMoon in the future.
Considering all factors, our price forecast for SafeMoon in 2025 is still relatively optimistic. Because there seems to be no real-world utility, which is why people buy Cardano and other useful cryptocurrencies, investors may be discouraged from investing a lot of money in the project. For this reason, we can imagine that the oil price will rise slightly to US $0.000025 in 2025.
In addition, our prediction of SafeMoon's price in 2030 also follows the same idea. At this point, we can imagine that the development team has understood the requirements for real-world use cases and developed their own blockchain or diversified applications. In other words, we estimate that the value of SafeMoon will reach US $0.000040 by 2030.
In short, if you want to invest in SafeMoon, we suggest you do your own research. General investment suggestions believe that the cryptocurrencies with the best long-term performance are those with real-world utility, while SafeMoon does not seem to have them at present. Although developers may improve the protocol and create some valuable use cases, this coin may still become "memecoin".
Some of the Best Cryptocurrency Exchanges
If the miner is the first banknote printing machine in the blockchain world, the exchange is the second banknote printer in the blockchain world.
Different from the big miners who make a lot of money silently in the depths of the mountains, the speed of making money in the exchange is amazing - the trading fee of each digital currency, the trading commission and cash withdrawal fee of all users, as well as the rising price of digital currency issued by the exchange, making the exchange seem to be a "nuclear banknote printing machine".
From digital to money, digital currency exchange is the only way for tokens to become coins, the most intuitive place to show the value of blockchain technology, the centralized place for blockchain to achieve the goal of decentralization, and the common realization capital of greed and ideal.
Uninterrupted trading with 7 × 24 hours, no trading restrictions on the rise or fall limit, and the external environment full of random news events make the rise and fall of digital currency full of excitement and contingency.
In July 2010, Jed · McCaleb founded the Mt. Gox exchange, which is nicknamed "Mentougou" by Chinese people. Mt. Gox once became the world's largest bitcoin exchange, monopolizing more than 70% of the global Bitcoin trading market share in its heyday.
In February 2014, Mt. Gox exchange was attacked by hackers, resulting in the theft of 750,000 Bitcoins of Mt. GOx users and 100,000 Bitcoins owned by the company, accounting for approximately 7% of the total Bitcoins excavated at that time.
Subsequently, Mt. Gox declared bankruptcy, and the Bitcoin assets of a large number of Mt. Gox users were difficult to recover due to the bankruptcy of Mt. Gox. The "Mt.Gox Event" also brought the entire Bitcoin transaction into a long-term market value trough.
After the decline of Mt. Gox exchange, the exchanges in China, Japan, South Korea and the United States have gradually developed and expanded. Many Chinese exchanges have expanded rapidly with the expansion of user scale through a series of operation strategies such as reducing and exempting trading fees.
On September 4, 2017, the People's Bank of China and other seven ministries and commissions issued the Announcement on Preventing the Financing Risk of Token Issuance, which clearly proposed to shut down the domestic digital currency exchanges. Subsequently, domestic digital currency exchanges have no choice but to go overseas to find a haven without policy constraints.
Security is the primary demand of users for digital currency exchange.
Correspondingly, when trading and buying Bitcoin or other cryptocurrencies, the most concern is security and integrity. Whether you plan to buy and hold for a long time, want to trade frequently, are interested in anonymity or privacy, or just want to be easy to use, the following exchanges are the best choice for you to trade cryptocurrency:
Gate.io, Coinbase, Binance, Kraken, Gemini, KuCoin, Coinmama…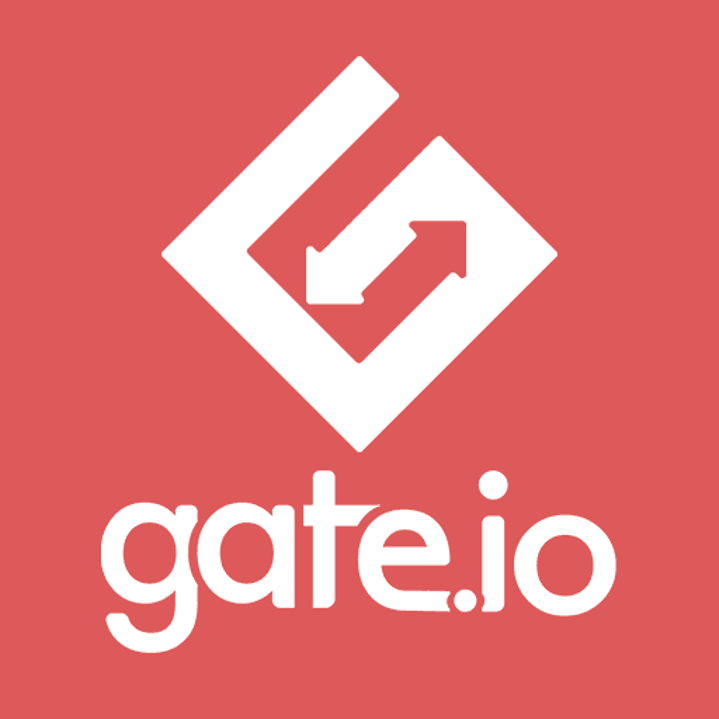 Source: Gate.io
In addition, you can make transactions by learning more about Gate.io exchange which is a Cryptocurrency Trading Platform Since 2013 and established with top ranking, trustworthy and transparent characteristics on a very high standard. Gate.io 's exchange covers only 100% of the real trading volume and gets 40% commission.
Where Can I Buy SafeMoon?
You can purchase SafeMoon on the Gate.io exchange by following simple steps:
1. Sign up on the official Gate.io website

2. Find the search box at the middle of the home page of the official Gate.io website, input "safemoon", click "SAFEMOON_USDT", and enter the coin SafeMoon price page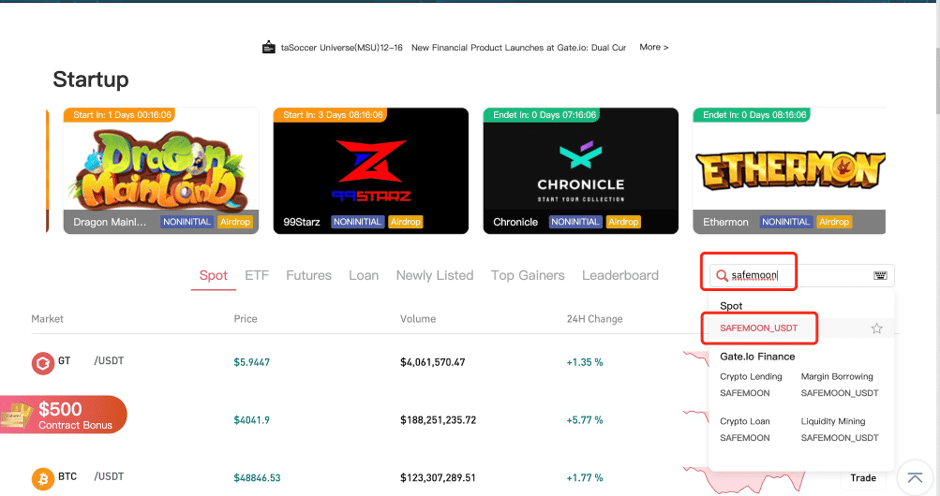 3. Find the circled "BUY SAFEMOON" and input the purchase number in the box marked "Amount SAFEMOON"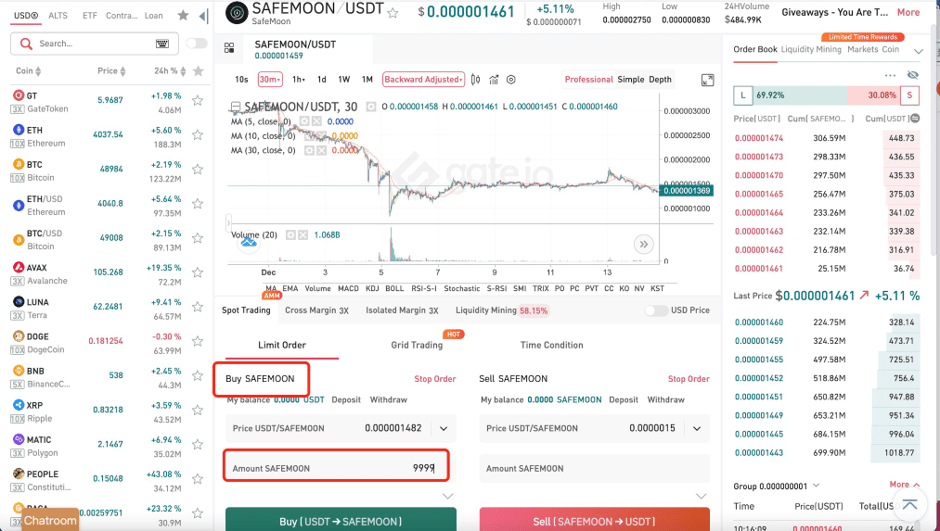 4. Click "BUY [USDT→SAFEMOON]" to start the SafeMoon purchase process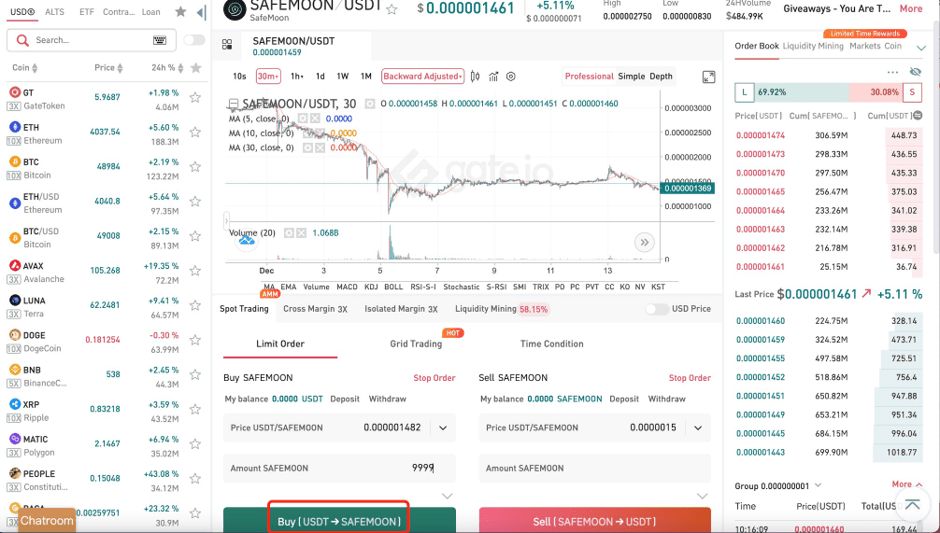 ---
---