Top 7 Altcoins With the Most Potential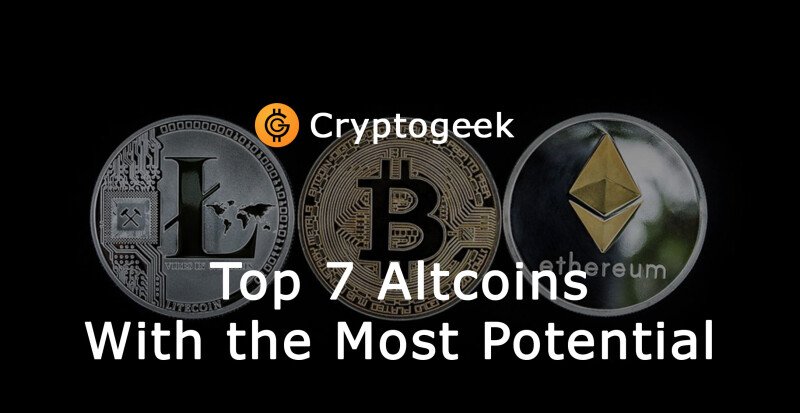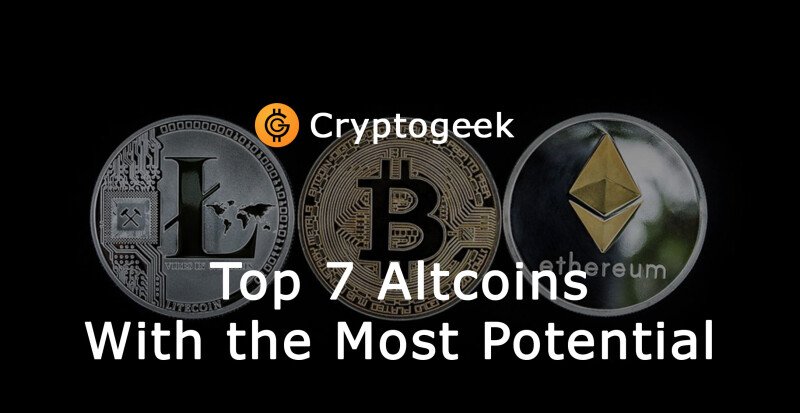 Bitcoin (BTC) is still the most popular cryptocurrency. Altcoins are "alternative coins" that are also types of digital money – but each with its differences. They may not be as recognisable as BTC, but they have unique advantages that make them attractive investments.
If you're interested in owning cryptocurrency, you should consider the most promising altcoin projects out there. 
Ethereum (ETH)
Ethereum (ETH) is the top altcoin and the second most-popular cryptocurrency after the reliable bitcoin. The Ethereum network, launched in 2015, is designed to be much more powerful than Bitcoin, with a more accessible mining framework. While the Bitcoin network can facilitate decentralised online transactions, Ethereum is a full smart-contract platform. This means the Ethereum network can host games, communities, non-fungible tokens (NFTs and decentralised applications. 
The ether currency (ETH) is the native cryptocurrency of the Ethereum network. If you want to run apps on Ethereum, you need to use ETH. This gives ETH utility beyond the Bitcoin network. 
The price of ETH soared above $1,000 (£738.65, €879.40) in 2021, continuing to almost $5,000 due to the strong prospects of the Etheruem network. It's likely the price of ETH will continue rising as usage of the Ethereum network grows over time.
Solana (SOL)
Like Ethereum, Solana is another popular platform for hosting decentralised applications. It's not as popular as Ethereum right now, but is a viable competitor as it offers a more scalable platform. With Solana's 50,000 transactions per second compared to Ethereum's 45, apps can run faster and have a larger user base. It's also cheaper to host an app on Solana than on Ethereum. 
Solana's cryptocurrency, SOL, skyrocketed in value in 2021, going from around $20 to over $200 in just a few months. This has made SOL the fifth most-valuable cryptocurrency by market capitalisation. 
Solana is in a competitive market with Ethereum. If its technical advantages over Ethereum hold, it will continue to grow.
Polkadot (DOT)
Polkadot is a unique blockchain project that strives to connect different blockchains in a multi-chain network. Polkadot sees a future where all blockchains are connected, and it's well on its way to building that future. 
Currently, blockchains work in silos, where interoperation between them is difficult and slow. Polkadot intends to provide a way for these various blockchains to integrate efficiently with each other in order to improve the overall blockchain ecosystem. 
The Polkadot currency DOT is already the ninth most-valuable coin. However, it was extremely volatile in 2021, and it's uncertain where it may go in 2022. If you believe in a multi-chain future and want to take on some risk, Polkadot is the altcoin for you.
Dogecoin (DOGE)
Dogecoin (DOGE) is a cryptocurrency that was started as a joke for cryptocurrency and meme lovers. However, its popularity has gone wild since being championed on social media by celebrities such as Elon Musk, who has tweeted about it being his favourite crypto. It's in the top 10 cryptocurrencies by market cap. 
DOGE is one of the most unique altcoins. Its joke origins and meme status contrast strongly with its high valuation and billionaire backing. 
DOGE has certainly captured the hearts of crypto enthusiasts around the world and made many millionaires out of early investors. Although DOGE is a wild card, if Elon Musk is backing it, there must be something to it.
Litecoin (LTC)
Bitcoin is plagued with slow transactions and high fees. It's great as a store of value currency, but it's not as good for everyday use in small transactions. This is why some people refer to its token, BTC, as "digital gold". 
Litecoin (LTC) is an altcoin created to be a direct alternative to BTC, as it is specifically designed for these small, everyday transactions. Litecoin is a fork of the Bitcoin protocol, meaning it shares much of the same code as Bitcoin. However, it has faster and cheaper transactions. 
LTC has been consistently popular since 2017 and is one of the mainstays of the altcoin world. It's in the top 20 cryptocurrencies by market cap, and it has a bright future as the light version of BTC.
Shiba Inu (SHIB)
Using a similar mascot to DOGE, Shiba Inu (SHIB) is an altcoin created by an anonymous person named Ryoshi. It's dubbed a "Dogecoin killer" as it's a meme coin very similar to DOGE and therefore a viable competitor. 
SHIB had a huge bull run in 2021 followed by significant crashes. This altcoin has become very popular, but it also has considerable risks associated with it. Fear of missing out (FOMO) was a likely driver behind its 2021 success. 
Much of the SHIB tokens are held in one wallet, which exposes the coin to dumping risk. As this makes it another high-risk currency, you should only invest what you can afford to lose here.
SafeMoon (SAFEMOON)
SafeMoon (SAFEMOON) is an altcoin that claims to be community-driven and a "fairly launched" token. This means that after the token was launched by the developers, they did not keep huge portions of the available supply for themselves, as happened with many other token launches. Instead, they destroyed their tokens and participated in using it in the same way as regular users. 
SAFEMOON is a relatively new cryptocurrency. At under $1bn, SAFEMOON's market cap is much smaller than the other altcoins mentioned on this list. However, the project is designed to be the start of a more fair and transparent crypto environment. 
If that sounds like an asset you want to invest in, then SAFEMOON is a great altcoin to try. 
While SAFEMOON's price did not perform well throughout 2021, these kinds of fundamental projects are always a long-term play.
Conclusion
Altcoins are one of the most exciting reasons to get into cryptocurrency investing. They are so much more than just opportunities for great returns. They are possibilities to invest in projects, communities, and technology-driven movements around the world. 
Investing in altcoins typically carries much more risk than investing in the digital gold, BTC. But, there's also the opportunity to be part of something that resonates with you on a much deeper level.
---
---