Solutions for Traders Equally Interested in Stocks and Cryptocurrencies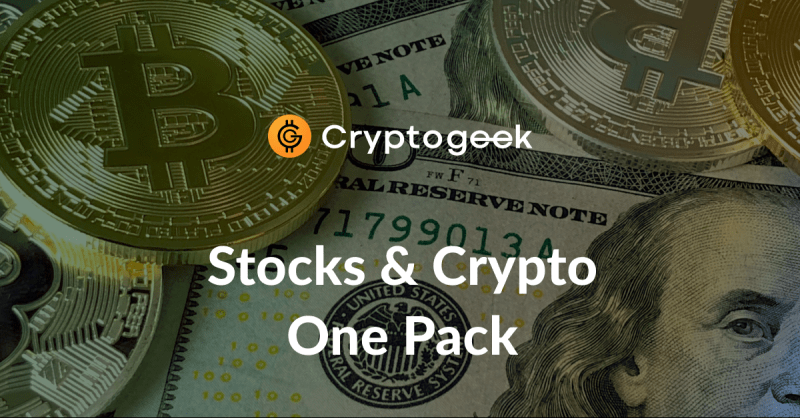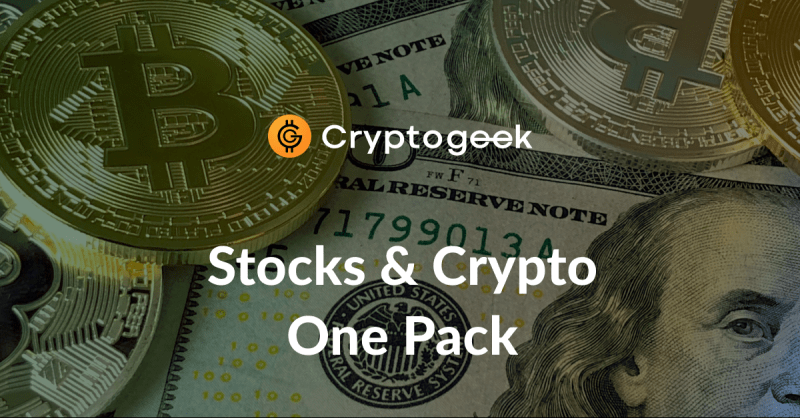 Coinbase has successfully debuted on Nasdaq earlier this week. This event signals about the high level of integration between stock and cryptocurrency markets. More than that, it means that in the future this integration will grow stronger. More and more institutional traders will start paying attention to the potential of the cryptocurrency market. Without a doubt, part of the conservative public will start perceiving cryptocurrencies more positively after this IPO.
What we want to stress in this article, is that the connection between stock market traders and cryptocurrency traders is not something absolutely new.  Stock market-related websites have been writing about cryptocurrencies for years. The platforms and apps allowing users to trade both stocks and crypto coins or monitor these markets have been existing for a long time. The interest in both things is natural. Currently, it is still not a mainstream thing, but probably in the future the borderline between stock market traders and crypto traders will get thinner. In this article, we will review several types of platforms that provide features useful both for cryptocurrency trading and trading on stock markets.
Exchanges Supporting Both Stocks and Crypto
If you are interested in trading stocks and simultaneously you want to trade cryptocurrency you will probably find it convenient to have access to both kinds of markets via the same account and the same platform. Happily there are exchanges that allow trading both kinds of assets via a single platform. 
What's important is that the exchanges offering to trade stocks and cryptocurrencies are full-fledged platforms. You don't have to compromise functionality only because you want to try trading stocks. The existing exchanges provide a features rich experience both for those who already tried using quality crypto exchanges or stock market platforms. The only serious drawback that can occur on such platforms is that they are not very popular. It means that the liquidity can be lower than you got used to if you have an experience only with the top crypto exchanges.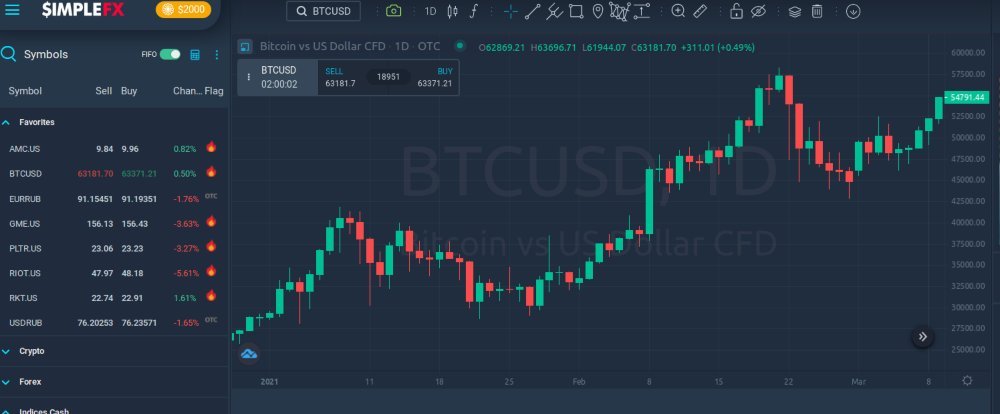 For instance, SimpleFX offers a wide range of such assets including precious metals, equities, forex, etc. There are dozens of trading instruments not associated with cryptocurrencies on SimpleFX. Users can enjoy up to 500x leverage from SimpleFX which can seriously boost the profits. The charts have lots of indicators and tools for analyzing. The variety of trading orders protects traders from excessive losses. The overall execution of the trading interface is intuitive and nice. At the very same time, those traders who want to get into cryptocurrency trading, can opt to trade cryptocurrencies against USD. As of April 15, 2021, SimpleFX supports 15 cryptocurrencies. All of the coins from this selection are among the top cryptocurrencies so it is possible to diversify your portfolio with the best crypto coins, however, on SimpleFX you won't be able to experiment with less known coins which at times hit higher than more established coins.
Another notable platform allowing to trade both stocks and cryptocurrencies is Robinhood. An app that got infamous among decentralization enthusiasts after the WallStreetBets action. It is the case when the members of the Reddit community of the same name were actively buying the GameStop, AMC Entertainment, Nokia, and other declining companies' stocks hoping to win on short squeeze which they did. Many of them were using Robinhood app and to their displeasure the app banned trading these assets as institutional traders and the entire hedge funds were suffering large losses because of this action.
It is what we know Robinhood for today but what about the past? The app quickly came to prominence due to numerous trading assets available for users, for lack of trading fees, and low deposit threshold that made it possible for low budget investors to get onboard. Apart from that, Robinhood provides a wide functionality offering its users such features as margin trading, sophisticated data analysis tools, access to Morningstar reports on high-volume stocks, etc. All in all, the app is still in effect and has a lot to offer to its customers.
The other notable apps allowing stocks and crypto trading are Revolut, eToro, Webull, and SoFi.
Apps Allowing Stocks and Crypto Tracking
Those who prefer to trade using different assets on different platforms may, however, need a convenient way to track all the prices on all the markets at once. There are several apps that can be used for that purpose. Apart from monitoring crypto and stock markets, users can turn on alerts and customize the news feed. More than that, the performance of your (diversified) portfolio can be tracked, too.
Robinhood sues to invalidate Massachusetts fiduciary rule https://t.co/t5hP0wKtBG pic.twitter.com/4nSRttavfK

— Yahoo Finance (@YahooFinance) April 15, 2021
Among the apps providing such functions there are Yahoo Finance app (it allows to check the biggest holders of the assets you are interested in, check the ratings, historical data, etc), Personal Capital (this app provides personalized advices from experts), Fraktal5 (this one allows in-app communication with other users via channels and forums. Also, the app provides AI-made consultations on portfolio management), and others.
Blockchain Stocks
There is such a notion as "blockchain stocks'' out there. This name is mostly used for stocks of the companies whose products support blockchain or cryptocurrencies this or that way. For instance, you can find the lists of the best blockchain stocks containing the Nvidia stocks (NASDAQ:NVDA) as Nvidia's GPUs are popular among cryptocurrency miners. Another interesting example is IBM (NYSE:IBM) as it was one of the earliest tech giants to pay much attention to cryptocurrencies and make a lot of research in the sphere as well as providing educational content for others.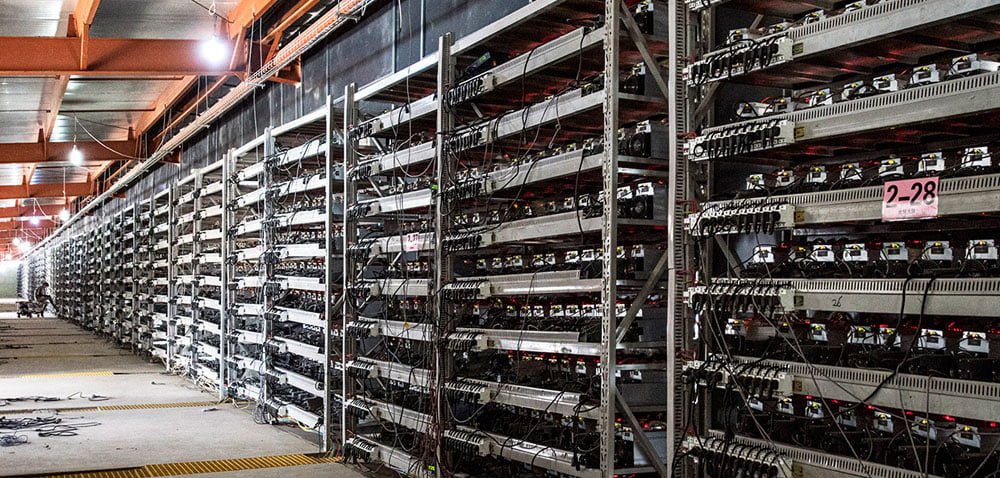 Among the bright representatives of blockchain stocks there are such crypto mining companies as Riot Blockchain (NASDAQ: RIOT), Marathon Patent Group (NASDAQ: MARA), and Bit Digital (NASDAQ: BTBT). Riot Blockchain is a Bitcoin mining enterprise. Riot Blockchain is considered to be the most efficient BTC mining company in North America. The RIOT stock prices usually follow the BTC prices trends. That is what makes stock prices more or less predictable. The company owns over 80 thousand mining devices by Bitmain and constantly invests in buying more spaces and devices. As of April, 2021, Riot Blockchain is producing around 200 BTC per month. Marathon Patent Group is another Bitcoin mining company. Long before Coinbase, Marathon Patent Group became one of the first cryptocurrency-related companies to get listed on the Nasdaq Exchange. The enterprise owns over 100 thousand mining devices. The MARA stock price is tied to the Bitcoin's price, as well.
Bit Digital is mining Bitcoin in the USA and China. In terms of hashrate, the company is one of the leaders on the Nasdaq list. As the crypto market has been on the rise lately, the stock prices of Bit Digital went up. In 2020, the price has grown by a whopping 8000%.
---
---