"2021 is a crazy year" An interview with StealthEX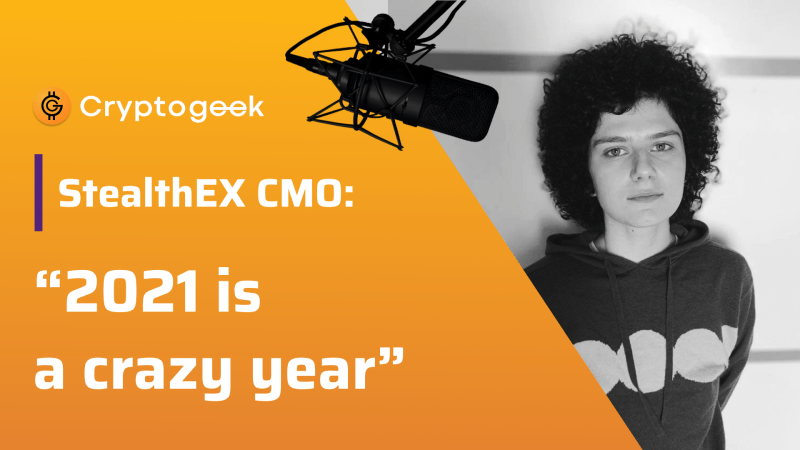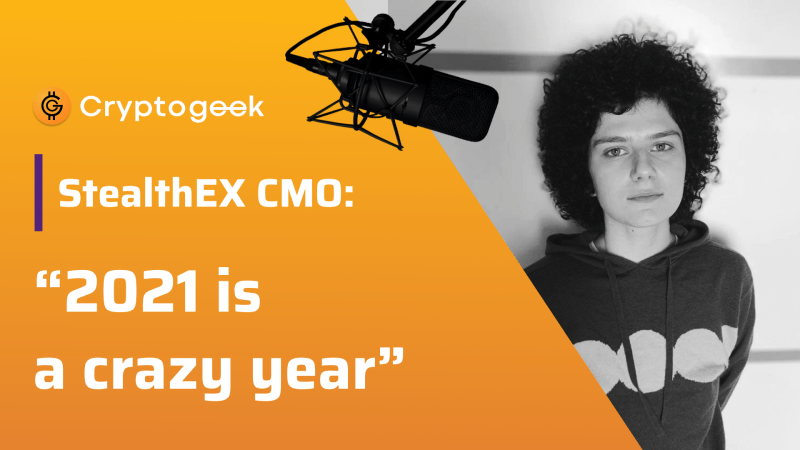 We at Cryptogeek.info were lucky enough to have an interview with StealthEX CMO Maria Carola. We discussed the recent cryptocurrency bull run, the market situation, and the industry trends in 2021.
Cryptogeek: Hello! 2021 has been an interesting year for the cryptocurrency field. Bitcoin reached its all-time high, the big investors finally entered the crypto market. How did all of this influence your service? Has your customer base grown significantly?
Maria Carola: Hey! Thanks for having me over for an interview. 
2021 has been a crazy year. We've seen the whole market going up to ATHs, institutional adoption reaching some insane levels and the people who have not even considered going crypto before turning their eyes towards BTC and other coins. Of course, it has influenced our user base as well. The growth is rapid! It's great to see from the point of view of a service provider obviously. It was also a great time for our fiat-to-crypto feature rollout. 
Cryptogeek: It seems like the cryptocurrency bull run is coming to an end and we see the new correction phase on the horizon. Do you believe it to be true? 
Maria Carola: I think it kind of already ended. We came through the time of massive hype waves, now everything is relatively calm, but there will be news in the future influencing the market just as much. It will not be that quick though.
Cryptogeek: In your opinion, is the current drop in BTC price any different from the previous ones? 
Maria Carola: It was expected after all. I think now more people are sure the price will recover than last time. It's the point of being knowledgeable enough to understand the market fluctuations. 
Cryptogeek: Are there any interesting patterns in users' behavior in the current market situation? Could you name any of that?
Maria Carola: There are some pretty obvious things. With more institutional adoption, more newcomers are going into crypto. Hence, there are more fiat purchases. Also, there were more people buying the dip this time. 
There's also a pretty good trend – when the market went down, people were still exchanging, not going into paralysis. 
Besides, there are way more people doing something of their own – aggregators, online shops, wallets, blogs and so on, who want to use StealthEX in their products. An awesome trend! Appreciate all the users doing something of their own.
Cryptogeek: I've always been interested in the role crypto exchangers like StealthEx have in the cryptocurrency field. How do you stand competition with traditional cryptocurrency exchanges wired for cryptocurrency trading, like Binance and Coinbase? Those exchanges seem to have all of your functionality plus wide trading possibilities. How do you compete with them?
Maria Carola: We are quite different. To understand the differences, it is important to know what StealthEX is first of all. We are a non-custodial instant exchange. This means that we do not hold the user's funds in hot storages located on our platform, anyone can swap with their own personal dedicated wallet. This gives a wider variety of possibilities + security, of course. I do believe that the people who are truly interested in cryptocurrency do not hold their entire savings on Binance or Coinbase. There are wallets for that.
Swapping crypto without having to worry about withdrawal, address change, which is a common thing when transferring to custodial exchanges, and downtimes in the time of market change (hey Coinbase) is pretty nice, right? 
I believe the point is not in competing, but in selecting the right audience for yourself. We serve the ones who want self-custody and it just so happens that nowadays more people are interested in this approach.
There is also Uniswap and protocols alike that we often get compared to, but we have 24/7 support and we are cross-chain. 
Cryptogeek: Today, many products are characterized by the combination of various functions in one platform. For example, many cryptocurrency wallets today offer built-in functions for exchanging and buying cryptocurrencies, thus creating competition for services like yours. How much does this situation complicate your job? Do you consider such services to be significant competitors?
Maria Carola: We are this product, actually.
The wallets rarely provide their own exchange solutions (can be from the same company, like Trust Wallet and Binance, for instance), but those are not the same service.
StealthEX has the API that can be used in any wallet, aggregator or other type of application to provide instant exchanges and fiat-to-crypto swaps. Of course, there are many services like that, but our Business Development and Marketing departments are doing a great job of enhancing our user base through integrations. 
Cryptogeek: What are the industry trends for crypto exchangers in 2021? What do you consider the most important?
Maria Carola: People need multifunctionality in 2021. This is why exchanges need to collect all the good things and put them into one interface. It has been a trend for quite a while already, but now it's just too obvious. Mobile versions are definitely in as well – not even apps, but well-adjusted websites. There are some horrid examples of mobile use in the crypto space. This one is really important, actually.
Reactiveness is a definite trend. New coins should be added quicker, new features released more often. Besides, the services need to be facilitated to accept total beginners. Newcomers often find issues and ask questions we (meaning the people who are in crypto for a while) have never thought about. It seems obvious, but it is not. We should always remember that we are a starting ground for many people embarking on their crypto journey.
Cryptogeek: What are the top features you've implemented in the last year? And which features are you going to implement next?
Maria Carola: There's so much we have been working on. New version of our API, the release of fiat-to-crypto-gateway, personal cabinet rollout (should be live by the time of this interview being published, I think), website redesign, lots of work on the internal structures. You name it.
There's still as much we have to walk though! The next features will be expanding the range of currencies available for swap and purchase, one more redesign (can never have enough) that will include StealthEX blog, widget release, flexible partners fee feature. Those are the most major ones.
Cryptogeek: How much does your company's management structure differ from the structure of traditional financial services? It is difficult to imagine how flexible a company must be in order to feel secure in the ever-changing cryptocurrency market.
Maria Carola: There's fewer of us. Traditional finance has a hierarchy that cannot be overstepped really. In crypto, you can have less people, but these people need to know more, be more flexible and have the ability to multitask like crazy. Speaking of my department, it's smaller than most of you might think. We outsource, we do lots of things ourselves, and our personal capabilities complement each other. We are thinking of expansion now, as the company is growing rapidly, but the numerical growth of employees in marketing will not be huge, that I can tell. We need just a couple of people with knowledge and skill – that would be enough for a sustainable managerial ecosystem that does not have any weak members.
Cryptogeek: Now there are more than 4 thousand cryptocurrencies on the market, and new ones are constantly appearing. How difficult is it to maintain a high quality of service and functionality in such conditions?
Maria Carola: Honestly, it's not that hard to have great service. If you have a foundation that you build upon, then everything will be going just fine. You have to have understandable and reasonable processes inside the team, assigned major roles and responsibilities (minor ones can change from time to time, this is the question of flexibility) and the overall course. Then it will be easy to speed up and expand in the times of need.
Functionality is challenging though. There are some things that we cannot influence, like network fees that have been mental lately, network congestion, liquidity providers going down. All of this had happened during the ATHs. 
There are others that we can work with, so we focus on those. There was a lot of work performed on making the service faster, better, more stable, more sustainable. 
Cryptogeek: What are your plans for development in the next 1-2 years?
Maria Carola: Already mentioned before, that we have quite some development plans for the near future. It's hard to predict what will be going on in crypto in the next couple of years, but we definitely have plans for more integrations (already doing that, and it would be awesome to have as many as possible), a dedicated mobile app release, and expanding the service functionality for our partners. This is pretty vague, I know, but wait to see it for yourself.
Follow StealthEX in the socials of your liking – Twitter and TG are the most used ones), ask us anything, try the service for yourself, and leave you feedback – this makes us super-happy.
Cryptogeek: Thank you for the interview!
---
---