Why Social Trading Platforms Are Becoming the Go-to Ecosystems for Crypto Traders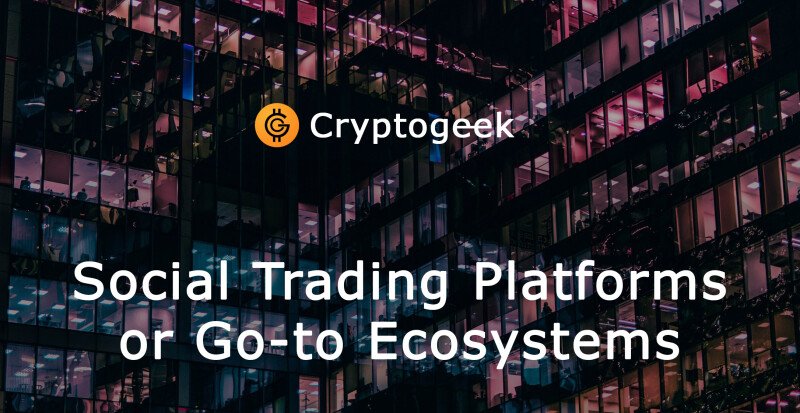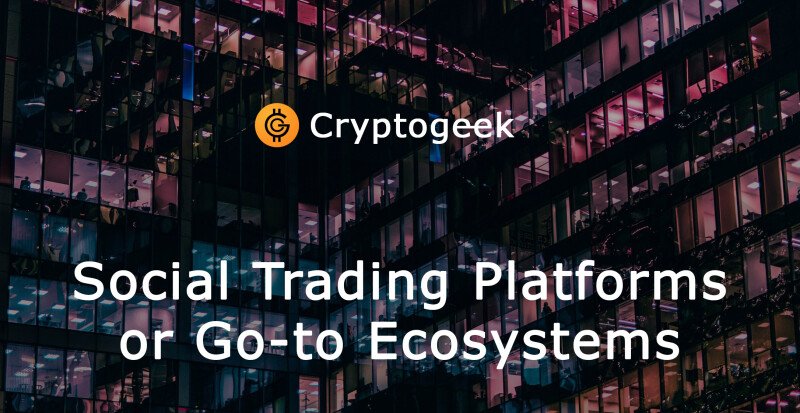 Financial markets have been in existence for over a century, growing more sophisticated with the increasing demand for alternative instruments. As far as trading goes, retail traders and institutions use different strategies to inform their investment decisions. The most popular ones are fundamental and technical analysis; however, the debut of the internet brought about a new investment approach, social trading. 
Also referred to as copy or mirror trading, social trading involves copying other traders' moves to capitalize on the market opportunities. This form of trading is especially lucrative for newbies who are yet to get the gist of trading financial markets. eToro is one of the earliest social trading platforms; it was launched back in 2010, sparking interest in the potential of social ecosystems in trading financial markets. 
Unlike fundamental and technical analysis, social trading relies on sentiment indicators to predict which way the market will swing. With these indicators, traders who leverage social trading platforms can get ahead of the curve, sometimes outperforming market veterans who rely on traditional analysis tools. Even better, it is much easier for anyone (experts and newbies) to copy a trade instead of going through the tedious analysis process. 
Given the value proposition of social trading ecosystems, it is not surprising that traders in traditional and nascent markets such as crypto are gradually pivoting to this investment strategy. After all, one does not require a background in fundamental or technical analysis to leverage the existing social trading platforms in today's markets. 
A More Effective Way to Trade Financial Markets 
Like most investments, the opportunities in financial markets are a double-edged sword; one can gain or lose depending on several factors. However, prudent market investors have to do some analysis before taking a trade. While the pioneer analysis models are still effective, it is becoming more evident that social trading can create non-zero sum conditions, where the goal is to beat the market. 
MIT Computer Scientist and researcher Yaniv Altshuler describes social trading networks as complex and adaptive. He goes on to note that they create an incentive for information sharing, given that players are focused on beating the market instead of competing against each other, 
"Having the inherent ability to share ideas and information between each others, OpenBook's users are given a new source of information they can use in order to enhance their trading performance. As the users are not playing against each other but rather – against the market,"
So, what are some of the advantages of using social trading networks over fundamental and technical analysis? 
1. Access to Reliable Information 
Social trading exposes market participants to reliable trading information. This is because the platforms in this niche feature some of the most experienced traders and trackers to show their performance in real-time. Other traders can use this information to execute or improve their trading strategies. 
2. Diversification 
Social trading makes it easier to calculate more trading outcomes compared to an individual approach. Traders who operate on social trading platforms often have the option of copying strategies from several market experts. As such, they are exposed to more market instruments and investment approaches, increasing the chances of creating a diversified portfolio. 
3. Less Costly 
Besides the community benefit, social trading is a simpler way to begin one's trading journey. In most cases, new traders have to buy expensive learning packages that do not guarantee success. The odds are better and cheaper with social trading; one can simply join a social trading network and begin making some profits by copying the veterans who share their strategies. 
Social Trading in the Crypto Market 
Now a trillion-dollar industry, the crypto ecosystem has ballooned into one of the most traded markets. It features over 8000 cryptocurrencies, with Bitcoin still at the helm. That said, cryptocurrencies are notorious for their high volatility - an opportunity and catastrophe if not traded with caution. 
Thanks to the rise of social trading, it is possible to capture a significant amount of gains by mirroring expert crypto traders. NAGA, one of the leading social investing crypto platforms, is a pacesetter in this form of trading. The platform is popular for its auto-copy feature that allows crypto traders to copy experts who share their content (trading strategies). 
With Decentralized Finance (DeFi) on the rise, NAGA has been scaling its product suite to cover the crypto market. In line with this development, NAGA's German-listed firm NAGA Group AG launched an ERC-20 token NAGA Coin (NGC) back in 2017. The token enables DeFi traders to create smart contracts with auto-copy pre-coded functions. 
Furthermore, traders who share their strategies are rewarded through the native NAGA token. This social trading ecosystem also features other products, including a popular investor program, mobile application and an in-payment channel that exposes crypto traders to other financial instruments such as stocks and ETFs. 
As more stakeholders join the crypto industry, social trading platforms like NAGA will play a significant role in easing the integration. Likely, more traders will eventually pivot to social trading networks, foregoing the nitty-gritty involved in analyzing the burgeoning digital asset market. 
Closing Thoughts 
Despite evolving over the years, financial markets are here to stay and so are the opportunities. More importantly, millennials and zoomers are market savvy compared to the previous generations. That being the case, it is likely that the next transfer of wealth will attract a massive amount of capital into the financial market and upcoming innovations, in this case, digital ecosystems. 
With so much to expect, futuristic investors stand a better chance of beating the market by adopting the most recent and profitable trends. Social trading is one of the outstanding investment approaches, having been proven over the past decade. Going by the current state of global interconnectedness, this form of trading is a win for traders in both advanced and developing economies. Even better, volatile markets like crypto are opening up more opportunities.
---
---