Rocket Bunny Crypto Review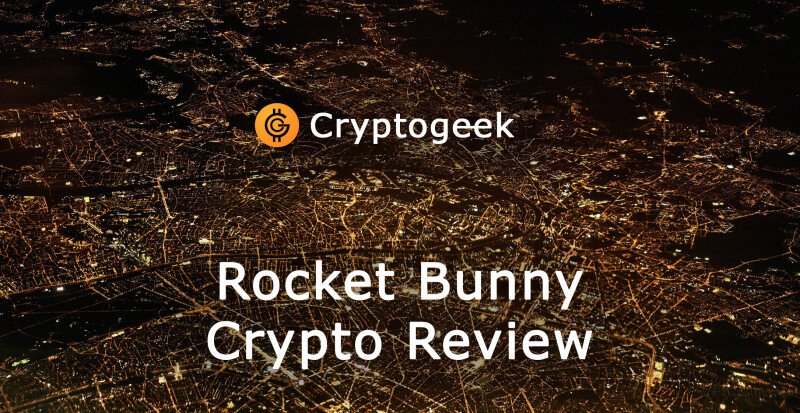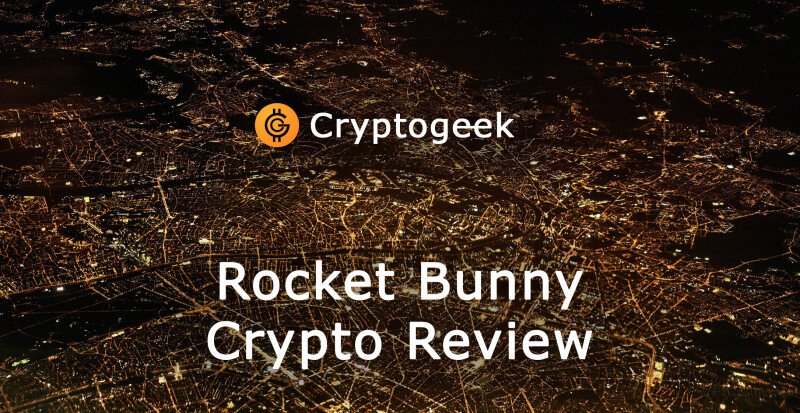 This article will answer some of the most commonly asked questions about RBX, such as:
● What is Rocket Bunny crypto?
● What is the Rocket Bunny price?
● Where to buy Rocket Bunny crypto?
● How to buy Rocket Bunny crypto?
● What is the Rocket Bunny crypto price prediction?
● What Is Rocket Bunny (RBX)?
Rocket Bunny is a revamp of BUNNY, a native DeFi crypto token that lost 95% of its value in a flash loan crash caused by a hacker in May 2021. It took the attacker 90 minutes to drain the value out of BUNNY, resulting in gains of 114 thousand WBNB or $41mm for the hacker.
BUNNY developers appear to have created RBX and allowed BUNNY holders to swap their old currency for the new one. The 3-week swap period was extended, though it incurred a 20% and then a 50% swap penalty.
Rocket Bunny Main Feature
The RBX official website states there is no KYC to participate in the fiat on/off ramp. 20+ payment methods are supported, including PayPal and Venmo.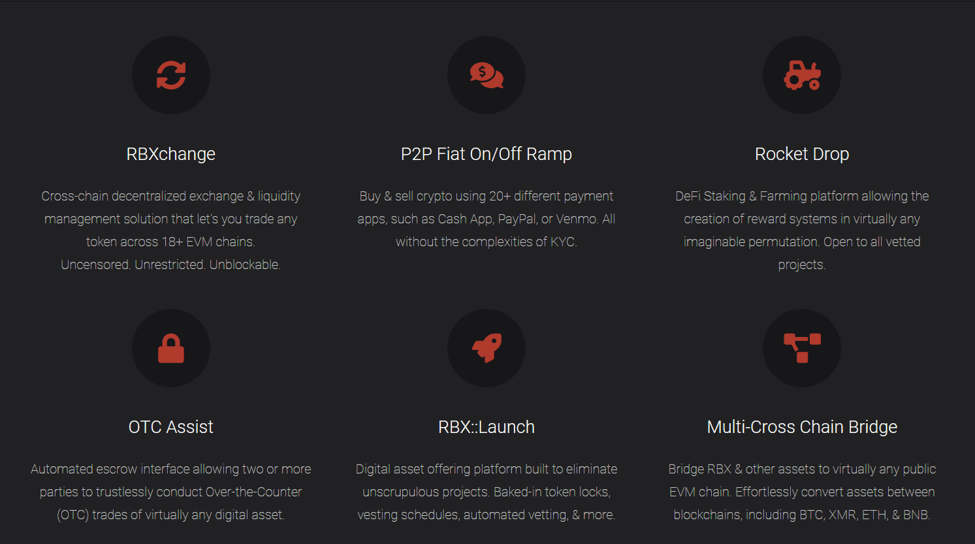 The RBXchange claims to let anyone trade any token without censorship, blocking, or restrictions. This works across 18+ Ethereum Virtual Machines (EVM).
The OTC Assist feature is claimed to help any two parties trade in virtually any asset through an escrow process. The Multi-Cross Chain Bridge feature is presented with the claim that RBX and other assets can be bridged to almost any EVM chain. This supposedly lets the user convert assets, such as BTC, ETH, BNB, and XMR, between blockchains.
The website states there are no transaction taxes or fees; there is only a flat 2% sell tax. This allegedly allows RBX users to move their holdings without shrinking them.
RBX developers take daily snapshots of RBX's total supply and individual holdings. This allows them to distinguish "real holders" of the currency from those who use RBX in their temporary wallets. The claimed purpose is to develop features for the "real holders" rather than traders of RBX.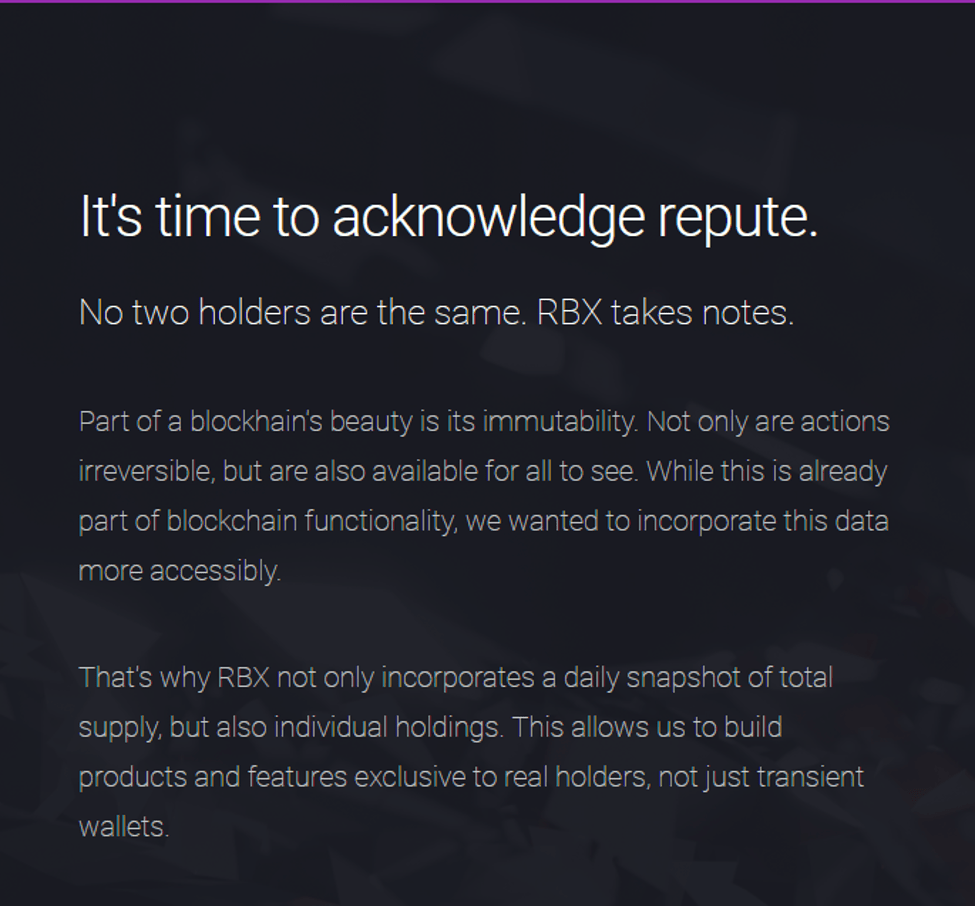 Rocket Bunny Dapps
Clicking the "Launch DApp" button on the official website starts the RBX Launcher. It displays some official stats, such as that there are 4,129 RBX holders as of March 6, 2022.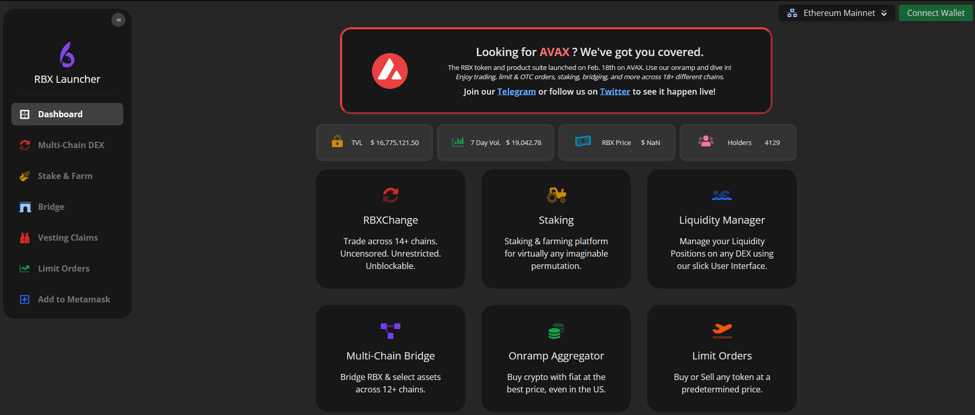 This is so far the only DApp. There is no information on what other DApps are planned in the future.
RBX Launch
Another feature described on the official website is RBX Launch. The description claims it is a platform for other crypto projects. Token locks, automated vetting, and other features will allegedly help differentiate "unscrupulous" crypto projects from legitimate ones.
There is no release date or further information on this feature.
Rocket Drop
The official RBX website has an announcement on the Rocket Drop feature. Its description states it will let users create reward systems and permutate them. Only vetted projects can participate.
There is no release date or further information on this feature, or what the vetting process is like.
What is RBXChange?
RBXChange is a multi-chain exchange accessed by clicking "Multi-Chain DEX" in the Dapp Launcher. It supports 7 desktop wallets:
● Ledger
● Tokenary
● Infinity Wallet
● Wallet 3
● SecuX
● Ambire
● KryptoGO
A wallet can be connected by scanning the provided QR code, but only if the wallet is compatible with WalletConnect.
Clicking the top-right dropdown menu allows the user to choose one of 18 mainnets:
● Harmony
● Fantom Opera
● KuCoin Chain
● Arbitrum
● Celo
● Avalanche
● Binance BSC
● OKExChain
● Boba
● IoTeX
● Aurora
● Velas
● Metis
● Ethereum
● Cronos
● XDAI
● Huobi ECO
● Polygon
Rocket Bunny (RBX) price
As of March 6, 2022, LiveCoinWatch chart shows one RBX is worth $0.12.

The "About RBX" section states the trading volume 5–6 March 2022 was $720 across two exchanges, UniSwap v2 and PancakeSwap v2.
Where to buy Rocket Bunny crypto
Visit the LiveCoinWatch RBX chart, scroll down to the "RBX Markets" section and click "TRADE NOW" next to the name of an available market.
How to buy Rocket Bunny crypto
Visit RBX official Instagram account and find the post from January 22, 2022.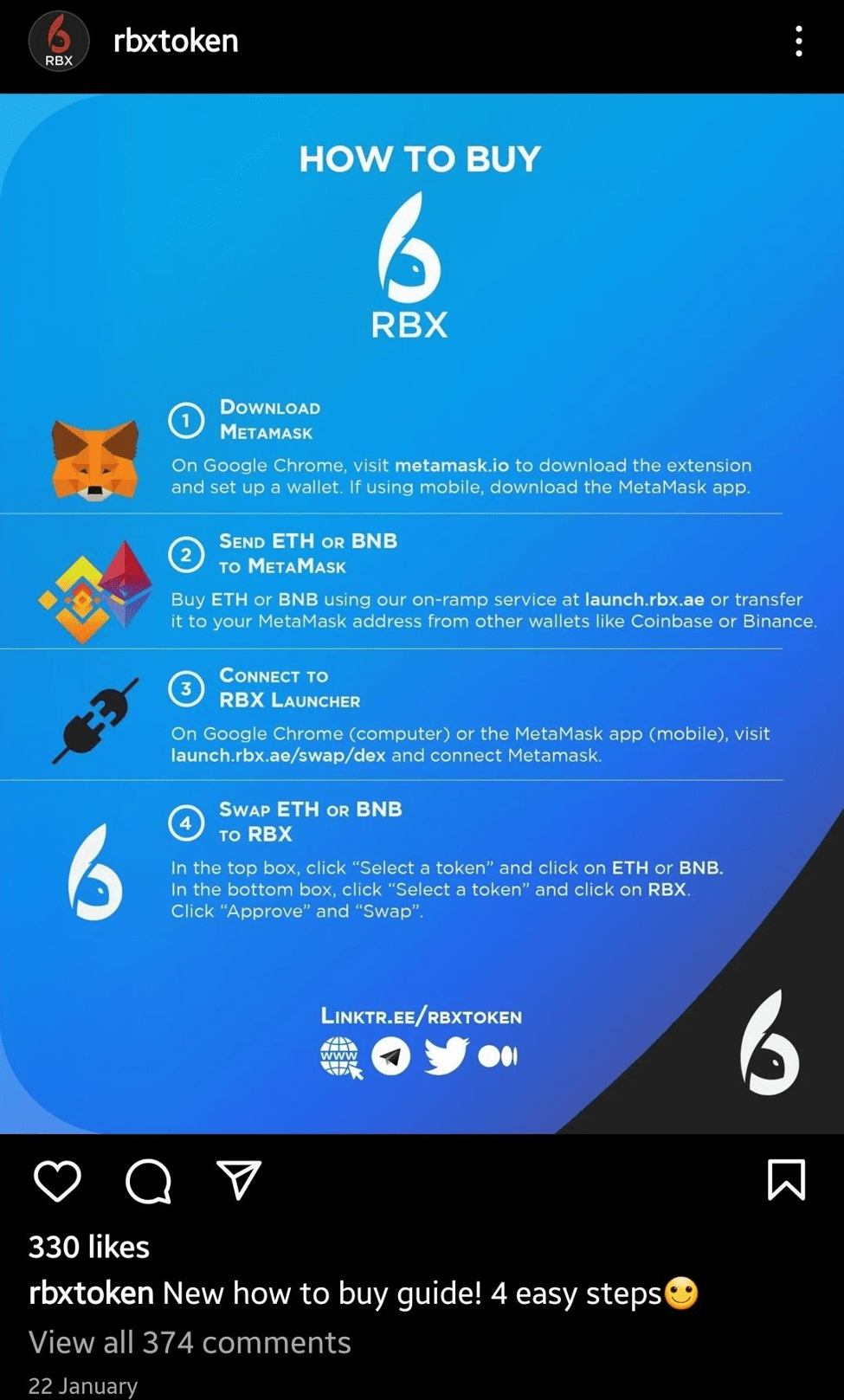 It states buying RBX requires:
● downloading MetaMask on mobile or as a Chrome extension
● sending BNB or ETH to MetaMask through the RBX Launcher or by sending it from a Binance, Coinbase, or another wallet
● connecting MetaMask to the RBX Launcher
● swapping BNB or ETH to RBX
Launching the Dapp, clicking "Multi-Chain DEX" and clicking the green icon depicting stacked coins opens a "Buy crypto" pop-up. The stated payment options are:
● credit card
● Apple Pay
● Google Pay
Rocket Bunny crypto price prediction
Want to know the Rocket Bunny crypto price prediction? Take a look at the developer roadmap.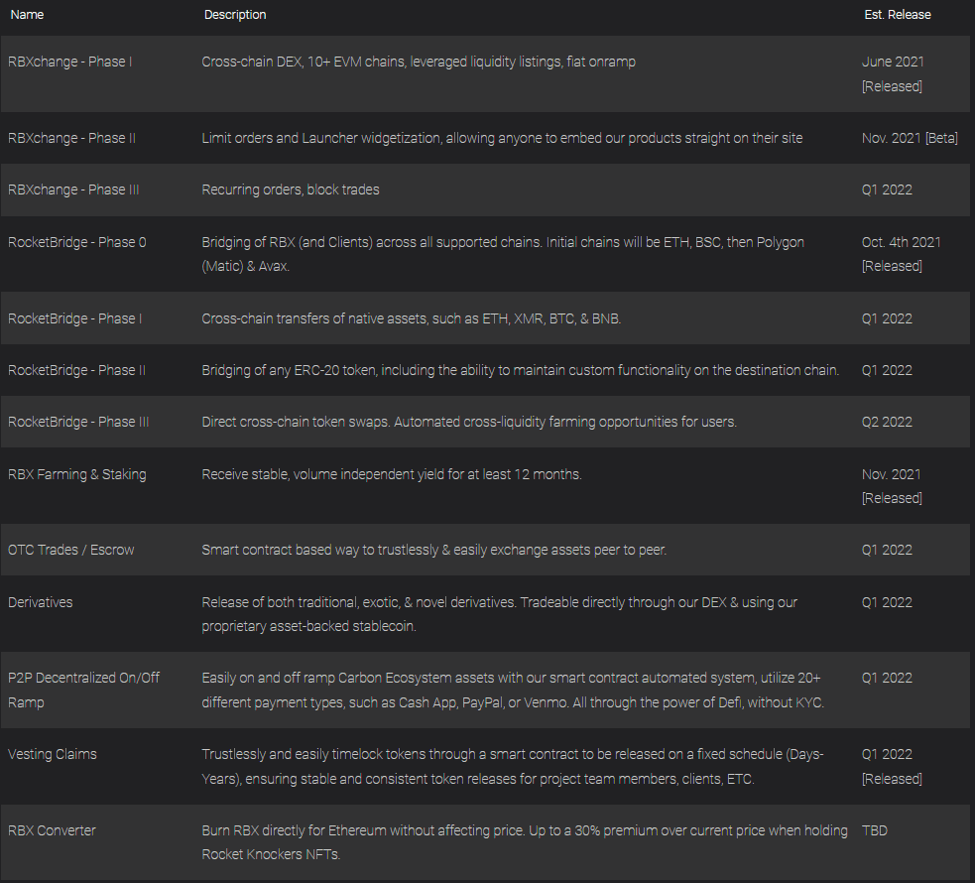 As of March 6, 2022, and out of 13 development milestones displayed on the official website:
● 4 have been released
● 1 is in beta since November 2021
● 8 are work in progress
Therefore, according to the developer's estimate, RBX is at 30.8% completion, with several features slated for Q2 2022.
One interesting announced feature is the release of proprietary NFTs, which could affect the price. Until new, tested features are released, expect RBX to linger in the sub-20 cent area.
Keep an eye out on the developer activity, and especially on sudden employment of new staff. This could mean the project is ready to take off. The RBX Twitter account appears to be active, providing useful information on the state of the project.
The size, activity, and mood in official communities are also a good gauge of how many people believe in the fundamentals, and thus an upward price movement. The RBX website has a link to the official Reddit community, which has 500 registered users and is swamped by posts promoting RBXS, a knock-off of the RBX token.
Is Rocket Bunny Safe?
There are no obvious signs the project is unsafe. However, there are few signs the project has been thought through, making large and long-term investments unjustifiable.
There is no whitepaper anywhere on the official website and the overall technical transparency is quite low. Besides the marketing jargon on the official website, there is little information on how RBX works. For example, the snapshot feature appears to jeopardize the anonymity of RBX holders and nullify the privacy benefits of a blockchain.
An independent audit would settle the matters and give the RBX developers some much-needed goodwill. Until one such audit is done, consider RBX an unsafe investment, even if it ends up surging in price. Unless the RBX fundamentals are improved, an upward price movement is in all likelihood artificial and cannot be sustained.
Conclusion
RBX has a lot of baggage, with no evidence of it being shed and some worrying indications more is being added. RBX developers need to (re)build their reputation, attract capital, and participate in mainstream crypto marketplaces. Until they do, it is safe to presume RBX is not ready for mainstream adoption.
A healthy community is one of the fundamentals of a strong crypto project. Checking the community, especially the most common topics, reveals the mindset of the people supporting it. This indirectly shows what motivates the people leading the project. In the case of RBX, the community is barely there.
The concept of RBX is interesting and the branding is spot on, but the execution could do some more work. The DApp was fiddly and unwieldy. The instructions to connect the wallet were on the Instagram page and not on the website.
Until all the above facets of RBX are significantly improved, it will remain just another crypto token with a niche purpose.
---
---