Solana (SOL) And Polkadot (DOT) Price Analysis – How Metacade (MCADE) Will Outperform Them All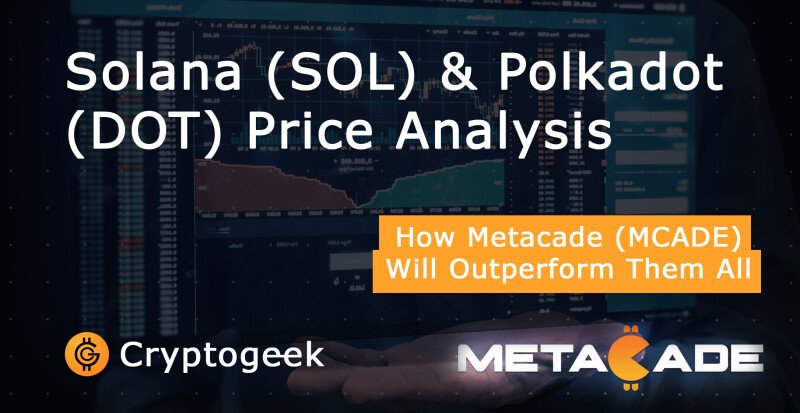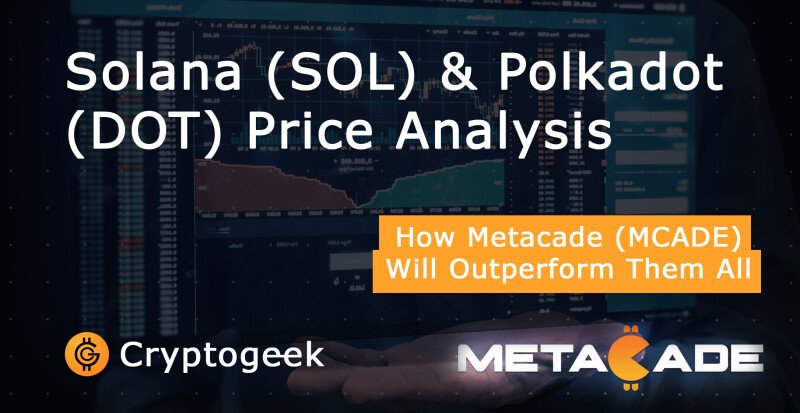 Wondering which cryptocurrencies have the most potential for growth in the coming weeks and months? In this article, you'll discover a Solana and Polkadot price analysis following the recent market downturn, what their next moves might be, and why Metacade could outperform both this year.
Solana (SOL) Performed Poorly in the Last Quarter of 2022
Solana is one of the world's fastest layer-1 networks and is currently the 13th most valuable cryptocurrency on the market. Despite only launching in 2022, Solana has risen to become a leader in smart contract technology thanks to its incredibly high speeds of up to 65,000 transactions per second and negligible fees.
However, the project isn't without its downsides. In 2022 alone, the Solana network experienced five outages, which severely damaged investor confidence. Moreover, the SOL token was one of the worst affected tokens following FTX's bankruptcy. SOL was FTX-linked Alameda Research's second-largest holding, causing it to plummet -61% from its high of $31.72 on the 8th of November to a low of $12.37 on November 9th. 
Solana (SOL) Price Analysis
Since then, Solana continued to fall further, making a low of $8 in late December. A recent resurgence to $16 has instilled confidence, but this area is one of significant resistance. It's likely that SOL will drop again to at least test the $13 to $14 region before making a large move. Given that the overall trend is still bearish, it seems too soon to start buying SOL. Once it breaks above $19, SOL could move higher to test the resistance around $34.
Polkadot (DOT) Has Failed to Live Up to its Potential
Polkadot is a layer-1 solution that focuses on solving the issue of interoperability in blockchain technology. It allows two unrelated networks, like Bitcoin and Ethereum, to communicate and share data securely. It also uses parachains - multiple blockchains running parallel to each other - to achieve an average TPS of 1,000. 
Like Solana, Polkadot is a relatively new project, launching in mid-2020. Polkadot price analysis over the past couple of years shows that it has consistently remained one of the most valuable crypto tokens, holding the 14th spot as of January 2023. Despite this, DOT faces high competition from other smart contract-enabled networks and has yet to come close to rivaling Ethereum when it comes to the number of dApp, DeFi, or NFT projects built on its chain. 
Polkadot (DOT) Price Analysis
Alongside SOL, DOT took a hit following FTX's collapse, falling -43% from a high of $7.42 in November to a low of $4.22 in late December. Since the start of the year, DOT has seen some bullishness, making a high of $5.08 but stumbling at the resistance in this area. A move down to around $4.65 is expected if expert Polkadot price analysis is correct, and DOT could fall lower to $4.38 if more negative news hits the market. 
Metacade (MCADE) Has Been Attracting a Lot of Attention in Presale
Metacade is a fresh project that's been turning heads recently after selling over $4.5 million of tokens in presale. It's a community-based project where play-to-earn (P2E) enthusiasts can connect and discover the unlimited possibilities of blockchain gaming. Metacade is giving new and experienced gamers the tools they need to make the most of P2E, like reviews, leaderboards, forums, and the most advanced GameFi alpha shared by veteran players. 
There's also a range of social features, including live chats, a pay-to-play arcade, and regular tournaments that are bound to be a hit with gamers. Community spaces have become ingrained in gaming culture, and Metacade is expected to lead the way in Web3. Given that GameFi is expected to grow at 10x the rate of regular gaming (Crypto.com), the platform could soon play host to thousands of users looking for a place to call home on the decentralized web. 
Two features, in particular, are likely to be a hit with prospective users. The first is Metacade's community rewards scheme, which allows users to earn MCADE tokens whenever they contribute reviews, tips, and other content that helps the community. The second is the Metagrant program, which will see game developers going head-to-head to earn user votes and win funding for their projects in regular competitions. Metacade's goal is to add dozens of these community-endorsed titles to its virtual arcade over the years.
Metacade (MCADE) Price Analysis
Compared to the Solana and Polkadot price analysis mentioned, Metacade has outperformed over the past few weeks. The beta sale stage started at $0.008, and MCADE tokens rapidly sold out, before the price increased to $0.01 in stage 1. Once this stage sells out, the price is projected to ascend to $0.013. MCADE will be worth $0.02 in the final stage of its presale - double its price right now. 
Metacade (MCADE) Could Be One of the Best Performers of 2023
The gains aren't expected to stop there, however. Some have set projections as high as $0.50 by the end of 2023, delivering those earliest investors 6,150% gains! If you missed out on the beta sale, don't worry. MCADE is still in its presale stage 3 of 9 and can be bought for S0.013, which would mean you'd be up 4066% if the $0.50 mark is reached. Forget about Solana and Polkadot price analyses - check out the Metacade presale instead. 
You can buy Solana (SOL) and Polkadot (DOT) at eToro here.
You can participate in the Metacade presale here.
---
---