Compare Jaxx vs Coinomi - Which Wallet Is Better?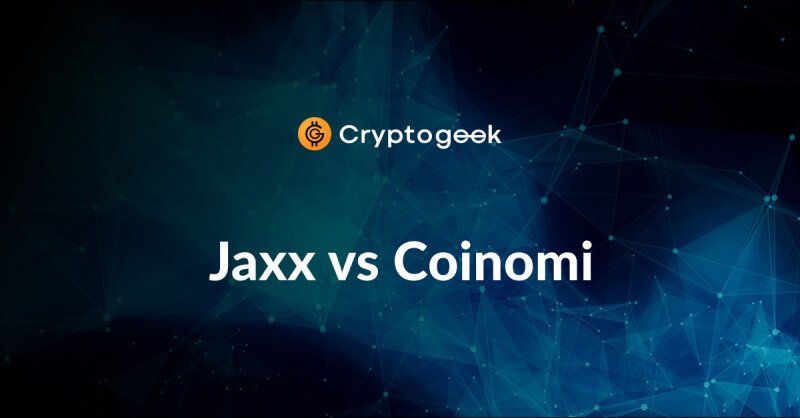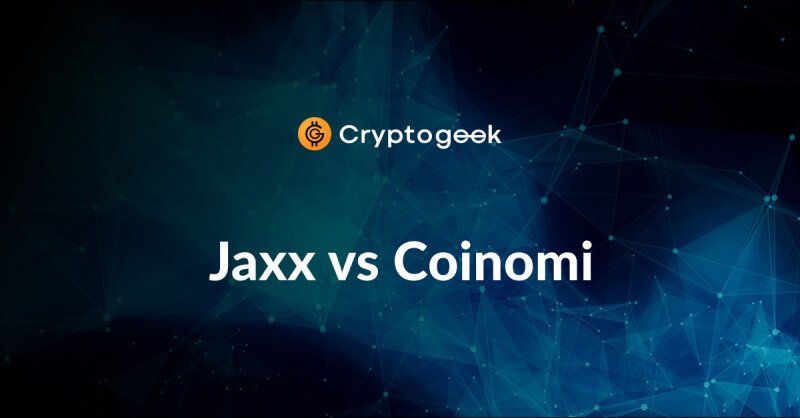 Currently, the market has hundreds of different cryptocurrency wallets. A cryptocurrency wallet is software for reliable storage and transaction fulfillment with cryptocurrencies. Wallets are distinguished by a set of supported cryptocurrencies and software platforms (Windows, Linux, Mac OS, IOS, Android, etc.).
Today, about half of the wallets allow you to store Bitcoin, which is associated with the active growth in the number of new cryptocurrencies over the past few years. However, single-currency wallets created specifically for altcoins are most often not very popular and can have only several tens of thousands of registered addresses. Therefore, in the current conditions, multi-currency wallets are actively gaining popularity as the most convenient service for the safe storage of a large number of different cryptocurrencies.
Today we will compare two multi-currency wallets Jaxx and Coinomi. Which one is the safest and convenient? We will find out in this article.
Features
Jaxx
Being a great choice for beginners of the crypto industry, the Jaxx wallet is also in demand by experienced users of the crypto market. In fact, this is one of the best storages for Bitcoin (BTC) and Ethereum (ETH). However, the multi-currency wallet also supports other altcoins, such as Litecoin (LTC), Unicorn Gold (UKG), Storm (STO), Gnosis (GNO), Zcash (ZEC), etc. - About 90+ cryptocurrencies.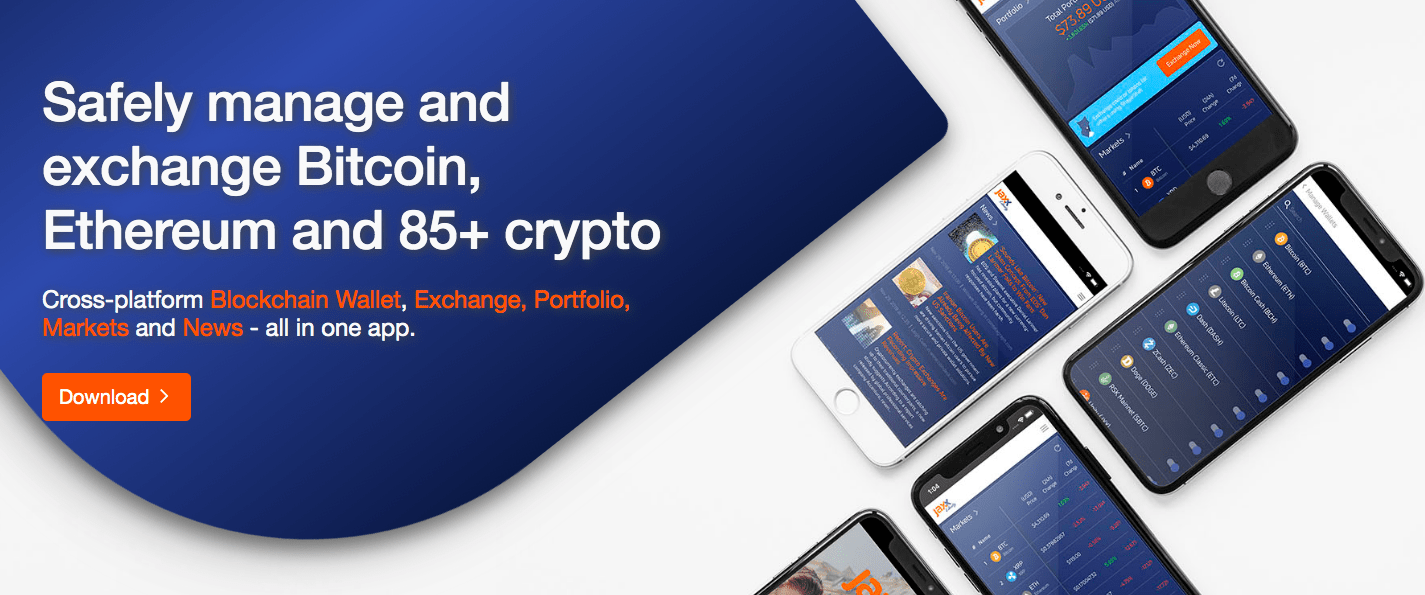 Another advantage of Jaxx is the built-in API of the third-parties ShapeShift and Changelly crypto-exchanges, which allows you to exchange one cryptocurrency for another right in your wallet. This function is indispensable when you need to make trading decisions in a split second.
Along with the previously identified features, the Jaxx crypto wallet has positive qualities:
Thoughtful work of web designers - the wallet has a simple, modern, not overloaded interface;
Creating backups that allow you to quickly restore the entire cryptocurrency wallet;
Full device synchronization, allowing you to work with your own crypto storage from different places, for example, from a mobile phone, desktop or tablet;
Stable functioning and responsiveness of technical support. Any request is processed by operators in a maximum of 45–110 minutes. If necessary, you can contact the developers;
Open source, available to users to study. Since Jaxx is an open-source project, the crypto wallet program code can always be viewed.
The Jaxx wallet, of course, has flaws. The most significant disadvantages are:
No fiat currencies. This is the leading inconvenience of the wallet in question, greatly limiting the breadth of possibilities when actively using it;
Monolingualism. So far, developers do not add translated versions of the wallet interface to the functionality despite the wide popularity of the Jaxx wallet.
In general, developers precisely follow the stated mission - to simplify the use of the blockchain platform for users. At the same time, customer engagement is taken into account, so installing Jaxx does not take more than 10 minutes.
Coinomi 
Coinomi is a lightweight multi-currency mobile wallet with support for storing a huge variety of cryptocurrencies and tokens (including ERC-20), as well as a built-in ability to exchange coins (integrated with ShapeShift and Changelly exchanges, which makes currency exchange as profitable as possible). A full list of all cryptocurrencies that Coinomi supports can be found on their official website in a special section. This list is constantly updated. There is also a function to regulate the fee, support for several languages in the interface.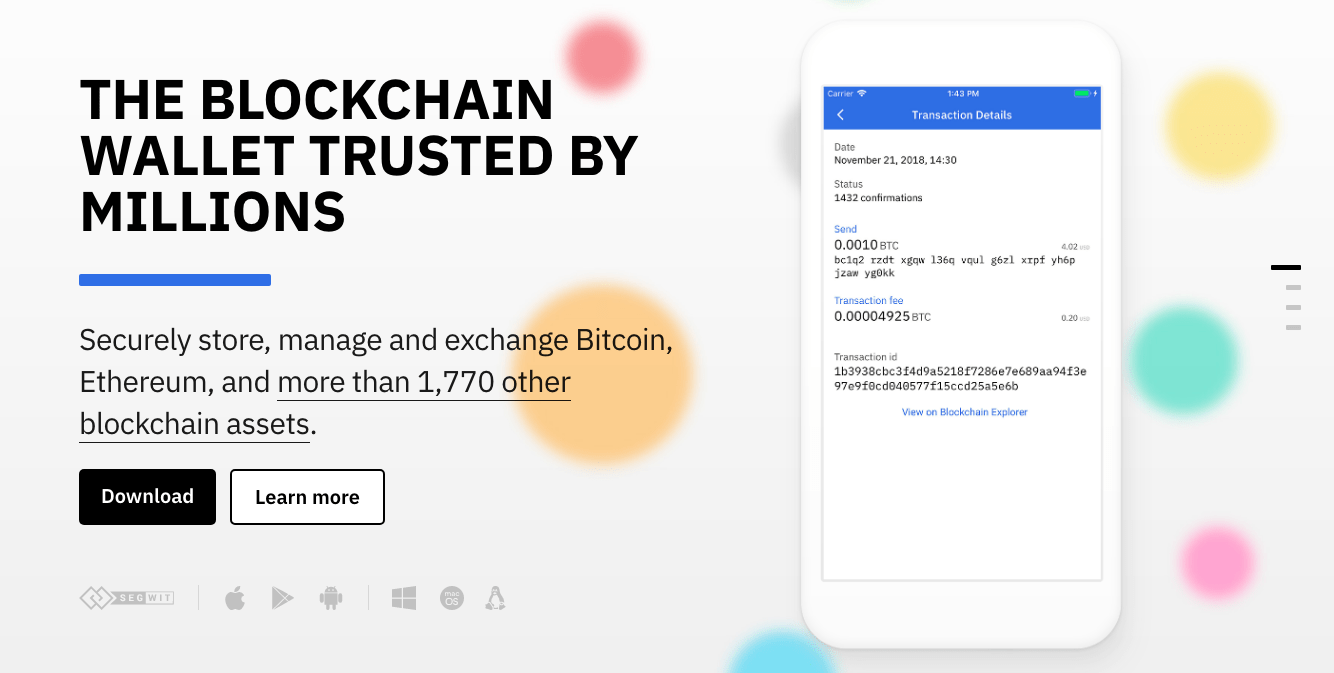 Coinomi's currency exchange process is at a very high level. Transactions are made almost instantly, the maximum delay in operations even during system load does not exceed 2-4 minutes.
Key benefits of a Coinomi wallet:
Good security;
One-time data backup in which only one key phrase is created;
All financial transactions can be completed in just a few clicks;
The absence of hacks and serious problems with the wallet system for a long time;
The storage and generation of passwords is carried out exclusively by the user, which makes hacking the Coinomi service completely useless for hackers;
The presence of a multilingual application;
Easy application installation and account registration on this service;
Like all cryptocurrency wallets, the Coinomi application also has its drawbacks:
Lack of current versions of open source code on the network. Although Coinomi is positioning itself as an open system, however, developers still refuse to provide their wallet's open code to the public Internet, explaining this by increasing the security of their service.
Where Is Located?
Jaxx
The Jaxx platform has been developed since 2014 by Decentral Inc. from Toronto (Canada). Its founder Anthony Di Iorio is also known as the co-founder of the Ethereum blockchain.
Coinomi 
The Coinomi cryptocurrency wallet was created back in 2014 by George Kimionis. The company is officially registered in London. He also managed to found a startup Cryptean - a platform for cryptocurrency investments.
Apps
Cross-platform Jaxx wallet provides compatibility of various operating systems - Windows, Mac OS, Linux, Android, iOS, as well as extensions for Google Chrome and Firefox. In other words, the user, wherever he/she is, always has access to the crypto wallet.
The Coinomi wallet has mobile applications for Android and iOS. The service also supports desktop versions of the wallet for Windows, macOS, Linux.
Fees
Coinomi
The Coinomi fee is determined dynamically and is formed by the cryptocurrency wallet system during a request for a transfer of funds. The main criterion for the volume of the commission is the queue in the Coinomi pool, the larger it is, the less the interest rate in the transaction is fixed. If you wish, you can independently change the transaction fee or change the position in the queue to reduce its total amount. 
Coinomi does not charge anything. Receiving coins is always free, fees are paid by the sender. Outgoing transactions require a transaction fee that goes to the miners of each coin, not to Coinomi. You can find more information on the Coinomi fee on the website.
Jaxx
As for Jaxx users, they do not need to pay either for the wallet itself or for its maintenance - the service is absolutely free from the very beginning and remains so to this day.
However, there is also taking place a commission for transactions on the network. Its size is 0.00441 ETH or 0.0001 BTC. A similar transaction fee also applies to all supported cryptocurrencies. As for the transaction fee, you can find more information on the Jaxx website.
Is Coinomi Safe?
This multi-currency wallet is famous for the fact that it has not yet been managed to crack by any hacker. All this, of course, pleases, as it directly shows the high security of the crypto wallet. According to the developers, Coinomi uses "strong encryption and cryptography" to ensure confidentiality.
Indeed, if you study Coinomi in more detail, you can find out that with security, the wallet is pretty good. The advanced functionality of the wallet includes support for the HT protocol, which allows you to mask the user's IP and make it completely anonymous. Thus, the identification of users when making a particular financial transaction is simply impossible.
It is also worth noting that user data (private keys, secret phrases, passwords, etc.) are not stored in the Coinomi database. This, in turn, makes this cryptocurrency wallet quite reliable and protected from hacker attacks, because only users have the data of their personal account.
Private keys in the application of this cryptocurrency wallet are created using the "super password" according to the BIP44 standard, which consists of 18 words (in the old version of the application there were only 12). Moreover, if you need to recover the password, then you can do it without any problems. Coinomi does not have two-factor authentication and multi-signatures, which is a bit upsetting.
Is Jaxx Safe?
As for the Jaxx wallet, it has good options to protect your wallet from any fraudulent activities. When downloading a Jaxx wallet, no personal information is requested, which will surely appeal to privacy lovers. At the same time, private keys are available only to the users, since they are stored only on their device.
Jaxx has a seed phrase, the introduction of which in cases of force majeure allows you to reuse the functionality of a configured account and operate on stored cryptocurrencies. The phrase generated when creating the wallet contains 12 unrelated words.
Jaxx Security also uses four-digit PIN codes. They are needed to enter wallets and confirm transactions. If the PIN code is compromised, fraudsters will be able to easily log in to their account, since a second signature is not required.
To protect customer assets, Jaxx uses the so-called hierarchical deterministic function. With it, with a new transaction, a new address is generated each time. This allows you to keep the balance private.
However, the hacking Jaxx wallet occurred at the end of 2017. As a result, the hacker received backup passwords (mnemonic phrases) to wallets, which allowed him to steal coins worth at least $ 400 thousand. Then the majority of the victims were Ethereum (ETH) holders. Due to an insufficiently thought-out security system, experts categorically advised against storing large amounts of cryptocurrencies in Jaxx wallets. However, do not worry too much. If you keep secret keys in a secluded place and do not download the application to a phone, then the funds are completely safe.
However, the Jaxx team continues to develop its platform. The team of the wallet plans to develop a hardware wallet. In theory, it should provide maximum security for coins, since it will generate and store keys on a device that is not connected to the Internet. This makes hacking almost impossible.
User Reviews
Jaxx
Reviews about Jaxx were divided: some are satisfied with the good wallet interface and a wide range of functions offered, others prefer to stay away from the service because the program is often buggy and annoying from time to time with its slowness.
At the same time, customers of the wallet positively evaluate its new version - Jaxx Liberty, noting a significant improvement in performance compared to the previous product.
Coinomi
Most Coinomi wallet reviews have a positive connotation. The most important feature that Coinomi users note is the improved storage privacy that developers offer to the clients. Most owners of digital assets are primarily looking for confidential uses, so they value Coinomi for not collecting any personal information and even hiding outgoing IP addresses to prevent data collection. The second pleasant moment is responsive and operational support of the service.
One of the main drawbacks of the Coinomi wallet is that it does not offer two-factor authentication or support for multiple signatures. But practice shows that a fairly large percentage of digital wallet users never use these features.
Jaxx vs Coinomi
You can find this information in the Cryptogeek article "Jaxx Wallet Reviews".
Conclusion
Both Coinomi and Jaxx are decentralized, multi-currency wallets with solid security track records. 
In general, thanks to its simple interface and convenience, the Jaxx Liberty wallet is ideal for beginners in the crypto industry. But the Jaxx wallet is unlikely to suit the professionals who manage large volumes of cryptocurrencies - the presence of errors, security problems, and not fast transaction processing. However, the Jaxx team continues to develop its platform. 
Coinomi multicurrency crypto wallet is a convenient application for saving and accumulating digital funds, as well as for quick exchange operations with digital money. This store has gained its share of popularity due to an impressive assortment of cryptocurrencies, ease of use and good reliability.
Few mobile wallets have such an interesting variety of crypto assets despite the growing need for such a function. The Coinomi wallet is safe and convenient and suitable for both experienced users and beginners. However, it is a good option to store little and medium amounts.
---
---