Which Cryptocurrencies Are Most in Demand Today?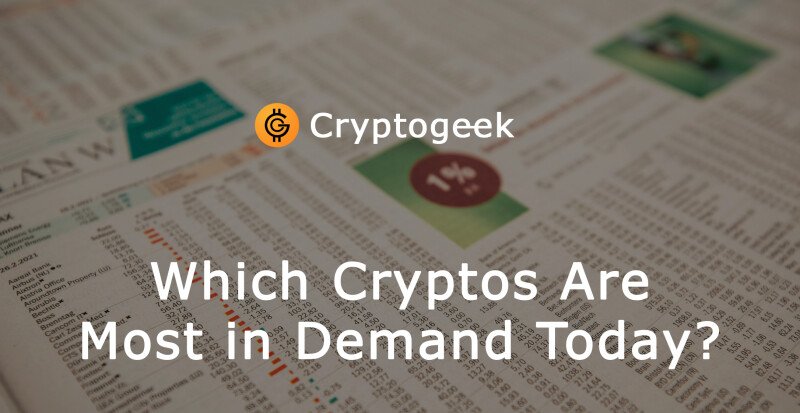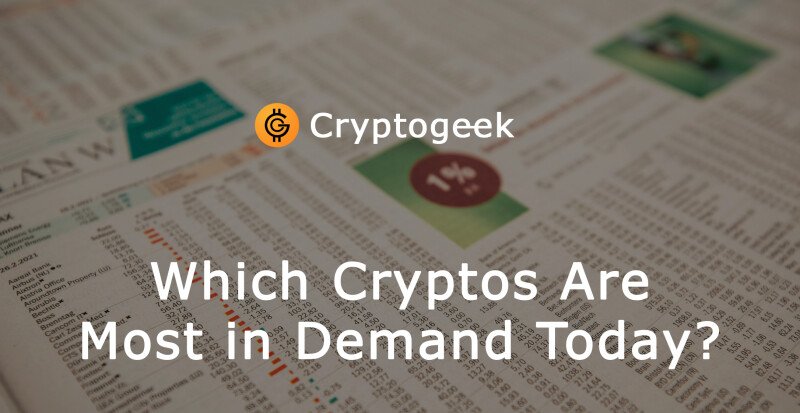 Thousands of cryptocurrencies exist, most of which have minimal value and unknown potential. Many financial gurus advise investors to stick to Bitcoin and Ethereum, if they have any, and avoid smaller cryptos.
Bitcoin gets all the attention when it comes to cryptocurrencies, but there are practically thousands of other possibilities. Cryptos that aren't Bitcoin are commonly referred to as "altcoins," or alternatives to Bitcoin.
While Bitcoin was the first big cryptocurrency to appear on the market (in 2009), numerous others have since grown in popularity, albeit not to the same extent as the original. Nowadays, cryptocurrencies especially Bitcoin has gone beyond retailers to see more institutional adoption. You might be wondering where to find the finest Bitcoin casinos if you're a fellow crypto gambler. The casinos with cryptocurrency at CasinoHEX platform provides enough details to help you.
Here are the top cryptocurrencies in terms of total dollar worth of coins in circulation, also known as market capitalization. (As of May 27, 2022, data comes from CoinMarketCap.com). There are mostly demanded as of today;
Cryptocurrencies That Are Mostly Demanded Today
1. Bitcoin (BTC)
Price: $29,155
Market cap: $557 billion
Bitcoin is still the coin that people refer to when they talk about digital currency because it was the forerunner of the cryptocurrency era. The currency was launched in to be — purportedly Satoshi Nakamoto — and has been on a roller-coaster ride ever since. However, it wasn't until 2017 that Bitcoin became widely recognized.
Despite having seen considerable volatility throughout its history, Bitcoin (BTC) remains the most popular and highly valued cryptocurrency. Although Bitcoin was founded to be a digital payment system, experts believe it is still too volatile to be used for that purpose. Hence, topics surrounding investment in cryptocurrencies usually have mixed reactions from users especially with the recent bear market.
2. Ethereum (ETH)
Price: $1,797
Market cap: $219 billion
Ethereum is the second most well-known name in the crypto world. The Ethereum blockchainallows you to utilize Ether (the currency) for a variety of purposes, but Ethereum's smart contract feature contributes to its popularity.
Ether (ETH) is the Ethereum network's money, an open-source blockchain on which developers can create apps and other cryptocurrencies. It's also the second-largest cryptocurrency in terms of market capitalization, after only Bitcoin. Since its inception in 2013, Ether's value has climbed dramatically, reaching about $3,000 per token as of late May, but it is still behind Bitcoin's worth of nearly $40,000 per coin.
3. Tether (USDT)
Price: $1.00
Market cap: $72 billion
The price of Tether is set at $1 per coin because it is a stablecoin. Stablecoins are coins linked to a specific asset's value, such as the US dollar in Tether's case. Tether (USDT) remains one of the first cryptocurrencies to link its value to a fiat currency, in this instance the United States dollar.
When traders switch from one cryptocurrency to another, Tether is frequently used as a bridge. They use Tether instead of returning to dollars. Some individuals are concerned, though, since Tether isn't guaranteed by dollars held in reserve and instead relies on unsecured debt. There has been cases where the giant stable coin was "untethered"- losing its peg to the USD dollar due to market crash. However, Tether is still the most valuable stablecoin in terms of market capitalization.
4. USD Coin (USDC)
Price: $1.00
Market cap: $53 billion
USD Coin, like Tether, is a stable coin tied to the dollar, which means its value will not vary. According to the currency's creators, the money is backed by fully reserved assets or assets with "equal, fair value," which are stored in accounts with regulated US institutions. "The world's digital dollar," according to USD Coin (USDC). USDC was created by Circle, a worldwide financial corporation that has received funding from Goldman Sachs, Baidu, and IDG Capital, among others. USD Coin's price is linked to the US dollar, making it far more stable than other cryptocurrencies. This stability makes it more suitable for digital payments, whilst other cryptocurrencies have a higher potential for growth as investments (along with more risk of losing value, of course).
5. Binance Coin (BNB)
Price: $305.71
Market cap: $50 billion
Binance Coin is a cryptocurrency created by Binance, one of the world's largest cryptocurrency exchanges. Binance Coin, originally designed to pay for discounted transactions, may now be used to make payments and purchase various goods and services. 
6. XRP (XRP)
Price: $0.3927
Market cap: $19 billion
XRP, formerly known as Ripple, was founded in 2012 and allowed users to pay in a variety of real-world currencies. Ripple, which employs a trustless technique to allow payments, can be useful in cross-border transactions. The Ripple digital payment network's cryptocurrency is called XRP. XRP, created for digital payments, claims to be a faster and more efficient way to enable global payments. Third-party work on alternative uses for XRP is also possible with Ripple and XRP.
7. Cardano (ADA)
Price: $0.4725
Market cap: $16 billion
The cryptocurrency platform behind Ada, the currency's name, is called Cardano. Cardano, which was created by one of Ethereum's co-founders, employs smart contracts to control identity. Cardano (ADA) is based on the Ouroboros blockchain protocol, which has been peer-reviewed. It bills itself as a more secure and scalable way to keep decentralization alive.
8. Solana (SOL)
Price: $43.02
Market cap: $15 billion
Solana is a newer cryptocurrency that touts the speed with which it completes transactions and the overall stability of its "web-scale" platform. It was launched in March 2020. The currency's issue, known as SOL, is limited to 480 million coins. 
9. Dogecoin (DOGE)
Price: $0.07895
Market cap: $10 billion
Dogecoin (DOGE) was developed as a meme cryptocurrency, but its value skyrocketed in early summer 2021. Dogecoin gets its name from an online meme portraying a Shiba Inu dog, and it was formed as a joke after the run-up in Bitcoin. Dogecoin, unlike many other digital currencies, does not have a limit on the number of coins it can issue. It can be used to send money as well as make payments. Elon Musk, the CEO of Tesla, has spoken out on Dogecoin, which grew in popularity and value before plummeting in the second part of the year.
---
---