Where And How to Buy Dogecoin - Ultimate Guide by Cryptogeek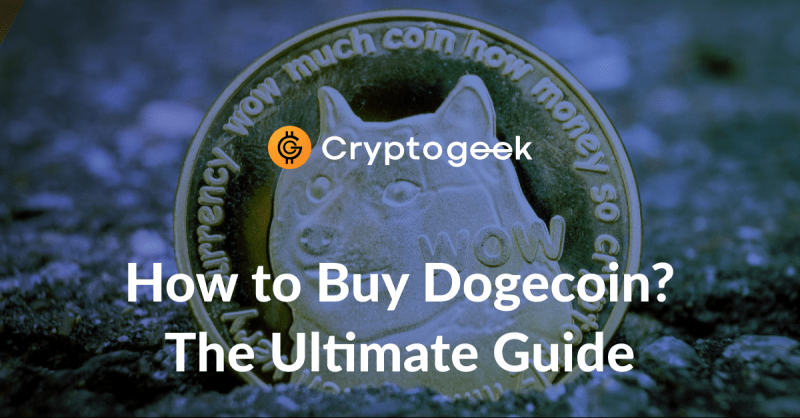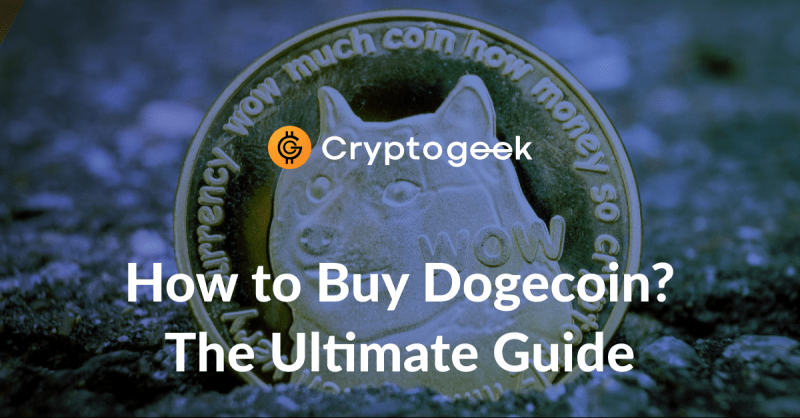 Buy low, sell high. That's the golden rule for all traders. The logic says that now when Dogecoin has risen thanks to Elon Musk's tweets and the r/SatoshiWallBets activity it's time to hodl what you have. But the thing is that logic is not the best tool when dealing with Dogecoin. You never know when it's low or high when it's going to rise or fall, no matter what happens to the rest of the cryptocurrency market. This currency's price is driven by human will, not the trends.
So if you believe that Dogecoin is not going to fall down anytime soon, you might be looking for a convenient way to buy some DOGE coins. The most obvious and convenient way to buy any cryptocurrency including Dogecoin is through the exchange or a crypto wallet with functions allowing users to buy cryptocurrency. In this article, we will tell you how to buy Dogecoin and name several platforms where buying these coins is easy and fun.
How to Buy Dogecoin on Freewallet?
Freewallet is a company providing wallets for a wide array of cryptocurrencies as well as multi-currency wallets. It was founded in 2016 in Estonia. The platform gained popularity due to its intuitive interface and convenience. Besides such standard features as storage and protection of coins, Freewallet provides free transactions between the Freewallet users and has an in-built instant cryptocurrency exchange powered by the platform's partner Changelly.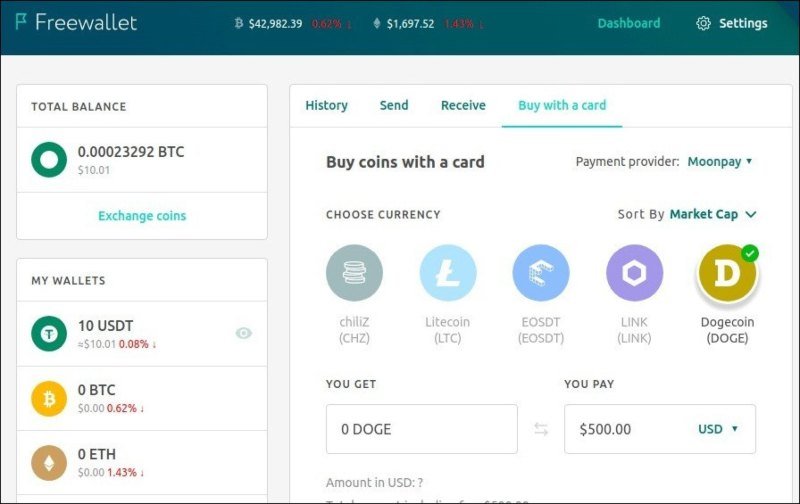 However, the feature that interests us the most is the opportunity to buy cryptocurrencies in exchange for fiat money. Buying cryptocurrency on Freewallet is really easy. All you have to do is to set a Freewallet account (it doesn't take much time) and proceed to the Buy with a Card tab.
DOGE doesn't stop. We agree 100% with #ElonMusk and his #ElonDOGE.

Buy and Exchange DOGE in the Cryptowallet app https://t.co/ltnTT1G2Hb https://t.co/uSIijZrRLU pic.twitter.com/LofGABuDZ3

— Freewallet (@freewalletorg) February 8, 2021
The next step is specifying how much DOGE you are going to buy or how much USD (or other fiat currency units) you are going to spend. Another important action at this stage is choosing a payment method. There are two options for DOGE: MoonPay and Simplex. As you push the "Buy DOGE" button you get redirected to MoonPay or Simplex to complete the transaction. The payment operator sends a verification code to your email, you provide this code and receive your Dogecoins. Much intuitive. Wow.
How to Buy Dogecoin on Changelly?
We have mentioned Changelly as a Freewallet's partner in their collaboration providing instant swaps, however, Changelly deserves a standout mention in this list as another nice platform where you can quickly buy some DOGE.
Changelly is an aggregator of trade orders from different exchanges. Its simple interface allows finding the best offers quickly. Changelly has been in the industry for quite a while. It has managed to keep its relevance since 2013. As a non-custodial platform, Changelly doesn't subject the funds of users to risks. The service is available for iOS and Android-based mobile devices and as a website.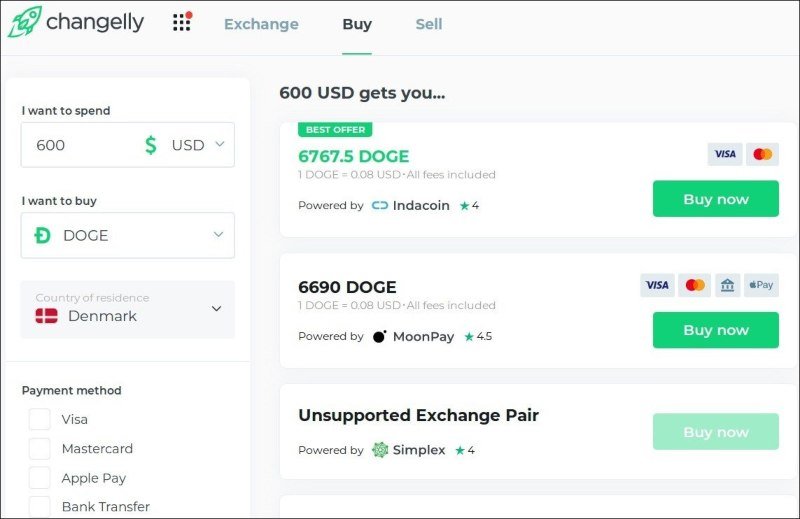 Well, it's time to tell you about how to buy Dogecoin on Changelly. No matter whether you use a mobile or a web version you should proceed to the Buy tab and choose DOGE in the I Want to Buy box. In the I Want to Spend box should choose one of the dozens (!!) supported fiat currencies and specify the amount. Another important step is choosing the country of residence. The chosen country determines the available payment options. Changelly is working with Banxa, Simplex, MoonPay, and Indacoin. In most countries, you won't be able to use more than one or two of these options. Then you should choose the best available option and click on Buy Now. 
The following steps are inserting the DOGE address, agreeing to the terms and conditions, and clicking on the Go to Payment button. You will be redirected to the page of Changelly's partner providing the payment service. There you will be required to fill in some personal data (e.g., the legal name, email, etc) and then you will be able to buy DOGE using your credit/debit card credentials. Probably reading this chapter takes longer than buying DOGE on Changelly.
How to Buy Dogecoin on Binance?
Binance is the Chinese crypto exchange with the biggest trading volume. It was launched in 2017, however, it quickly gained a huge user-base which made it a high liquidity exchange. Binance provides many trading crypto-to-crypto pairs and a quick trading process. Security measures applied by the team are quite good. There was the case when the exchange was hacked, however, Binance compensated the stolen funds and the accident didn't affect the platform's reputation.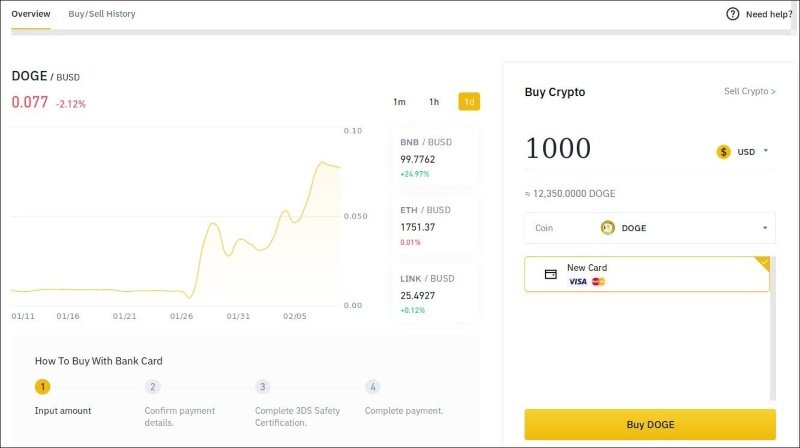 Despite the fact that we've mentioned that Binance is a crypto-to-crypto exchange, you can buy Dogecoin there for fiat money. In order to buy DOGE, you will need to tap on the Buy Crypto button on the homepage and choose the proper option in the burger menu. There are the following options: Bank Deposit (SWIFT transfer), Credit/Debit Card (VISA, Mastercard), P2P Trading (executed via bank transfers), and Third-Party Payment (Banxa, Simplex, Mercuryo, Paxos, etc).
The P2P platform and Third-Party Payment options don't support Dogecoin so we will focus on the rest options. The Credit/Debit card page has clean and simple execution. You should choose DOGE in the Coin section of the Buy Crypto box and insert the amount of fiat money you want to spend (the list of supported national currencies is quite wide). The Third-Party Payment option is simple, too. You should register on Binance, choose the payment channel (the options you see depend on the country of residency you've chosen). The rest of the actions are similar to those mentioned in the previous chapters: you should choose DOGE, choose the currency you are going to spend, and input the amount of money you want to spend. Registration on Binance is super-fast. In general, buying Dogecoin on Binance is easy. It can seriously differ from country to country depending on the available local payment processors.
How to Buy Dogecoin on Kraken?
Kraken is another popular high-liquidity exchange. It was created in 2014 in the USA. The exchange is praised for its stable work and security. It won't take long to buy DOGE for another cryptocurrency, however, buying Dogecoins for fiat money is a harder task. On Kraken, you can trade your fiat money against Dogecoin or use the Instant Buy option.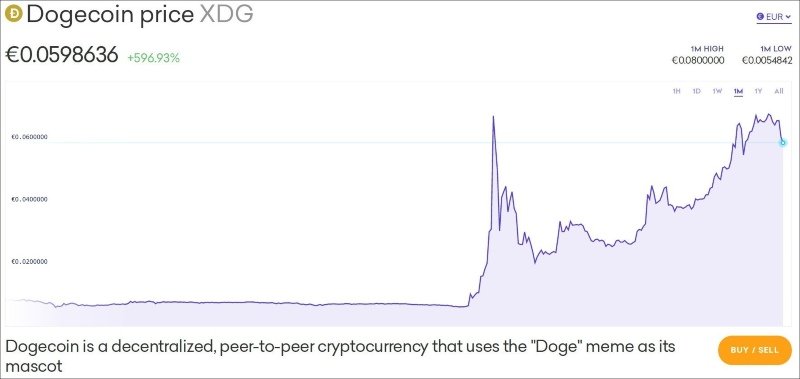 Let's start with depositing an account with fiat money. You will need to create an account. You won't be able to deposit fiat money without verifying the account. Verification means that you should be at least 18 years old and live in one of the supported areas. In order to get the Starter verification level, you must enable 2-factor authentication and provide the following data: email, full name, birth date, phone number, and physical address. Such pieces of data as ID, proof of residence, photos, and so on, are required for pro accounts. As the account is verified you will have numerous options of funding it with fiat money. Methods differ depending on the country you are in. As fiat money is deposited you may start trading.
#Dogecoin is on the rise - increasing 42% in the last 24 hours. https://t.co/9C8Do9O1jg #DOGE pic.twitter.com/NQ7muS7xRq

— Kraken Exchange (@krakenfx) February 7, 2021
The Instant Buy is a simplified way of buying crypto. Probably not the best option in terms of the price however, it's the simplest way to get some DOGE on Kraken. You only choose the currency you want to use, insert the amount of this currency, and choose DOGE. Then, you should specify the payment method and click on Preview Buy. The new window will display the amount you pay, the transaction fee, and the price. If everything is OK, push the Buy Now button. That's it! The most disappointing thing is that as of February 9, 2021, the function was temporarily disabled.
How to Buy Dogecoin on HitBTC?
Another exchange providing an easy solution to buying Dogecoin is HitBTC. The exchange was launched in 2014. HitBTC is widely considered to be a Hong Kong company, however, it is registered in Seychelles. For years, the exchange gained a significant trading volume, it has no track record of security breaches and provides one of the most diverse sets of supported coins. As for now, HitBTC doesn't provide fiat-to-crypto pairs but you can easily buy BTC or ETH for fiat money there and exchange one of these currencies for DOGE on the market.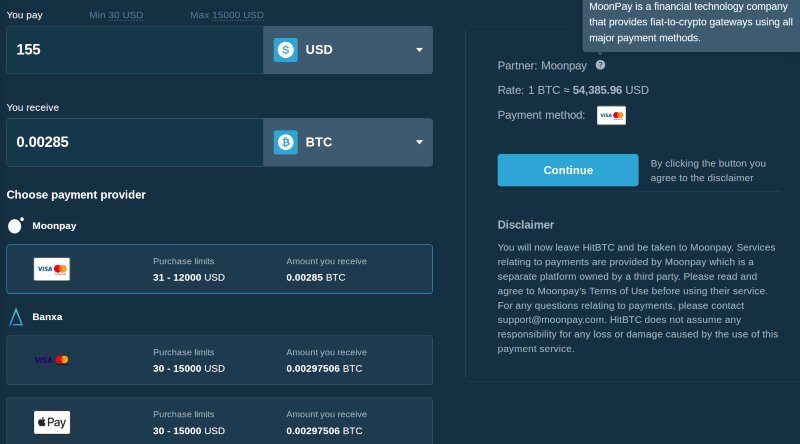 First, you should create an account and enable 2-factor authentication. There is a Buy Crypto tab. The interface is amazingly user-friendly. You just choose the currency you want to spend and specify the amount (minimum $30). Then you should choose between BTC and ETH and select a preferred payment operator — there are Banxa and Moonpay options (Visa, SEPA, Apple Pay, and many other options are available). As you get some BTC or ETH, you can buy DOGE on the exchange. Use the market order to get DOGE instantly at the market price or use a limit order if you hope to get buy at the better price later. Who knows, probably you will find trading a fun thing and dedicate some time to it.
---
---