As GameFi Grows in Popularity, Online Gaming Sites Like Metacade and Decentraland Shoot for the Moon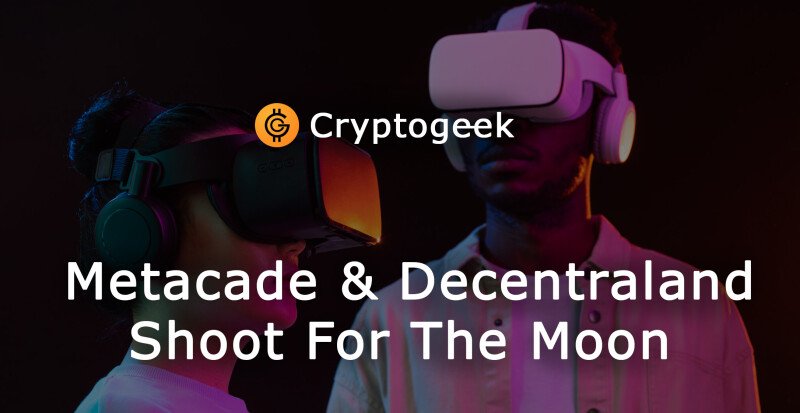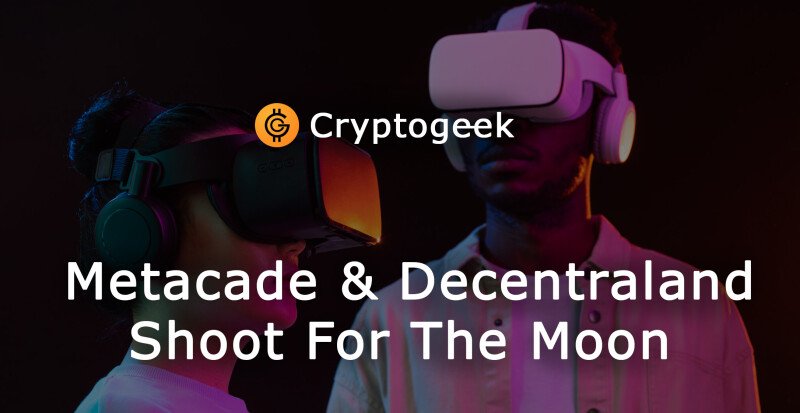 The GameFi movement has been one of the fastest-growing areas of blockchain innovation in recent years, and it shows no signs of slowing any time soon. In 2023 and beyond, GameFi could drive progress for the wider gaming industry.
But which new play-to-earn project is the best investment opportunity?
GameFi: Taking gaming to the next level
GameFi is a combination of gaming and finance, made possible by ground-breaking blockchain technology. It aims to deliver play-to-earn gaming and an improved user experience for gamers worldwide.
On top of this, many GameFi platforms have created virtual reality metaverse worlds that take immersion in gaming to new extremes. Through the use of play-to-earn capabilities and self-custody over in-game assets, the GameFi sector has the potential to revolutionize the entire gaming industry.
The continued growth of the GameFi sector is expected to see explosive price action for top projects in the space, with the most promising play-to-earn projects, Decentraland (MANA) and Metacade (MCADE), well-positioned to drive this price action directly.
What is Decentraland?
Decentraland is a virtual reality open-world metaverse that allows users to buy and sell digital real estate as non-fungible tokens (NFTs). On top of their purchased land, users can build anything they like using Decentraland's integrated toolkit.
Decentraland's focus on user-generated content (UGC) has produced a constantly-expanding virtual realm that contains a vast number of different play-to-earn experiences for its users. The Decentraland platform is home to eCommerce stores, play-to-earn games, Las Vegas-style gambling, and NFT art galleries, which displays the endless capabilities of this GameFi metaverse.
Can MANA reach $3 in 2023?
The MANA price has more than doubled at the beginning of 2023, following a major bullish move from the entire cryptocurrency market. Decentraland's all-time high is $5.91 and it is expected to recapture this price level over the coming years, and 2023 could see the MANA token gain momentum on its journey back to the top.
However, MANA faces strong resistance at the $2.80 level. If Decentraland can breach this resistance and hold its price around the $3 mark, then it could begin to form new all-time highs as early as 2024.
What is Metacade?
Metacade is a fast-developing play-to-earn metaverse arcade. The platform will become home to the highest number of play-to-earn arcade games that can be found on the blockchain, offering GameFi players extensive opportunities to earn a crypto income online.
The metaverse arcade will be a comprehensive GameFi experience that goes beyond online gaming. It will also be a hub for the Web3 community, offering a central location to learn about the latest gaming trends, find the freshest gaming alpha, and socialize with like-minded play-to-earn gamers directly.
How does MCADE work?
The Metacade combines casual and competitive gameplay to deliver a broad play-to-earn experience for its users. Whether progressing through endless levels in one of Metacade's arcade games or joining tournaments to compete against other users online, Metacade offers vast crypto-earning potential through advanced play-to-earn mechanics.
The platform's community hub will also reward users for contributing through its Create2Earn mechanic. Content creators can earn MCADE tokens as they post game reviews, share insights, and interact with other users on the platform.
Metacade is also creating new jobs for Web3 users through its Work2Earn feature, which takes the earning potential beyond the metaverse arcade. These Work2Earn roles can involve gig work, freelance positions, and full-time roles for Metacade and external companies from 2024 onwards.
As well as this, Metacade is helping to fund the future of the GameFi revolution through its Metagrants program. Since Metacade is a community-driven project, this feature will involve a voting process from Metacade's users, who will decide which new play-to-earn project should receive a Metagrant. The winning project will receive early-stage funding to ensure that the most in-demand GameFi ideas become a reality.
Can MCADE reach $1 in 2023?
The MCADE presale recently started, and the token has attracted $5 worth of investment in the first ten weeks. The rate of adoption for MCADE has been rapid, which is a strong signal of future price action for the new GameFi project.
When the presale is complete, MCADE will be launched on exchanges and made available to a larger number of investors. This is expected to produce explosive price action in 2023 and beyond, with some forecasting that MCADE could rise 50x in the months after the presale. This would place MCADE at $1 by the end of 2023.
MANA vs. MCADE: Which token is ready to pop?
Decentraland is already a leading GameFi project, so its price action is unlikely to produce as big of a return as Metacade. Decentraland rose over 200x between 2020 and 2021, and Metacade now looks ready to repeat the feat after the conclusion of its presale.
The presale is seeing MCADE rise from $0.008 to $0.02 per token, after which point it could really start to take off. The presale is an excellent opportunity to get involved, as the price of MCADE is unlikely to return to these low prices ever again. Overall, the future certainly looks bright for the GameFi sector, which is primed to take over the gaming industry through projects like Decentraland and Metacade.
You can participate in the Metacade presale here.
---
---