Best Bitcoin & Crypto Debit Cards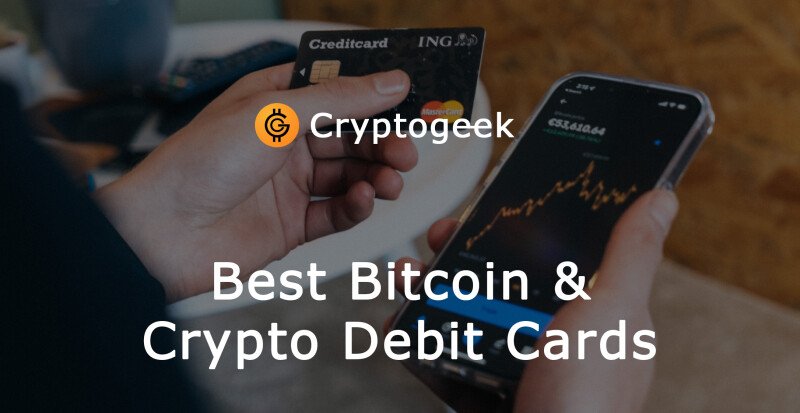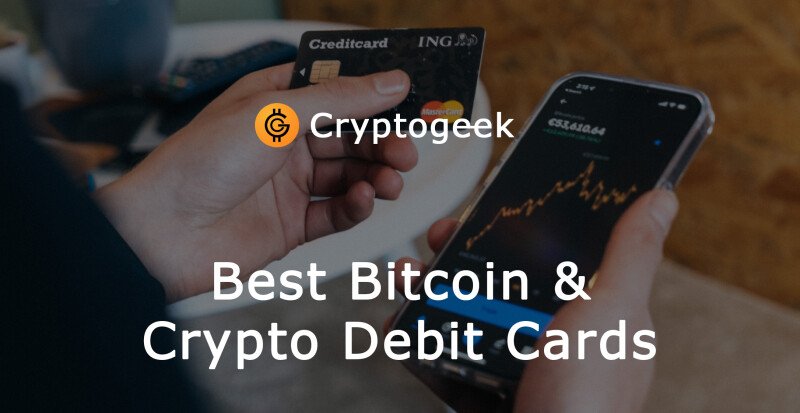 Are you more of a card person or a pay-in-cash person?
The debit and credit card concepts are pretty well imbued in our daily lives and transactions and easy to grasp. Even if you've never used one (is that even possible?), you know someone that has.  
These changing and evolving times and economy have brought all kinds of valuable assets and currencies (mostly digital) into our entrepreneurial, investing life. 
Crypto has opened many doors, and cards are not an exception.
Crypto debit and credit cards are on the rise, as crypto becomes increasingly more popular (mass adoption, here we go) and those traditional low-yield savings accounts are being replaced by Crypto wallets that generate passive income when staking and other type of rewards (like airdrops), even if you don't trade. 
The need for spending our crypto was born, and the 'cryptopreneurs' with the power to launch new platforms and features came through and answered the call.
Today, I'll be talking about Crypto Debit Cards and give you a 101 on everything you need to know about them. Plus, I'll even tell you about the best Crypto Debit Cards offered out there in this wild cyber-world.  
As you may be already imagining, a Crypto Debit Card allows you to spend your crypto by using a card. Like with conventional Fiat cards, you must already have deposited the expendable assets in the wallet/account connected to the card to be able to use it. 
This would be the 'boring' part about crypto debit cards. 
The exciting one, however, is that you don't need to be converting your crypto to fiat and then waiting for the fiat deposit to hit your bank account and then spend it - a crypto debit card allows you to spend your crypto directly without the need for all that hassle. Cool right?
Bear in mind that some card issuers only support a limited and specific number of crypto (BTC, LTC, ETH, SOL…) and then some others really go all in and let you spend more than 100 different coins. 
Some of the pros of using a Crypto Debit Card:
You'll be able to make purchases in places where crypto is not usually accepted as a form of payment;
You have the chance to earn cash-back and other rewards with each transaction;
Convenience - as stated before, no more waiting for that crypto-to-fiat conversion to hit your account. The crypto that goes out is fiat that goes in for the merchant;
ATM fees withdrawals aren't charged by some issuers;
A lot of these cards look pretty cool (like the Clubswan metal crypto card 😎).
What about cons?
One must always consider the possible downsides:
If you do get charged with fees, do the math and see if the rewards outscale them;
High volatility risk (that you can easily tackle by choosing to spend stable coins instead of Alt);
Creating a taxable event when spending the crypto, among others.
As in all other things that involve money and spending it, Crypto Debit Cards are no exception to some risks and considerations, and some thorough research is always required.
Luckily, you have me! And so, without further ado, I present you with some of the best choices for a Crypto Debit Card.
This is the cherry on top of the Crypto cake.
Clubswan is a membership club. A pretty exclusive one, that even offers Concierge services! As a member, you'll have access to every membership perk, while spending your crypto. In their own words: "You can seamlessly spend your crypto with the Club Swan card anywhere in the world. Everything from one account, on one platform."
The sign-up process is very straightforward and once you've signed up and requested your card, you'll have access to an online account while you wait for it. Being a UK regulated money product, you're expected to provide a government issued document for ID verification. A very nice and diversified variety of coins accepted by Clubswan allow you to allocate and take advantage of specific market timings, so you can choose which one you'd like to spend: BTC, ETH, BTH, LTC, BAT & EOS. On the stablecoin side, USDT & USDC are also accepted.
✓ Clubswan provides gift card management, meaning that you can receive, send and spend gift cards from several major brands from a single window;
✓ An affiliate program, in which you can earn 20% of the tier the person you referred chooses;
✓The (amazing) concierge services offer customer support 24/7, no exceptions - even on holidays. But the best part is, you'll get a virtual assistant assigned to do tasks for you  (schedule and programme a trip, personal shopping and even arrange to have you attend VIP events);
✓Worldwide reach: The card can be shipped to and used in many countries (over 100 countries). Wherever the mainstream payment processors Visa and Mastercard are accepted, you can use it!
To get one of these, you need to have an account with Binance and have gone through the KYC process. The card is issued for free and although Binance charges no fees for using, 3rd party fees may still apply.
Up to 8% cashback on eligible purchases can be earned and you'll have that peace of mind and spirit that only a well-established and secure exchange can offer. So you can expect security, seriousness and fairly good customer support as well.
You can hold your crypto in your Binance funding wallet and exchange them only when you're making payments. 
3. Crypto.com
This crypto debit card supports up to 90 currencies (talk about variety!) and 20 fiat currencies as well, in case that traditional banking side of yours decides to come out. It doesn't charge monthly or annual fees, but 3rd party fees may still apply, and it offers rebates with a few streaming services.
You need to buy and hold CRO with your Crypto.com account and the cards with better perks require more tokens being staked.
With this card, you can spend directly from your Coinbase wallet. Your crypto is converted to US Dollars before an ATM withdrawal.
Having been founded in 2012, Coinbase has undoubtedly established itself as a trustworthy, powerful crypto trading platform. You can trust the same efficiency has been translated to its crypto card endeavor, so no surprises or unpleasant news to suddenly rug pull all your crypto card funds.
The fees are something to look our for: 2.49% cryptocurrency liquidation fee. It can be used wherever Visa is accepted and may earn up to 4% in rewards (conditions apply). It supports only 9 coins. 
5. Nuri
This Crypto debit card is a balance between the perks it offers and the downsides of having one of these. The good news is that there are no fees to be charged (yes, you read that right - BTC & ETH). The not so good news is that only 2 coins are supported, thus reducing your diversification chances when it comes to spending and minimizing volatility that switching easily between a variety of coins allows you to do.
It is only available for users in Europe with a Nuri account and cards are delivered in a two week timespan from the moment you ask for one. Advanced 3D security features are part of this card, so you have that tight security going for you and your assets, which is something to expect from an established crypto banking service like this one.
Considering crypto came to disrupt and to stay, we can think of Crypto cards as an important link between traditional payments and banking and the blockchain - it definitely will stay and most likely surpass the good ol' fiat cards. Hybrid options are already being offered in the crypto space and it's only a matter of time before this 'novelty' becomes mainstream and as natural as holding both a card and a checkbook like nowadays.
Crypto debit cards are safe, because the entities issuing them not only are regulated and must come through with rigorous standards and policies, but they also require a KYC process to get one of those - meaning you have to prove you are who you claim to be, increasing security and decreasing the risk of using this banking alternative. Getting a hold of a crypto debit card is also fairly easy and the concept of use mimics an already existing one, meaning you'll just have to swipe that magnetic band in the check-out and you'll be set!
There has never been an easier time to get initiated in the crypto world and all the perks and products it offers, and a Crypto debit card certainly simplifies this by a long shot.
---
---