What is Anthony Pompliano's Net Worth in 2021?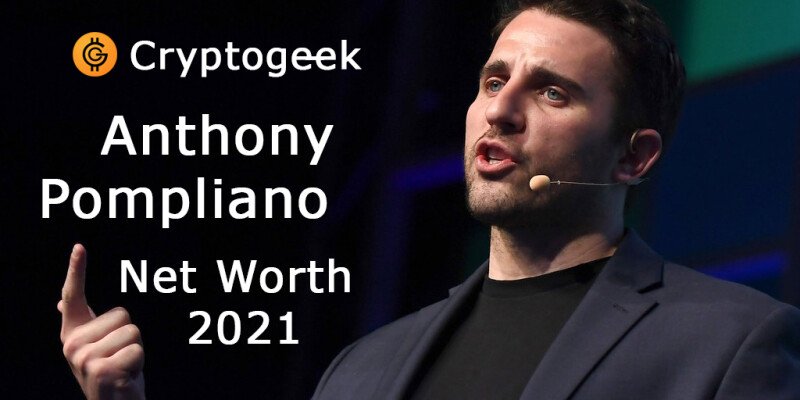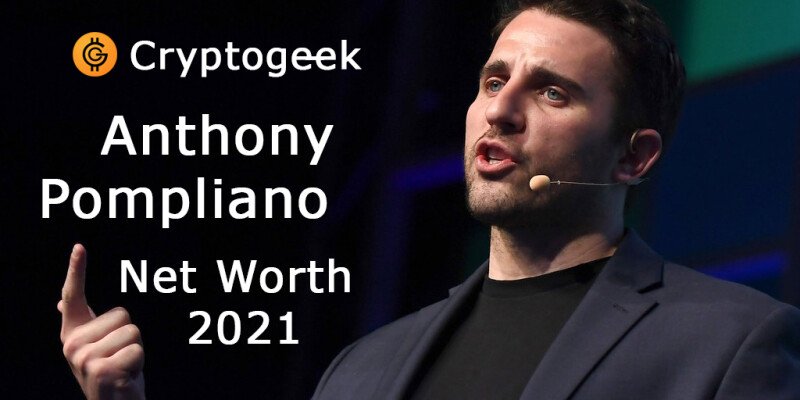 The famous investor and businessman, better known as "Pomp", is for sure one of the most popular crypto investors. 
But what is Anthony Pompliano net worth in 2021? Estimates tell that his net worth should amount to $200 million. 
Let's discover more about this crypto personality and his fortune.
Who is Anthony Pompliano
Anthony Pompliano is a U.S. investor and businessman. 
With hundreds of thousands of followers on Instagram, Twitter and YouTube, Pompliano is for sure one of the most known personalities in the crypto space. 
His excellent instinct for business is a family trait: Anthony is the son of Tony Pompliano, founder of ANEXIO. 
As the crypto market developed, Anthony followed the lead, then became one of its leaders: crypto enthusiasts can relate with his vision of an ever bigger crypto market. 
Even if Pompliano is very bullish on cryptos, he avoids predictions: his famous podcast, "Pomp Podcast", covers crypto, finance and business-related topics, but always under a professional and educational perspective. 
Nevertheless, he's stated many times that Bitcoin will reach $100,000 by the end of 2021. 
Pompliano is worth our attention: featured on CNN, Yahoo, Bloomberg, Forbes, Fortune and CNBC, as his website mentions, he manages a portfolio worth more than $500 million, invested in major companies also related to the crypto space. 
So: are cryptos a part of his fortune?

Anthony Pompliano Estimated Net Worth
The answer is yes. As he recently admitted during an interview at Benzinga's Crypto Festival, he has a very specific strategy when it comes to cryptos: 20% of his capital is for Bitcoin, 80% is for crypto infrastructure equities. 
Anthony Pompliano takes pretty much into account infrastructure investments: his activity as a seed investor has brought him a very valuable capital. 
Actually, his net worth amounts to $200 million. 
Not only cryptos: during his long career as an investor, Anthony has founded many companies, and he often showed his adventurous side by investing in companies at their early stage. 
Time proved him right: his fortune is also the result of investments in companies that were considered unicorns. 
By reading this article you will discover that Anthony Pompliano has an impressive instinct for business and investments. 
And if you will trust his capabilities, here's good news: if you have enough capital, you can apply to Anthony Pompliano's rolling fund and invest with him.
Anthony Pompliano's Profile on AngelList Venture
Anthony Pompliano: An Investor's Biography
As we mentioned earlier, Anthony Pompliano's fortune is not just made up of cryptos. 
Or, to be more precise, it is not related to cryptos as we can imagine. 
In fact, Anthony Pompliano is particularly interested in the tech side of cryptos. So, he is not like those investors who spend most of their capital in cryptocurrencies. He spends most of his capital especially in companies involved in the crypto market. 
Also his earlier work experiences shows that his preferences for tech business has never abandoned him.
Moreover, he's not always been the "boss".
From February 2014 to September 2015, Anthony worked as Product Manager on Facebook. According to Glassdoor, the base pay average for this position is about $200,000. 
Then, Anthony Pompliano worked for Snapchat: we don't know the details of his work, and his collaboration with the company was not as long as to be very relevant. 
In 2016 he started his activity as an entrepreneur. He founded the Full Tilt Capital with Jason Williams. This company was born as a venture capital firm, mainly focused on tech companies.
As Business Insider reports, the firm had completed 22 deals in the first 90 days of activity, with an average investment of $100,000 per company. 
The Full Tilt Capital was acquired in 2018 by Morgan Creek Digital Assets, with Anthony Pompliano staying on at the firm also as a co-founder of the acquiring company. Full Tilt Capital became a subsidiary of Morgan Creek Digital Assets, mainly active in the crypto space. 
As we can read on his personal website, Pomp Investments now manages a portfolio worth more than $500 million.
Anthony Pompliano's website - Pomp Investments
As we can easily verify on his AngelList Venture profile, Anthony Pompliano invested in the early stages of companies that are worth billions nowadays. 
Just to mention some of them: 
Imperfect Produce: this company is in the food delivery field, and is focused on organic food. Pompliano invested as a seed investor, but the company has a revenue of millions of dollars today. It also raised $72 million in a Series C round: this kind of investment implies that investors fund companies that are still developing - so, despite its revenue, this company has a lot to earn in the future!
EverlyWell: this online company provides tests for at-home diagnosis. Also in this case, Anthony was an angel investor. According to Forbes, in 2020 EverlyWell raised $175 million in a Series D round, reaching a valuation of over $1 billion.
BlockFi: another seed investment for Anthony Pompliano. This crypto company was founded in 2017, and it's already featured on Forbes, Fox Business and TechCrunch. According to Growjo, the company has a current estimated annual revenue of $65.7 millions per year. Moreover, as Anthony Pompliano reports on his profile, the company has a valuation of $450 million.
Brigit: founded in 2017, this company helps its clients to create their financial future by building credit and saving more. Brigit raised $35 millions in 2020 in a Series A round, and Fintech Futures stated that the recurring monthly revenue of the company should be around $2.5 millions.
Figure Technologies: this is a very interesting company. It describes itself as a home equity line: basically, it helps homeowners to get cash using their equities. The whole process is online, but the most interesting part is that the company uses blockchain technology to facilitate transactions. Founded in 2018, this company's evaluation is over $1 billion.
The last two items in this list need no introduction. Also in these cases, when Anthony Pompliano invested these were early-stage companies.
Coinbase: this well known crypto exchange reached a valuation of over $1 billion in 2021, according to CNBC.
Etoro: maybe the most famous social trading platform. Founded in 2006, this company will merge with FinTech Acquisition Corp. V and go public, reaching a valuation of $10.4 billions.
Even if we tried to create a comprehensive list, among Anthony Pompliano's investments there are also companies like Reddit and Airbnb. 
Conclusions
As you can see, Anthony Pompliano net worth is a mix of good investments, good business instinct and a good crypto portfolio. 
His knowledge and business expertise led him to be one of the most known personalities in the crypto and business space. 
He's a good example for aspiring investors and especially for those who see in cryptos more than a bunch of digital currencies. 
Pompliano simply proves that companies involved in the crypto space can create real value. 
If we consider a company like Figure - one of Anthony Pompliano seed investments, we understand that the "Greater Fool Theory" can't be used to talk about cryptos. 
This theory, often mentioned by crypto skepticals, states that the value of cryptos depends on the fact that there will always be a greater fool that will buy your cryptos for a higher price. 
But, as we can see, companies are discovering the technology behind cryptos, its real-life possible use cases, and are starting to integrate it into their systems. 
Anthony Pompliano is showing us that there are a lot of opportunities when it comes to cryptos.
Now, we all wonder if time will prove him right also this time: will Bitcoin reach $100,000 by the end of 2021?
---
---