"It takes an industry effort to gain the trust lost because of early-day crypto scammers" An interview with Amazix CMO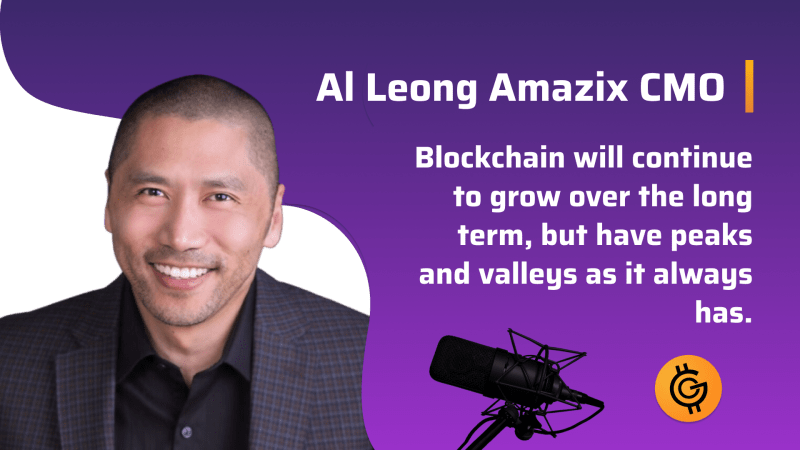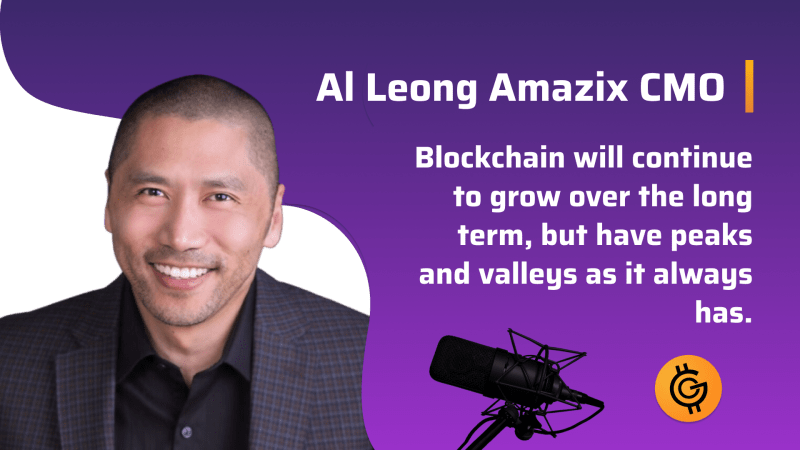 We were lucky enough to have an interview with Al Leong, CMO of Amazix. Amazix is a blockchain marketing company, developing marketing and community strategies for many blockchain startups. We discussed the current state of crypto and blockchain industry, its development over the years, as well as its potential future.
Cryptogeek: First of all, tell us about your company, Amazix.
Al Leong: Amazix is the #1 ranked blockchain marketing agency ranked by Softwareworld for 2021. We employ over 60 staff, contractors and partners worldwide including adjunct and distinguished professors of marketing and ex-Mckinsey and Tier 1 management consultants.  Our clients have numbered over 150, and have included Bancor, Casper Labs, PolkaCity (Polkadot), pNetwork, Eidoo, FRAX, Genuino, Verso, World Mobile Chain, Origyn, Pillar, IDNI, Universal Music and many more. Our services started with community management and social media marketing in 2017 and in 2019, grew to expand to include comprehensive marketing strategy, content strategy, email campaigns, public relations, website design and development, creative management, SEO/SEM, PPC, influencer outreach, website listings and backlinking.  We have several divisions including Marketing, Community Management, Legal Advisory and Localization.
Cryptogeek: What trends in the cryptocurrency/blockchain industry do you consider to be the most important now, in 2021? 
Al Leong: NFTs and NFT launch platforms, Tier 1 blockchain development platforms, IDO/Launchpads, and DEXs are hot in 2021. Many of our new clients are in these spaces.
Cryptogeek: It seems that compared to 2017-2018, the spread and development of blockchain technology have stalled. Then it was considered a revolutionary technology, but now 4 years have passed and we still do not see any widespread use of it. What's the reason for this, in your opinion?
Al Leong: Crossing the digital chasm from early adopters to the early mass majority takes significant effort and widespread trust. We find ourselves building that trust with consumers every day through our marketing programs.  It takes an industry effort to gain that trust lost because of early-day scammers.  We see some signs of adoption now particularly in B2B and some B2C blockchain products.
However, we refute there is no widespread use.  Billions of crypto are traded daily over blockchain.  We just have not reached adoption by the mass majority and technology laggard adopters.
Maesk is still using their logistics blockchain. IBM, Deloitte, Mastercard, Walmart all deploy blockchain technologies. Paypal is scheduled to, or already accepting crypto. BTC and ATHs for transactions in ETH were at all time highs.
Cryptogeek: In the end, is there any real use for blockchain besides the cryptocurrency industry?
Al Leong: There are many uses of blockchain besides cryptocurrency. These include decentralized financial services (DeFi), regulation technology (RegTech), DAOs, blockchain and trading artificial intelligence, agriculture and food traceability, drone flight management and logistics and supply industries, real estate, NFT of art and sports collectibles are noteworthy accomplishments for the blockchain industry.  The concept of the immutable ledger has a wide range of uses applicable to many industries.
Cryptogeek: It seems that ICO as a method of attracting money to blockchain projects has exhausted itself. In 2017-2018 there was a boom in ICOs, but due to the huge number of useless and scam projects, this word itself now has a negative connotation. What's your opinion on this?
Al Leong: It's true that the scams negatively impacted the ICO industry. The industry evolved to develop STO and IDO fundraising methodologies which have shown limited success.  Amazix has conducted 3 years of market research on investor sentiment and have a depth of knowledge in this regard. We partnered with Bitcoin Suisse in 2017 and 01 Capital is a sister company that spawned from Amazix to assist clients with fundraising activities.
Cryptogeek: How is money being attracted to blockchain projects now?
Al Leong: Obviously it has been in the billions. For example, when Elon Musk/Tesla announced they would accept crypto for their cars.  This is however, not the typical project.  With great business models brought to market with effective token economics that support trustless enforcement of team and investor vesting periods, money will flow.
Cryptogeek: Tell us about marketing strategies for blockchain projects in 2021. Which practices do you use? Which marketing channels work best now?
Al Leong: We develop long term business and omnichannel fundraising strategies for our clients and avoid quick pump and dump clients.  This may mean that sometimes we go to total war for our clients. The blockchain and fundraising marketing have unique idiosyncrasies over traditional businesses, specific regulations regarding marketing (like financial restrictions on social media and subsequent reversals) with which we are very familiar.  We deploy directed and focused tactical execution plans that help our clients navigate through these complex regulations.  PR, social media, community management, content management, creative management and messaging/positioning and the strongest elements deployed with our clients worldwide.
Cryptogeek: Tell us about community-building practices for crypto and blockchain projects. Is there anything you could share with us, from your experience?
Al Leong: It's all about engagement, education and building excitement in our community channels, and keeping scammers out.
Cryptogeek: Do you have any predictions for the future? How will the crypto and blockchain industry change in the coming years?
Al Leong: Blockchain will continue to grow over the long term, have peaks and valleys as it always has, but the technology is fast-evolving along with the needed regulation.  DAOs for example are a good case study of legal frameworks trying to catch up with industry innovation. In time, these legal frameworks will change and adapt to innovation for long term growth.  Also you will find that regulation, as it catches up, will impact how blockchain firms do business, or can't do business.
Cryptogeek: Thank you for the interview.
---
---