مراجعة HitBTC للصرافة 2021 - هل هي آمنة؟
Full address:
Av Vitacura 2969, Las Condes, Región Metropolitana, Chile
Fees:
Trading Fee Tier

For upgraded accounts, HitBTC utilizes a trading fee tier system, rewarding community members for high volume trading. To put it simply, the more the user trades the lower their trade fees will be. Each user's volume will be calculated according to the total amount traded equivalent to BTC at the time of the trade.

Example:
The user buys 15 EOS for 1 LTC and at the time of the trade 1 EOS is equivalent to 0.001 BTC. This means 0.015 BTC will then be added to their 30-day trade volume total.

The fees for Starter and General accounts are fixed at 0.1% Maker Fee and 0.2% Taker Fee.

Trading fees for upgraded accounts:

Tier / 30-days Trading Volume (BTC) / Maker Fee / Taker Fee
1 ≥ 0 BTC 0.07% 0.07%
2 ≥ 10 BTC 0.06% 0.07%
3 ≥ 100 BTC 0.05% 0.07%
4 ≥ 500 BTC 0.04% 0.07%
5 ≥ 1000 BTC 0.03% 0.06%
6 ≥ 5000 BTC 0.02% 0.06%
7 ≥ 10000 BTC 0.01% 0.05%
8 ≥ 20000 BTC 0% 0.04%
9 ≥ 50000 BTC -0.01% 0.03%
10 ≥ 100000 BTC -0.01% 0.02%

If you're a professional trader and wish to discuss a personalized fee structure with HitBTC they'd be keen to talk. Please use the form in this link to reach out: https://hitbtc.com/fee-tier
Fees:
Trading Fee Tier

For upgraded accounts, HitBTC utilizes a trading fee tier system, rewarding community members for high volume trading. To put it simply, the more the user trades the lower their trade fees will be. Each user's volume will be calculated according to the total amount traded equivalent to BTC at the time of the trade.

Example:
The user buys 15 EOS for 1 LTC and at the time of the trade 1 EOS is equivalent to 0.001 BTC. This means 0.015 BTC will then be added to their 30-day trade volume total.

The fees for Starter and General accounts are fixed at 0.1% Maker Fee and 0.2% Taker Fee.

Trading fees for upgraded accounts:

Tier / 30-days Trading Volume (BTC) / Maker Fee / Taker Fee
1 ≥ 0 BTC 0.07% 0.07%
2 ≥ 10 BTC 0.06% 0.07%
3 ≥ 100 BTC 0.05% 0.07%
4 ≥ 500 BTC 0.04% 0.07%
5 ≥ 1000 BTC 0.03% 0.06%
6 ≥ 5000 BTC 0.02% 0.06%
7 ≥ 10000 BTC 0.01% 0.05%
8 ≥ 20000 BTC 0% 0.04%
9 ≥ 50000 BTC -0.01% 0.03%
10 ≥ 100000 BTC -0.01% 0.02%

If you're a professional trader and wish to discuss a personalized fee structure with HitBTC they'd be keen to talk. Please use the form in this link to reach out: https://hitbtc.com/fee-tier
Sep 13, 2021
Cryptocurrencies are becoming more popular every day and many are looking for how to exchange fiat money for cryptocurrency. There are many different ways to get your first crypto, but it is most convenient to use exchange platforms. Today we will consider one of these trading platforms, which is named HitBTC. HitBTC confidently enters the TOP cryptocurrency exchanges in daily trading volume. And although liquidity is a very important indicator for a trading platform, it is far from the only advantage of this platform. We will talk about how to use it, as well as discuss the strengths and weaknesses of this project.
What Is HitBTC?
HitBTC cryptocurrency exchange is a platform created in 2013 that allows you to trade more than 300 cryptocurrency pairs. The platform was launched back in 2013 and the investments it received amounted to about 6 million dollars.
In February 2014, the HitBTC exchange was officially launched with the support of the following currency pairs: BTC / USD, BTC / EUR, BTC / LTC, USD / EUR. In April of the same year, developers launched a demo trading, and a little later - an application for voting based on altcoins. Thanks to it, users can choose which cryptocurrencies to add to the exchange.
3 reasons why people come to HitBTC.

-400+ cryptocurrencies
-800+ trading pairs
-Fastest API on the market

Join our professional trading community on Telegram.

Click here 👉 https://t.co/uc3lwxMiEN pic.twitter.com/lnpcQeDWyV

— HitBTC (@hitbtc) August 18, 2020
In the fall of 2016, a service was added that allows you to trade USD and EUR. However, later the fiat-to-crypto trading was ceased. Currently, HitBTC users can buy crypto for fiat money. HitBTC was originally created with the expectation of users of different levels and degrees of training, so when designing, the emphasis was on the simplicity and ease of use of the interface for most people.
At the moment, in the ranking of trading floors with the largest daily trading volume, HitBTC is among the top 50 best exchanges. The total trading volume of the exchange for 24 hours is over $3 billion. Almost a billion is BTC-based orders. The other huge liquidity coins on HitBTC are Cardano (ADA) with $330 million, Ethereum (ETH) with over $200, XRP, and Litecoin. As of February 2021, the exchange supports 422 coins and offers 947 trading pairs.
HitBTC provides its services worldwide without restriction. The company pays most of its attention to the Estonian and European markets, however, HitBTC exchange is highly accessible to customers from different countries around the world.
The developers of the website took care of their users, who can trade both day and night, so they developed two types of design - day and night.
It is worth noting that the exchange interface is available in 5 languages: English, Chinese, Korean, Spanish and Portuguese.
You can also read more about HitBTC exchange in these articles:
HitBTC launches a utility token
How To Buy Crypto With a Bank Card on HitBTC - Ultimate Guide
Is HitBTC available to U.S. customers?
NEWS: HitBTC launches margin trading
NEM (XEM) Trading Contest On HitBTC Exchange
Where Is HitBTC Located?
The location of the HitBTC headquarters isn't totally clear. There are several countries associated with the exchange. For instance, according to the exchange website, Hit Tech Solutions Development Ltd, a company responsible for the Privacy Policy questions, is registered in Seychelles. Any jurisdictional issues concerning HitBTC are solved in Seychelles. The About Us section doesn't provide any mention of team members or the headquarters location. We can learn that the data center is located in London while the representative office can be found in Chile.
If we look at the HitBTC reviews we will find out that there are a number of other countries that for some reason are named as the location of the exchange. One of the countries usually associated with HitBTC is Hong Kong. Another version is that the company is headquartered in the United Kingdom. Although it is not mentioned on the HitBTC's website, there is information that the exchange has offices in  London, Hong Kong, Beijing, Singapore, Malta, Rio de Janeiro, and Santiago.
The team anonymity and the lack of clearness about the headquarters location make some individuals distrust the platform. However, the website definitely states that the Hit Tech Solutions Development is based in Seychelles and the exchange has its rep office in Chile. All the rest info is baseless as of 2021.
Supported Countries
HitBTC can be used in any country except for the United States, Syria, Sudan, Cuba, Crimea, and North Korea.
HitBTC and the US Traders
In 2019, HitBTC had to stop operating in the US. The exchange was leaving a gray area at that time and didn't meet multiple strict requirements of US law in the sphere of cryptocurrencies. So, beginning with 2019 the residents of any of the states of the United States of America are not allowed to trade on HitBTC. 
HitBTC Features Review
Experts agree that the strongest advantage of the exchange is the availability of modern and convenient services for work: current exchange rates, charts, news, descriptions, transaction history, etc.
Indeed, HitBTC allows not only profitably selling / buying / exchanging various digital coins, but also being aware of the general market situation in the country and in the world, owning up-to-date numbers, and monitoring their dynamics.
Also, a big advantage for advanced traders is the API for using bots, which helps to trade cryptocurrency automatically. 
HitBTC takes first place in the global cryptocurrency market in terms of liquidity (according to CoinMarketCap).

HitBTC is a high-liquidity platform that provides instant order processing and reduces transaction costs. Therefore, due to its high liquidity, the platform creates low transaction fees. Also, on the HitBTC exchange, there are such coins that are not on other top sites. This makes the platform unique, and traders receive additional liquidity.
It is worth noting, that HitBTC also provides its customers with two versions of the mobile app: Android and IOS. More information on how to download the app, create a new account, etc. you can find here.
There is a huge list of advantages and great features that HitBTC exchange can provide to the users: 
Large range of cryptocurrencies
No restrictions on depositing or withdrawing digital assets
Advanced engine matching technology
Wide range of tools available (over 500)
The most advanced API on the market (REST and FIX APIs)
Simple but extensive interface
There is the possibility of joint trading with other users, which makes it possible to earn more for both parties
Margin and OTC trading are available
Crypto can be bought for fiat money
But nothing is flawless and there are some things that could be improved:
No fiat-to-crypto pairs
There is a rounding of the minimum bid, which is inconvenient
2021 Update
The latest improvements of HitBTC include the following:
Now HitBTC users can buy crypto with fiat money via bank transfers and debit/credit cards. The payments are operated with the help of the exchange partners MoonPay and Banxa. 
In the summer of 2020 HitBTC has launched a margin trading feature. Throughout the time since launch, the exchange has been widening the list of the available margin trading pairs.
The iOS app was released in the summer of 2020. 
In 2020, the partnership with TradingView was established. It increased the precision of the data displayed on HitBTC and opened better opportunities using API. More than that, the TradingView users now can manage their trades via HitBTC.
A native utility token HIT was launched.
Perpetual futures trading was added.
Perpetual Futures
On September 20, 2021, the exchange has introduced a new feature Perpetual Futures Trading. Perpetual futures have no expiration date so the opened positions can stay active for as much time as needed. For some assets, traders can use up to 75x leverage. Perpetual futures are less risky traders can use small amounts of money for hedging the market. More than that, the futures contracts use isolated margins. It allows traders to change the asset used as collateral for open positions. Supported currencies are BTC, ETH, TRX, BCH, ADA, DOT, SOL, EOS, AAVE, MATIC, XLM, UNI, LTC, and HIT.
DYDX Token
On September 10, 2021, HitBTC added two DYDX-based trading pairs to its roster. On HitBTC, DYDX can be traded against BTC and USDT. DYDX is a native token of the decentralized derivatives exchange called dYdX. The token hit the market on September 8 and quickly gained over 1000% in price. It has made headlines when after listing on a number of exchanges the token gained the price of $10 and even rose to $15 at some point. Many of these tokens were distributed among the early dYdX platform adopters via an airdrop. 
This airdrop was a crucial point that turned dYdX into a fully decentralized exchange governed by its community. As dYdx becomes a full-fledged Ethereum layer-two service, its costs get lower. Unlike many other popular decentralized exchanges, dYdX has an order book and a standard crypto exchange interface. It is possible thanks to the Starkware layer 2 network used as a basis for the dYdX architecture. For instance, on dYdX, users don't have to pay miner fees while depositing. More than that, layer 2 solutions allow nearly instant withdrawals, improved security and privacy, and cross-margining. Transactions get confirmed on blockchain hours after execution.
Token holders can participate in voting for the changing of the dYdX protocol. So if you are interested in stakeholding of DYDX tokens you might buy some on HitBTC effortlessly. At the moment of writing this chapter, the DYDX token ranks only 222nd by market cap. However, HitBTC is paying attention to little-known but promising new projects. DYDX is a great example of why the opportunity to trade fresh assets that are yet to hit the top is important. Note that DYDX can be seen as a good investment not only because of its speculative potential but also because of the strong technology associated with the token and dYdX exchange.
HIT Token
In June 2021, the exchange launched an ERC20 utility token called HIT. This token grants its holders some benefits on the HitBTC exchange. The benefits include trading fee discounts, lower margin interest, higher margin limits, the right to participate in decision-making on HitBTC, higher affiliate program rewards, etc. Trading HIT token also comes with bonuses: for instance, those who trade HIT-based pairs don't pay trading fees or pay reduced fees (depending on the period of time of trading). As of June 18, 2021, HIT price slightly exceeds 0.2 USDT.
Security Measures
The list of the security measures available on HitBTC includes the following:
Whitelist of addresses (the funds can't be withdrawn to the addresses outside the list)
2-factor authentication (via the authentication app or the Yubikey physical token)
Active sessions monitor (with the opportunity to terminate all sessions instantly; the current session of the user requesting sessions termination remains active)
Automatic logout (an automatic logout happens after a period of inactivity specified by the user)
Email notifications (every time when someone logs in using a new IP address the account owner gets a notification about that on the email attached to the account)
KYC/AML rules compliance (withdrawals of large amounts of money are impossible without the identification of the person involved)
There is no info about the ways HitBTC maintains the security of funds and data on the exchange's side. Nevertheless, there are no known hacking incidents associated with the platform.
OTC Trading
As the exchange striving to satisfy all possible needs of its customers HitBTC couldn't avoid providing such a feature as OTC trading. OTC (or over-the-counter) trading is a service allowing to trade apart from the public order book. OTC trades don't affect the monitored market and are not influenced straight by the market prices.
This option especially can benefit the high-volume traders as the market fluctuations can seriously crop the profits in short periods of time. OTC trading provides an environment for stable prices independent from the trends. The counterparts agree on the price between each other, no matter what the market prices are at that moment. Apart from fees, the exchange is not mediating the deal.
HitBTC is explicitly limiting the participation of low volume traders in the OTC trading — the minimum trade volume allowed in the OTC desk should be equivalent to 100,000 USDT. The OTC trading fees are higher than the usual trading fees on HitBTC. Each OTC trade is charged with a 0.1% fee. The OTC desk on HitBTC is provided in partnership with Extendeddealer.com.
HitBTC Fees
Deposit and withdrawal fees
HitBTC does not charge a deposit fee. Users can fund their accounts with cryptocurrencies for free. There is no option to deposit fiat money on HitBTC, however, registered users can buy cryptocurrencies on the platform. In this case, the fees are set by payment providers — MoonPay and Banxa.
When doing withdrawals from HitBTC, the account holders are charged fees. Withdrawal fees on HitBTC are fixed. That's quite a usual practice among the top liquidity exchanges. It means that you pay a fixed fee per one withdrawal regardless of the amount of money you withdraw. Whether you are withdrawing 2 BTC or 20 BTC you pay the same fee. So the more you withdraw the more you save. The Bitcoin withdrawal fee on HitBTC is 0.00085 BTC. This amount is considered to be close to a market average withdrawal fee. It's worth saying that in USD equivalent fees for different currencies are not the same.
Trading fees
The starting trading fees for all the registered traders on HitBTC is 0.09% and one needs to trade at least at the 10 BTC volume in one month in order to decrease this mark to 0.08% or even 0.07%. That's one of the most democratic trading fees policies in the industry, especially among the big players.
As for trading fees, HitBTC sticks with a "maker-taker" model. The traders placing limit orders are adding positions to the exchange order book. They add ("make") liquidity. As the exchange is benefiting from such actions, it incentivizes traders to place limit orders via trading fee discounts. "Makers" pay less than "takers" — those who use market orders ("take" the orders off the order book decreasing the exchange liquidity). The Maker-Taker model means that makers pay smaller fees. On HitBTC, this model is special as makers trading in large amounts are not only fully exempted from paying fees but are rewarded. Those who trade 50000 BTC or more in 30 days receive a 0.01% reward.
However, takers can expect fee discounts, too. Depending on the personal monthly trading volume they enjoy the smaller fees as the volumes get bigger. Takers trading at the 1000 BTC level or more pay only a 0.05% fee. The minimum trading fee for takers is 0.02%. See the latest trading fee tier here.
Liquidity
This exchange is regularly ranked among the top five exchanges in terms of liquidity according to the Coinmarketcap list. As of the last update of this review, Coinmarketcap had liquidity of $ 100 million, which gives it a place 2 on the list.
HitBTC API
HitBTC is known for the fact that thanks to the API, the exchange can be quite friendly to people who are involved in the creation of trading bots. Thanks to the "Robot-friendly API", make the most of your trading bot using the leading API and low latency data for the entire cryptocurrency market. You can find more information on API and API Documentation.
How to Use HitBTC
There is nothing superfluous on the main page - only basic information. Most of the page is occupied by a chart with the trading volumes of the leading cryptocurrency pairs. In addition to the trading volume, the chart contains the following information: the latest price, exchange rate changes, trading volume for 24 hours, offer to buy/sell.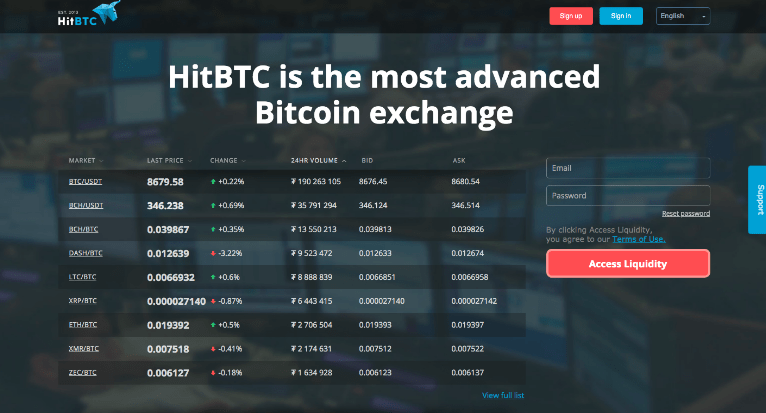 On the right side are presented forms for registration and a button to enter your personal account, if you are already registered.
How to Register on HitBTC
You can register on HitBTC with just a few clicks. The system registers each new user who has entered the email address and password (min 6 characters, including a capital letter and number) on the official website of the exchange.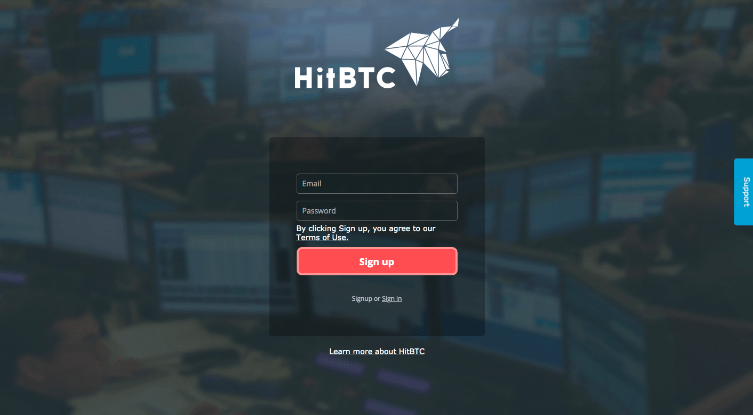 You can do this either in the same window on the main page of the site, or through the "Register" button (in the upper right corner). In the second case, the registration form will open on a separate page.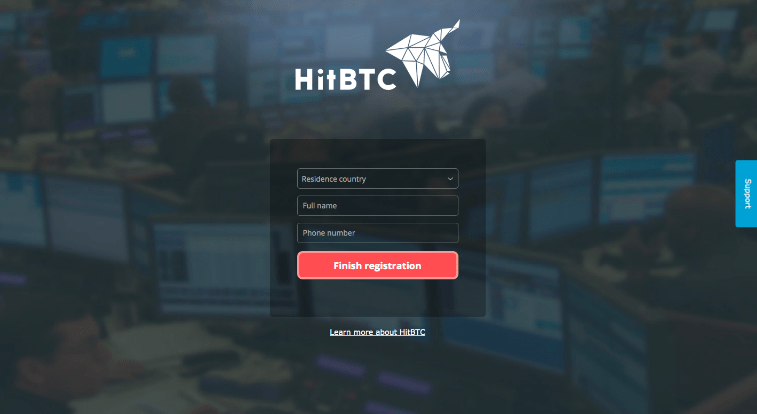 After indicating your Email and Password, you will be asked to provide the Resident country, Full name, and Phone Number to finish the registration process.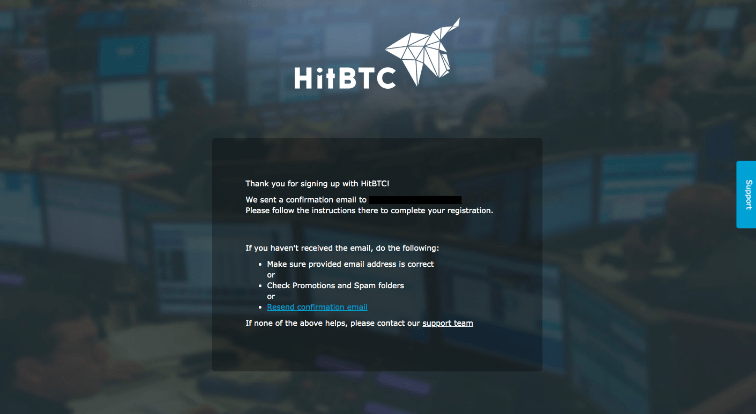 Next, a letter will be sent to the specified email address with a request to confirm the account. 
Verification Process
A feature of HitBTC is the ability to trade without account verification. To work exclusively with digital currency, you do not need to leave any personal data in the system. Verification is only necessary if you plan to use the platform to work with fiat money as well. If you want to replenish your account or withdraw currency, you need the following information: name, country, and address of residence, date of birth, bank account information, scans of relevant documents, etc.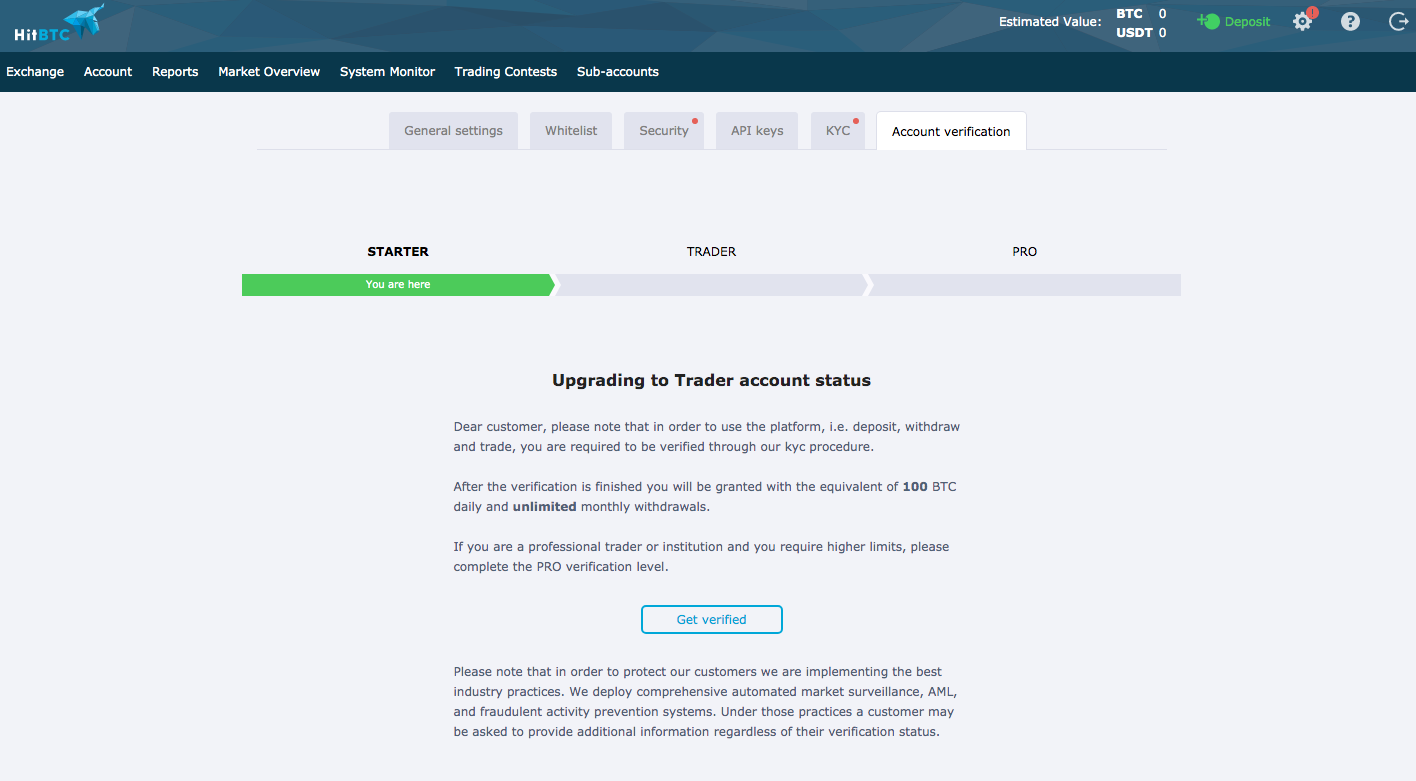 There are 3 levels of account verification on HitBTC, each of which gives the user different opportunities: Starter, Trader, and Pro. After the verification is finished you will be granted the equivalent of 100 BTC daily and unlimited monthly withdrawals. If you are a professional trader or institution and you require higher limits, you must complete the PRO verification level.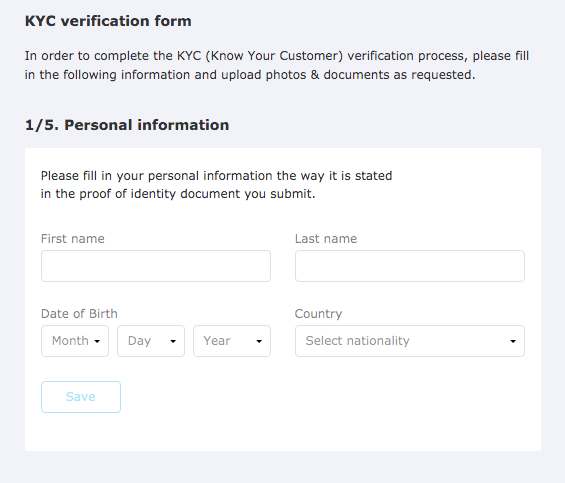 At the first step, you will be asked to provide your personal information: Name, Surname, Date of birth, Country of birth.
Note, the data must be correct and filled in in English, as indicated in the Identity document.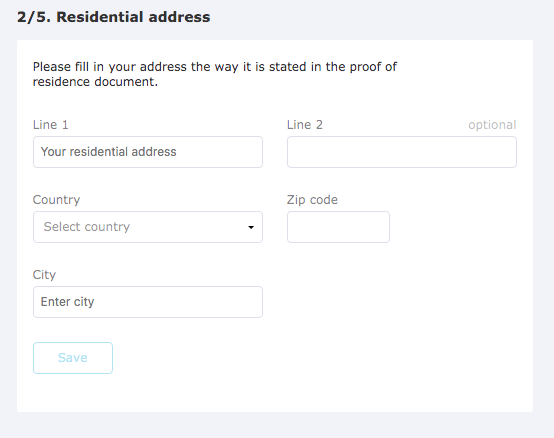 The second step is a Residential Address form: Country, City, Region (optional), Postal Code, Street Address.
Keep in mind that your permanent address must be the same as your billing address used for official correspondence.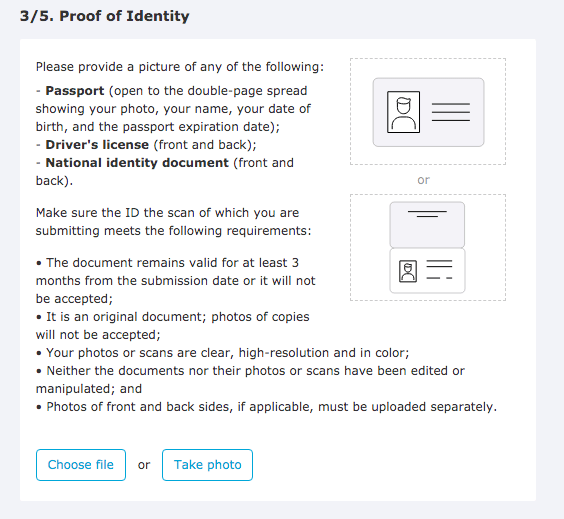 At the next step, you have to prove your identity. Make sure your photos/scans meet the following requirements:
Documents must be valid
Photos/scans on both sides of the documents must be uploaded
Scanned images must be in color and high resolution (at least 200 dpi)
Allowed formats: jpg, gif, png, or pdf
File size must not exceed 10 MB
Photos/scans must not be older than 3 months
Documents must be issued using Latin characters or have Latin transliteration of the main fields.
You must choose one of the following options:
International Passport (double page)
Driving license (both sides).
National Identification Card (both sides) or national passport (double page)
Please note that the exchange accepts a driver's license as proof of your identity only if it is a plastic card, and all the information in it is provided by Latin transliteration.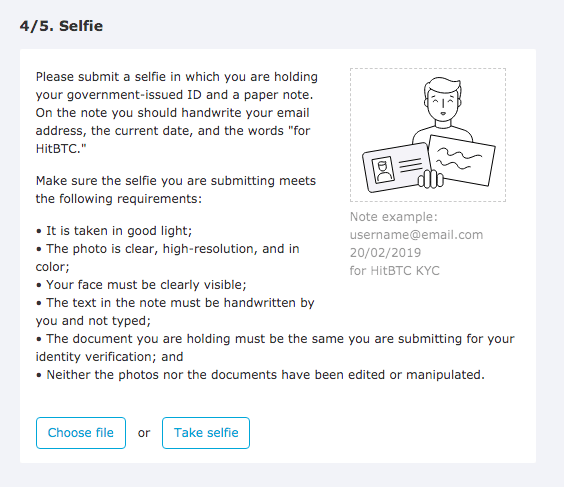 At this step, HitBTC asks us to take a selfie with the documents. You will need to take a photo of yourself holding:
Your identity document.
A handwritten note containing your email address, the current date, and signature for HitBTC KYC.
Your face, ID, and note should be clearly displayed and fully visible.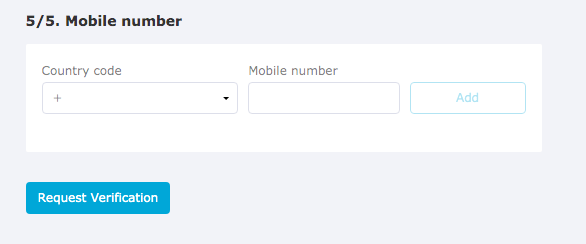 At the final step, you must indicate your mobile phone number by selecting the country code and clicking the "Add" button.
The verification time could take 3-5 business days. This time may increase because after sending your request is queued and processed as far as possible.
You can also get the status of "Professional" (Pro). This gives you the following benefits:
Storage of BTC and ETH in cold storage at Sequant Capital in London
No restrictions - Approval authorized by FCA means that there are no restrictions on deposits or withdrawals.
After the update, you will be assigned your own personal broker, who will act as your contact center, he/she will provide constant market leadership, research, and trading ideas with the comfort of a "private bank account".
OTC transactions. The exchange can facilitate the blocking of transactions with OTC models from the same account, acting as a bank transfer intermediary in order to avoid counterparty risk.
KYC/AML
The HitBTC exchange complies with international anti-money laundering (AML) and KYC regulations. This means that the exchange collects the verified personal information of its clients, stores it, and makes sure that no third party ever uses these credentials to perform any action on the exchange on behalf of the exchange users. In some cases, this means that HitBTC users must verify their identity and provide proof that they received their assets legally.
HitBTC does not hide the fact that in some cases, customers are required to provide their personal information. No one can use HitBTC until they confirm that they have read the terms and conditions, which contains a list of documents that the company can request from the user. AML/KYC rules help the public to identify harmful financial activities, and agreeing to use a KYC-compliant exchange is a small contribution to the safety of the global financial community. Moreover, the AML/KYC rules compliance allows HitBTC to keep working in the countries with strict cryptocurrency regulations.
How to Make Your Account "Professional"?
You are applying to verify your account.
The exchange conducts KYC/AML checks confirming your identity and source of funds
You create an account in BTC or ETH with the help of Sequant Capital, which holds it in cold storage until you decide to withdraw funds
A limit on HitBTC is set equal to your deposit, and these coins are held on the exchange as initial security 1 to 1
You can start trading
But in order to qualify for a change in account status, it is necessary that at least 2 of the following criteria are met:
The client made significant transactions on HitBTC with an average frequency of 10 per quarter (3 months) during the year
The size of the client portfolio, including cash, securities, and cryptocurrencies, exceeds 500.000 euros
The client has been working or has been working in the financial sector for at least one year in a professional position requiring investment and trading knowledge
How to Deposit on HitBTC
After you have created a profile on the exchange, you must enter funds on it to start trading.
To do this, you should click on the tab "Account" and select the coin that you want to deposit on the exchange.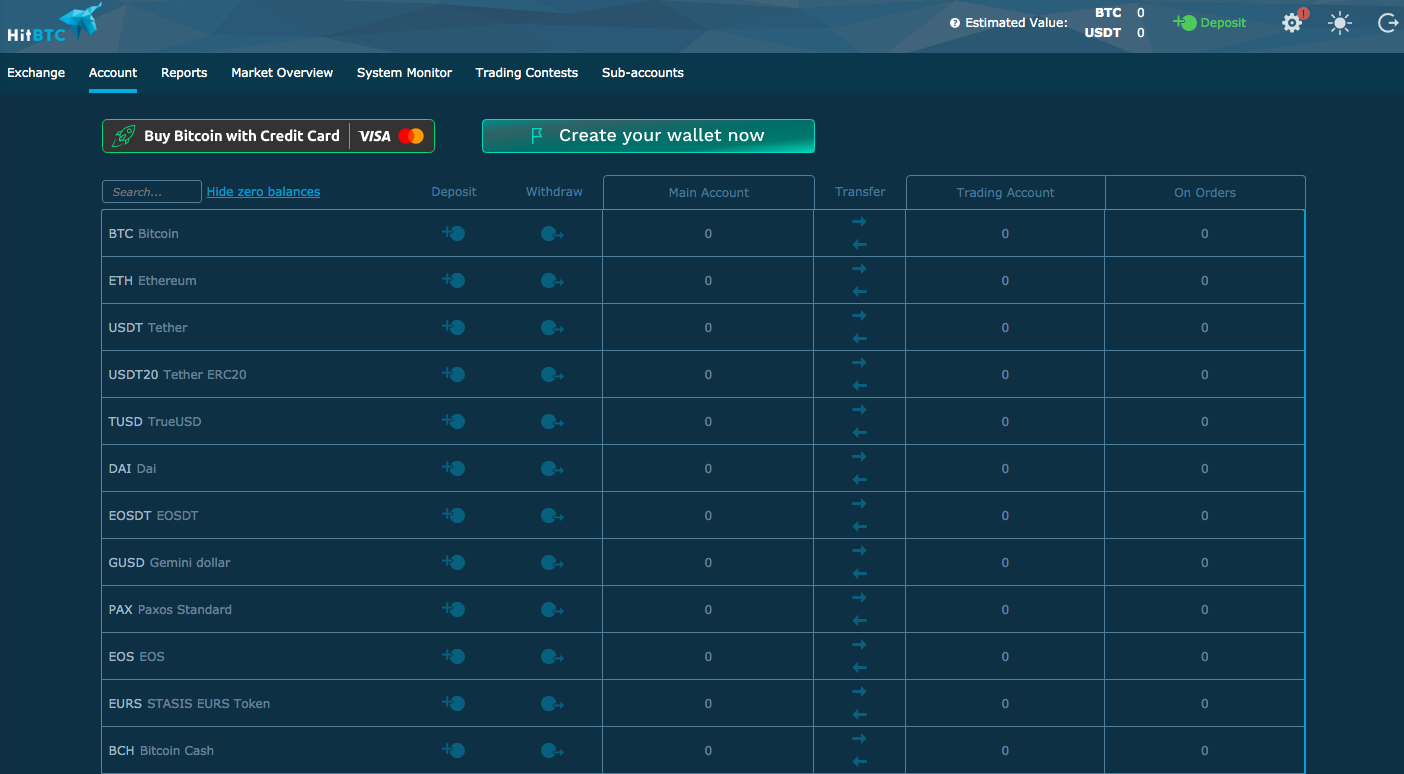 In front of the selected coin in the "Deposit" column, click on the circle with a plus sign to deposit.

A form opens with a QR code and the number of the generated wallet. Copy the wallet address.
Further, the copied address must be pasted into the column "Recipient address" in the wallet from where you transfer funds. It remains to wait for the funds to be credited and you can start bidding.
How to Withdraw from HitBTC
To withdraw funds from HitBTC, in the "Account" section, opposite the coin selected for withdrawal, in the "Withdraw" column, click on the circle with an arrow. Fill in the graphs of the opened form. To do this, specify the number of coins to withdraw.
The next column automatically shows how much you will receive coins in fact, taking into account the commission.

Enter the wallet address to which funds will be withdrawn and click "Withdraw". Wait for the funds to come to the indicated wallet.
Note, if you provide an incorrect digital wallet address (even if you make a mistake of just 1 letter/number), then the withdrawn coins cannot be returned! This is an irreversible operation. Therefore, carefully check the address of your wallet.
How to Trade on HitBTC
To start trading on HitBTC, you need to transfer funds to the Trading Account. To do this: Go to the "Account" section - here all your balances (funds entered) are displayed
In front of the desired coin, click on the arrow to transfer money from the "Main Account" to the "Trading Account".

Once you have transferred funds to a trading wallet, you can safely proceed to bidding.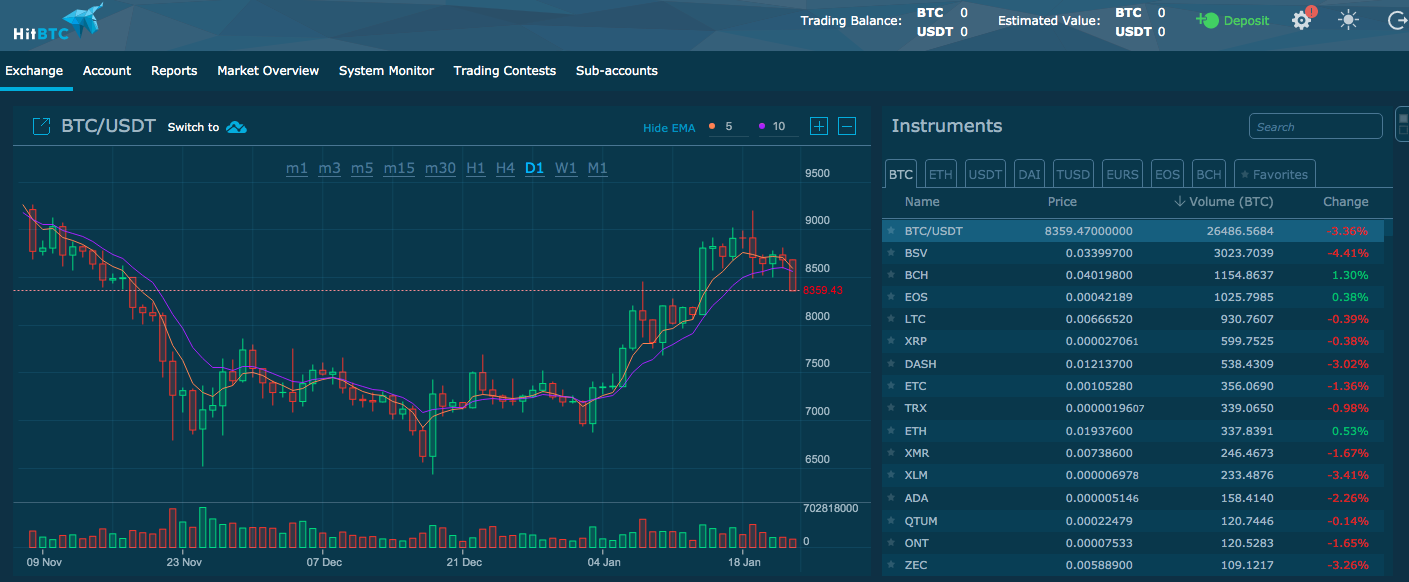 Now you need to go to the "Exchange" section. 
It contains information about new trading pairs on the exchange, the choice of a trading pair, the rate chart of the selected trading pair, the open orders of other users, etc.

There is the form for selling currency and the form for buying currency, the history of your transactions will be displayed in this window.

Your open orders are also displayed here along with everyone. There you can find a users' chat as well. In order to write in the chat, on the exchange you must have an amount equivalent to 0.01 BTC.
You can find a graph of market depth below the trading page. Green - how much crypto was bought, red - how much was sold.

How to Buy Crypto on HitBTC
First of all, you should choose a trading pair. To do this, select the main currency to which we will trade (for example, BTC). The main currency is in the header of the chart with the choice of a trading pair.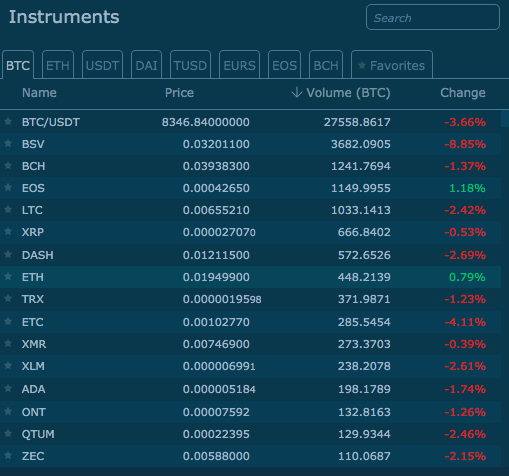 In the same chart, select the currency that you want to trade - look for it in the list (you can use the search). As soon as you click on both currencies, the page automatically refreshes and displays information on the selected pair.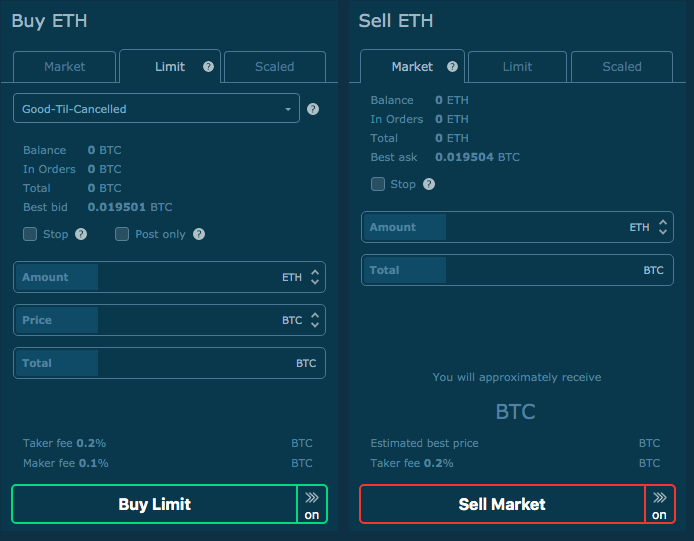 Below the trading chart, there are two forms for "Buy" and "Sell".
Before filling in the columns of the chart, you should choose the parameters.
Types of Orders:
Market - market price, varies depending on the market situation.
Limit - you set the price yourself, it does not change.
Scaled - Scaled order - a set of several buy or sell orders, which is automatically distributed between the user-defined price range (from the minimum price to the maximum). The amount may have a flat, upscale, and distributed scale.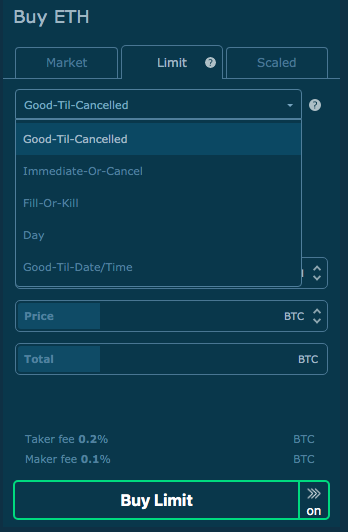 The Limit order has its own varieties:
Good-Till-Canceled - Until Canceled - lasts until the order is completed or canceled.
Immediate-Or-Canceled - Immediately Or Cancel - must be executed immediately. Any part of the IOC order that cannot be completed immediately will be canceled. Partial execution of the order is possible: only part of the coins from the specified total number is bought/sold.
Fill-Or-Kill - Run Or Kill - Must be executed immediately in full; otherwise, the entire order will be canceled (i.e., partial execution of the order is not allowed).
Day - Day - automatically expires if not executed on the day the order is placed. The day ends at 00:00 UTC.
Good-Till-Date / Time - Statute of limitations / Time - automatically expires on the specified date and time.
We will consider the process of buying currency on a limit order before cancellation (Limit - o Good-Till-Canceled) since it is the most common. Trading pair for an example of ETH / BTC.
Set the required number of coins (ETH) for purchase.
Set the price which we want to buy coins at.
Look at how many coins we have (BTC) - how much we can buy ETH for.
As soon as everything set up - click "Buy Limit" - an order is created. Once it is completed, BTC will automatically be withdrawn from your wallet, and ETH will automatically be credited.
How to Sell Crypto on HitBTC
To sell cryptocurrencies, it is necessary to do the same actions as when buying coins, that is, fill out the "Sell" form. The only difference will be the price: for buying coins it is more profitable to put a lower price, and for selling a large one.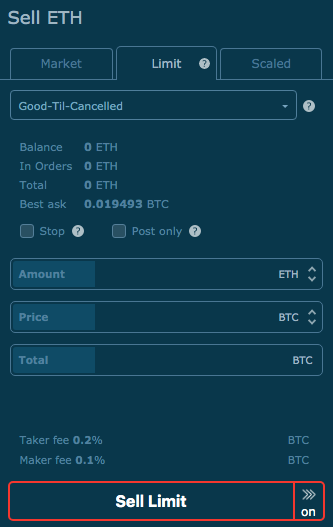 After filling in the form graph, click "Sell Limit" - at the same time a trade order is created.
HitBTC Margin Trading
Margin trading was made available on HitBTC in July 2020. Traders may enjoy up to 12x leverage. It means that traders can borrow huge funds from the exchange using their own money as collateral. As bigger orders bring bigger profits, more money lands in the trader's pocket after she/he returns the borrowed coins to the exchange. However, it's worth mentioning that in the case if the market fails the trader and the orders are executed in a loss, there's a risk to lose all the collateral or even more. Some people even refer to crypto margin trading as madness. However, the experienced traders make profits off it. If you are one of those, you might take a shot.
For those who are not familiar with margin trading, we will provide a short crash course. Margin trading first appeared in the securities trading sphere using the money borrowed from brokers. On crypto exchanges, the user makes an initial margin via posting a long or a short position order. The respective amount of coins must be held by the trader to back this position. The exchange provides a trader with additional funds in order to significantly boost the potential profit. If the position turns out to be unprofitable, the exchange requires to add collateral or liquidates the position along with the collateral. In this case, the trader loses everything. If the outcome is positive, the trader gives the borrowed money back to the exchange while the profit (deducting a margin fee) and the collateral land in the user's account. Trading 1000 ETH against USDT at the 10:1 long position requires a trader to commit 10 ETH. Where a "normal" trader makes $10, a successful trader using a 10:1 leverage makes $100. The knowledge of telling the uptrends from downtrends, risk management, and market analysis is vital for the folks using a margin trading option.
HitBTC offers over 40 trading pairs that can be traded with leverage from the exchange. The leverage ranges from 3x to 12x. The 3:1 pairs are XRP/EOS, TRX/EOS, XMR/EOS, LTC/EOS, DASH/EOS, XEM/EOS, NEO/EOS, TRX/ETH, XMR/ETH, DASH/ETH, XLM/ETH, ZEC/ETH, ADA/ETH, MKR/ETH, the 5:1 pairs are BSV/USDT, ZEC/USDT, DASH/USDT, XLM/USDT, NEO/USDT, VET/USDT, DOGE/USDT, BSV/BTC, ZEC/BTC, DASH/BTC, XLM/BTC, NEO/BTC, VET/BTC, DOGE/BTC, XTZ/BTC, XTZ/USDT, TON/BTC and TON/USDT, the 10:1 pairs are EOS/USDT, TRX/USDT, LTC/USDT, ETC/USDT, ADA/USDT, XMR/USDT, EOS/BTC, TRX/BTC, LTC/BTC, ETC/BTC, ADA/BTC, XMR/BTC, and the 12:1 pairs are BTC/USDT and ETH/USDT). To open a margin trading position, users should proceed to a Margin tab and choose the instruments with preferred leverage. The margin trading process itself is the same as the regular trading on HitBTC.
HitBTC Customer Reviews and Known Issues
HitBTC customer support is working around the clock. Like many other huge exchanges, HitBTC has a problem with the support team response delays. It doesn't happen all the time, however, some users complain that they have to wait for their queries to be answered for hours or days.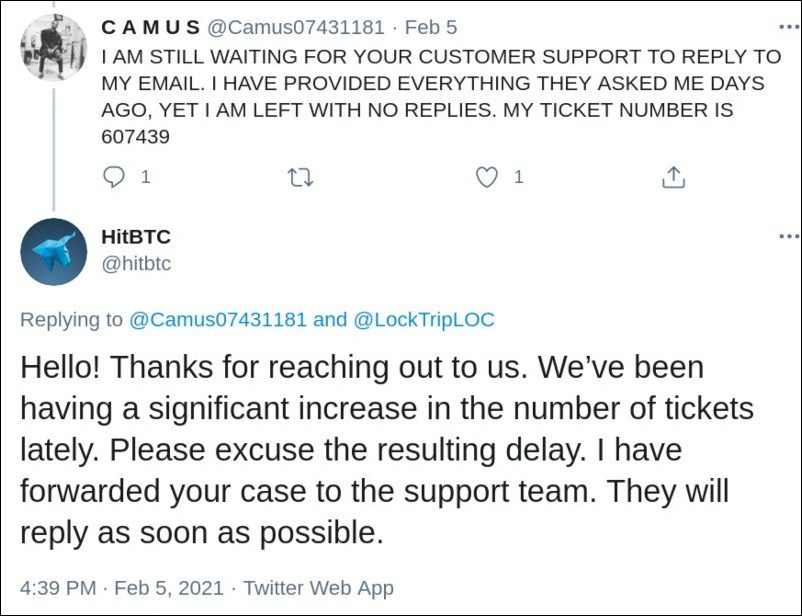 Some complaints concern the KYC procedure as it may take much time. KYC requires several online encounters with the support team members. In the cases, when each message takes a long time to be answered the withdrawals get delayed as they require the KYC completion.
Happily, such situations are rather exceptional as most withdrawals are performed smoothly. What's more important is that people who have to wait for the support team response, eventually get this response. The support team doesn't leave them over and solve their problems as soon as they have time for that.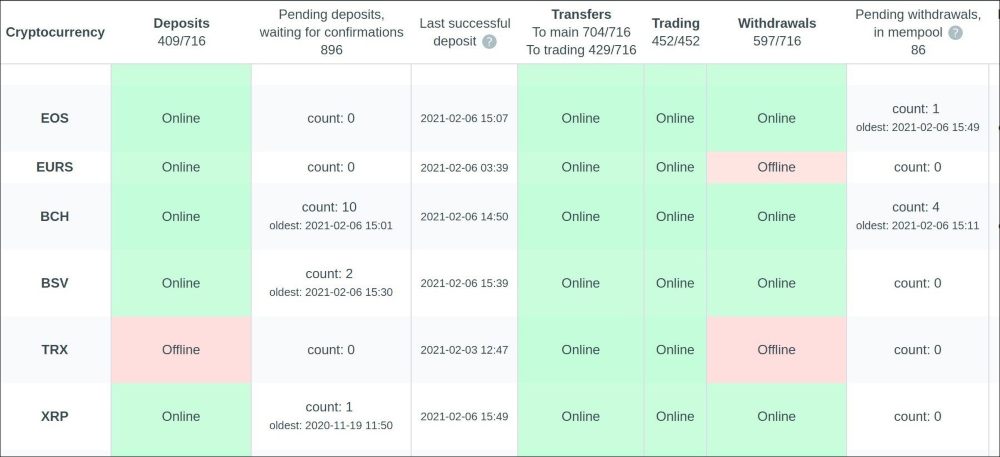 System monitor helps users to check if some coins are blocked from trading, withdrawals, or other actions for specified periods of time. If the withdrawals are blocked for several days due to tech maintenance one doesn't have to contact customer support as the date of re-enabling the withdrawals (or other actions) is available on the System Monitor page.  
The interactions with the support team are happening via the tickets system. The email is [email protected] More than that, customers contact the company via social media pages: primarily, Twitter and Facebook.
Individual customers in their reviews accuse HitBTC of being a scam. In most cases, these reports refer to the cases when users were unable to immediately withdraw their coins because they didn't manage to complete the KYC procedure due to delays in the customer support replies or the users' own unwillingness to provide the requested data. Some of the people who created threads accusing HitBTC of being a scam eventually admitted that their problems were solved. It is fair to say that judging by user reviews, customer support speed is the main drawback of the exchange. The overall HitBTC feedback is positive.
Is HitBTC Safe?
HitBTC is quite a security platform. There are no signs of misconduct from the exchange's side. On HitBTC one can face troubles associated with tech problems such as transactions delays, etc. Sometimes users experiencing such problems tend to accuse the company of being a scam, however, it seems that after a while these problems get solved by the support team.
HitBTC provides enough measures to maintain funds and data safety. However, HitBTC users shouldn't take the security of their accounts for granted. Your funds are not safe if 2-factor authentication is off. As soon as the strong password is set and the account is created, it's important to enable 2-factor authentication. This protection measure can be turned on via the Google Authenticator app or a similar authentication application. The app generates one-time short passwords that can be used in 30 seconds. Every time someone is trying to log in or do some critical actions (like withdrawals or change of password), the exchange requests the actual password that can be retrieved only from the app installed on a single device. No one except for the account owner can't log in or at least can't do that without taking a user's mobile device. Another 2fa option is using a Yubikey device, a physical USB key for authorized access to accounts. It allows users to log in or perform 2fa much quicker. The company boasts zero account hacks among people or organizations using Yubikey. The devices exist in numerous shapes and sizes so HitBTC traders wishing to make 2fa easier and safer will be able to find the best option or even choose a custom variant.
Any time you can check if your account wasn't accessed by a violator. In the Security tab, you can see the history of connections with IPs and locations and the list of the active sessions. If some of them seem suspicious you can terminate them in one click. This will throw unwanted guests off your account. The next thing you should do after this is change your password so the bad actor won't be able to log in one more time. Another security feature is the opportunity to create a whitelist of withdrawal addresses. This move will forbid withdrawals to the addresses that are not included in the list. If the account gets hacked, thieves won't be able to cash out.
Most of the criticism about the security of the exchange is associated with the slow support team and withdrawal delays. The issue may be quite annoying. In certain cases it can even lead to loss of the potential profit. However, these delays are not lasting forever and at some point money ends up where it belongs. KYC can take a long time. Sometimes support agents do repetitive requests in circles. However, as we can judge by the user reports, such bad customer support work doesn't mean that users lose their funds on HitBTC. After a while, users successfully complete KYC procedures and withdraw their money. No one is trying to take this money away from users. In this sense, the platform is safe.
There is not much info about the ways the exchange keeps the funds. The percentage of funds stored by the platform in cold wallets is not disclosed. We don't know if the private keys are stored in an encrypted form or not. We don't know if this data stored offline is split physically or not. Is it distributed geographically? No answer. The names of the HitBTC team members are also not known. We don't know people working in HitBTC and who is responsible for safety of users' funds. The anonymity of the team is always a reason for concerns. However, for years HitBTC has been able to stay a safe enterprise. In our opinion, one fact says it all: there were no reported HitBTC hacking incidents throughout the exchange's history beginning with 2013. This makes us believe that this exchange can be trusted despite certain reservations.
HitBTC vs Coinbase
Coinbase cryptocurrency exchange is one of the most popular resources for working with digital coins among traders, which offers the user free reliable crypto-wallets, as well as a functional platform for full-fledged currency trading. It is a regulated company with headquarters in San Francisco. The service appeared in 2012 and in the first two years managed to attract more than a million users. Informative official website, quick withdrawals, professional support managers, etc. - All these factors make interaction with the platform comfortable.
What does Coinbase do better than the rest? It provides an easy-to-use platform so that everyone can confidently buy cryptocurrencies. It is very convenient and suitable for beginners. Coinbase was designed to allow any user to feel comfortable buying cryptocurrencies.
Nevertheless, the exchange has significant restrictive criteria that limit the deposit and the amount of withdrawal, as well as an extremely limited selection of pairs of virtual currencies. The CoinBase support service is unstable, so all these factors are very inferior to the HitBTC exchange.
You can find a more detailed Hitbtc vs Coinbase comparison here.
Hitbtc vs Kraken
Kraken is an American cryptocurrency exchange, one of the largest in the world in terms of cryptocurrency trading volume. Founded July 28, 2011, in San Francisco and is still based in California. Kraken's co-founder and CEO is Jesse Powell. The exchange also has its own iOS app. The advantageous difference between a cryptocurrency exchange with such a relatively long history and most of the other platforms of the cryptocurrency world is that it has never been hacked.
Nevertheless, the Kraken exchange in any review appears as an exchange that is difficult for beginners, unlike HitBTC. It has many features for crypto exchange, which is great if trading is your daily work. But this is too much if you just want to start. Trying to figure out how to use Kraken may take more effort than it's worth since easier-to-use platforms are available. HitBTC exchange is considered more intuitive for both an experienced trader and a beginner.
You can find a more detailed Hitbtc vs Kraken comparison here.
HitBTC vs Binance
Binance and HitBTC have a lot in common. Both exchanges support plenty of trading pairs and provide high accuracy thanks to high liquidity and strong matching engines. However, HitBTC offers more trading pairs and supports twice as many coins as Binance — over 370. If you are looking for some specific coin there are more chances of finding it on HitBTC. Trading fees for traders with verified accounts on HitBTC are lower than on Binance.
However, when it comes to withdrawal fees, Binance turns out to be more democratic. Although both exchanges have large trading volumes, Binance has the biggest liquidity on the market while HitBTC is only one of the best exchanges by this parameter. In 2021, HitBTC added fiat-to-crypto and margin trading options. That was a serious step ahead if we compare HitBTC and Binance. The latter has margin trading, too, but in the fiat market, it can't offer anything except for stablecoins.
You can find a more detailed HitBTC vs Binance comparison here.
HitBTC vs Huobi
Just like HitBTC, Huobi is one of the oldest players on the crypto exchange market. The platform was founded in China in 2013 and managed to survive in a highly competitive environment. Both Huobi and HitBTC provide intuitive trading platforms suitable for all kinds of traders regardless of their experience. The convenience is maintained by the opportunity to access platforms via mobile apps. Both exchanges support margin trading. There are no fiat money pairs on both exchanges, however, people may buy cryptocurrencies paying in national currencies.
Speaking of differences, we should note that Huobi collects higher trading fees (starting at 0.2% both for takers and makers). Huobi provides twice as few trading pairs as HitBTC, however, the latter has a smaller trading volume. Nevertheless, HitBTC's liquidity is nearly matching the one of Huobi Global. 
You can find a more detailed HitBTC vs Huobi comparison here.
HitBTC vs Bittrex
Bittrex was founded in 2014, only one year after the launch of HitBTC which makes it another veteran on the crypto exchange market. Bittrex is a US company. In terms of trading fees, Bittrex charges much bigger fees than HitBTC. When the maximum fees for the registered HitBTC users are 0.07% and the minimum fees are negative (rewards instead of fees), the minimum fees for the Bittrex users are 0.08%. The other advantages of HiBTC are as follows: it supports twice as many trading pairs as Bittrex and provides a margin trading option while Bittrex doesn't have such a feature. In terms of trading volume, HitBTC is much better than Bittrex (nearly $640 million against nearly $20 million).
You can find a more detailed HitBTC vs Bittrex comparison here.
Conclusion
The HitBTC trading platform is very convenient and easy to use even for a newbie: everywhere there are detailed tips, and if something remains unclear with them, you can contact a fairly operational support service.
Small commissions are also attracted by the fact that you do not need to go through the procedure of confirming your identity - you can remain an almost anonymous user (you still enter the email when registering).
What makes HitBTC a good exchange is also the fact that a rather large trading volume is concentrated on it - it is included in the top 10 largest trading platforms for trading. This suggests that many users around the world trust HitBTC. In accordance with all the reviews and information checked, we can say that HitBTC is legit and definitely not a scam platform.
Do not forget that cryptocurrency exchanges have a tendency to close the registration of new users but also often close the wallets of different coins for servicing. Therefore, we advise you to register immediately on HitBTC, so that you always have an account on this exchange, if suddenly the developers want to close the registration of new users in case of a huge influx of new customers.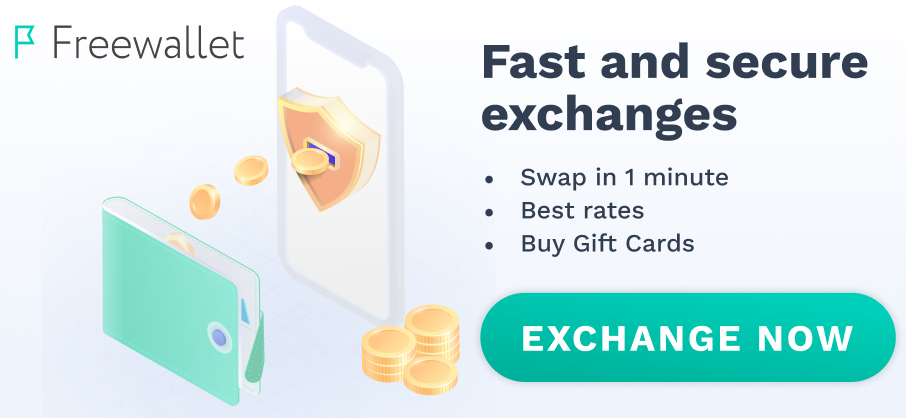 HitBTC is a big scam
They will wipe your account in name of inactivity. Please stay away from them.
grantbeyond dot net helps victims recover whatever they might have lost to a ]scammer
vinolisilvia,at,gmail,com
9 November 2022
I am open to share my experience and enlighten everyone on how I was able to withdraw my money from this acmes company.
Finalresolute. com is, in fact, the best recovery company. They are extremely responsible and professional. They assisted me in recovering my money after I nearly lost it all to a fake trading firm. Their customer service is also excellent.
El peor servicio hasta el momento, pide KYC y dicen que no se puede procesar hasta ahora, aun dandoles toda la informacion.