مراجعة Changelly 2021 - هل هي آمنة؟
Full address:
Fintechvision Ltd 7/F, Woon Lee Commercial Building, 7-9 Austin Ave, Tsim Sha Tsui, Kowloon, Hong Kong.
Fees:
Floating rate - 0.25%
Fixed rate - No fee
Fees:
Floating rate - 0.25%
Fixed rate - No fee
Apr 20, 2021
Despite a certain decrease in the popularity and demand for digital coins, many users continue to use them actively. This is favored by the specific features and capabilities of cryptocurrencies. Often there is a need to exchange one type of crypto for another coin. What to do? In this article, we will consider one of the best solutions for the cryptocurrency exchange — Changelly. Is it safe enough and worth trying? Is Changelly legal? Is Changelly scam? All of these questions will be answered in this article. 
What Is Changelly?
Changelly is a cryptocurrency exchange that was developed by a group of professionals in 2015, with headquarters in Hong Kong. The CEO of Changelly is Eric Benz, who has over 10 years of experience working in and around Financial Technology. Eric has been in the Blockchain space since 2012 and is involved in a number of blockchain and fintech businesses both as an investor, board director, and founder.
Changelly is definitely one of the best exchangers in terms of the available exchange rates of various trading pairs on the market.
This platform is gaining more and more attention, currently processing about 3000 operations daily. As for the users, as far as we are aware, their number is more than 2 million registered users from all over the world.
Changelly Features Review
Changelly is a non-custodial cryptocurrency exchange service that works automatically and is embedded in the most popular exchanges: Bittrex, Binance, and HitBTC. The platform selects the best rate on these exchanges and shows it to the user. Certainly, this is very beneficial for users who want, for example, to exchange Bitcoin for Ethereum. You can find more information on how Changelly works.
Changelly offers access to more than +150 cryptocurrencies to swap, among them are Bitcoin, Ethereum, Litecoin, XRP, Bitcoin Cash, Monero, Stellar, Lisk, ZCash, USDT, XEM, EOS, Ethereum Classic, DOGE, DASH, Bitcoin SV, etc. You can see the full list of supported currencies on Changelly here.
If you want to buy or sell cryptocurrency on Changelly, you can do it via Changelly partners Simplex and SEPA at the best available rate on the market.
The user does not have to search for the best and most profitable offer on exchanges by themself, register and spend a lot of time. Changelly will do this for you automatically.
The cryptocurrency exchange works in all countries of the world except Cuba, Iran, North Korea, Crimea, Sudan, Syria, United States of America (including all USA territories like Puerto Rico, American Samoa, Guam, Northern Mariana Island, and the US Virgin Islands (St. Croix, St. John and St. Thomas), Bangladesh and Bolivia (more information you can find in Changelly Terms of Use). 
The interface is presented in English, Russian, Spanish, Chinese, Korean, German, Arabic, Portuguese, French, Hindi, Turkish and Japanese. The service is quite convenient to use and understandable even to a beginner. Anyone can easily understand the interface, even if he/she had never used such services before.
Changelly offers high limits, fast transactions, and 24/7 live support. To get a full impression of the service, we recommend you to download the Changelly mobile app that is available for IOS and Android.
Changelly is collaborating with the sites and wallets such as Exodus, Coinmarketcap, MyEtherWallet, Ledger, Trezor, Coinomi, Infinito Wallet, Enjin Wallet, BRD, Bittrex, Binance, HitBTC, Freewallet, Jaxx Wallet, Huobi Wallet, CoinSwitch, CollWallet, Ginco, Simplex,  and many others. The full list of partners you can see here.
Changelly Fees
The service doesn't charge any hidden or unreasonable fees. There is only a fixed charge of 0.25% fee for crypto-to-crypto swaps, and that's it. 
A fee is also withdrawn, which is provided for in the cryptocurrency system itself, the network fee. Some users require a lower fee in reviews, but the convenience that the service provides is worth this money.
API and Affiliate Program
Changelly website serves as an exchange point for digital currencies, and as a widget for users who have their own website, as well as an API for trading platforms. You can find more information on the API here.
There is an affiliate program on the site, which makes it possible to earn on attracting referrals. For example, if a client logs in and exchanges money for a hosted widget, you will receive 50% of the exchange's income. You can place a referral link to Changelly on your own site. Referral earnings statistics can be viewed in the Affiliate Program tab. On the service, you can download banners and logos.
How to use Changelly exchange?
Sign up
To make your first swap, first of all, you need to sign up to Changelly. The registration procedure is minimized - you only need to specify the email address to which you will receive a message with a personal password, after entering it you can get into your personal account. 
This process can be further facilitated by logging in via social networks (Facebook or Twitter) or your own Google+ account. In this case, you will be signed up automatically. You can not bypass registration - the technical support considers this procedure necessary to assist in case of problems with transactions.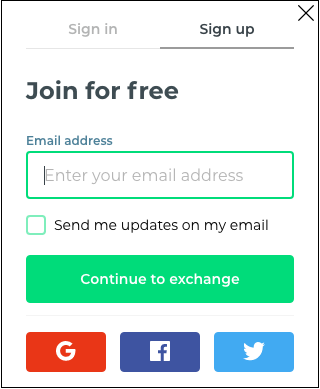 The account is not overloaded with settings. If you wish, the email address can be changed to another one, it is also proposed to use your password instead of the personal one sent by the service. To change the password you need to go to "Settings" and there you will see the window "Change Password". To do it, you must enter your Old password, New password and Repeat the new password and click "Save" after.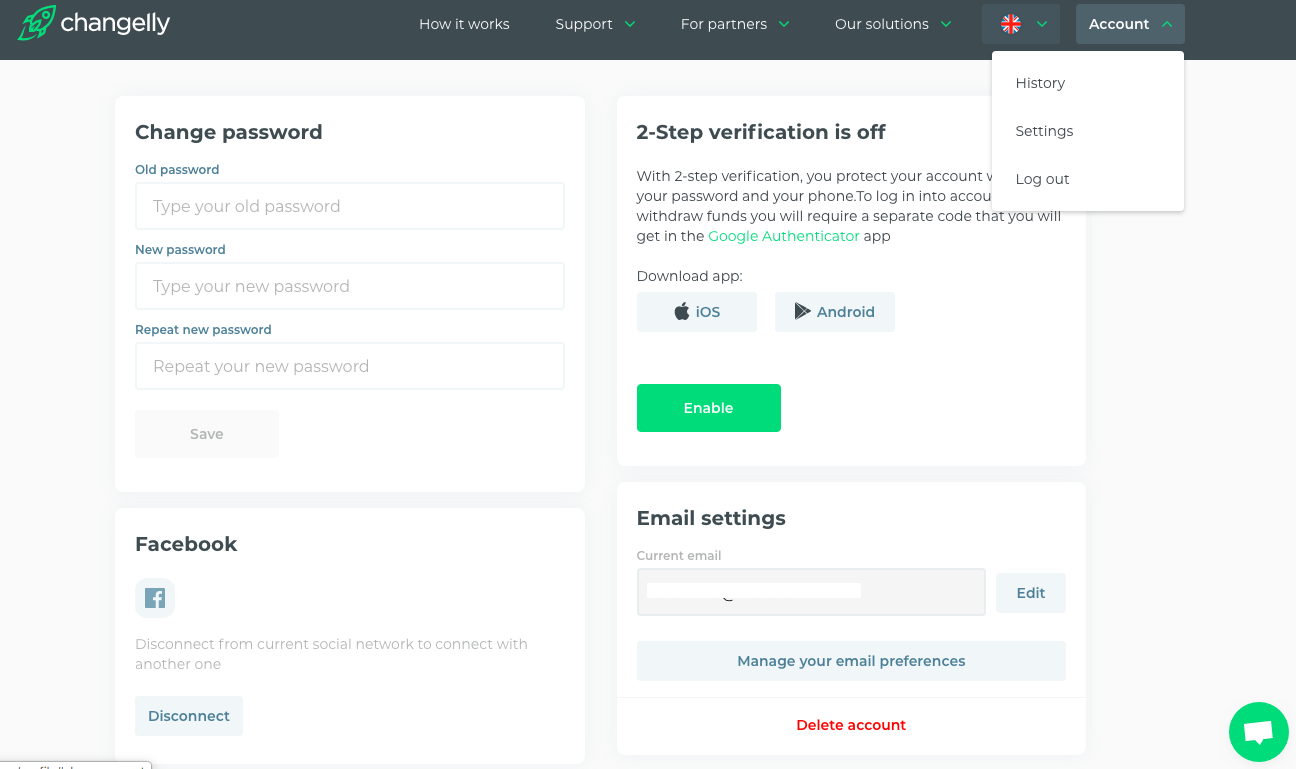 Another important point is the connection of two-factor authentication. It involves entering a code when signing in, and then re-entering it during a transaction fulfillment.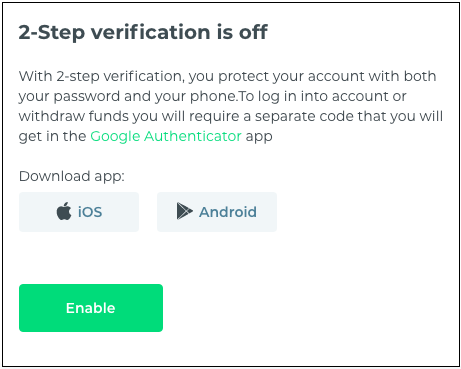 It is also possible to skip this function. Visitors can install such a system on their own, even via a mobile application. The program is designed for devices based on Android and iOS. But the developers chose not to do the verification installation, deciding that it was not needed in this case.
Verification
To use Changelly you do not need to provide standard documentation for customer identification (passports, accounts, etc.). On the contrary, all you need is a valid wallet address. If you would like to buy cryptocurrency using any fiat currency, for example, using a credit card, then you will probably need additional documentation. However, a valid wallet address will be sufficient to convert cryptocurrencies.
Changelly is committed to protecting its users from fraudulent activities in the field of crypto assets. It is possible that certain crypto assets are used for fraud or any other criminal activity, as defined by law. To prevent this, the platform is taking steps to ensure customer verification and financial transaction security. One of the best measures is the AML/KYC procedure, which allows you to confirm that you are a law-abiding person or corporation. 
AML/KYC procedure might be applied in respect to those crypto assets payins, which are determined by Changelly automated risk prevention system as suspicious. In these cases, the Changelly service will contact the user by email registered with the account. You can find more information on the Changelly AML/KYC policy here.
AML/KYC procedure includes confirming the identity of users by means of:
- A high-quality photo of their ID (passport or driving license) valid in their country;
- Proof of the origin of funds;
- Any other applicable documentation.
Upon successful completion of the AML & KYC verification, the transaction that was put on hold will be processed. You can read the Changelly step-by-step guide on "How to pass KYC procedure" here.
Exchange on Changelly
You can exchange money on Changelly immediately after the registration procedure, which opens access to your personal account. The creators did not provide an internal wallet, so the swap is launched from the existing account directly on the crypto exchange. For the same purpose, you can use the service for mining or any wallets online or offline.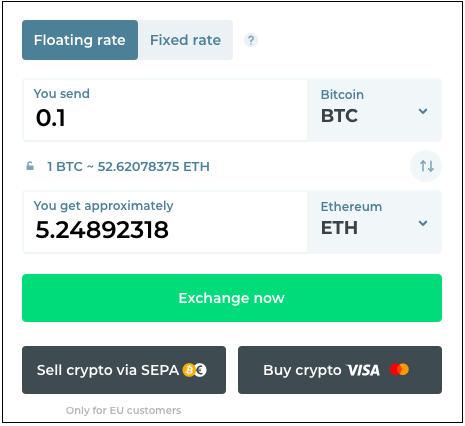 The operation itself takes only a few minutes and is very simple. After choosing the currency for sale in the "You send" line, you must choose the currency for the purchase in the "You get" line. Changelly offers two options to use: "Floating Rate" and "Fixed Rate". Fixed rate feature guarantees that you get the exact amount of output currency, unlike the Floating rate. Usually, when the exchange rate is stable more or less, the exchange turns out to be a bit less profitable in fact. On the other hand, if during the processing of a transaction the exchange rate jumped sharply or collapsed, the client always receives the amount promised, regardless of market conditions. This feature is a bit more expensive as it insures you against losing your promised rate. One of the conditions is that you have only 15 minutes to send the amount claimed when filling the input sum.
The choice between these two tools depends on the tasks and the confidence of the client.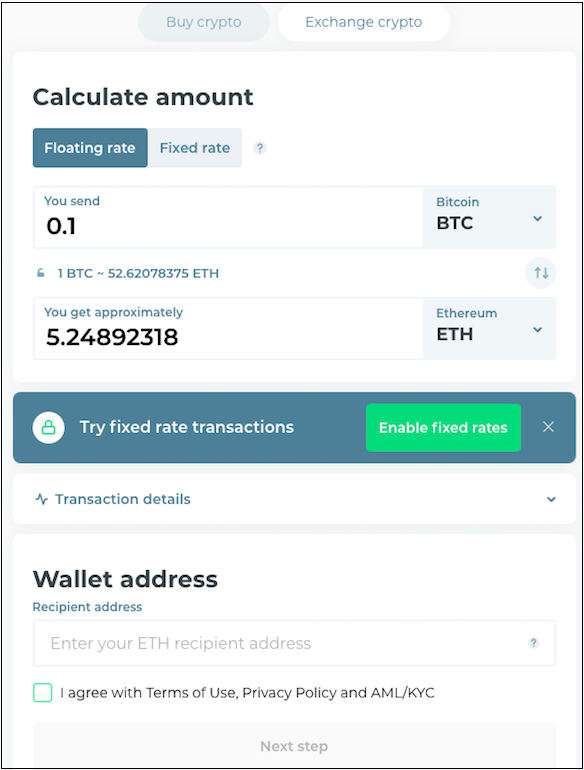 On the next step, you need to check the currencies chosen, the amount of coins you send and receive, enter the wallet address for the transaction and agree with Changelly Terms of Use, Privacy Policy, and AML/KYC Policy. After a thorough review (this is important since it will not be possible to cancel the transaction after its launch), you can confirm your choice and click "Next step".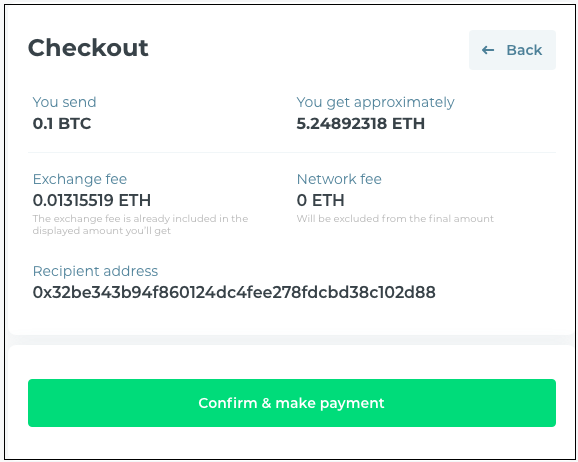 At this step, you must check all information once again to make sure there are no typos or gaps in the address line (transactions are irreversible and once the funds are sent the process became irrevocable. Check the address twice before starting the transaction) and check the Exchange fee that is already included in the displayed amount you will get. If everything looks good press the "Confirm & make payment" button.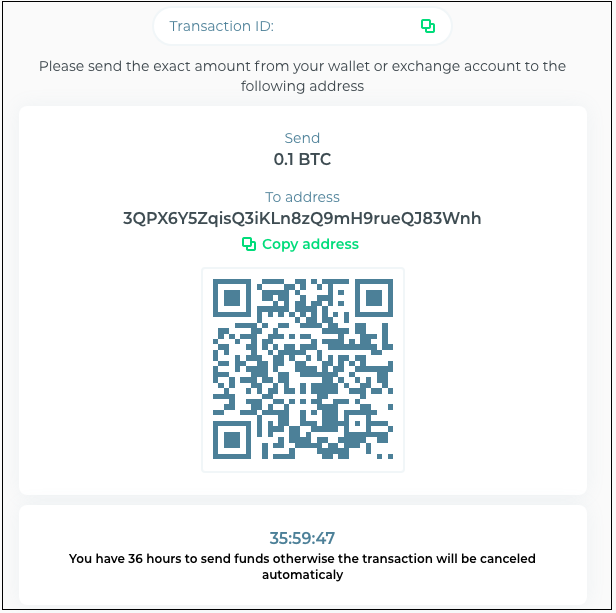 At this step, you get the address of the exchange wallet and you just need to send the coins there to start the swap. For your convenience, instead of the address, you can use a QR code, which will need to be scanned. Also, the Changelly assigned you a unique ID for your transaction, using it you can track the status of your payment in your personal account and, in case of questions concerning this transaction, provide it to the technical support.
The service will exchange and transfer funds to the wallet existing for this purpose. To track the status of a transaction, you need to go to the tab "History" or just stay on the same page, the status will be updated automatically. This usually takes from 5 minutes to half an hour, but exchanging a large amount may exceed the specified time frame. The user will immediately know about the completion of the process, as he/she will receive a notification by email.
How to buy BTC on Changelly
Since 2016, the purchase of tokens is available for fiat money using Visa or Mastercard debit or credit bank cards.
To buy Bitcoin on Changelly you must click "Buy crypto VISA" on the main page.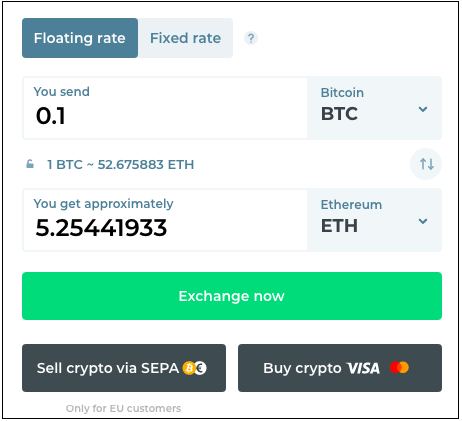 You will be redirected to the first step where you have to set the payment currency (USD, EUR or GBP), amount and the received crypto. Once everything is set click on "Next step".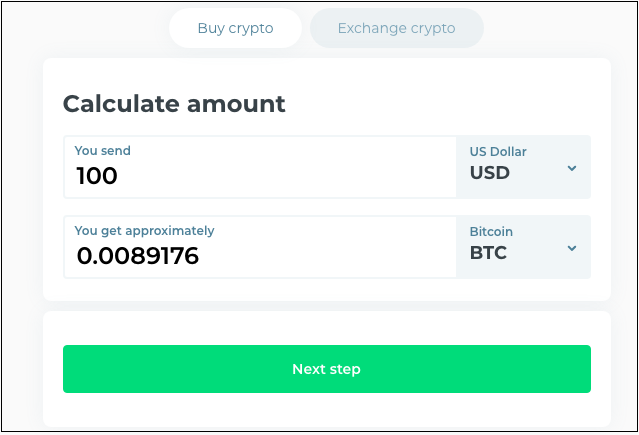 Changelly will warn you that in case you are from the United States, the following states are not supported at all: Georgia (GA), New Mexico (NM), Hawaii (HI), Washington (WA), Oregon (OR), Vermont (VT), Florida (FL), Alabama (AL). Also, New York (NY) and Connecticut (CT) are currently supported only for the purchase of BTC.
Check and confirm all the information about limits and fees and press "Pay with Visa/Mastercard".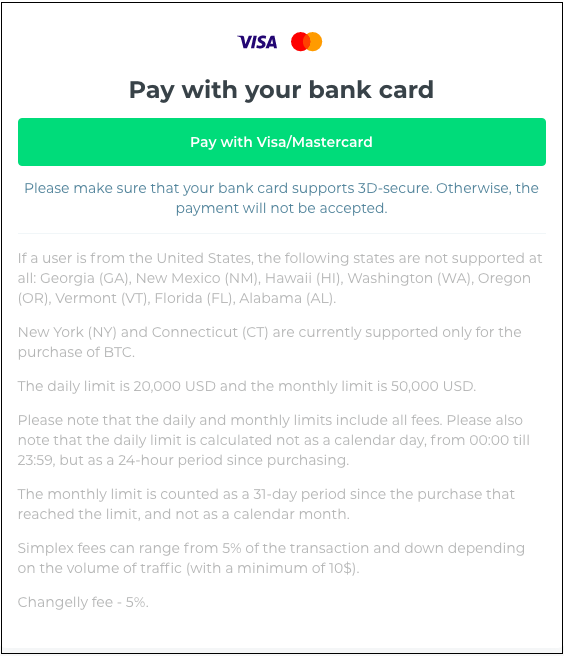 You will be redirected to the payment page where "Safety Notice" will be shown to you. Read it and press "I understand".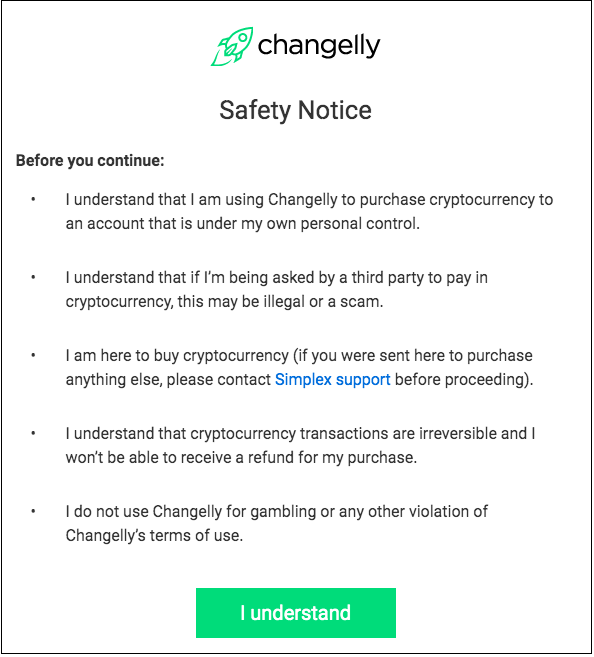 On the Simplex page, you must check the currency, amount and crypto asset you want to buy and indicate the receiving address. Please note that the address must be yours and under your full control. Press "Continue".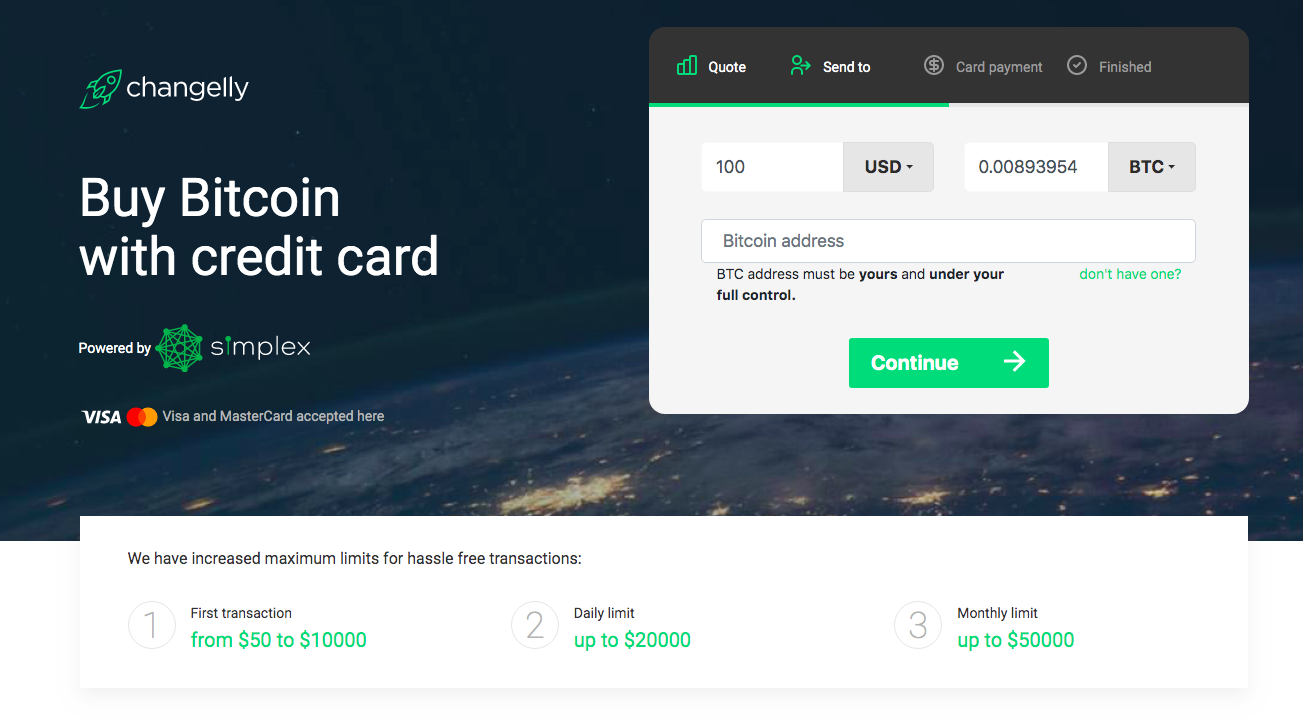 On the next stage, you must fill your card details and billing address (address, city, zip code, country).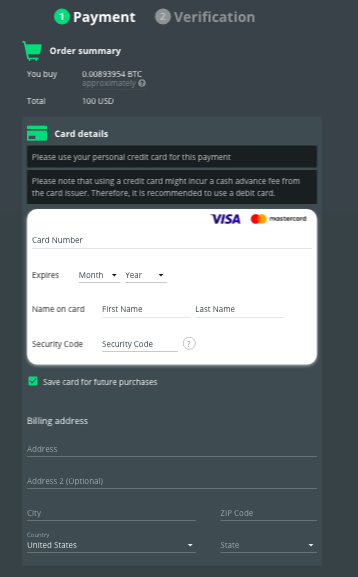 On the same page, you must fill your contact information (email, phone number, and date of birth) and agree with the Terms of Conditions and Privacy Policy. Once everything is filled and checked press the "Pay" button.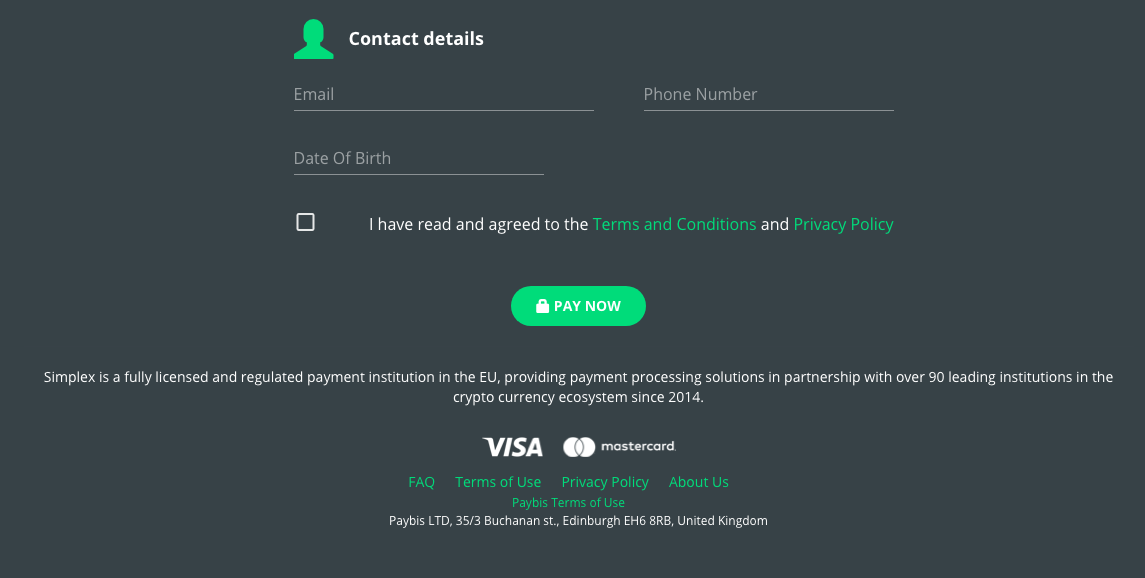 The SMS with the code will come to your phone. With this code, you can confirm the purchase proceeded on your bank card. You can find more information on "How to buy crypto with bank card" in the Changelly guide here.
How to Sell BTC on Changelly
In case you already have the cryptocurrency and you want to sell it, press the button "Sell crypto via SEPA".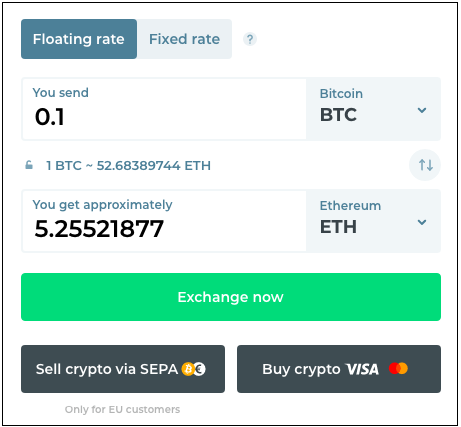 You will be redirected to the Bits of Gold landing page where you will be asked to choose the cryptocurrency and the amount you want to sell and the fiat currency you want to receive.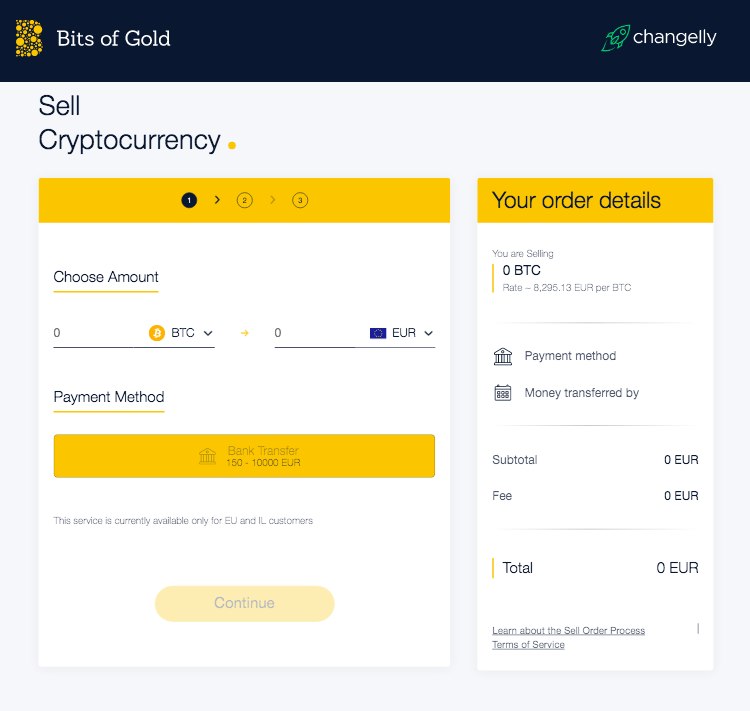 In your order details, you will find the information on the amount, fee and also, the payment method and the date. Once everything is reviewed press "Continue".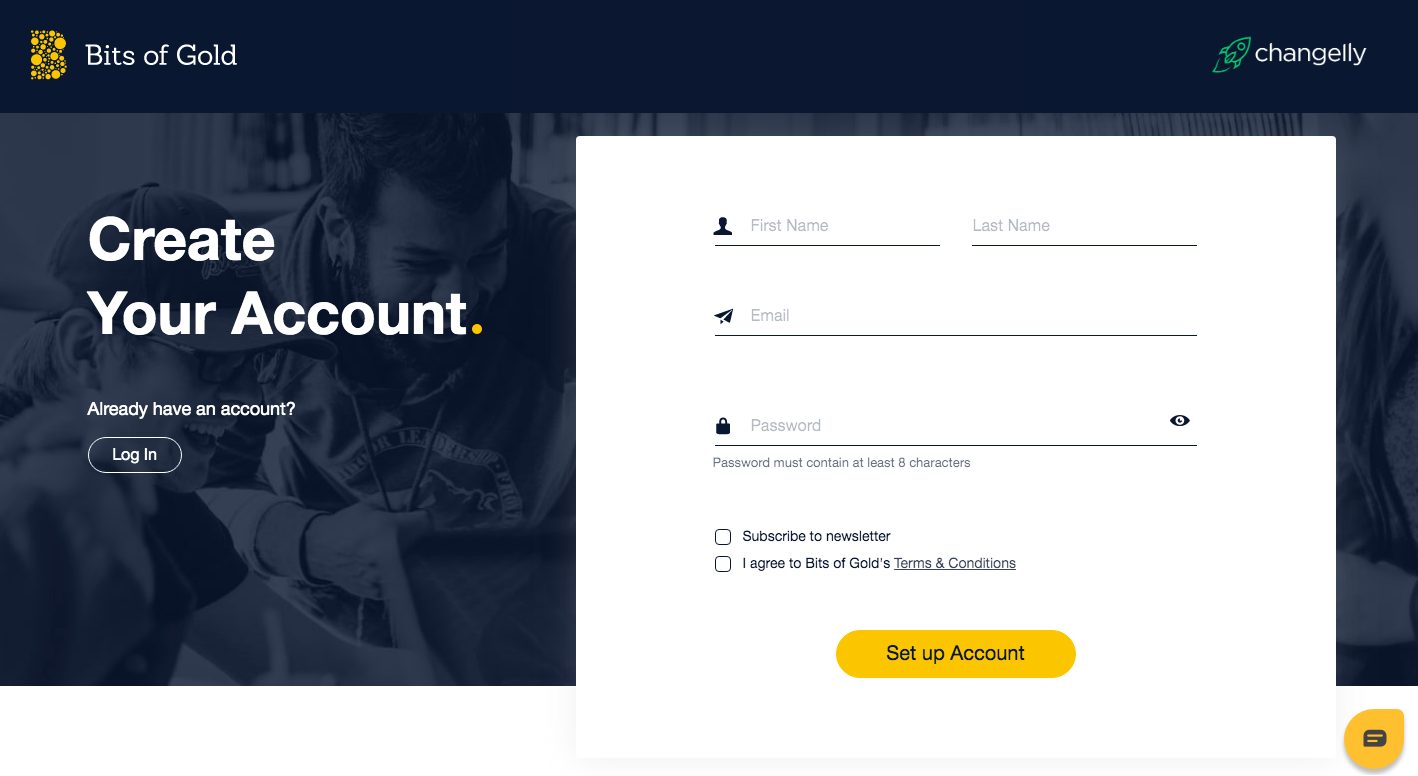 If it is your first payment, you must make the account on Bits and Gold. To do it, indicate your First Name, Last Name, Email and Password. In case all the information provided, agree with the Terms and Conditions and click on "Set up Account".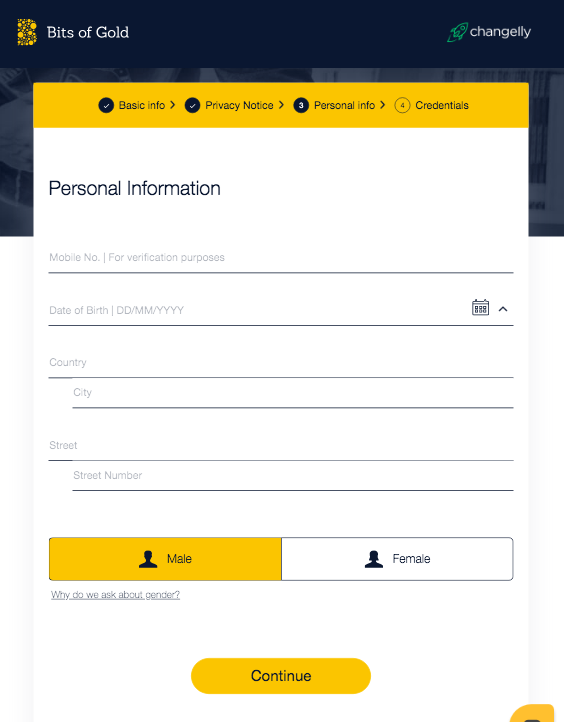 At the second step, you must confirm the Privacy Notice and you will be redirected to the third step, where you must provide your Personal Information (Mobile Number, Date of birth, Country, City, Street, Street number and Gender). Check all the data once again and press "Continue".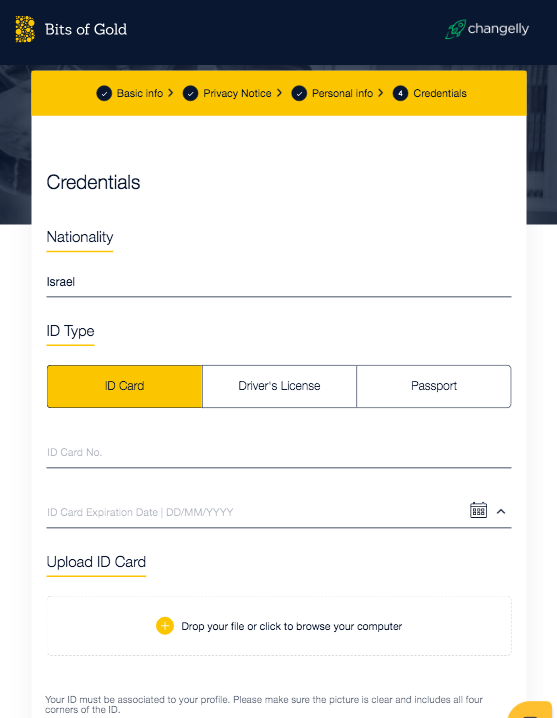 At the final "Credentials" step you need to indicate your nationality, ID Type and upload the photo of your ID Card.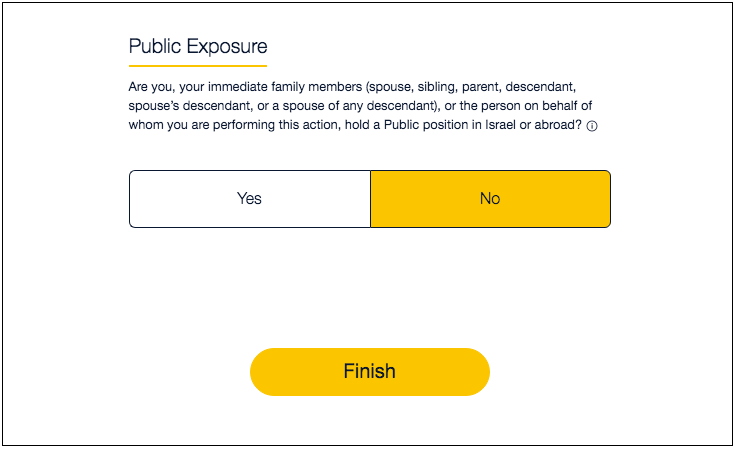 Also, you will be asked if you are, your immediate family members or the person on behalf of whom you are performing this action, hold a Public position. Choose the answer and click "Finish".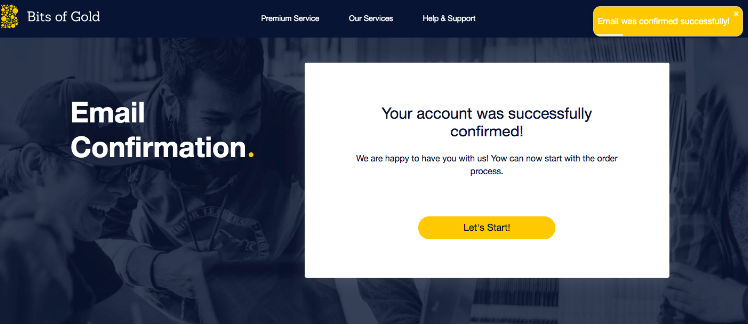 The confirmation email will be sent to the email indicated. Confirm it and you will be redirected to the Bits of Gold page, where it says that your "Email was successfully confirmed". Press "Let's Start" to complete your order. To find more detailed information on How to sell crypto you can find in Changelly guide here.
Mobile app
Changelly service has a very convenient and beautiful mobile application for IOS and Android. 
Once the app is downloaded you will see the starting page "Skyrocketing exchange on mobile" with the buttons "Exchange now" and "Buy crypto with a bank card" and the icons beneath "Exchange", "History" and "Rates".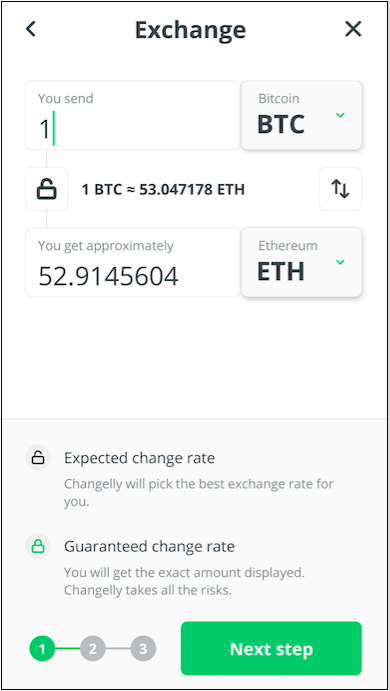 When you press on the "Exchange now" button or "Exchange" icon, you will see the cryptocurrency exchange window, the process is no different from the web version.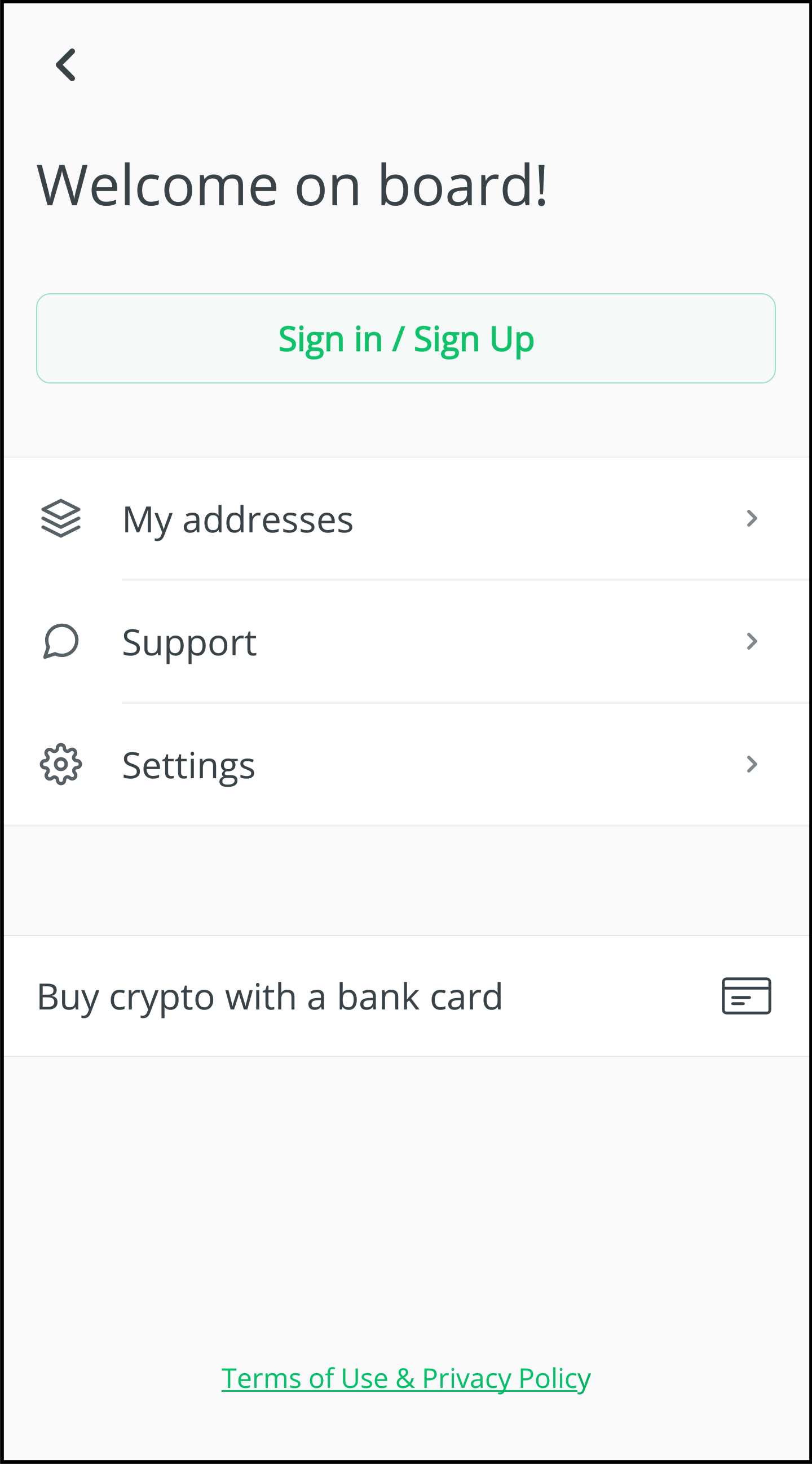 In the upper right corner is the "Account" icon. When you press it, you can "Sign In" or "Sign Up" and also see you "Address" list, contact "Support", check your "Settings" and "Buy crypto with a bank card".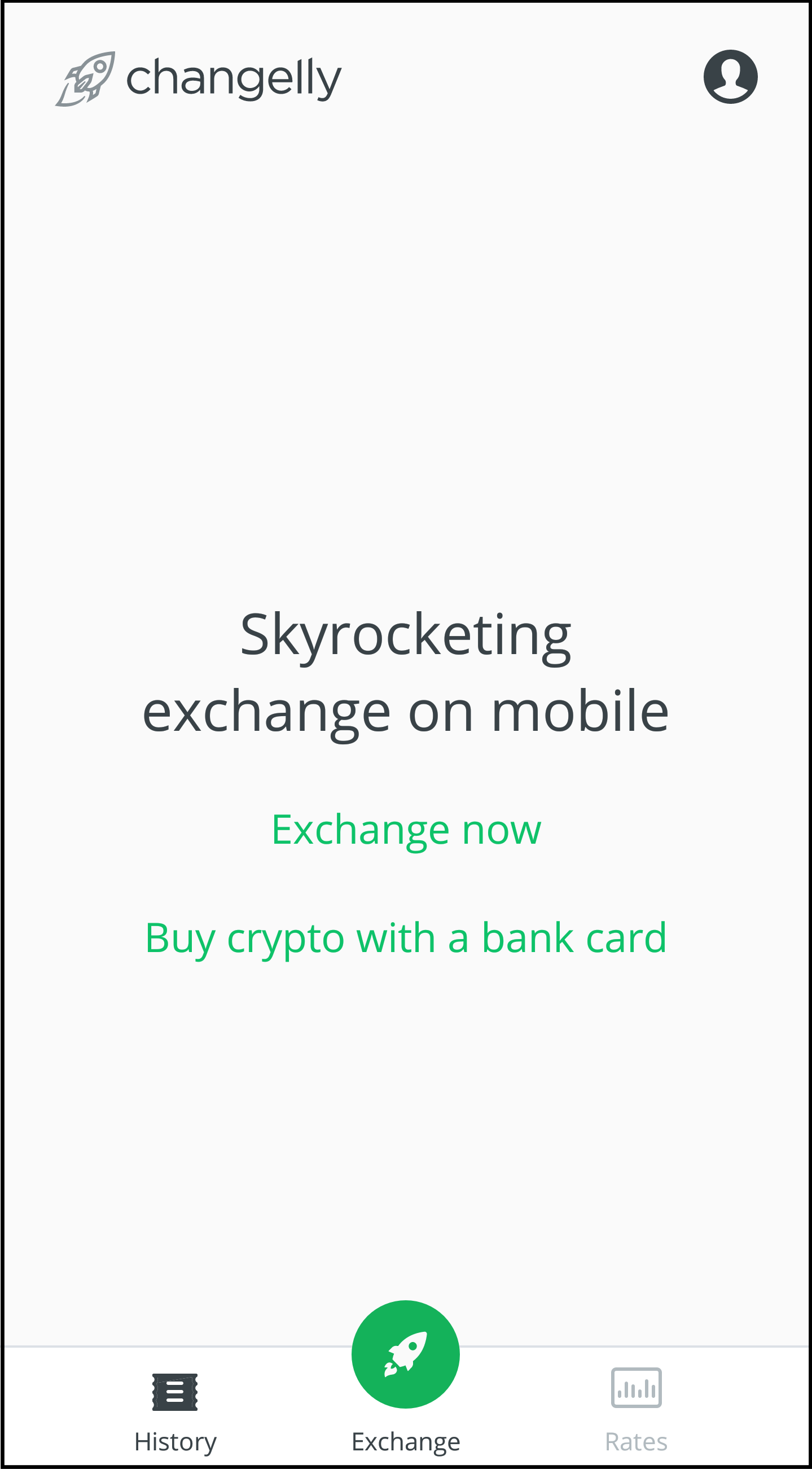 To sign in, you need to enter the email address and password that you used to authorized on the Changelly website.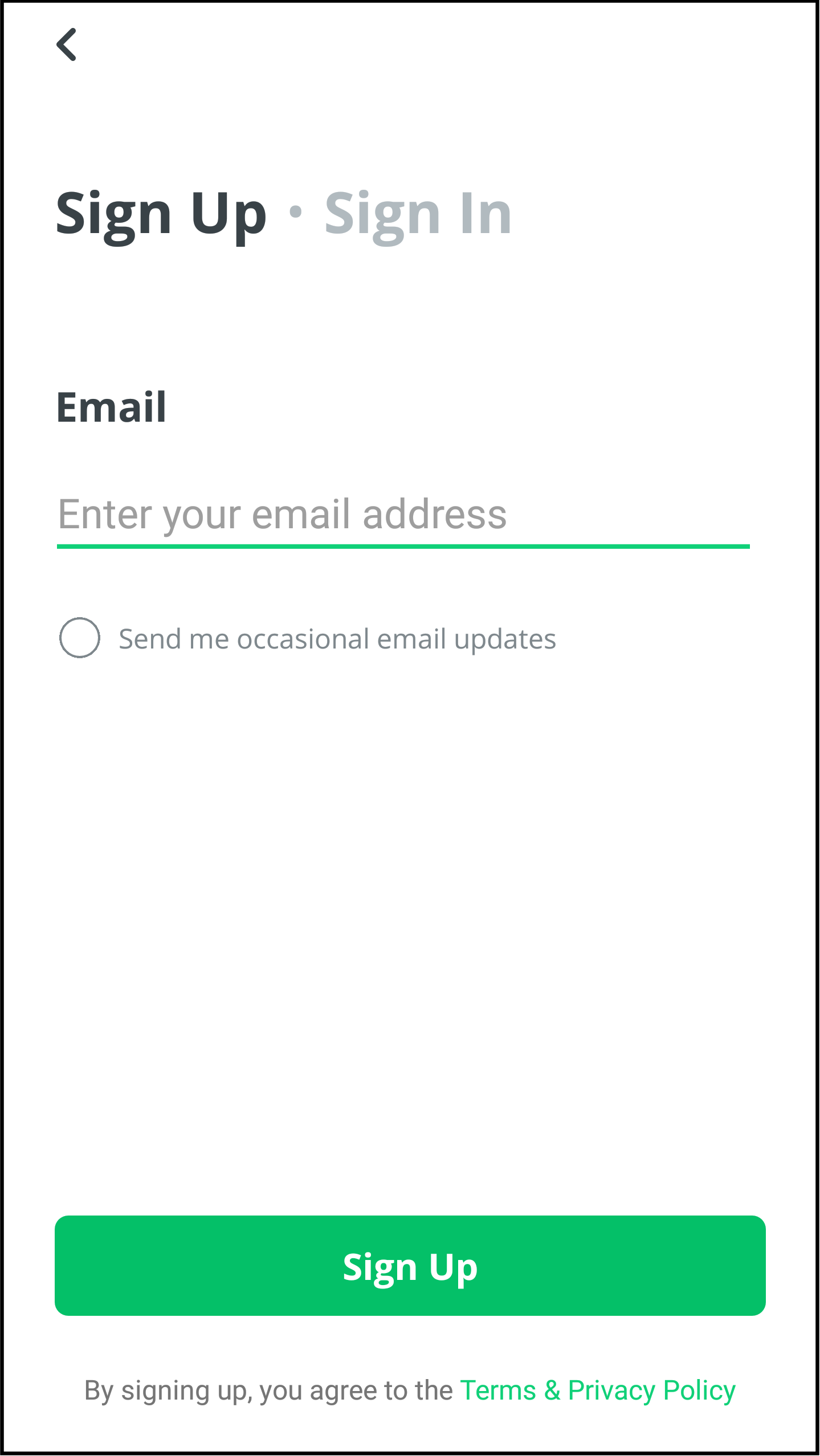 To sign up, you need to indicate your email address and you will receive the confirmation message. Once you confirm it, you will be able to register in the Changelly app.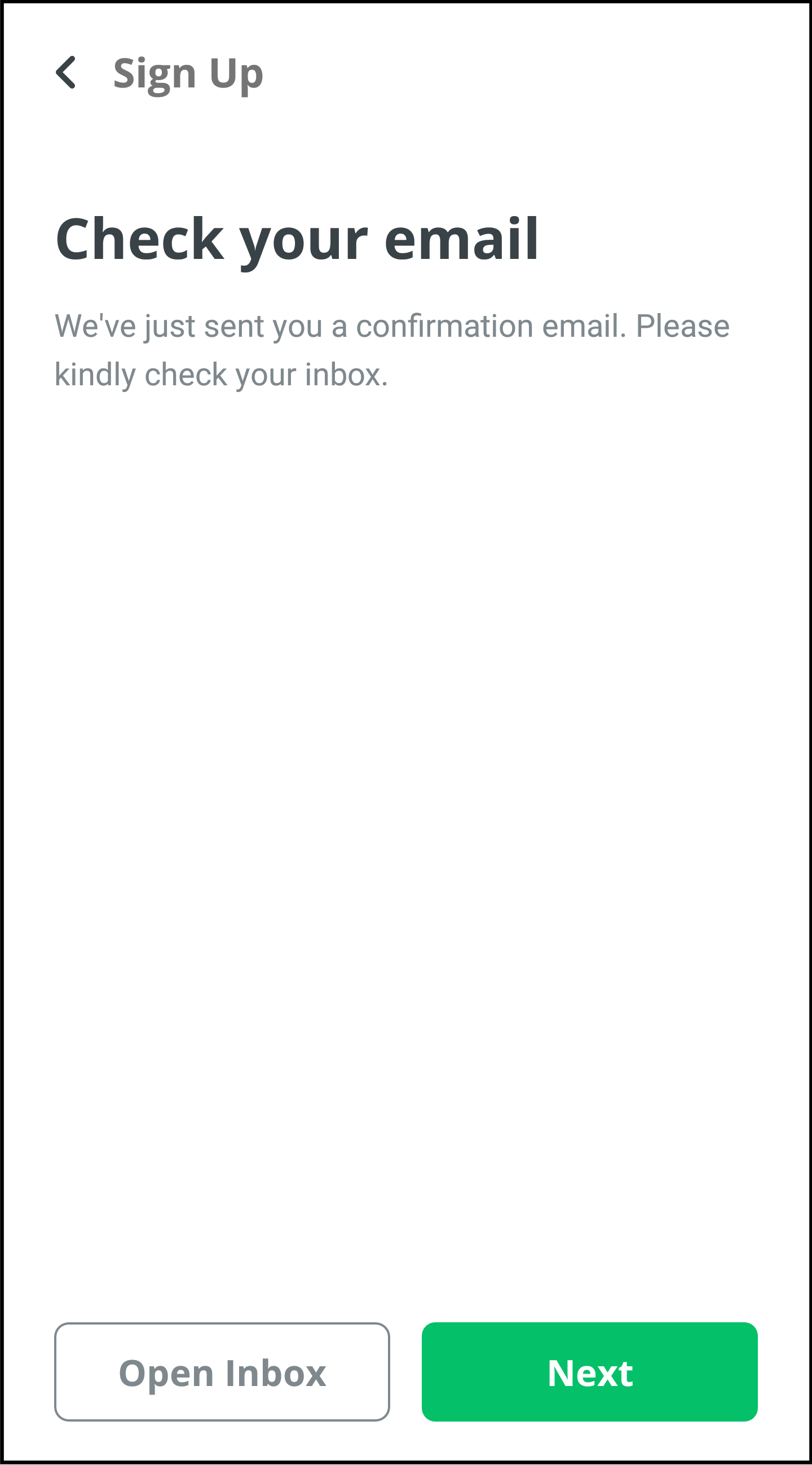 Customer service
The support service is in touch around the clock, so after contacting the technical support with the detailed description of the problem, the solution will be provided without delay. You can contact the managers either through the feedback form or through the email on Helpdesk. 
Changelly has a very detailed FAQ where you can also find the main information.
Changelly is cherishing its users and taking care of the high-quality content about crypto and the latest updates on the service in the BLOG. There you can find plenty of informative articles and detailed guides that could help you to use the service.
If you are a newbie, Changelly has created a very informative Crash Course for you which can be downloaded here.
Also, Changelly is very active on social media and you can stay tuned on Changelly Twitter and Facebook. You can also contact Changelly there in case of any questions or issues.
Reviews of traders on the Changelly exchange are varied. Along with a lot of compliments, there are negative points. Users are outraged by the recent introduction of KYC standards, the requirements of which apply to all platform participants without exception. More reviews you can find on Changelly Trustpilot and Chagelly Reviews.
Is Changelly safe? 
Before using any cryptocurrency-related platform it is important to make sure that it can be trusted. Throughout the crypto market history there were many companies that turned out to be a scam, or failed to stand the hackers attacks. Happily, the overall level of security on platforms is growing but the pressure from violators is growing, too. In this chapter, we will tell if there are any reasons to think that Changelly is a scam or if this platform is safe enough to trust your money to it.
In short, Changelly is a safe company — especially if you read the conditions carefully. Some users accuse the company of being a scam because they were hit with high fees for fiat-to-crypto transactions. However, the problem here is that users should learn the fee rates before they do transactions. While crypto-to-crypto transactions cost 0.5%, fiat-to-crypto trades are more expensive. Another reason why Changelly gets criticism is that at times there are transaction delays. However, it seems that if such problems occur it's only a matter of time to get resolved. More than that, the support team is usually able to respond to the users' queries in 24 hours. There is not much info about the Changelly team. It makes some people doubt over this operation's legitimacy. However, there is no evidence of Changelly stealing the users' money this or that way.
As for the ways Changelly helps to maintain the users' assets safety there are several factors to pay attention to. First off, Changelly is a non-custodial platform. It doesn't hold any of users' assets and if Changelly gets hacked the funds of users won't be affected. More than that, HTTPS protocol safeguards users' data and funds, too. It saves processor's memory, helps to avoid unwanted requests, and maintains a smoother work in general. Users can (and are advized to) enable 2-factor authentication (also known as 2fa). This protection measure makes it impossible to enter account or do any critical action on the account without entering a one-time password. This password is generated only on the account owner's device. Those who can't access this device (hackers, strangers) won't be able to enter the account and steal money. Apart from 2fa, Changelly doesn't provide any notable security measures that can be enabled from the user side. However, considering a non-custodial nature of the platform, it is enough. Moreover, years of Changelly's service prove it.
Changelly vs ShapeShift
ShapeShift was founded by Erik Voorhees in 2014. This is a Swiss project, web and API platform. Its main function is the quick conversion of bitcoin and popular altcoins with the highest possible transaction protection. The peculiarity of the exchange is that client assets are not stored on the site itself. And this, of course, increases the security of the service, although it somewhat impoverishes the functionality.
Nevertheless, Users note that, for all the advantages of ShapeShift, the work of the support service leaves much to be desired. There is no quick response to questions, despite the fact that there is a convenient feedback form. Sometimes the answer does not arrive until 72 hours. Another disadvantage is the lack of token trading options. In addition, customers do not like the impossibility of using fiat currencies.
Conclusion
The service has gained an excellent reputation and its attendance is growing every day. You can contact support at any time, who responds very quickly. Also, the platform has an automatic tracking of the best exchange rate, a huge number of cryptocurrencies for buying and selling, and increased security. Developers do not stop at the success achieved and periodically improve the interface, expand functionality, add new currencies for exchange.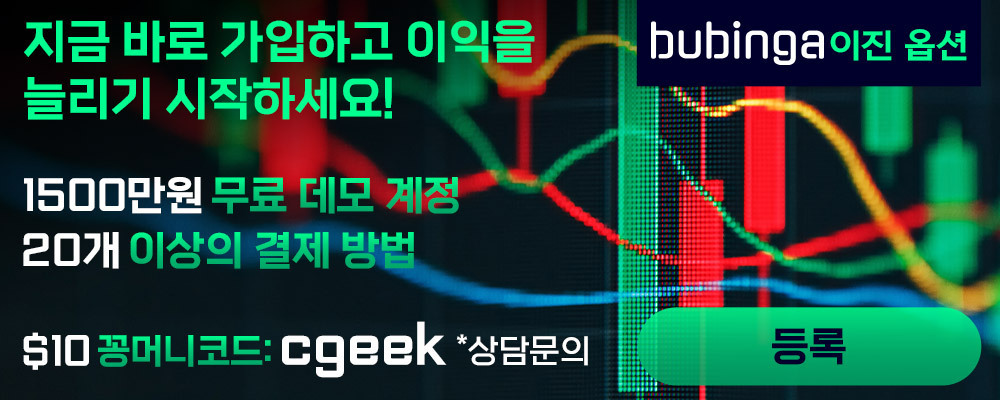 他们偷了我的钱,我在转换的时候,他们让我提交kyc和购买记录,我全部提交了,他们也不把钱还给我,邮件只是回复已经收到我提交的资料,让我等待,已经一个月了,只是让我在等待,这是一家骗子公司,大家一定要小心。
Changelly is a scam
22 Jan
Scammers. Never touch this shit, unless you want your money be stolen. Mf
Замечательный сервис, с потрясающей скоростью работы.
Мошенники, зажали мои жалки 12500р. Можете подавиться ими.
Если вкратце - заблокировали транзакцию и выдвигают всё новые и новые требования. Верификацию проходил, документы скидывал, скидывал скриншот о происхождении средств и объяснял происхождение на словах. Всё бестолку. Деньги мои, аккаунт тоже. Доступ не терял, всё ок. Почему они заподозрили подозрительные транзакции - лично для меня не загадка, а всё вполне прозаично. Мошенники! Прошу удалить из мониторинга.
Пользовался их услугами не совсем осознанно, через приложение Freewallet. Эту конторку тоже в топку.
"BIG SCAM"
Stay away from Changelly . for 100 days they have blocked my $ 10,000 for kyc verification. I sent all the documents they asked me to verify my identity but they always reject it without reason. i sent light bill, water bill, bank account statement, but they say proof of address documents are not original.
however i'm starting to sue changelly with a lawyer, but you don't use this scam exchange