30 Best Coinbase Alternatives for 2022 - Ultimate Guide by Cryptogeek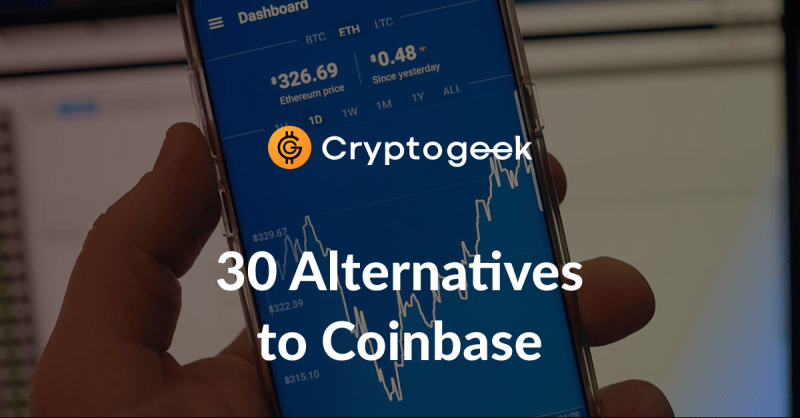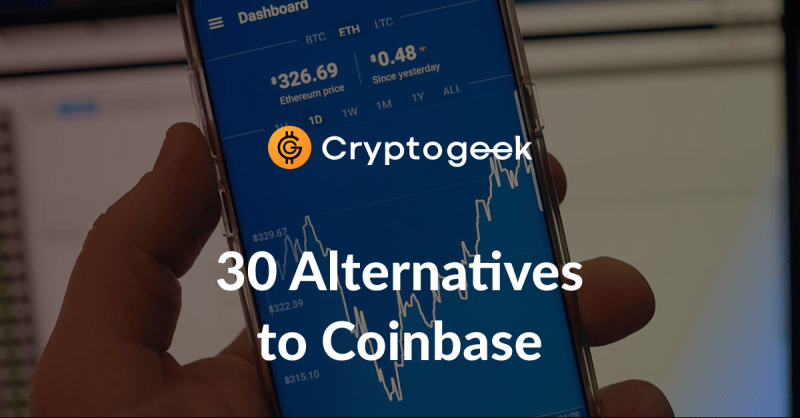 Coinbase is one of the most popular and safest cryptocurrency exchanges in the world. More than that, this platform is one of the industry leaders in terms of the trading volume. Does it mean that any trader will be pleased using Coinbase? Well, no. Some of the exchange's specifics don't meet the needs of many traders so they seek more satisfying options. In this article, we will observe 30 Coinbase alternatives and tell you why some traders prefer other exchanges.
Why Do People Seek Alternatives to Coinbase?
While Coinbase is definitely one of the best players on the crypto exchanges market it doesn't fit everyone. One of the major flaws of Coinbase is that it doesn't support many popular cryptocurrencies. The set of available coins differ depending on the country of the trader but in most cases, the number isn't likely to pass the 40 mark.
As we've moved to a remote first environment, we realized that we no longer have a headquarters located in any one city. https://t.co/8SpdJgylx1

— Coinbase (@coinbase) February 24, 2021
Another issue turning people away is fees. Buying and selling cryptocurrency on Coinbase is charged 0.5%. Another fee charged from traders is the so-called "Coinbase fee". In general, transaction costs are usually over 2%. Buying crypto with a debit card is charged with a fee varying from 1.49% to 3.99% depending on the region. Many exchanges with liquidity close to Coinbase one or even higher charge only 0.1% per transaction.
Some people don't like to share much data with trading platforms. If you want to trade on Coinbase you can't avoid providing the exchange with a bulk of personal information. That's another reason why people seek other exchanges. Now let's finally see what exchanges are decent enough to be a good replacement.
Exchanges That Allow US Residents
The US cryptocurrency laws are quite strict so there are many big crypto exchanges that don't allow the US residents to use them or had to stop operating in the US at some point. In this chapter, we will name the exchanges that are available for US residents as well as for the traders from other countries. 
Gemini 
If you like that Coinbase is fully regulated and safe you might like Gemini as well. The exchange was founded by famed crypto-millionaires Winklevoss brothers in 2015. In terms of the set of supported coins and fees, it's a lot like Coinbase. Probably you will find the interface better. As for advantages over Coinbase, we can mention the insurance of each transaction which makes Gemini even safer than Coinbase.
Kraken
Kraken is a no-brainer option for US customers. It's an American crypto exchange founded in 2011. It's considered to be one of the safest exchanges. It's regulated, it has a large trading volume, and offers a wide set of cryptocurrencies.
Gate.io
Gate.io is an American crypto exchange founded in 2017. The platform supports over 450 coins and has one of the best trading volumes on the market. The fees are bearable. Probably the main drawback of Gate.io is that it doesn't allow fiat money deposits.
Crypto.com 
Crypto.com exchange is a trusted platform with high liquidity. The exchange is young, it was launched in 2019 in Hong Kong. The fees are quite low and multiple payment methods for fiat money depositing are in place. Crypto.com supports over 70 coins. US residents are allowed to trade only via the mobile app.
Paxful
On the US p2p platform Paxful, users can safely sell and buy bitcoins using nearly any payment method that comes to mind. Buyers don't pay fees while withdrawal fees are bearable. The downside is that Paxful supports only a few crypto coins.
LocalBitcoins
LocalBitcoins is a p2p platform founded in Finland in 2012. Currently, the platform is available in most countries including the USA. However, NYC residents cannot use it. The platform allows individuals to safely sell and buy BTC to each other.
Freewallet
As you can learn from the name of it, Freewallet is a wallet. It is an app that has a web version, too. Freewallet is more than a wallet as there you can swap ERC20 tokens and several top coins instantly. Commissions are quite low.
Bitso
Bitso is a Mexican exchange. It supports only 9 cryptocurrencies but the fees are very low. Other nice features are good liquidity and strong APIs. Fiat money can be deposited via a wire transfer. 
Bittrex 
Bittrex is a veteran US crypto exchange. It collects lower fees than ones on Coinbase. There are over 300 cryptocurrencies supported on the platform. Fiat currencies can be deposited via a bank card. Bittrex boasts 99% uptime.
Exodus
Exodus is a wallet platform. It allows keeping coins online or in a Trezor hardware wallet. One of the nice features is the ability to swap coins using the wallet interface. The service supports over 100 cryptocurrencies.
Bitstamp
A British exchange Bitstamp is one of the trusted and secure exchanges. It supports only 10 currencies, however, its commissions are lower than ones on Coinbase. Bitstamp allows depositing fiat currencies via multiple payment methods.
KuCoin 
KuCoin is one of the leaders in the crypto exchanges market. It was launched in 2017. KuCoin charges low fees. Fiat money can be deposited via credit cards. The platform allows staking, futures trading, fiat-to-crypto and crypto-to-crypto trading, and lending. There are over 270 coins supported on KuCoin.
Cex.io
Cex.io is an exchange available in a number of US territories. It is ranked a bit below the top 50 list by trading volume meaning that liquidity is quite high. On Cex.io users can trade over 60 coins. Fiat money can be deposited via multiple convenient payment methods.
Cryptonator
Cryptonator is a multi-functional cryptocurrency wallet. It allows instant exchange of crypto coins. The market info is available right in the wallet interface. The service supports over 10 currencies. Cryptonator is considered a safe wallet.
Voyager
Voyager is an app providing an opportunity to exchange around 50 cryptocurrencies for free. The app is praised for ease of use and cheapness, however, Voyager's customer service and hidden fees are subjected to criticism.
Exchanges That Don't Allow US Residents
Now, let's see the alternatives to Coinbase that are not operating in the US. Unmistakably, some of these exchanges are the industry leaders.
HitBTC
HitBTC is a veteran crypto exchange founded in 2013. It offers around 1000 trading pairs, allows buying cryptocurrencies with credit cards, has an OTC-desk, and provides a margin trading option. Trading fees on HitBTC start at 0.9% and get lower as the individual trading volume of the user gets bigger.
OKEx
OKEx has a higher 24h trading volume than Coinbase. Also, it offers over 200 cryptocurrencies that can be traded on the platform. The exchange collects low fees. Fiat money can be deposited in many methods. On OKEx users can trade futures, derivatives, etc.
Binance
Binance is the exchange with the highest trading volume in the world. It was founded in Hong Kong in 2017. The exchange is famous for quick trades, low trading fees (0.1%), and a large number of supported currencies (280+). The exchange's native token Binance Coin is one of the top crypto assets by market cap.
Bitfinex
Bitfinex is one of the top exchanges by liquidity. It supports 150 coins. On Bitfinex traders can deposit fiat money although credit cards are not allowed. Unlike Coinbase it had some issues with security in the past however, lately, it was doing quite alright. 
Changelly
Changelly is a non-custodial platform that helps to search for the best offers on several exchanges. You can buy coins through the Changelly interface. The service has existed since 2015 and has a good reputation. The trading fees are below the 0.1% rate. Changelly you can trade around 150 coins.
Huobi
Huobi is one of the top crypto exchanges. It charges lower fees than Coinbase (0.2% per sale and 0.0001 BTC for Bitcoin withdrawals). You can't use cards on Huobi but fiat money can be deposited via bank transfer. The exchange supports over 180 coins.
Liquid
Liquid is a crypto exchange launched in 2014. It is licensed in Japan. The platform supports over 80 crypto coins. Credit cards are not accepted however users can deposit via bank transfer. Maker fees are zero!
Coinomi
Coinomi is a multi-currency non-custodial wallet supporting over 1000 assets. It is famous for its high security level and privacy. Through a number of the platform's partners, users can exchange coins on reasonable conditions.
Upbit
Upbit is a cryptocurrency exchange from South Korea. It was founded in 2017. The platform supports over 170 currencies. Fiat currencies are allowed and can be deposited via wire transfer. The exchange had a security breach in 2019, however, all the losses were covered which draws Upbit as a legit company that can be trusted.
BitMEX
BitMEX is a p2p trading platform. Due to its strong tech side, the trading process on BitMEX is fast and secure. The platform allows trading derivatives and provides a leveraged trading option. BitMEX has special offers for corporate clients. Fees are low. In some cases, users are even paid rewards for trades.
FTX
FTX is a young crypto exchange. It charges low fees while having one of the biggest 24h trading volumes on the market. More than that, the exchange supports over 230 coins. The main focus of FTX is derivatives trading. Leveraged trading and OTC desk are also in place.
Coinmama
Coinmama allows depositing fiat money but doesn't let users deposit cryptocurrencies. Coinmama supports numerous payment methods. The withdrawals are free while trading fees are over 5%. The platform is available in many countries. The user base exceeds 2 million people. 
Bithumb
Bithumb is a South Korean exchange. In terms of fees, there are better options on the market. However, the exchange provides good liquidity and offers over 300 crypto coins for trading. There are multiple deposit methods supported on Bithumb.
Kriptomat
This Estonian platform charges a bit higher fees than most top exchanges however still less than Coinbase does. The number of supported coins is about the same. The main selling point of Kriptomat is the ease of use. Fiat money can be deposited via bank cards and SEPA-transfer.
Bitpanda
Bitpanda is a licensed Austrian exchange supporting only a few currencies. Bitpanda collects high fees (over 1%). However, the exchange allows multiple methods for fiat currency deposits. The platform boasts stable work and quality API applications.
---
---