Swapzone Exchange Aggregator Reviews
Jun 16, 2020
Swapzone is one of the most popular crypto exchange platforms out there. The key to its success is something that, if understood and brought to other industry sectors, stands to benefit the crypto space immensely.
The way that Swapzone operates is that it assumes an arduous process of researching each exchange and then makes the cryptocurrency swapping transparent and free. The service helps average users make an informed choice, providing them with all the necessary data about cryptocurrency exchange deals. With Swapzone, users can see over the walls that exchanges have put up, which dictate what currencies you can trade, how long your transaction will have to take, what fee you will have to pay, and so on.
Key features
A better range of exchange pairs. The number of assets supported by the service already exceeds 500, and it constantly grows to give people as much diversity as possible. Swapzone currently partners with over 15 instant exchange platforms, including reputable options, such as ChangeNOW, Changelly, SimpleSwap, FixedFloat, and InstaSwap.
No personal account is needed. You don't even have to register with Swapzone to make a transaction. How many people, looking at a lengthy registration process after which the asset they wanted probably will not be available for the same price, decide against it, thinking that their time would be better served to do something else?
The complete design provides you with all the useful content you need to make the best judgment: the customer reviews and ratings of exchanges, estimated time to complete the transaction, the total rate for the transfer and whether it is fixed or floating, the fees and the KYC details for the transfer.
In-house exchange. There's no need to leave Swapzone to complete exchanges themselves. The service works with exchange partners through APIs without redirecting users to the services performing the swaps.
Mediation between users and exchanges. One more pleasant thing is that the support team strives to resolve problems that occur during the transferring process through cooperation with the partners.
Simplified integration. Swapzone developers have written a unified adapter to help instant exchange owners connect their services to the platform. The structure of the Adapter class and the following instructions can be found in a special integration guide.
Crypto education. Swapzone aggregator also has its own learning section with different articles covering extra details on making cryptocurrency transactions using the platform. Besides, the service aims to educate newcomers by empowering their knowledge base about cryptocurrencies and how to deal with them.
How to use Swapzone
Below are a few simple steps you will need to make to start getting a hassle-free experience with Swapzone:
Head over to the

main page

. 
Select the asset you want to swap from and the asset you want to get in return.
Enter the amount you want to exchange and set filters to make the list of options more suitable to your needs.
Compare the exchanges you'll be offered to find your perfect fit. Don't forget that you're enabled to sort results based on the top rate, the fastest service, and the service provider's best rating.
Once your decision is made, confirm it by clicking the "Exchange" button.
Enter the wallet address that you wish to send coins to.
Finally, send the number of coins you deposited, and then all you have to do is wait for the transaction to be processed, and the exchanged assets to appear in the receiving wallet.
What makes Swapzone unique
In today's crypto exchange space, crypto operations have to run through centralized strongholds. Again the individual user is put in the position where he must act by the wishes of a financial authority if he wants to play ball. The beauty of Swapzone is that it is once again elevating the individual in the ratio of power. The user should be the one to dictate how they want to make a transaction and what they want to exchange. You really see how the exchange process is problematic when you look at privacy coins. Privacy coins are some of the most popular assets on the digital market, yet you tend to have to jump through hoops to make transactions with them. Each exchange has its own policy concerning what coins they will exchange and for what. With aggregate exchanges like Swapzone, you do not have to deal with all of that. Instead, you get a clear picture of what you can get and what you can get it for, which takes every available spot on the market into account.
Conclusion
Swapzone exchange aggregator is definitely laying out a blueprint for the industry to open its doors wider for consumers. We should all favor users having as much choice as possible, and exchanges are increasing the types of transactions that users can make while also making incredible progress with security and other issues. But the individual should always come first, so we need more platforms that provide clarity and pair it with an easy and advantageous transaction process. And Swapzone has realized that simplicity is worth its weight in gold.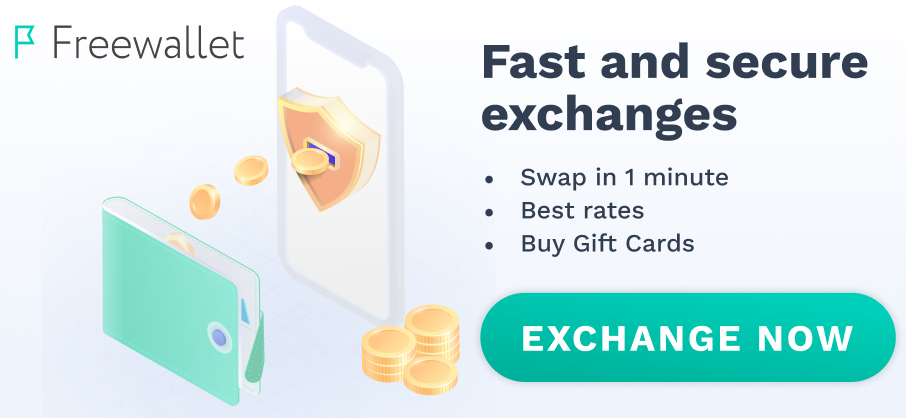 As for me, really convenient. I've encountered another similar aggregator once, but this fellas made a better interface and better usability. Functionality is similar though.
There are so many exchanges on a crypto market now, but thanks to Swapzone I always make informed choice when exchanging
It looks cool and convenient, the verification has been completed fast and I easily managed how to trade. 5 star mark.
More or less it's fine, it's got some bugs with the charts and the work of the website. But I think it's not that bad.
I like comparing the different assets here. It's got really good features here. It helps to choose a better coin. Like.